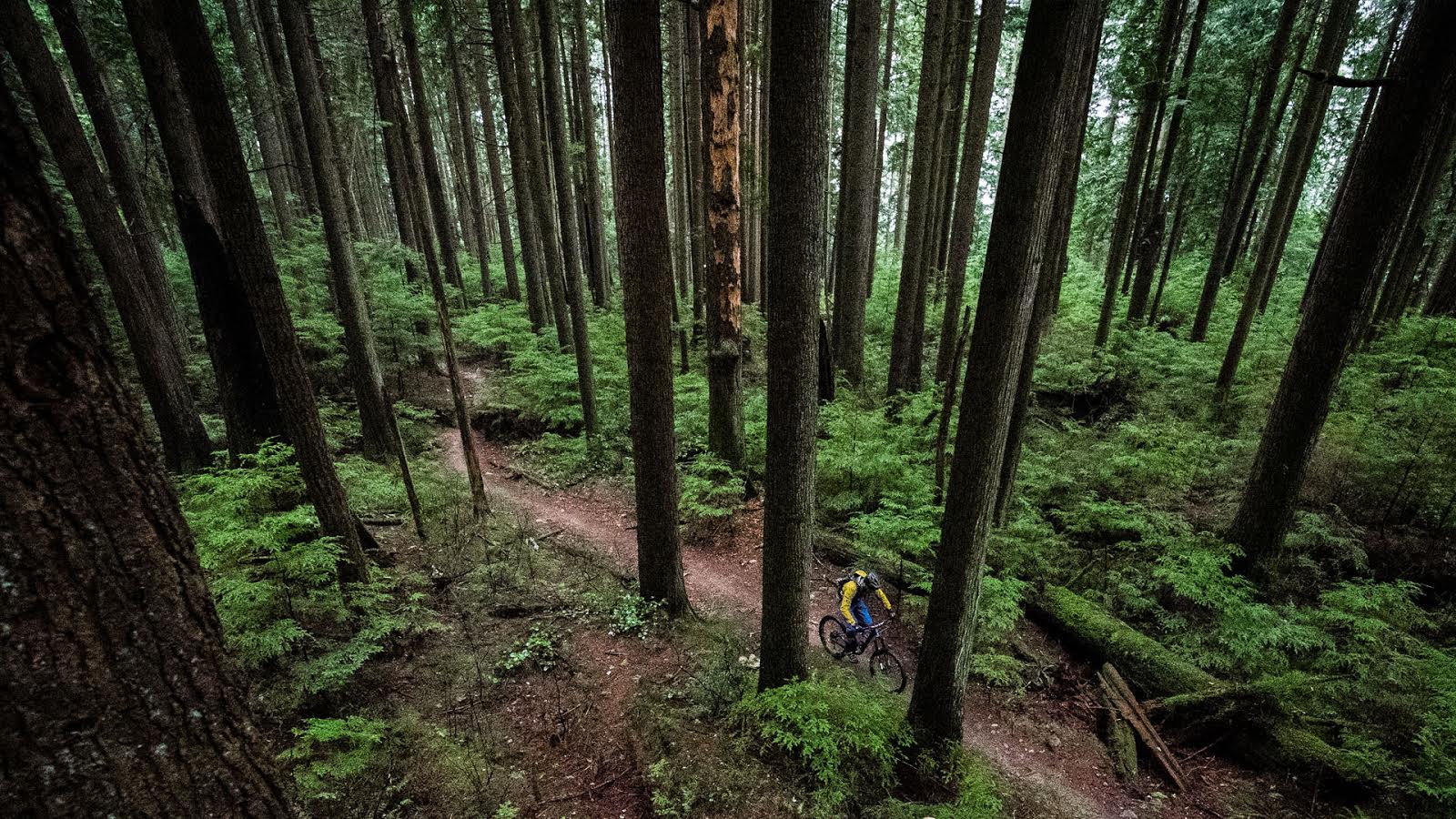 Five Ten Impact VXi Clipless
By now you should be over the shock of Five Ten making shoes for clipless pedals. That bridge has been successfully crossed, necessitated by many of their sponsored athletes forsaking the flat pedal brotherhood. In the DH world there aren't many holdouts left, the most notable being Sam Hill. Stevie Smith now clips in and, aside from Brook MacDonald at Val D'Isere and Gee Atherton in Cairns (wearing a spectator's borrowed flat shoes and pedals on a muddy course earlier in 2014), it's been a long time since flat shoes stood atop the podium.
Don't think I'm telling you to switch. I love riding flats but recently I've gone back to the clipped side and, partially because of improvements to shoes like the VXi, I'm really enjoying being attached again. If you have more fun, feel safer or ride better with sticky soles and toothy pedals have at 'er.
A spacious toe box and an accurate fit are hallmarks of Five Ten shoes. The Rasta colours may out you at the border, and they match almost nobody's kit, but I like them all the same.
If you clip in, your options have never been better. It used to be that you were stuck with race slippers that you couldn't walk in or heavy skate shoes crudely adapted to accept cleats. Five Ten jumping in the game upped the ante immediately and their latest option has moved things further forward.
The first thing you'll notice about the Impact VXi clipless is their lack of heft. Each of the size 10.5 shoes I was testing weighed in at 421 grams, and Five Ten says they are the lightest DH-specific clipless shoes on the market. I generally squeeze into a half size smaller shoe for riding and Five Tens, with a few exceptions, fit very true to size. The fit is comfy with a spacious toe box and good heel hold.
If you need arch support you'll have to pay for some better insoles, or steal some from another pair of shoes. As flat as they appear, these are not highly supportive shoes.
Of course these shoes sport sticky rubber outsoles, in this case the Mi6 variety in the familiar dot pattern. This makes for easy walking and great traction when you are off the bike, or if you are unable to get your foot reattached.
Another element that sets the VXi clipless apart is the long cleat mounts. Five Ten says they have added 25% to their previous shoes' mounting options, allowing you to slide your cleat much further back than other clipless shoes. This makes for a nice transition for flat riders, particularly those used to being able to move the ball of their foot ahead of the pedal spindle, a set up I chose initially (note –  this is great for descending but less than ideal for climbing).
On the trail, experienced clipless riders may find these shoes more flexible than they are used to, consistent with the downhill or enduro market they are aimed at. I found the stiffness adequate and I appreciated the forgiving nature the modest flex allowed.
A long cleat channel as well as long mounts allow you greater placement options than most other shoes. If you like the toes forward placement of flats you can get that with the Impact VXi.
I have been riding Shimano XT Trail pedals which have a small platform. Because of the depth of the channel my cleat sat up slightly from the platforms making the shoes feel less stable than I'd like. I also found clipping in slightly more challenging than other shoes I've been riding lately, with the rearward mounting of the cleats accounting for a portion of this issue. Another contributing factor is the width and rectangular shape of the channel. Other shoes leave very little space on either side of the cleat and the cleat mounting area is narrower at the ends to guide your cleat into the pedal, while the Five Tens have a basic rectangle with no tapering. One other pair of shoes I'm wearing now has a max channel width of 39.6 mm while the VXi measures 44.4 mms. That may not sound like much but it doubles the space on either side of my Shimano cleat.
Like most Five Tens the Impact VXi clipless doesn't provide much arch support.  The flat appearance is confirmed when you slip your feet in, so if you are someone who requires more arch support you'll have to toss in some after market insoles.
If you are a DH rider or a gravity focussed all mountain shredder, these kicks are aimed at you. Dare I say Enduro?
If you have experienced the previous generation of Five Ten Impacts on a wet day you'll be pleasantly surprised by the absence of sponges inside the new version. The water resistant synthetic upper, backed up by hydrophobic foam, doesn't suck up moisture and the tongue is attached on each side to prevent unwanted soakings. The laces are backed up by a wide velcro strap for added retention and to keep your strings from coming untied. Protection is adequate but further armour plating was likely a casualty of the weight agenda. The toe has a relatively sturdy plastic cap but it's not as solid as I'd like.
The Impact VXi clipless are a great option for riders with a gravity bent who are looking to clip in. This is a particularly good shoe for riders transitioning from flats to clipless. The weight, water shedding ability and Five Ten's famous sticky rubber sole make these a solid choice.
There are two colour options to choose from, Rasta (shown), and Team Black with red accents.
MSRP in the US is $180 and you'll find them for $199.95 at MEC here in Canada.
---
Are these the shoes you've been looking for?