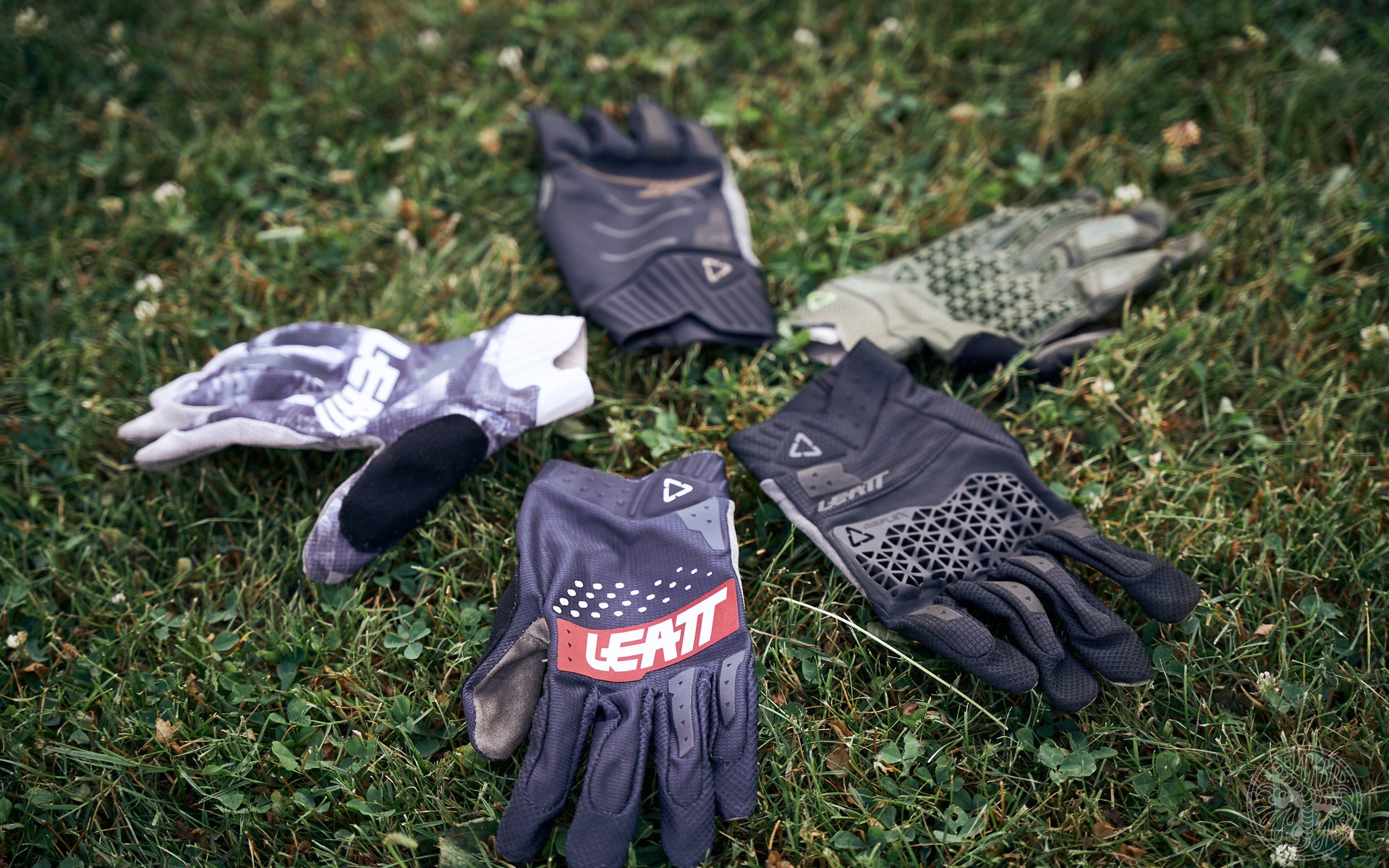 REVIEW
Five Leatt Gloves Worn
I have worn gloves since the half-finger mesh things I had on for my first ride on the Shore 27 years ago. My buddies Cam and Mike took me and my Marin Muirwoods rigid from UBC to Cypress Mountain to ride/hike/fall down Coiler-Stupid Grouse then pedal back for a total of more than 60 kms of pain and eye-opening good times. I wish I could be like the cool kids and go no-glove all-love, but I sweat too much and fear the cuts and scrapes from the occasional wipe out. I am very particular about what covers my paws on my rides. Outside of cold and wet conditions I want gloves with a soft palm, breathability, elasticized cuffs (no velcro for me) and if possible, some knuckle protection is nice but not necessary. Lucky for me the Leatt glove line I am testing has all of these wants satisfied.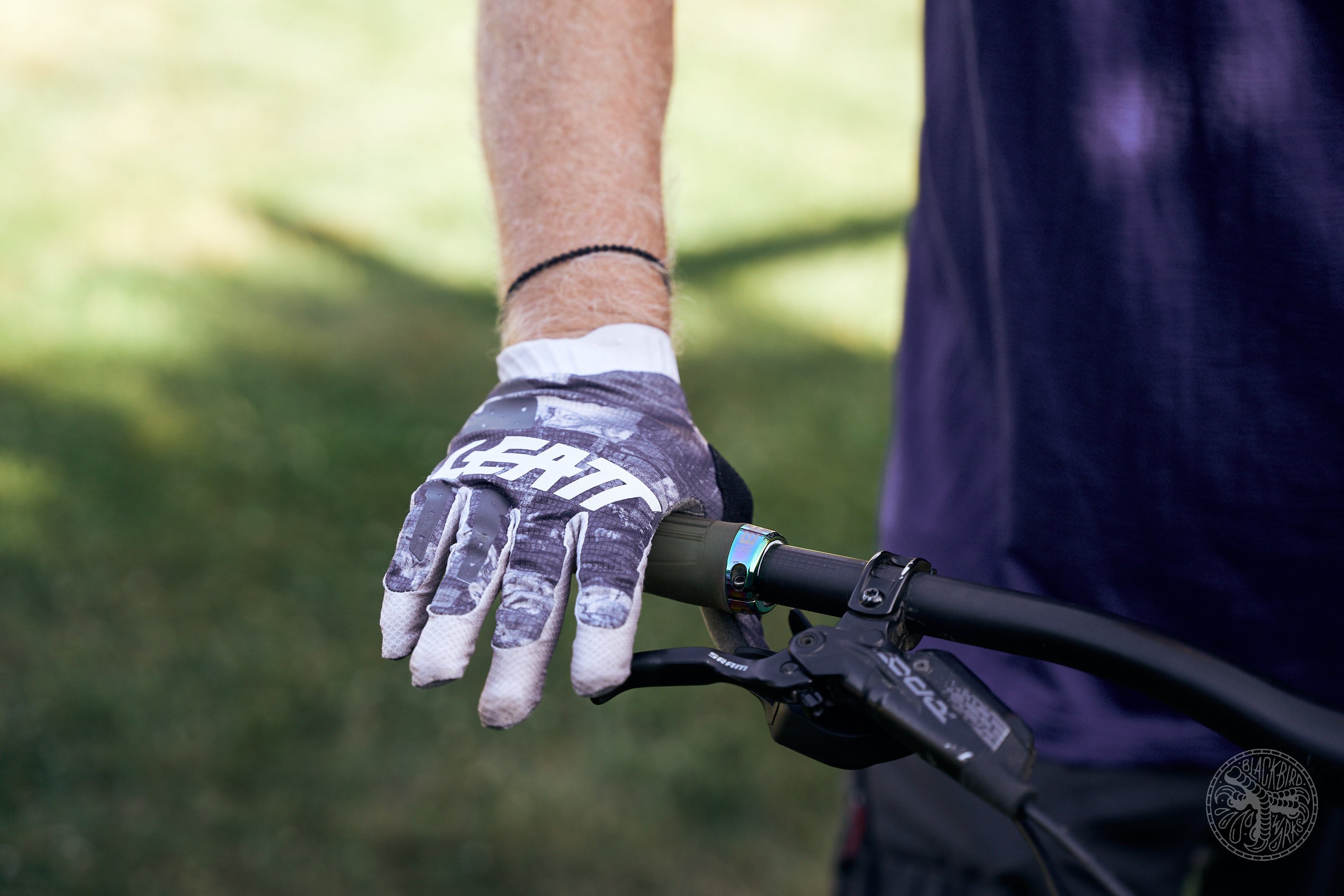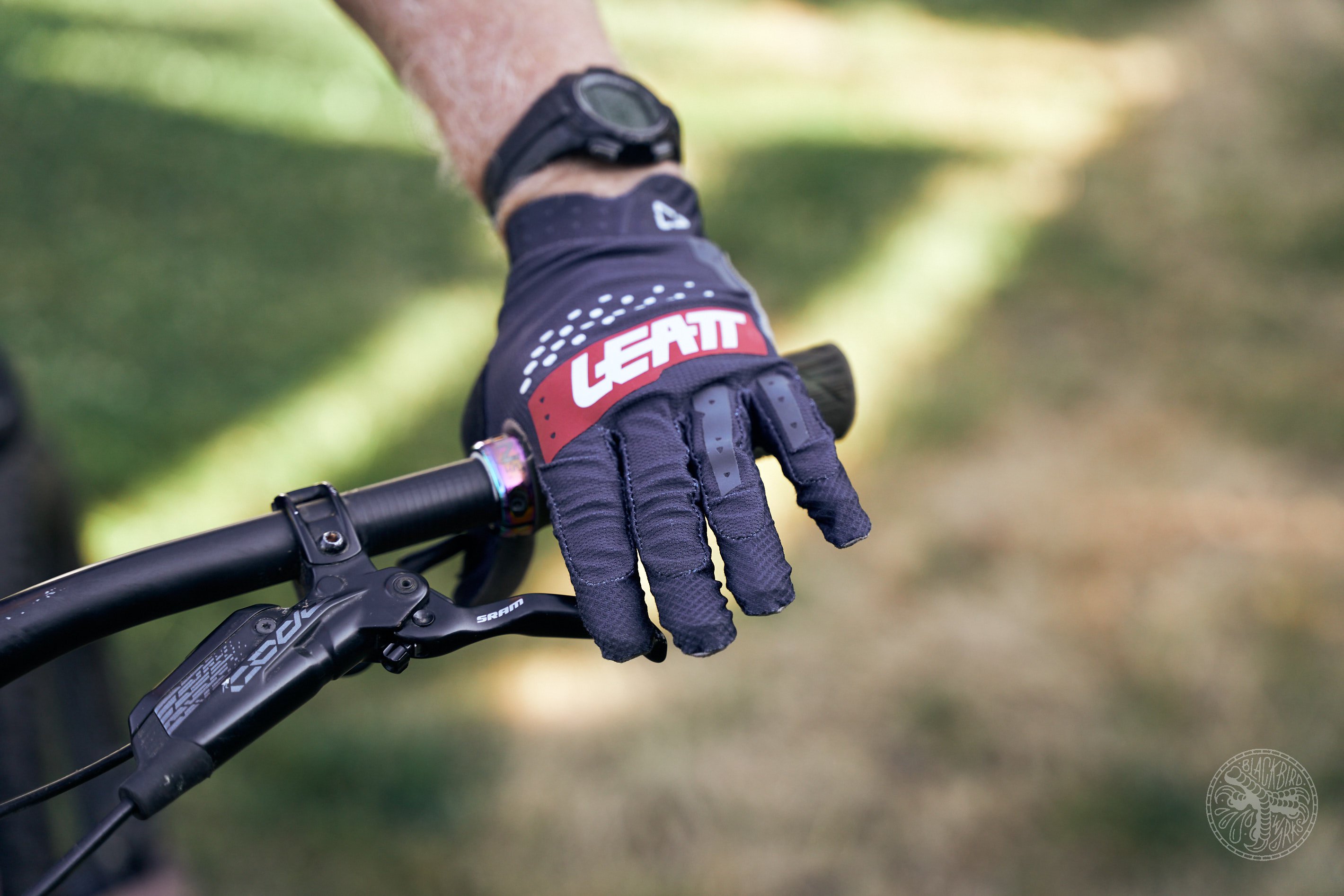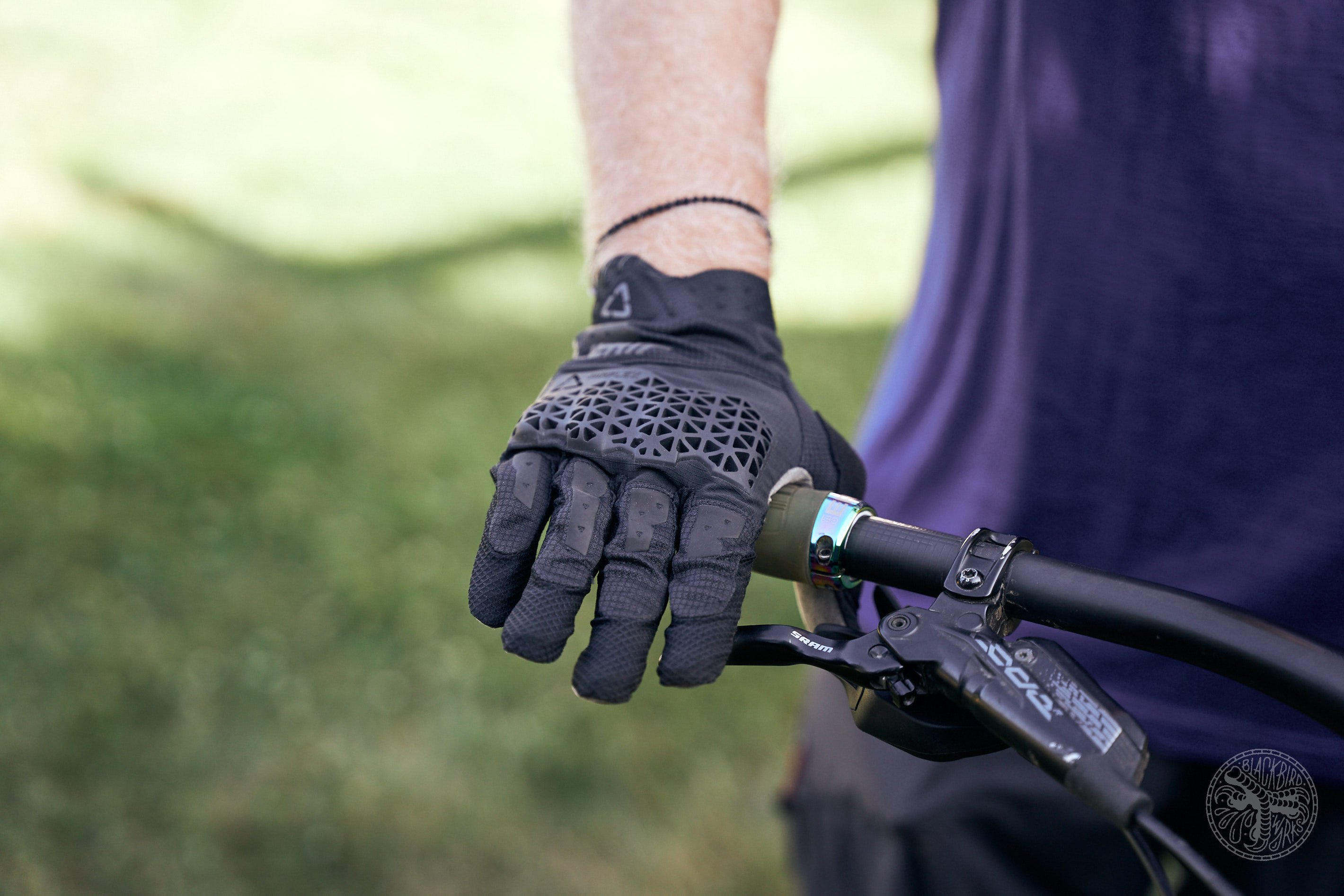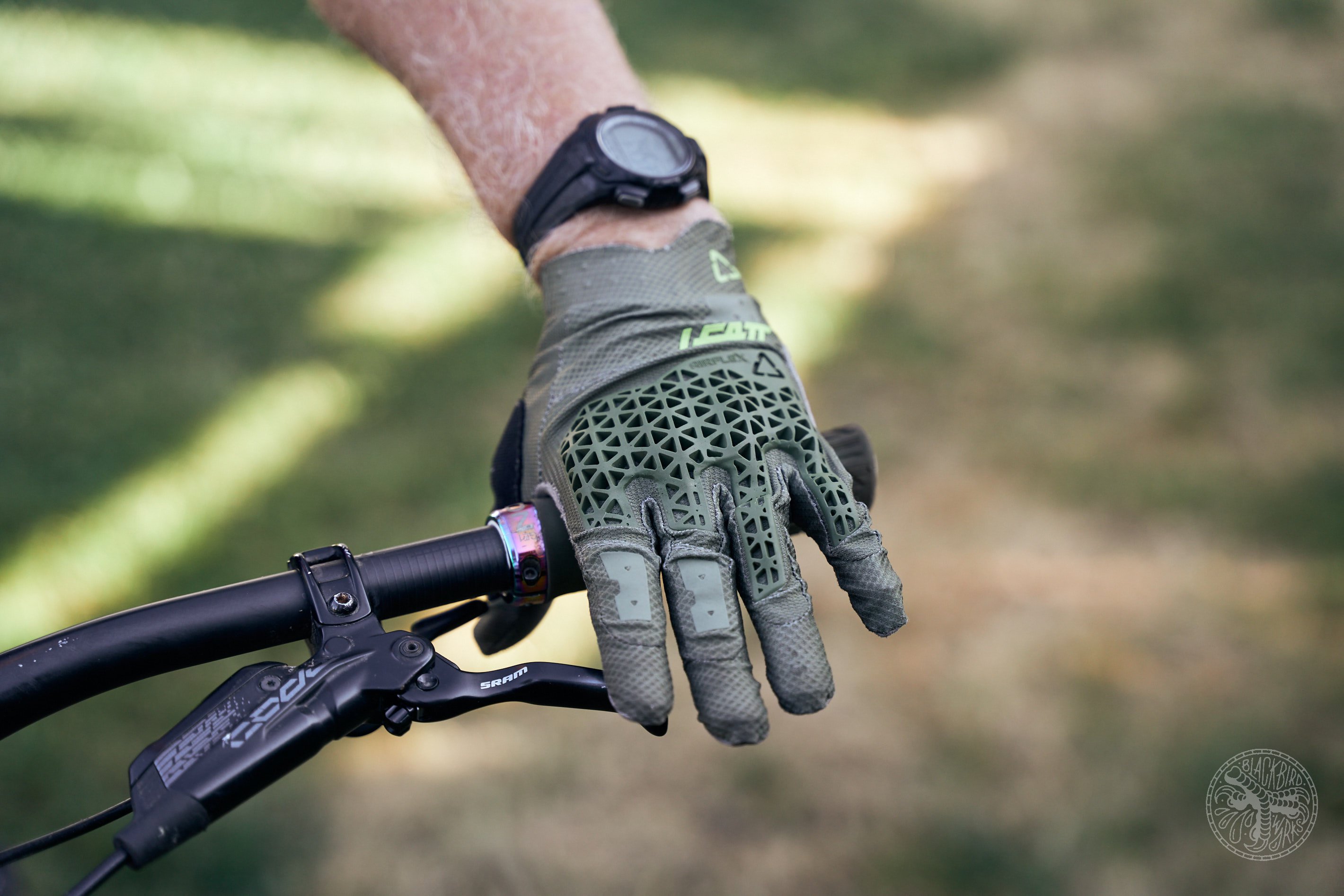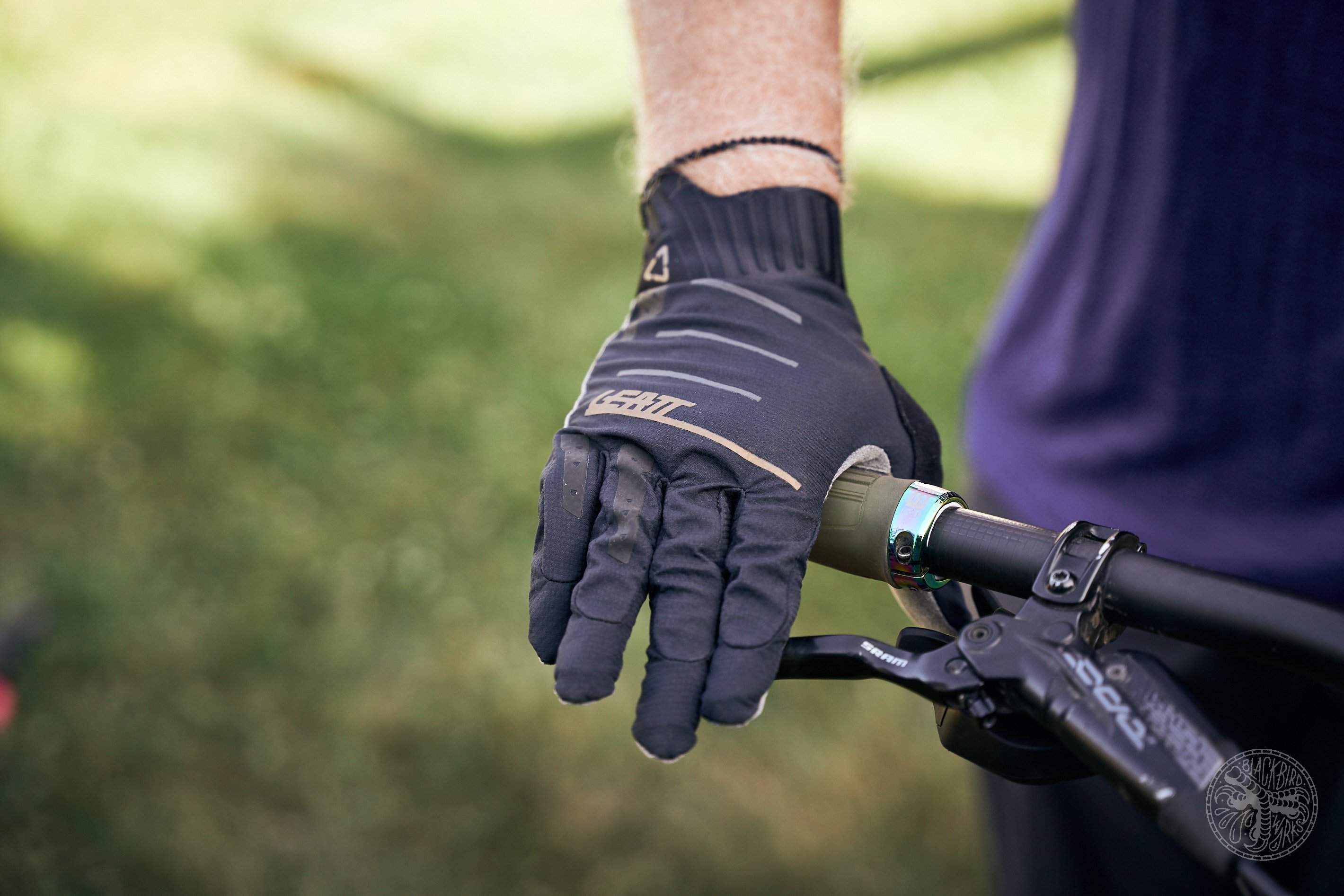 Leatt's line-up
Of the 7 different glove designs (24 different models with several colour options) in Leatt's extensive line-up, the 5 gloves I am testing with the main specific features highlighted are:
MTB 4.0 Lite - whole lotta protection
MTB 3.0 Lite - lots of protection
MTB 2.0 X-Flow - breathable minimalist protection
MTB 2.0 WindBlock - soft touch with warmth for spring and fall rides
MTB 1.0 GripR - light and soft touch
They also make a MTB 1.0 with a padded palm and a Sub-zero that Roggey reviewed here.
Leatt uses a number system of 1 through 4 in order to categorize its gloves. The numbers don't represent the same glove getting progressively better from 1 – 4; rather they are just different models with a lot of similarities but also some differences differentiating how different they are. (-Ed note: when you edit T-bone's writing, sentences like that last one come along...first you seize up, then you imagine his devilish grin - it's as if he grabbing your front brake as he tries to ride by on a climb. Anyway, it made the cut, for better or worse).
The chart below outlines each glove and their features.
How Much?
The big question with these gloves has got be how much are you willing to pay for a pair of gloves? I can usually stomach up to $70-ish for winter riding gloves as I rationalize (yup my link whenever I use that character defining verb) the extra material and engineering to keep hands warm and retain adequate grip feel. But some thin, and in this case, ultra-thin material for $60? Can you rationalize $85 and $100 CAD for those but with some protection for knuckle/paw scrapes? Looking at the glove competition, the Leatt AirFlex protection seems (seems because looking at gloves on a screen vs up-in-my grill doesn't equal a fair comparison but compared to no comparison it will have to do) lighter, stealthier and more pliable than protection options from Fox, Dakine, POC and RaceFace. I guess it all comes down to how much protection you want to put on your body. I would prefer not to wear elbow pads but that ship has sailed. I enjoy the feel pedalling without knees and I definitely am not willing to don full shoulder/back and hip protection like the Circus days of old. As I write this one week into two broken ribs, I am actually considering wearing something to help avoid this pain in the future. Don't be surprised if you see a Leatt review on something to protect my ribs after 4 breaks and 2 bad bruises in the last 20 years.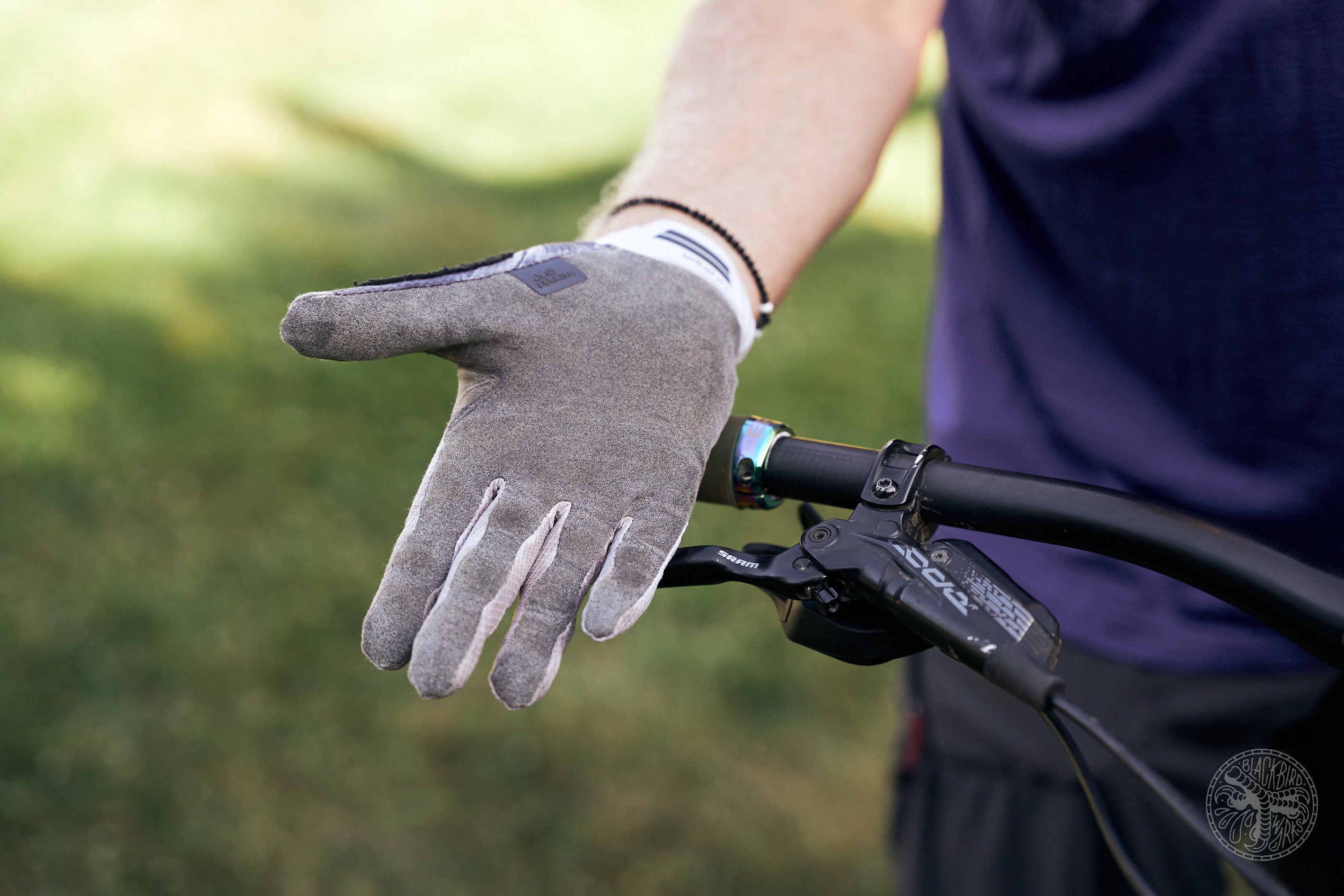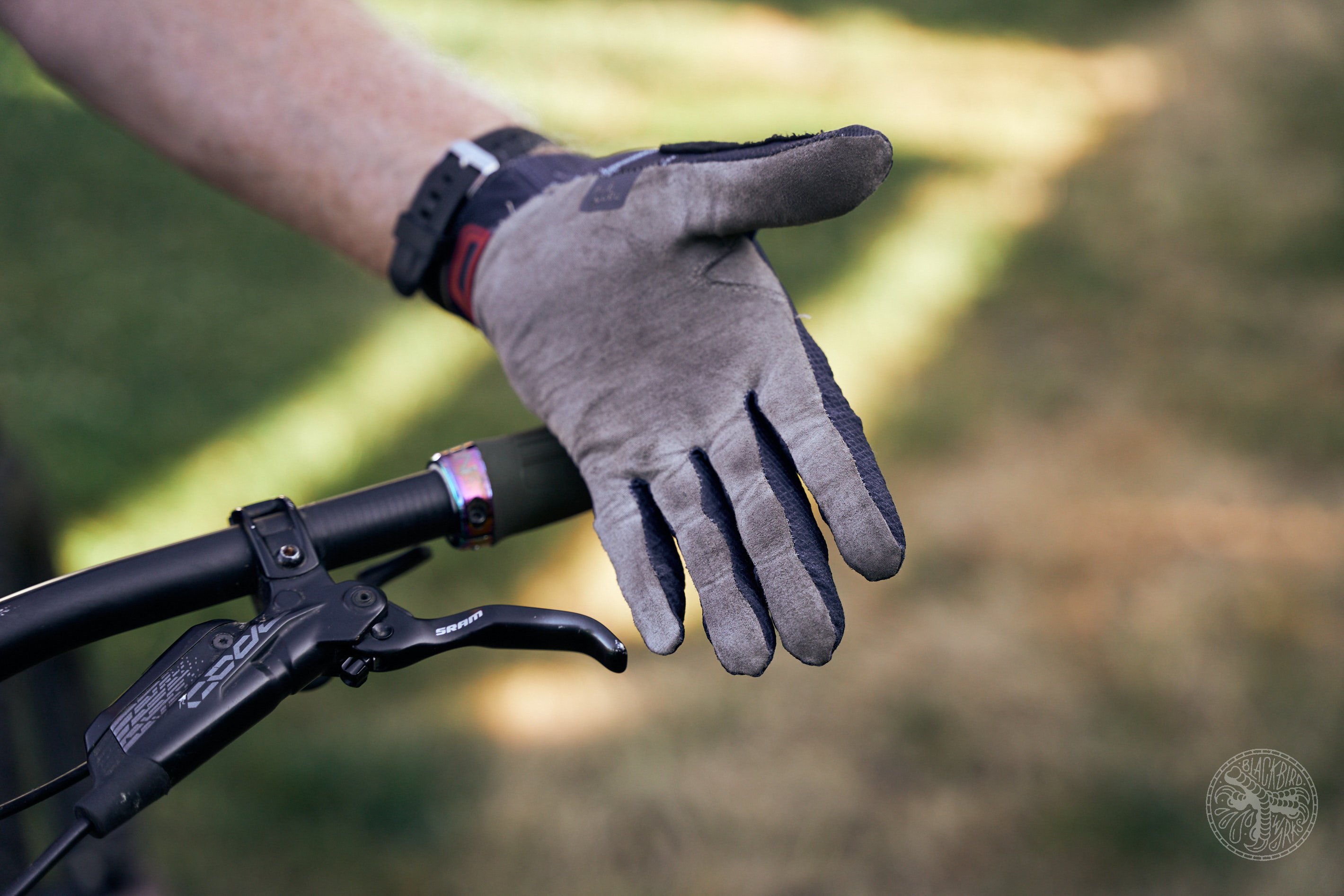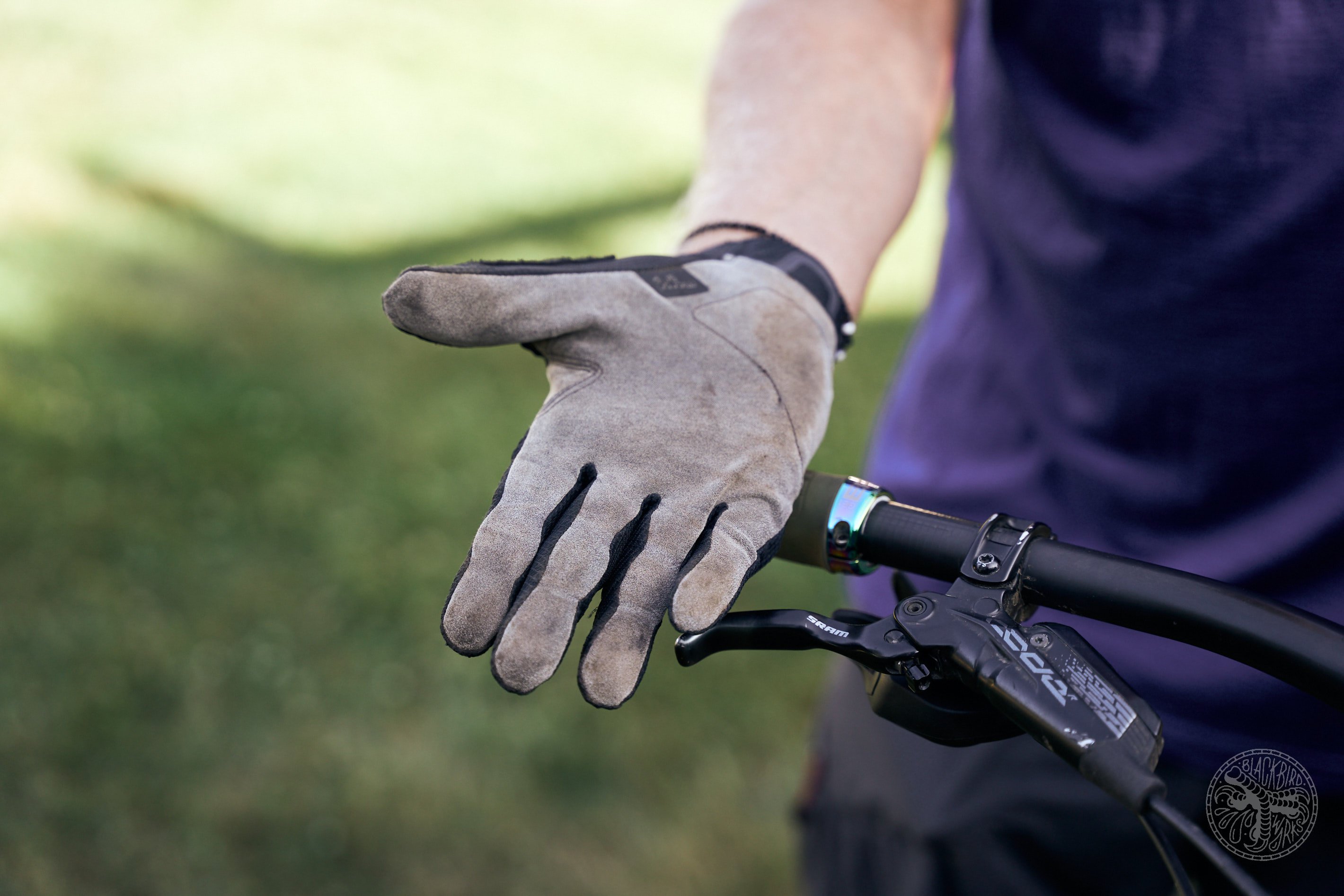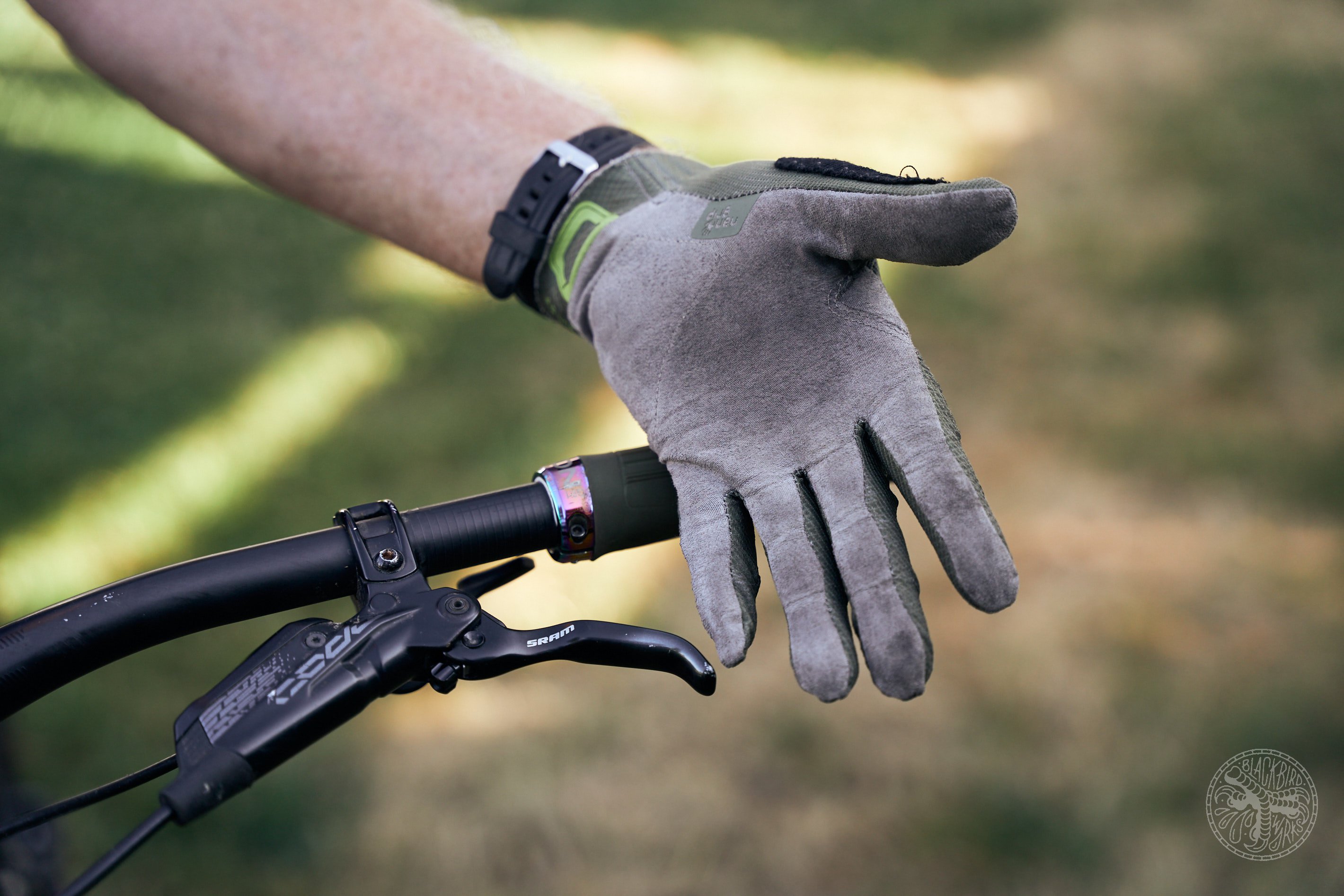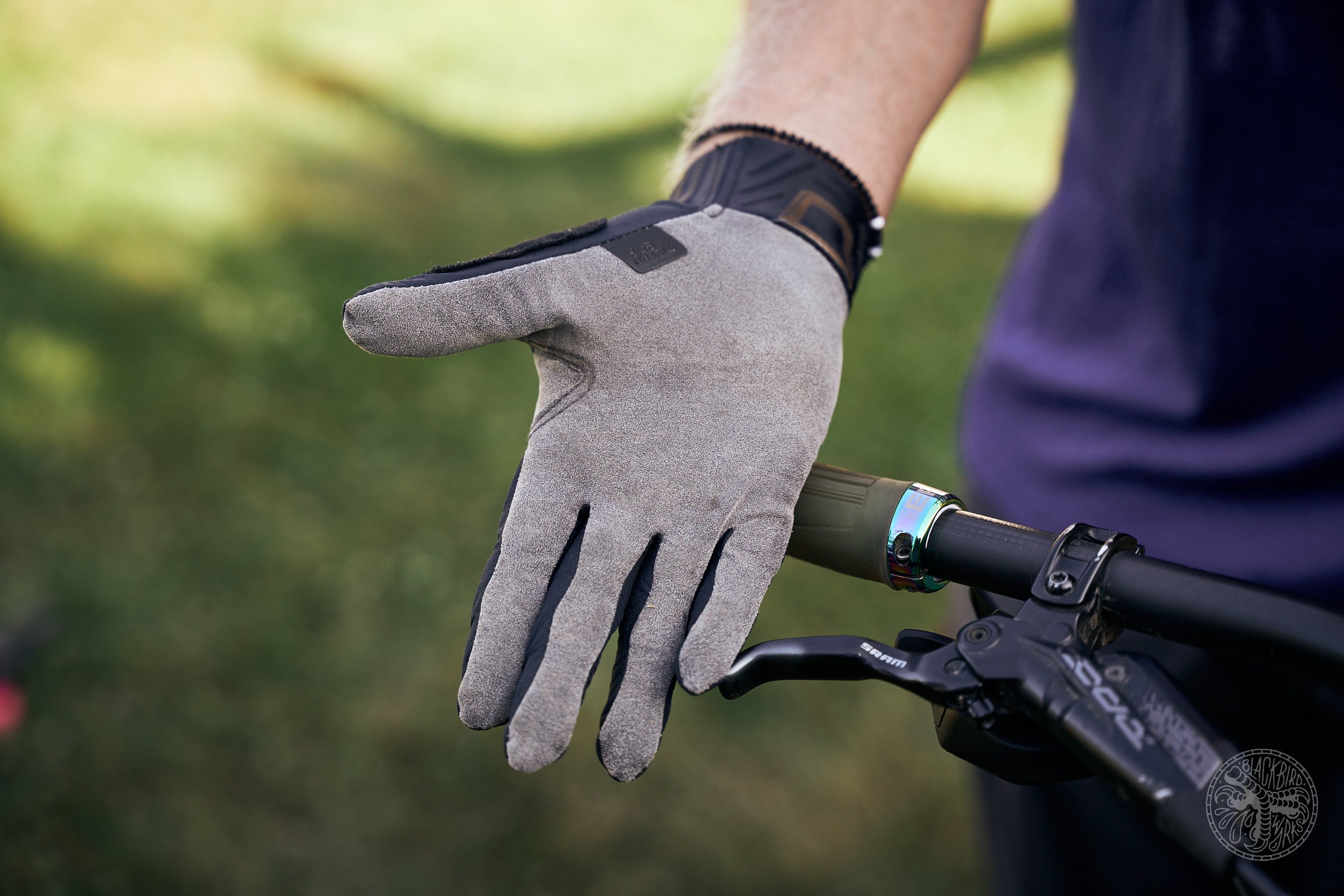 Leatt glove features
Leatt has the market cornered on the amount of features per glove and the best naming rights on each feature. Things like: Microinjected 3D Brush Guard, NanoGrip, MicronGrip, GripR, Nano fiber technology 7.500 times thinner than hair, AirFlex, X-Flow, FormFit, etc. These gloves are even CE tested and certified as Personal Protective Equipment 89/686/EEC. I guess all protection I put on my person is PPE but they added some numbers and letters so it makes it better, I think.
The feature that I like the most in all of the gloves is the soft ultra-thin palm. It feels excellent and provides a nice interface with my grips. Leatt has made their gloves with a pre-curved, snug fit and seamless palm. My second favourite feature is the little bit of extra confidence that the protection on the 3.0 and 4.0 provide. However, of all of the gloves I tested my favourite is the 1.0 Grip-R for its soft feel and super light weight.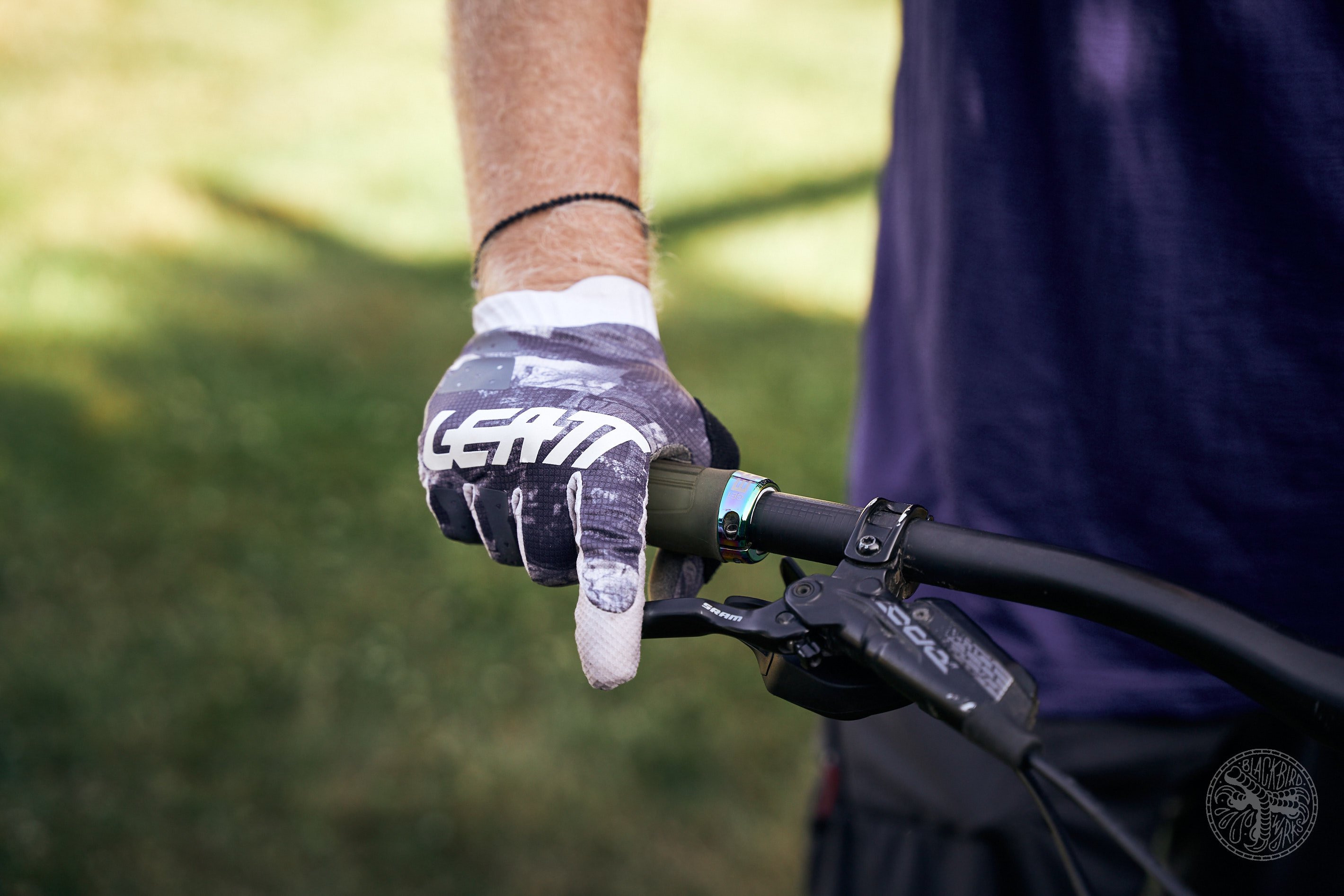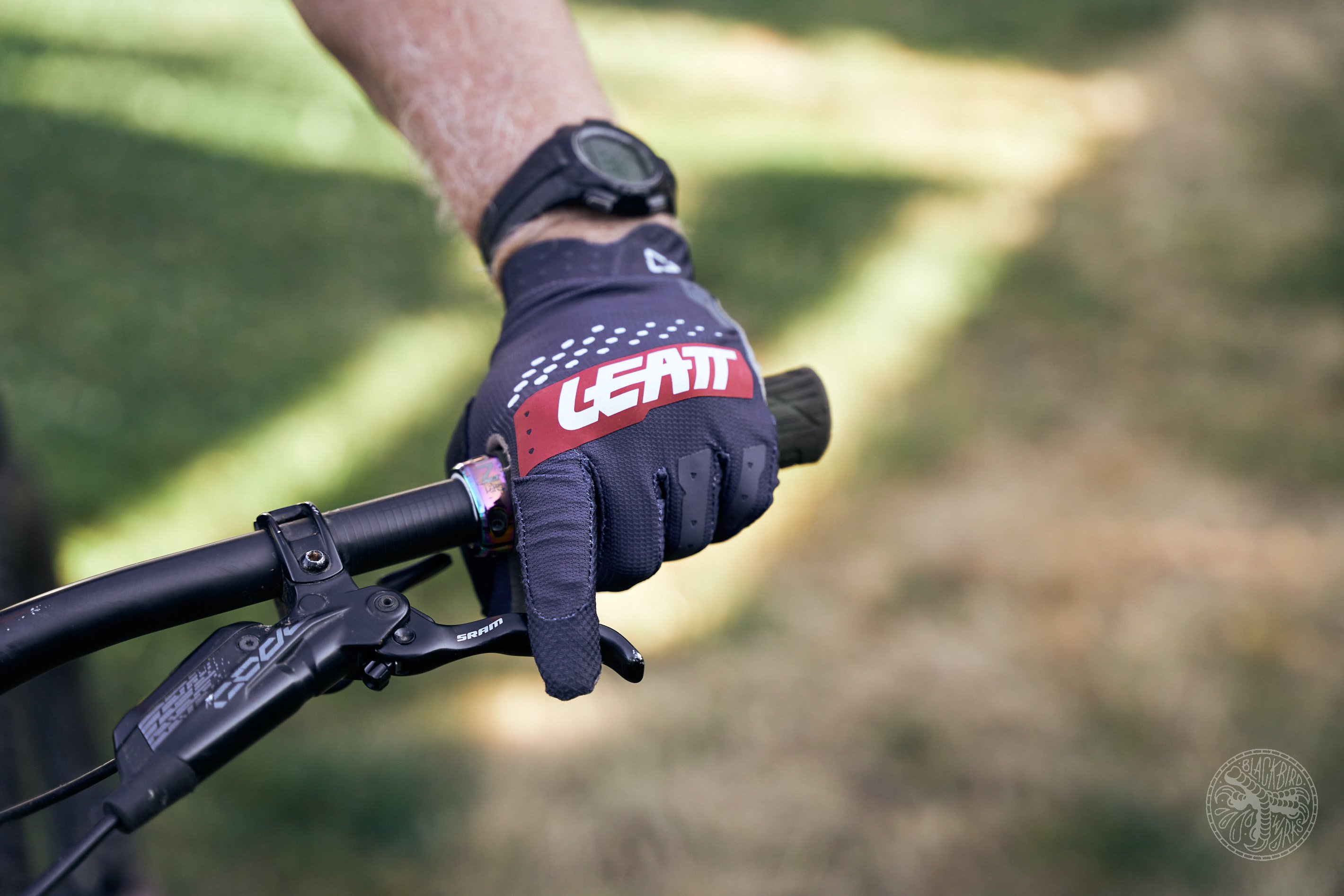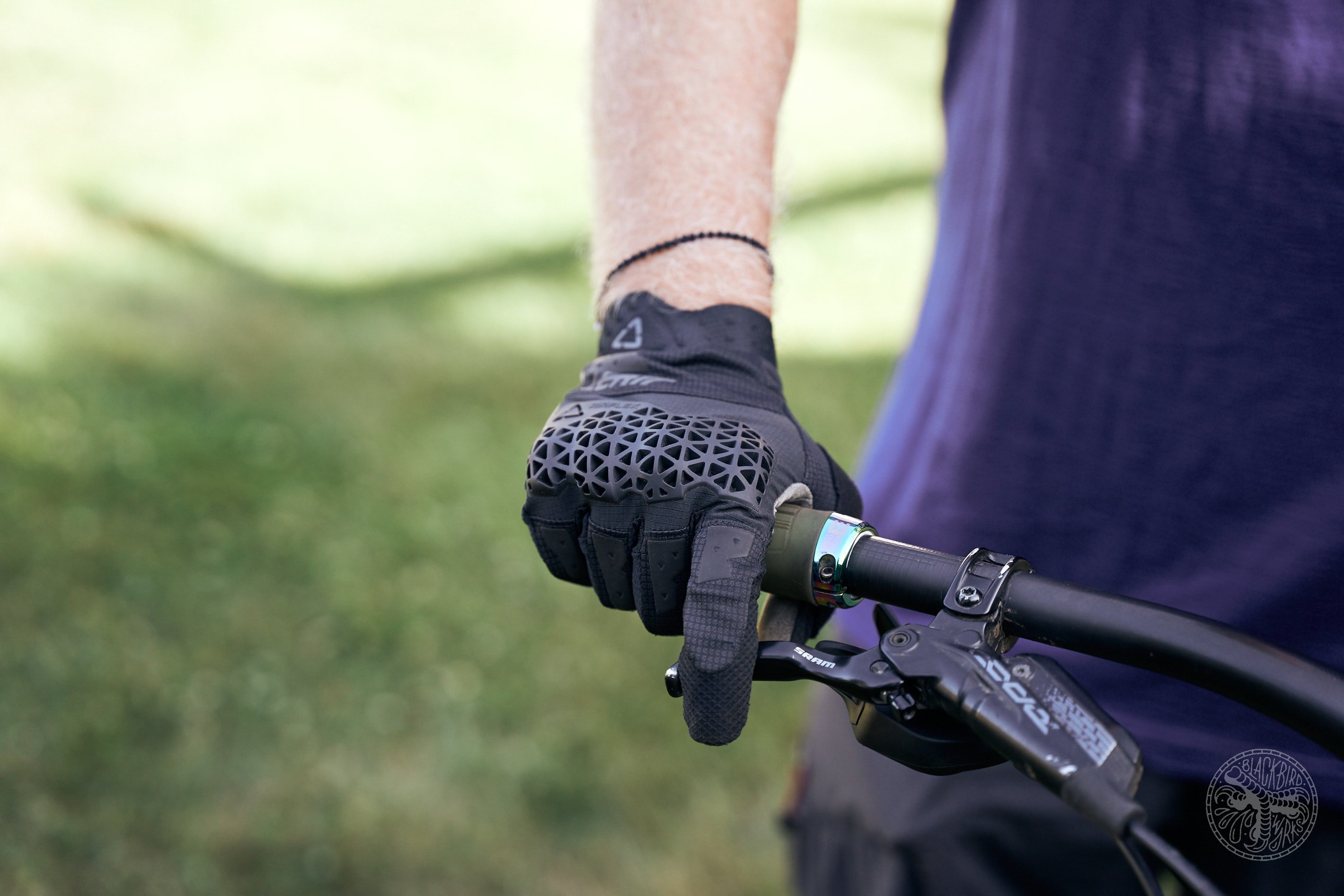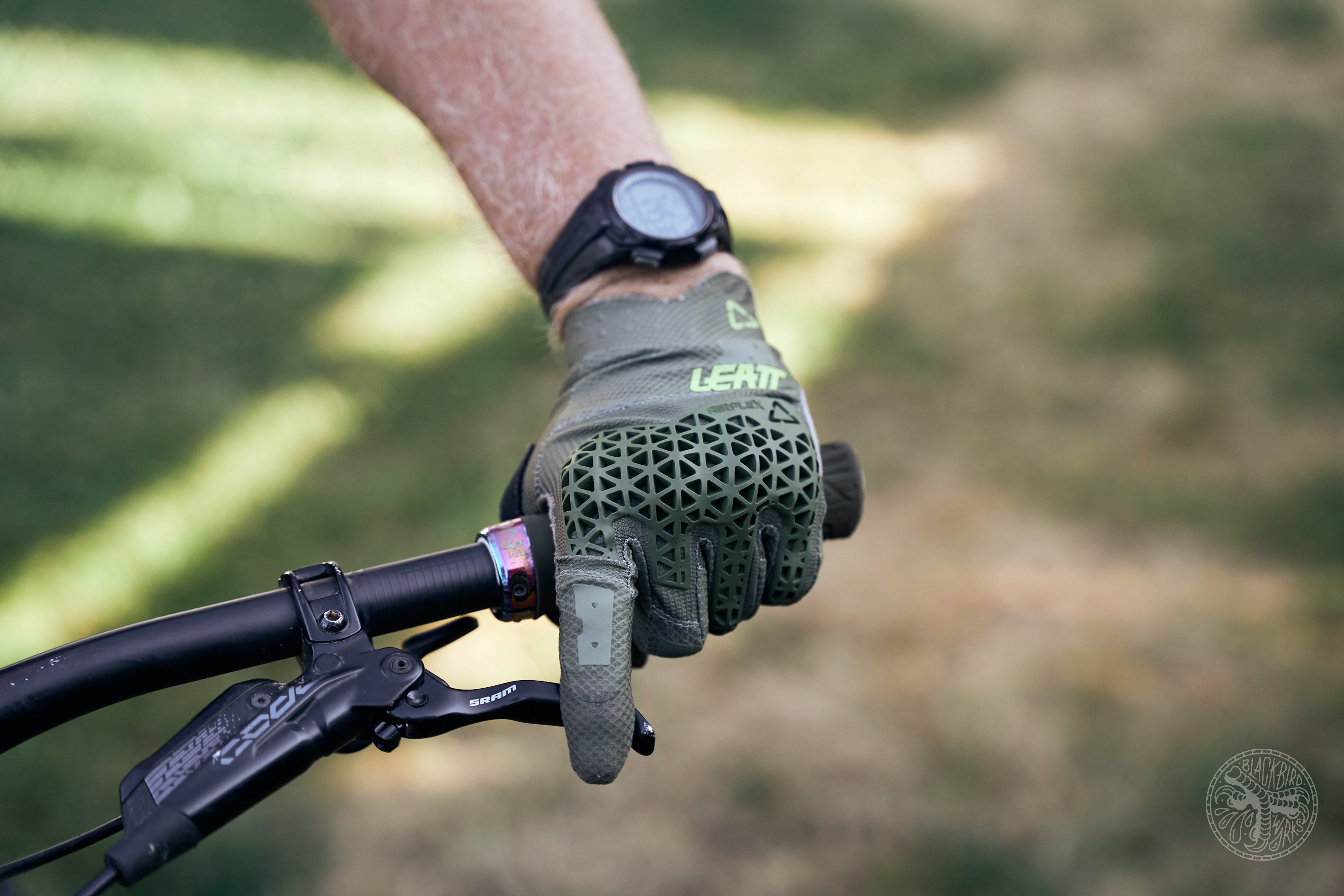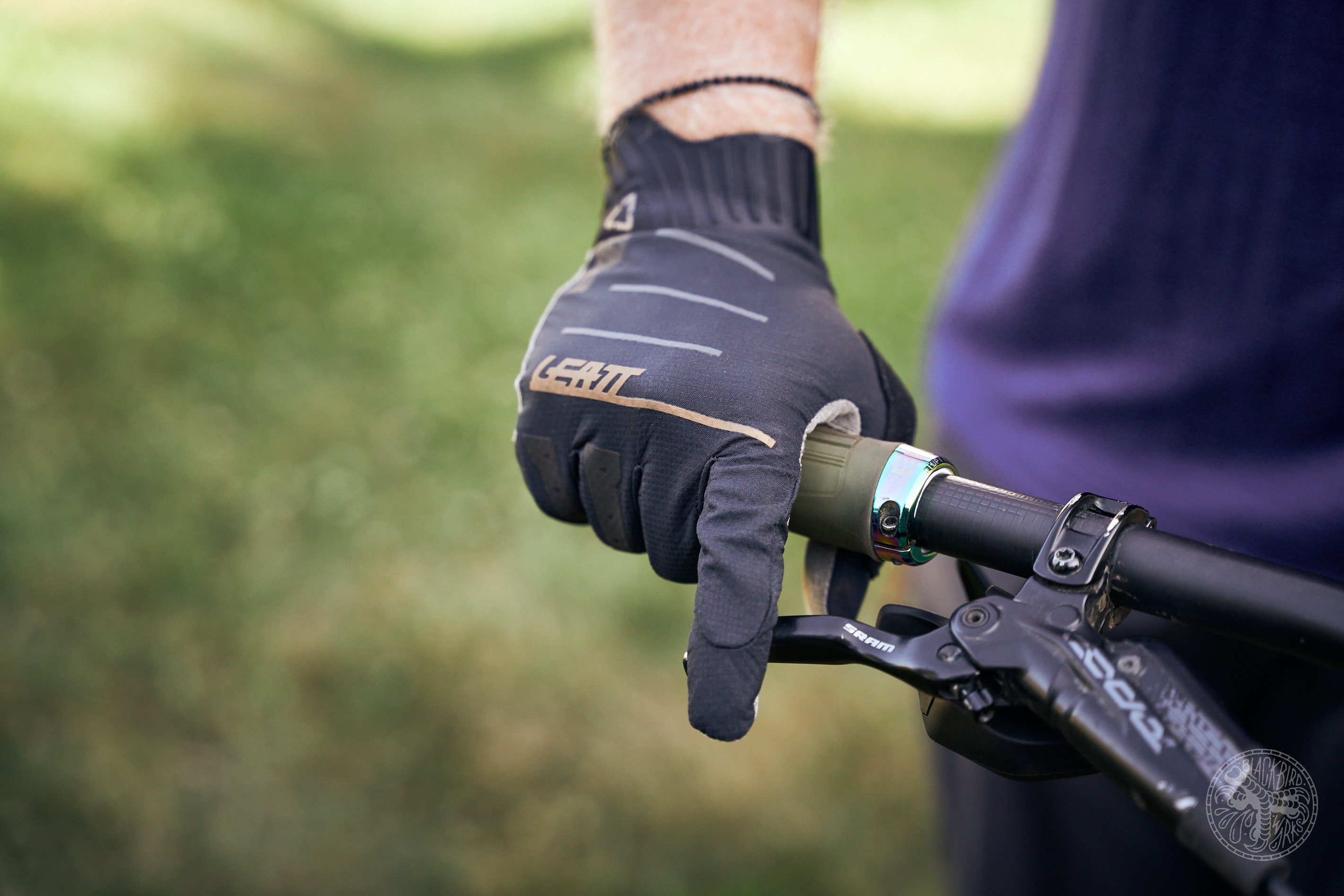 More Leatt glove features
Leatt's 4.0 fits a slight bit tighter than the other larges, probably due to all of the AirFlex impact gel sewn to the fingers and hand backing. This glove has come a long way from its sci-fi looking iterations here and here.
The 2.0s have a small amount of protection, the 3.0s offer even more with knuckles and 4.0s are the best with comprehensive padding throughout. When choosing a glove for gnarly rides I went with the 3.0s because they were a bit more comfortable.
The touch screen function was hit and miss on all of the gloves depending on weather (worked better in hot and dry – just like me), sweat (less is more touch) and how fast I was trying to hit the shutter button (slow and calm much better in this and life). When the touch function failed a simple and gross fix was to lick the index (I guess I could have just got it damp some other way).
The sweat/lens wipe was only used for wiping sweat as I will not use anything but a dedicated lens wiper for my overpriced glasses and goggs. The wipe has a soft and absorbent feel and it did the job very well considering the amount of sweat my face is known to produce.
Woodja?
All of the gloves I tested over the course of 60 rides were used for trail riding and a few trailside maintenance situations. No gloves ripped, tore nor suffered any breakdown. How they hold up after a full season is something I will report back on next year at this time.
Of the glove brands I have ridden in the past few years (RF, Dakine, Sombrio, Giro, Pearl Izumi) Leatt are easily the best for fit, comfort and function. So as far as the woodja question goes: would I buy these (not including the pinkies)? Definitely.
MSRPs are as follows (with the worst Canada/US exchange rate ever):
1.0 $60.00CAD/34.99USD
1.0 Gripr $50.00CAD/29.99USD
2.0 X-Flow $60.00CAD/32.99USD
2.0 Windblock $65.00CAD/36.99USD
2.0 SubZero $65.00CAD/36.99USD
3.0 Lite $85.00CAD/49.99USD
4.0 Lite $100.00CAD/59.99USD