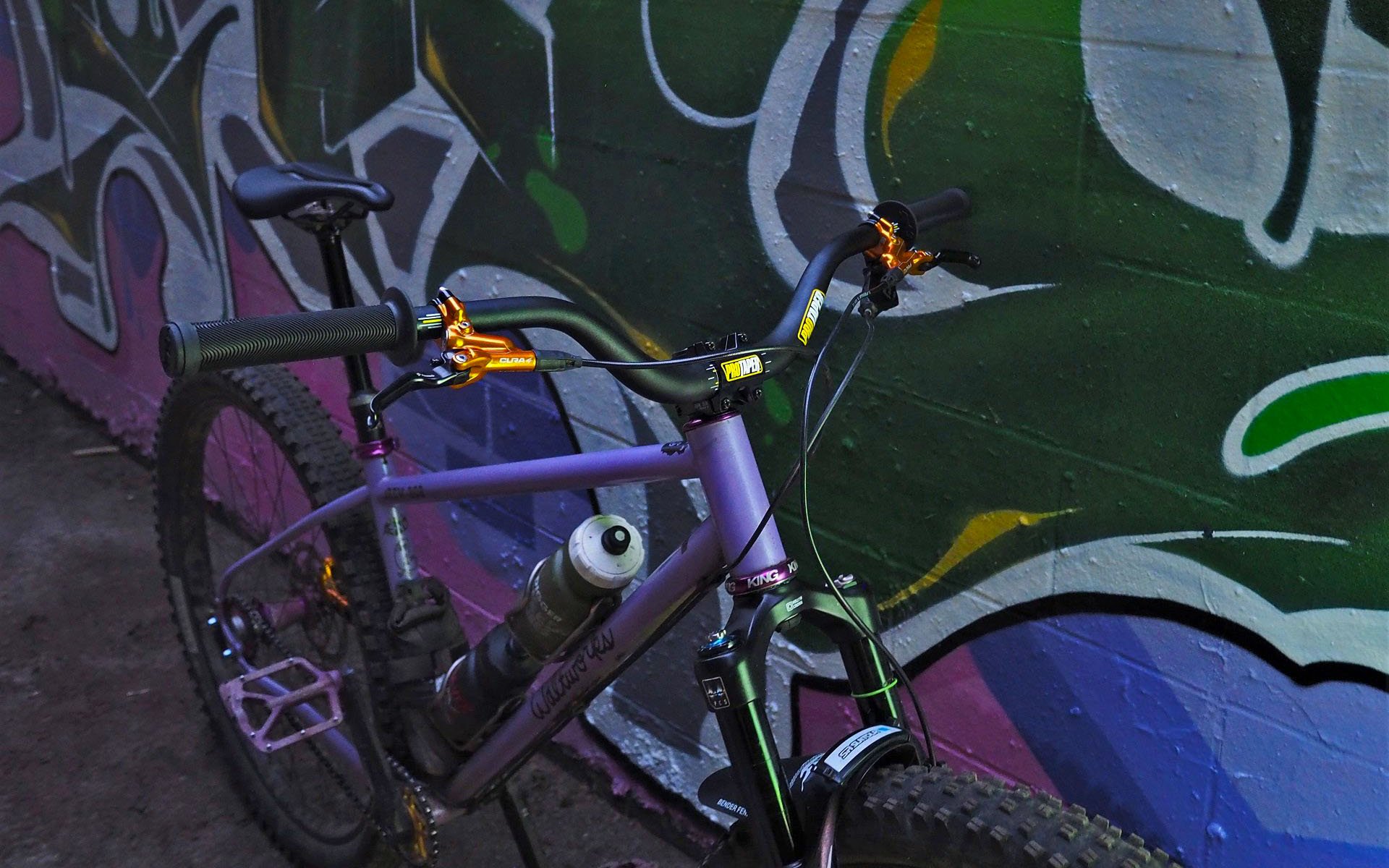 REVIEW | EDITORIAL
Fit Before Fashion - ProTaper's 76mm Riser Bar
Chopper, Cruiser, Klunker, BMX
I'm meandering down the road on my way home from a few hours of mountain biking. Relaxed. My left hand is up against the flange on my push-on grip with a couple of inches of my 3" rise handlebar to spare on the outside. My 3" rise handlebar. I'm certain I look like a much older, and much lamer kid on my way home from the skate park. I'm good with it though and let's be honest, on streets filled with a slippery slope of throttle-controlled, battery-powered, bicycle-shaped-objects flying about this way and that, a middle-aged dude on a 29" BMX doesn't qualify as weird.
It's in the woods, on the trails, that ProTaper's 76mm rise bar really stands out. Mountain bikers are about as non-conformist as members at Wimbledon and the looks on some folks' faces as I roll through are epic. Now me, I totally dig the 80's BRC aesthetic of the high rise bar. I've also chosen to take the terms 'modern Klunker' and 'offroad cruiser' as compliments. Fair warning, if you take a 76mm riser bar on the trails it is entirely noticeable and apparently open season for comments from strangers.
I don't need close to a 76mm riser bar, on any of my bikes, but every week I meet riders that do. People like:
I-would-love-to-have-a-higher-cockpit-but-my-friends-would-make-fun-of-me-with-that-bar-guy
I-really-do-need-a-lot-more-rise-but-I-only-ride-carbon-bars-because-they're-lighter-dude
The-shape-of-Answer-ProTaper-bars-is-magical-and-I-ran-them-for-years-but-it-only-comes-in-black-and-my-bike-needs-an-orange-bar-so-I-have-a-FU40-and-50mm-of-headset-spacers-fella
I've-only-seen-heavy-steel-bars-with-that-much-rise-but-$115-(CAD)-seems-like-a-lot-of-money-for-an-aluminum-handlebar-currently-running-an-ENVE-carbon-bar-person
I could go all day, and those are just the people who ask me about my handlebar. I also regularly keep my mouth shut as an individual rides by with 60mm of headset spacers under a 30mm rise bar on that new longer-reach rig they've purchased. Or even worse, when I see a giraffe careen down the trail with their bar so low their arms are locked-out in terrified-mode descending basic blue-trails.
A lot of companies suck at proportionately increasing their frames' stack height to match that new longer reach. Evidence? 40mm rise bars on mountain bikes used to be the territory of super-tall-folks, people with back issues, and the odd weirdo with a very upright personal preference. Now, they're legion. When was the last time someone purchased a bar with less than 25mm rise? Remember when flat 800mm bars were the thing? If the perfectly proportionate 6' tall dude is deciding between a 30mm and 40mm riser bar for his new size large super-bike then what the heck is the taller gent riding an XL, with the same headtube length, supposed to do?
Housekeeping
I prefer a bar with more sweep and I'd like to see ProTaper add a 12° backsweep model to its lineup
I don't need a 76mm riser bar, as mentioned earlier
Even with my bar as low as it can go, there was a learning curve to riding the bike with this setup
I ended up jacking up the bar and going to a longer stem on my full suspension bike to maintain a similar feel and now that I'm used to it I have to say that I'm loving the taller grip height, versus bottom bracket height, for my local terrain.
I wish more companies made a 50mm rise bar at least.
Even on bikes where the reach & Stack measurements are well balanced for most riding, I find I'm more comfortable on steeper terrain on a large frame (480mm+ reach) with the handlebar jacked up a bit.
If the bike is designed around a 30mm riser bar with a 10mm headset spacer underneath, that doesn't give me much room to play with fit.
My notes about wanting a bar with more back sweep aside, there is something beyond numbers about the ProTaper bar. I mean it has a 4° up-sweep and 8° back-sweep, which is nothing out of the norm, but they do feel great. That could just be nostalgia I suppose. Not just mine either, the number of people who've commented to me about their beloved - gold - Answer ProTaper bars back in the day makes me think it's a serious miss on Hayes Bicycle Group's part that these bars don't come in an anodized gold option. ProTaper was the bar.
Whether it's the bend, or the internal taper, or the 31.8mm clamp, or a combination of all three items and some magical metallurgy, the ProTaper bar is surprisingly comfortable. Certainly it was a learning curve coming off of the Fasst Flexx bar with it's 12° backsweep and shorter rise, and the corresponding addition of a stack of headset spacers, but nowhere near as rigid as I was prepared for whether riding my Helm, Durolux, or rigid fork.
Stem Interlude
There are lots of nice machined stems on the market around the 100 USD price range and I'll count the ProTaper MTB stem among them. Like the bars it comes in either a yellow or stealth graphic and it comes in five sizes, in a 31.8mm clamp; 30mm, 35mm, 40mm, 45mm, and 50mm to be precise. There is also a 35mm handlebar version available, albeit in 35mm and longer lengths due to the constraints of the clamp size.
I also played around with flipping my Industry Nine A318 stem upside down to get the bar a bit lower yet, but went back to the ProTaper for the duration of the test. The ProTaper MTB stem, simply works, unfailingly, as you would expect any decent stem to do.
Riding ProTaper
I also have a lot of hours on a regular 1" rise ProTaper bar on both my full suspension and my hardtail bikes. That includes the sweet tartan-graphic model I had on my Kona Unit and more recently a black bar with the same livery as this 3" bar. They do not stand out as being flexy or stiff. I'd say as 31.8" aluminum bars go it's a Goldilocks product for me in that regard.
Coming off bars with 12° and 16° backsweep it took a few rides to get used to the more generic 8° backsweep and that was perhaps trickier than learning to ride with my now much higher setup. It's an easy bar to recommend, with no caveats, in either rise. But then, there are a lot of great aluminum, and carbon bars running similar geo. Certainly where the ProTaper distinguishes itself is the height.
It's not a cheap, dead, and heavy stock steel high-rise bar. It's not an expensive and heavy custom steel high-rise bar. It's a sub-350-gram aluminum riser bar with a nice shape and a rise that people are looking for - whether they know it or they don't.
Chatting about the ProTaper 3IN Riser Bars on the trail produces two distinct conversations. First, there are the folks waxing nostalgic about their amazing back-in-the-day ProTaper experiences. Then there are newer riders who don't have any personal stake in the brand or the product. In either case, I hope that riders who really would benefit from running the high rise bar will consider it.
Who cares what your riding friends say. They're just trying to hold you back on the descents and keep your upper body cooked on the climbs.
Anecdotally, from my conversations on the trail, I know there's interest out there for these bars. If you don't need one that's great, but if you do whether it's getting the most out of a bike where the bar feels too low descending or trying to optimize riding position on the climbs, this is a great option in a stock aluminum bar, with a nice ride quality, and a towering rise.