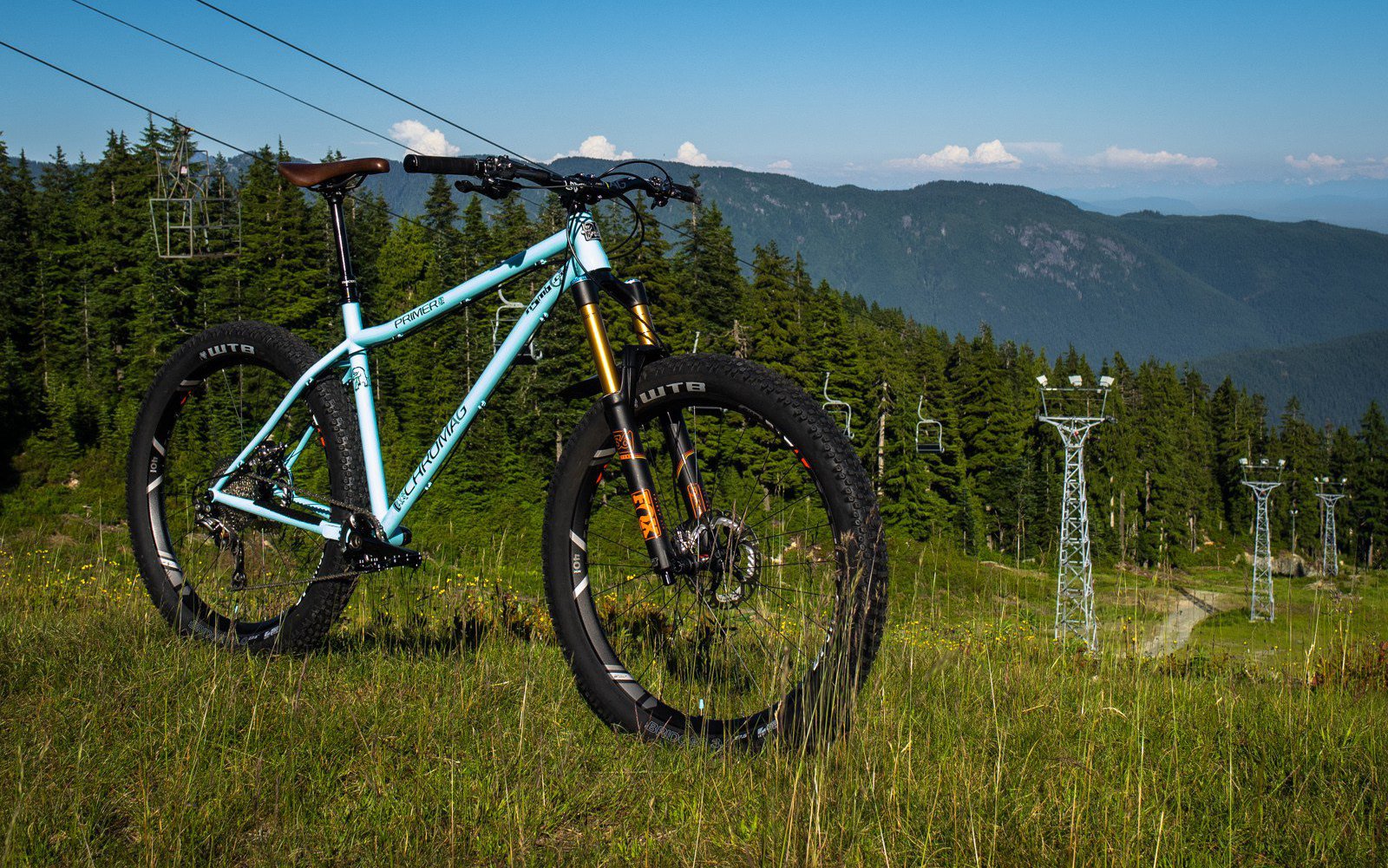 FIRST IMPRESSIONS
Chromag Primer
Where hardtails are concerned, there are three categories of rider:
Those that want one (includes those that have one).
Those that want to want one.
Those who wonder what the hell is wrong with the other two.
I have dabbled in all three groups. I spent the least amount of time in group 3, though. Partly because I'm old enough to have owned four different hardtails back in the 90s. Once I saved up enough money to trade in the last one for a first generation Heckler, I never looked back. I sure as hell appreciate steel tubes and the simple joy of a sloping top tube, but I was pretty comfortable as a member of the 'want to want one' group for a long time. And then I'd jump on my dualie and forget all about it.
The Chromag brand has a lot of seductive elements, but the various head tube badges may be the most perilous to your finances. If you're worried about your wallet, do not look a Chromag in the eye.

But, seeing a Chromag here and there stirred up some old embers. They didn't burst into flame until I had a closer look at the Rootdown BA. I liked the thought of a smaller-wheeled, more playful hardtail, but common sense took a turn with the mic and convinced me that if there was a place for big wheels, even on a hardtail with aggressive intentions, this was it.
And then Rebecca Ritz, the wife of Chromag owner Ian – I guess that makes her an owner, too – told me they had something new coming out. We had been talking about putting together the right test bike for some time, and I would always ask if they had a plus-sized frame ready yet. That day had finally come.
The Primer has the same similar geo to the Rootdown BA (the head angle is one-degree slacker at 65 degrees), but it was designed to switch hit between 27.5+ and 29″ wheels. The beauty was that I didn't have to commit to one wheel size or the other. So I could put big tires on there and yank 'em off and sub in 29s if I didn't like 'em. No flip chips or fork swaps required. A wheel & tire dabbler's dream hardtail. With Boost, of course.
Enter the Chromag Primer.
The geometry is…quite aggressive (same as the Rootdown BA):
Chainstay 16.3″ 415mm
Headtube 4.1″ 105mm
Head Angle 65°
Seattube Angle 75°
BB Height 12.6″ 320mm (with 29″ tires)
Seatpost Size 31.6mm
Headset Size 44mm/56mm
Ft. Derailleur Size N/A – not intended for FD
BB Shell BB92 *measured with a 160mm fork. Optimal 120-160mm.
I'm 6'1 and opted for a size Large. Complete geo chart can be seen here.
SIZING
TYPICAL RIDER HEIGHT
M: 5' 5″- 5' 10" / 165 – 178cm

M/L: 5' 8″ – 6' 2″ / 173 – 188cm

L: 6′ – 6' 4″ / 183 – 193cm

XL: 6' 3″ – 6' 7″ / 190 – 201cm

TOPTUBE LENGTH (EFFECTIVE)
M: 603mm / 23.75″
M/L: 622mm / 24.5″
L: 648mm / 25.5″
XL: 667mm / 26.25″
SEATTUBE LENGTH (C-TOP)
M: 432mm / 17″
M/L: 470mm / 18.5″
L: 495mm / 19.5″
XL: 533mm / 21″
REACH
M: 428mm
M/L: 447mm
L: 473mm
XL: 492mm
STACK
M: 653mm
M/L: 653mm
L: 653mm
XL: 653mm

This picture does justice to everything about the Primer. The colour, the lines, the long top tube, and yeah that fork looks long because it's a 160mm Fox 36 made to play nice with a 29″ wheel.
It gets better. The Primer is made and painted in Canada. Welded by Squamish native Mike Truelove – here's a brief interview with him on the 7mesh site – and painted by Chris Dekerf. The Primer has a rather special pedigree.
An overwhelming percentage of Chromags that you see in the Sea2Sky corridor are built up with SRAM 1x groups and Pikes up front. So I was happy to build it up a little differently. Yes, it's 1x, but it's XTR. Note: the Primer is intended to be built up with a single chainring only.
I was hoping to have an 11-46 cassette on there, but they're not quite ready yet. This 11-42 paired to a 30t ring up front will serve well.
For wheels, I opted to start with 27.5+ because they'll ease the transition to a hardtail. I'm old enough now that I get to coddle myself a bit, right? DT Swiss Spline ONE wheels featuring 40mm wide rims make for a stout combo. The 29s will go on soon enough so I can compare the two.
Beautiful dropouts, junctions, and brake mounts. XTR Trail brakes and 180mm rotors front and back.
Chromag components where possible, naturally. We opted for a 35mm HiFi stem.
Primer goes both ways. Hardtails are an area where plus tires may have a bright future. I suspect I'll settle on 29 most of the time, but I'm looking forward to playing around with both.
The first batch of #longlivechainsaw stickers sold out in 12 hours. Pick some up here…
The DT Swiss Spline ONE 40mm wide rims + WTB Bridger 3.0 tires are a super wide combo. This is how much clearance was left after a rear wheel re-dish. Probably best to stick to about a 2.8 and 35mm rim width max with the Primer.
The Race Face Turbine dropper post will get a good test on the Primer. Hardtails are good test beds for components.
Maybe not here, but the cable routing looks better in side mode. If you zip 'em to the middle, they look like they protrude from the down tube.
I've been using this Chromag Trailmaster LTD for about a year. It's just getting broken in. A steel hardtail deserves a leather saddle and for me, the classic look of this one fits perfectly.
150mm drop Race Face turbine.
There is enough fork clearance with the Fox 36 – barely.
The Primer isn't hard to look at from any angle.
Just like the Rootdown BA, stealth dropper post cable routing. Nice touch, Chromag.
The new WTB Bridger 3.0 is a proper 3″ tire. Which means it looks more like a mid-fat than a Plus tire.
We have some pretty sexy test bikes in the stable right now, but so far everyone that sees the Primer has expressed just a little more interest than usual.
Sure, this will be a review. Of the bike in 27.5+ vs 29″ form. Of going back to a hardtail after not having ridden one in some time. Is this some kind of masochistic manifestation of mid-life in crisis, or just the next phase in my infatuation with bikes?
---
There aren't many of these out there in the wild, yet.