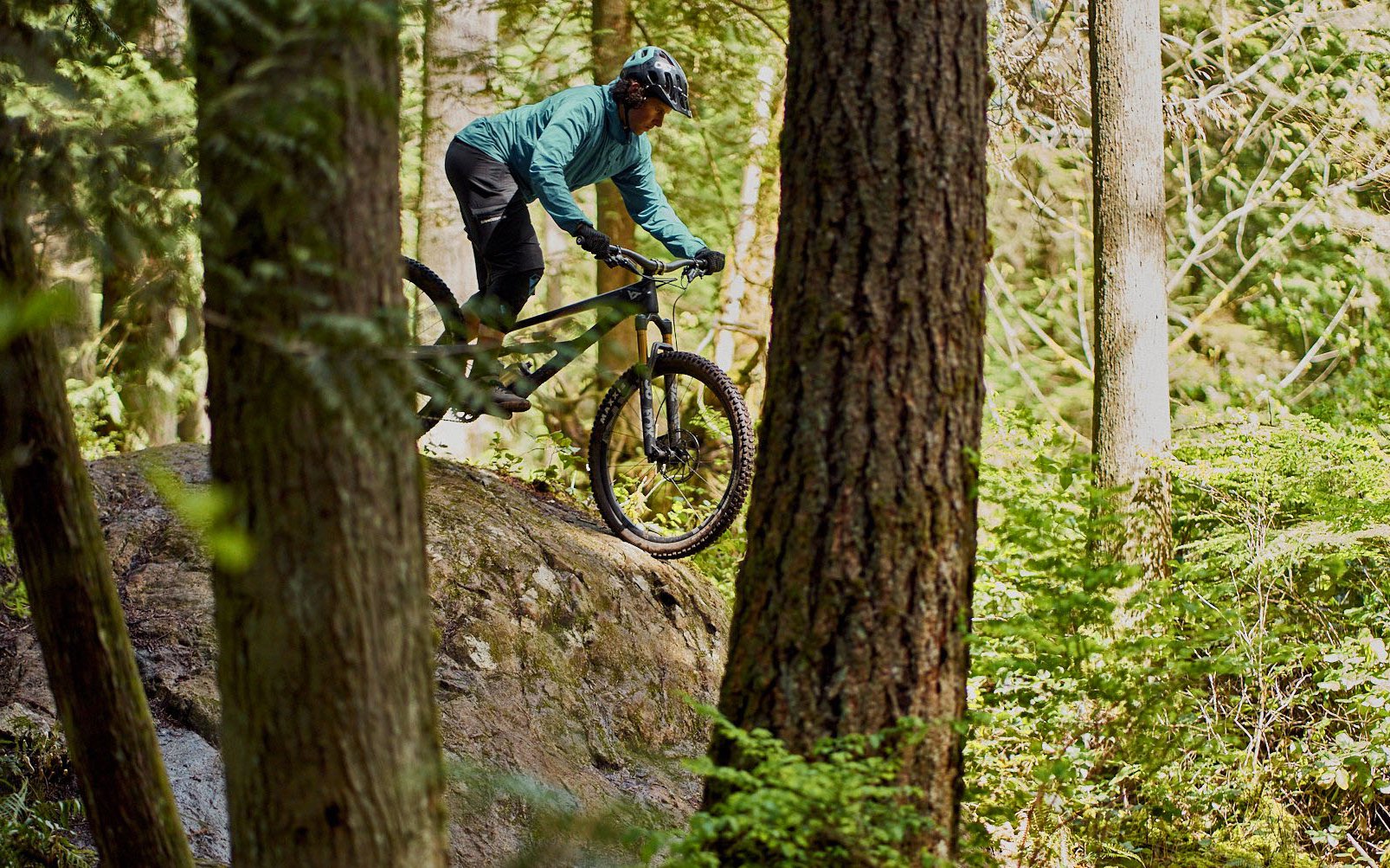 REVIEW
REVIEW: YT Jeffsy CF Pro Race 29
Blurring lines between a burly trail and light enduro bike
The very first turn on the YT Jeffsy 29 Pro Race - purportedly one of the most energetic, playful and agile trail bikes - one hopes to uphold their end of the bargain as a worthy and skilled pilot. This is especially true when I'm trying to carve through a right-hand berm, attempting to chase the underground North Shore hero, Trail Mole Jono Lo. There's no way I'm as quick as him, but I'm gonna let my freak flag fly, right? And, I do... Do I ever. The front wheel plants directly into the axle-deep shit, I go over the bars, and paint myself with winter-marinated black loam sauce from teeth to toe.
I wasn't sure what to expect riding the Jeffsy. Cam's out of the box article illuminated a deliciously spec'd, direct-to-consumer, 150mm travel light enduro/heavy duty trail bike. Coronavirus road closures around Vancouver practically eliminated shuttling (until recently). In turn, every day spent on the svelte, murdered-out Jeffsy (minus the bling of Kashima) endured a damn decent amount of vertical ascent via snotty tech climb trails, or semi-leisurely road ascents. I was excited to be on a bike which climbs much better than my regular choice of enduro/mini DH bruisers, and begs to be jibbed on lower angle trails. A machine which doesn't need much speed to come alive. And, while the curve of trail gnar ended up a parabola beginning somewhat high, slackening (to not burden the health care system of a potential wreck) and gradually ramping up again, the Jeffsy sliced through a wide array of low angle flow trails, steep granite slabs, classic Shore jank, and fluffy loam.


Geometry
Jeffsy geometry is carried over from 2019. I've been riding an XL size, and I'm 180cm/6' tall. The 1255mm wheelbase is stable, while encouraging various turn shapes. Top tube reach of 490mm is lengthy, but I never needed to remind myself to stay over the front end. The 66° head angle isn't at the cutting edge of progressivity. But, compared to new bikes debuting with head angles in the region of 64°, the 66° fuels the energetic, playful pop in spades. After spending time on both the Jeffsy and the 2020 Santa Cruz Hightower, the Jeffsy is immediately more active, the Hightower, subdued. Both blur a line of trail bikes with enduro capabilities, the Santa Cruz feeling slightly more composed in steep chunder - which is my terrain of choice. With a slacker head angle, the Jeffsy could lean toward the realm of its bigger brother, the Capra - YT's enduro/freeride sled, and I can understand why YT wouldn't want to mess with the current ride characteristics. The flip chip in the rear offers a slack setting of a 66° HA with a BB height of 344mm, vs. the high setting of 66.5° with 352mm BB height. I only rode in the slack position. Pedal strikes were usually user error, and considering my choice of terrain, I need the slackest head angle the Jeffsy offers.
Supsension and Setup
YT uses their own Virtual 4 Link suspension platform. This design seems lively and active, predictably and progressively ramping up while pinning - or stumbling - over unrelenting square edge hits. There's a great amout of small-bump compliance, which is comfortable for cold beginnings of a descent, wondering if you're on your game after a lengthy climb. The V4L rear end doesn't wallow too far into mid-stroke travel, maintaining support in abrupt corners, medium impacts and occasional bigger hits. I repeatedly rode a 2 metre rock drop to a buffed, but somewhat flat landing. The hit was smooth, but I expected to use most, if not all of the active travel on the Jeffsy. A quick glance at the O-ring sag indicator post touchdown told a different story, using only 65-70% of the 150mm travel. Mid support also helps to preload the rear, drift into a berm, use the apex as a catcher's mitt, extending the Jeffsy's legs to accelerate out. Finally, when I did bottom out, it was on repeated large square edged hits - predictable, not harsh.

Tuning the 150mm Fox 36 Float Factory and DPX2 Factory is a hair more finicky than other offerings. Perhaps that's my perception, after years of kindergarten-difficulty setup of Rockshox with their printed sag gradients on stanchions. Busting out my highschool steel ruler and calculator (ok...phone) to set proper sag, I started at Fox's suggested 20% front, 30% rear. These numbers provide a good baseline, but after some criticism from much faster friends over a "soft" suspension tune, I settled at 27% rear with a 0.6in volume spacer, and 15% front with an extra 10cc volume spacer. Inevitably, this subtracted some small bump compliance, but egged me on to use the bike's suspension a bit more, preloading in and out of corners, constantly looking for more things to jib on and off.


The Jeffsy is an inimitable trail boss of a bike
Climbing
The Jeffsy is the best 150mm bike I've pedalled uphill. A steep 77° seat angle keeps feet planted directly over the BB, ensuring all leg power is sent efficiently to the pedals. A 490mm reach appears long, but the front wheel doesn't wander or flop around while grunting up slimy, rooty climbs. Shifting weight onto the nose of the saddle allows for quick maneuvering around tight switchbacks, aft movement gives plenty of traction on slippery terrain. The V4L platform provides heaps of traction and bobs very little with the Fox DPX2 in full open position. I'm a fan of the 3 position open/trail/climb switch. The Jeffsy is a great climber in full open position, though any bike featuring this switch will get flicked over to climb - because it's there, and I can. Only during the most heinous loose technical climbs (e.g. Debeck's hill, Squamish) will I keep the shock in trail or open, to maximize traction.
Descending
The Jeffsy is less of a plow, and more of a pinball, in the best way. That low angle, wide trough you've ridden so many times? Doesn't the side kind of look like a quarter pipe? I don't know how far above the grass coping I was, but holy shit that was fun. The long loam berm you always try to apex? Preload the suspension and drift into it...and out of it! The reach feels long, but rear end short – and stable. I didn't feel like the front end would get away from me or lose traction, and the Jeffsy's rear end snaps around turns, every single time. It's kind of like a forgiving big mountain ski – focus on a slight weight bias to the front, let the the tail absorb impact, rebound out of turns. This lends to a really playful feel on low to medium angle terrain. The rear end is fairly stiff, and tracks well while holding a line on off-camber nastiness. On steep grades, the Jeffsy can plow, to a certain degree. The limiting factor is not the 150mm V4L suspension platform, but the 66° head angle. It simply doesn't recover fast enough from repeated hits on steep grades, pitching you forward while praying the next impact doesn't put you over the bars. While the Fox Factory suspension is top of its class, you'd best hold on tight.
Build
YT pulls no punches on the selection of components. For $7299 CAD, YT pays incredible attention to the parts spec and finish details. The Jeffsy is factory-clad with clear frame wrap on areas of the swingarm where heels would rub, and downtube, keeping the finish fresh after many a ride. Some wrap has pulled up the corners of said protection on the swingarm. YT's evolving improvements could include wrap placed inside of the swingarm with the seam placed on the bottom side, away from potential chain bounce or heel contact.
The 600ml fidlock bottle is a sweet feature for hydration. There's a quick learning curve to re-adhere when you're pedalling, but doesn't take long. It never once dislodged itself - impressive.
I can understand house-brand cockpits and contact points on value builds, but seeing them sneak on top/near top end builds is questionable. For a top-line build, I'd like the ability to swap out stock parts and sell/trade for close to what the preferred part costs. Luckily, the Jeffsy pulls no punches, with a drool inducing build. Anything I'd be tempted to switch out on the Jeffsy would purely be based on personal preference, and of equal value with the replacement.
Suspension
This is the first time I've ridden a Fox 36 Float Factory fork and DPX2 Factory shock, minus bouncing around on friend's rides in the parking lot (obviously sanitizing their grips afterward, sheesh). The 36's GRIP2 damper has a giant range of tune-ability and is plush out the box. I installed an extra volume spacer for more progression on both the fork and shock. If the Jeffsy was my personal ride, I'd over-fork from 150mm to 160mm in the front. The DPX2 is hassle free and smooth – and matches the fork well.
Drivetrain
A common practice in parts spec is manufacturers using a wide array of component levels. For instance, using a higher-end rear derailleur but skimping on crucial drivetrain pieces like the cassette. While this decreases price, I'm thankful for a full SRAM XO1 Eagle transmission. I will say the XO1 Eagle cassette shifts better under load and is a hair more crisp than GX or lesser models. The shifter action is sublimely light and precise. The transmission, thus far, is flawless.
Brakes
SRAM Code RSC is my gold standard brake for any gravity-oriented bike, with consistent modulation, power, and lack of fade. I'm a bigger guy at 210lb, I've trusted Codes for years on my personal rig. Rotor size is 200/180mm F/R, though I'd size up to 200mm in the rear for refined modulation.
Dropper and Lever
Fox Transfer Kashima has been consistently quick and I haven't had to adjust the cable, let alone touch the barrel adjuster. Dropper action is quick and light. Basically Flawless.
Tires
YT made a fantastic choice of using Maxxis Minion DHR2 rubber. Exo casing might be lightweight, but keep in mind this is a trail bike, and fits the bill. The DHR2 Maxxgrip front and Maxxterra rear, tells of YT paying close attention to detail where compound choice matters. . While I've never run a DHR2 as a front tire, the straight-line braking capability is incredible, and corners quite well.
Wheels
E13's TRS Race Carbon Trail wheelset is stiff, light and tough. The front wheel is nearly factory straight – though the rear wheel was recently subjected to a brutal jump case – nothing a truing stand can't fix. The hubs spin drag free, but the freehub developed some crunching and cracking. After removing the axle and inspecting the pawls and ratchet surfaces, I didn't find any metal shavings or pawl springs out of place, but I did remove a fair amount of grease, reassembled, and have since only listened to properly engaging pawls. I suspect too much grease in the freehub body wasn't allowing the pawls to fully extend into their machined seats, causing strange sounds and quirky engagement.
Contact Points
I love the the look of the SDG RDR saddle, but not the feel of it. The overall convex shape doesn't treat my body well, so I subbed it out for my personal Chromag Trailmaster LTD - no big deal. ODI Elite Motion 2.1 is my new favourite grip. The lock-on collar is only found inboard, the inner hard plastic sleeve is low profile. They're thin and have a great broken-in knurled texture. Basic flats are included with the Jeffsy, but I have been rotating between Shimano XT SPDs and XT Flats.
Cockpit
The Renthal Fatbar Carbon 35mm and Apex 35 stem are two top-tier bits which you'd likely find behind display case glass instead of a bike build south of eight grand. Both are stiff, light, and top quality.
Conclusion
The Jeffsy is an engagingly energetic trail boss of a bike. In a time when I've had to pedal to all of my descents, it's an incredible climber, a heavy duty trail bike which also throws its (lack of) weight into the enduro spectrum. It encourages you to go faster you previously have on low to medium angle trails, pop off features and smash into corners while being slingshotted out - rinse and repeat. It's capable of riding the steeps, but is under-gunned on sustained nasty grades. It could benefit from a slacker head angle for steeper terrain prowess – the tradeoff being its lightning quick handling. The components leave absolutely nothing to be desired. YT's attention to detail in regards to the fit and finish of the Jeffsy is an attitude all bike manufacturers can aspire to.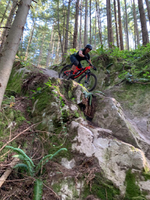 Graham Driedger
Age - 35
Height - 182cm/6ft
Weight - 92kg/205lb
Ape Index - 1.035
Inseam - 32"/81cm
Trail I've been stoked on lately - Pleasure Trail, Lower Digger
Bar Width - 780-800mm
Preferred Reach - 470-500mm