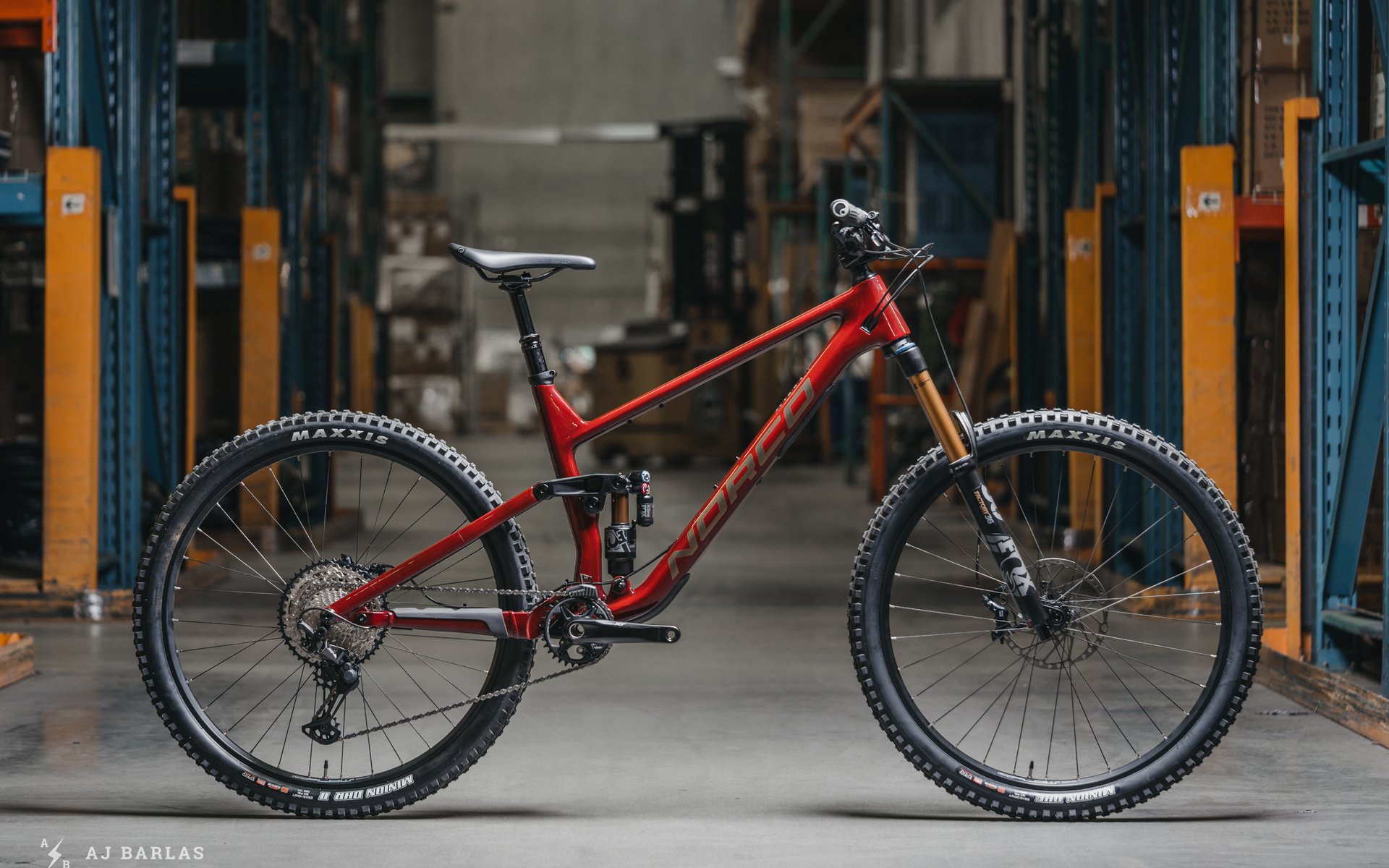 First Impressions
2020 Norco Sight – Build Your Ride
Norco lifted the veil on the much anticipated 2020 Sight in October 2019 and its since been generating heaps of interest. For years, the brand has been mindful of the various frame dimensions required by different sized riders but their latest models have stepped it up considerably. Previously, Norco focused on front and rear weight distribution with lengthened rear centres, something most of the industry seems indifferent to, but in 2019 they moved toward a more holistic approach.
This focus has seen their MY20 Optic and now Sight leap ahead of many brands in terms of geometry and fit but they also include carefully considered setup guides targeted not just to rider weight but also body-type and composition. Beyond that users can nail down setup using skill level and riding style. It appears Norco is looking to give customers the best experience possible from their bikes, with less of the guesswork. Other manufacturers aim to do this as well but few appear to be digging as deep. While attempting to reach this goal, Norco spent more time on each model in the Sight range to provide what they feel is the best setup for a given parts package. That's something we can all get behind because when better equipped to set up a bike, there's more time to enjoy the ride it provides. Of course, this is provided the setup guides work.
Although the latest Optic and Sight models have been receiving plenty of praise, the concept behind Norco's Ride Aligned system is still relatively new to the majority of folks looking for a new bike. Demo days and the local bike store are going to play a huge part in helping riders understand this new era in mountain bike geometry, one where we see less influence from bikes of yore. We're finally starting to ride mountain bikes with shapes designed for their intended use – on the trails. Imagine that…
Highlights
Carbon front triangle and seat stays w/ alloy chainstays
Ride Aligned System: Geometry and setup specific to rider body type, skill level
Ride Aligned setup assistant provides steps to help achieve optimal setup
29 and 27.5-inch wheel options for each model (29-inch being tested)
Long travel dropper posts on each frame size
Bottle mounts beneath the top tube for an extra bottle or accessory carrying solutions
Women's models for each parts package
Build Your Ride custom builder
Four-piston brakes on all models
150mm rear / 160mm front suspension travel
Weight: 15.4kg (Size XL 29er w/o pedals)
Price: 3,599 CAD / 2,799 USD (A3) – 6,999 CAD / 5,199 USD (C2)
Build Your Ride Pricing: 5,897 – 9,097 CAD / 4,997 – 7,097 USD (7,597 CAD / 5,897 USD shown)
2020 Sight Model Range
Norco has seemingly endless options available for the new Sight. The line starts at 3,599 CAD (2,799 USD) with the base alloy option and goes through five models, including a women's option for each, up to 6,999 CAD (5,199 USD) for the top carbon C2. Models are fitted with a mix of RockShox or Fox, providing choice for riders who swing one way over the other. Drivetrains and brakes vary throughout but the majority are equipped with SRAM. That is until the C2 models, which are equipped with Shimano's new 12-speed XT drivetrains and SLX brakes. Oh, and each model is available with 27.5 or 29-inch wheels, allowing you to pick your poison.
Every model is fitted with reliable Maxxis Minion tires – DHF front and DHRII rear – with the top spec'ed C2 bumping up the casing to the new EXO+. Size small models are equipped with a 150mm dropper, medium and large bump up to 170mm droppers and the extra-large frames come with a 200mm dropper. The dropper throughout the entire range is the Trans X.
Build Your Own
If there isn't a stock Norco Sight that tickles your fancy, there are two ways to build your own. You can buy a frame only, in the burgundy seen here, or you can choose Norco's Build Your Ride program which makes use of predetermined packages available on the Norco website. This option won't provide the unlimited flexibility of a full custom build but it gives customers great options, mixing and matching part kits using components from SRAM, Shimano, RockShox, and Fox.
If an alloy frame with the best suspension and a lower budget drivetrain is of interest, you can do that. Maybe Fox suspension is your preference but you don't want to spend the extra money on Kashima coating? You can do that too. Any of the frame colours shown for various models in Norco's predetermined model range are available and customers can select between carbon or alloy frame materials.
Once frame material, colour, wheel, and frame size have been selected, there are four suspension packages to choose from. The top package is a Fox Factory kit with the gold Kashima bling, or you can opt for the Performance level Fox 36 and Float X2. There are also two options available from RockShox, each including a version of the Lyrik and Super Deluxe rear shock.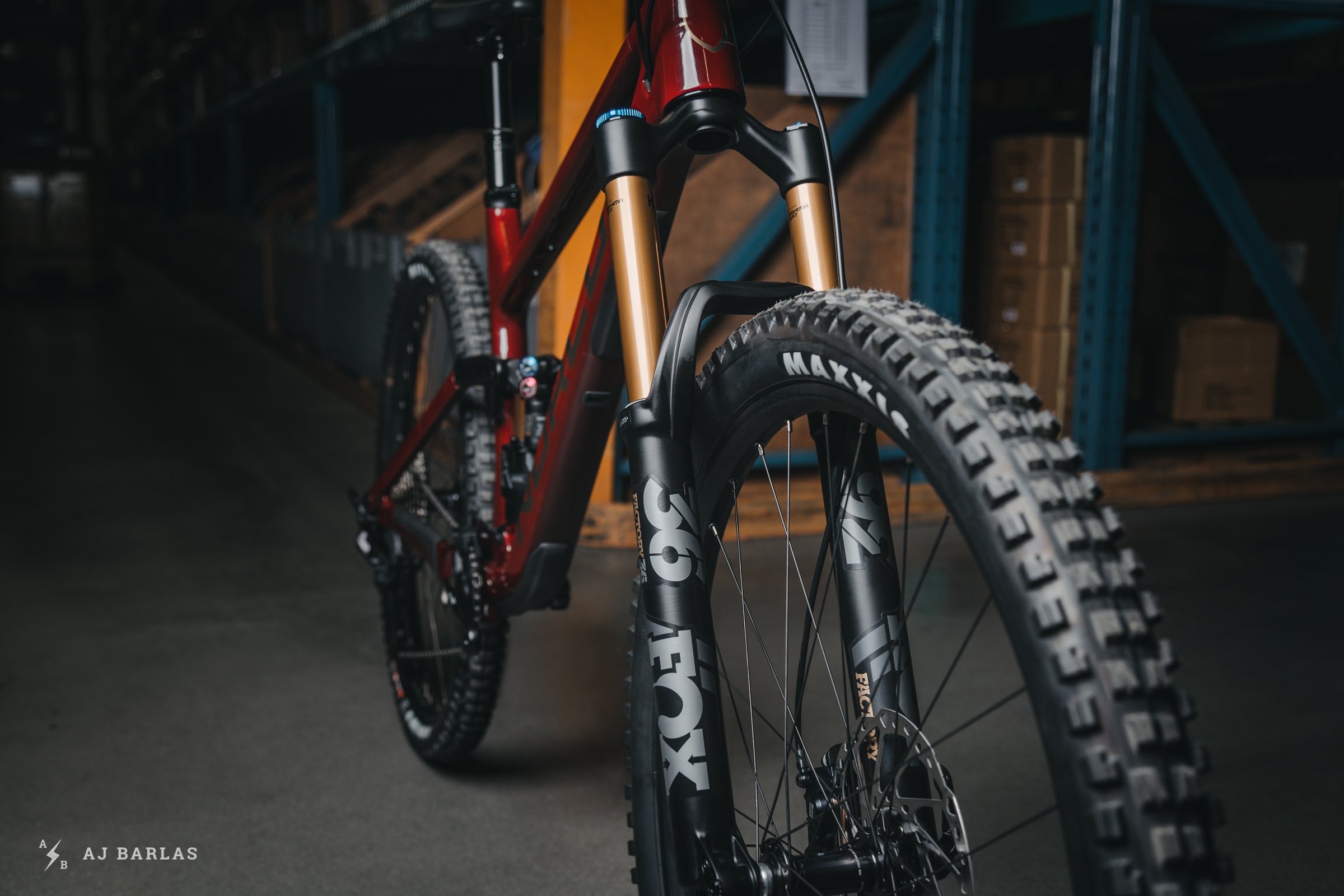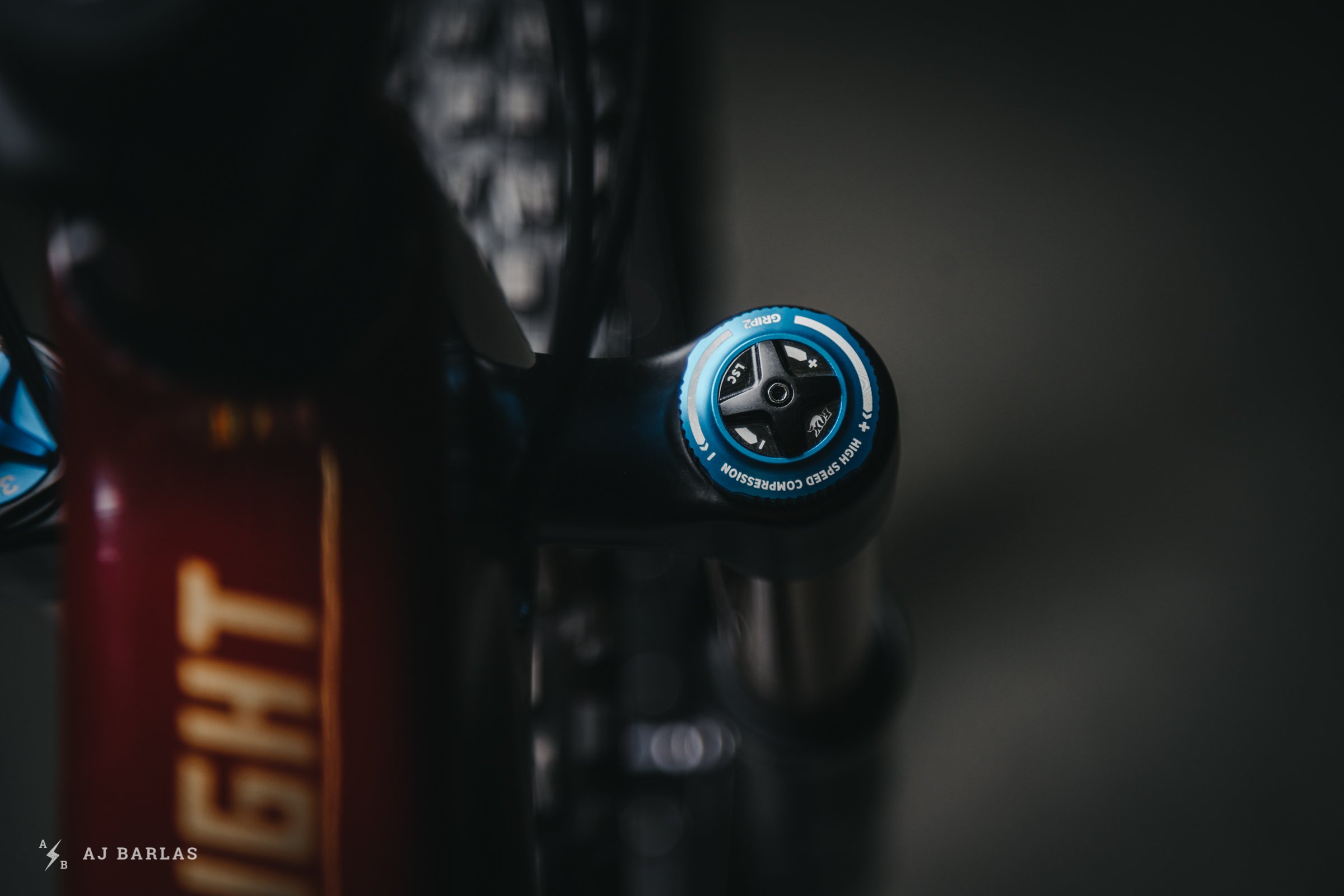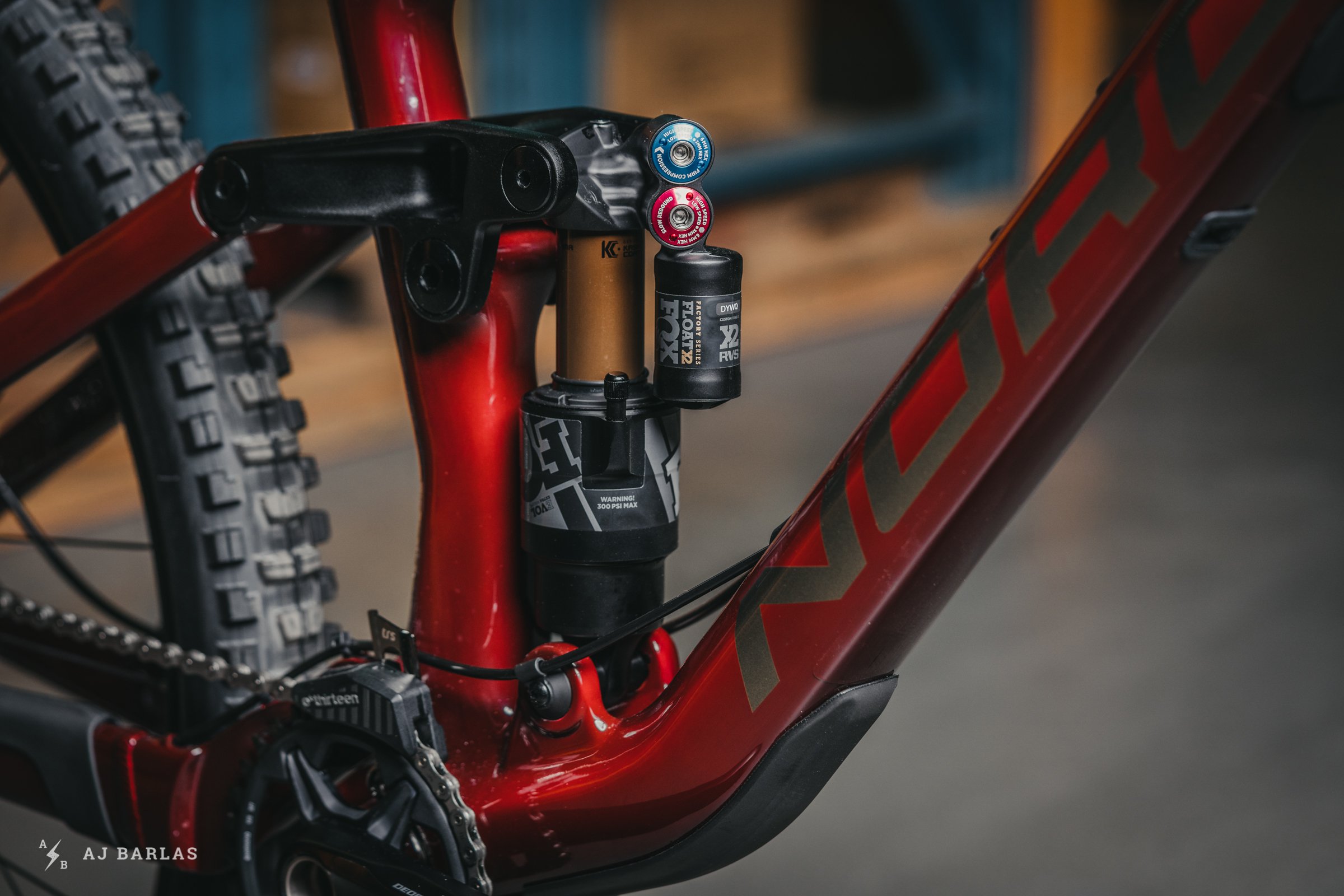 The third and final step of the custom build process is selecting the desired component package. There are three tiers available, from the SRAM XX1 option, which includes We Are One Da Bar handlebar and carbon rims with an AXS dropper post, to the bottom option of Shimano XT/SLX group kit with Deity Ridgeline bars, Stans Flow D rims and Trans X dropper. The mid-tier package is SRAM X01 with DT Swiss rims.
Customers can't specify the wheels or bars from one package into another but Norco has done a great job of arming riders with options to suit many needs. The option to select Fox or RockShox with SRAM or Shimano is great and maybe in the future, there will be more customization available? The build I'll be testing is a mix of top tier Fox suspension (though I would have been happy with the Performance line) and a Shimano XT/SLX drivetrain, which means I'll be on Stans Flow D rims and a Deity Ridgeline alloy bar. All parts I'd be likely to opt for.
Norco Sight 'Build Your Ride' Test Bike Specification
160mm Fox Factory Float 36 (GRIP 2 Damper)
Fox Factory Float X2 providing 150mm rear wheel travel
Shimano XT 1x12 Drivetrain

This test bike has Shimano XT cranks but the kit now comes with Race Face Turbine cranks

Shimano SLX brakes
Stans Flow D rims laced to Shimano XT Hubs
Deity Ridgeline 35mm bore, alloy bar
Maxxis EXO+ DHF and DHRII tires
All models come with Ergon GE10 Evo grips and SM10 saddle, Norco stem and TransX dropper.
MSRP: 5,897 USD (7,597.00 CAD)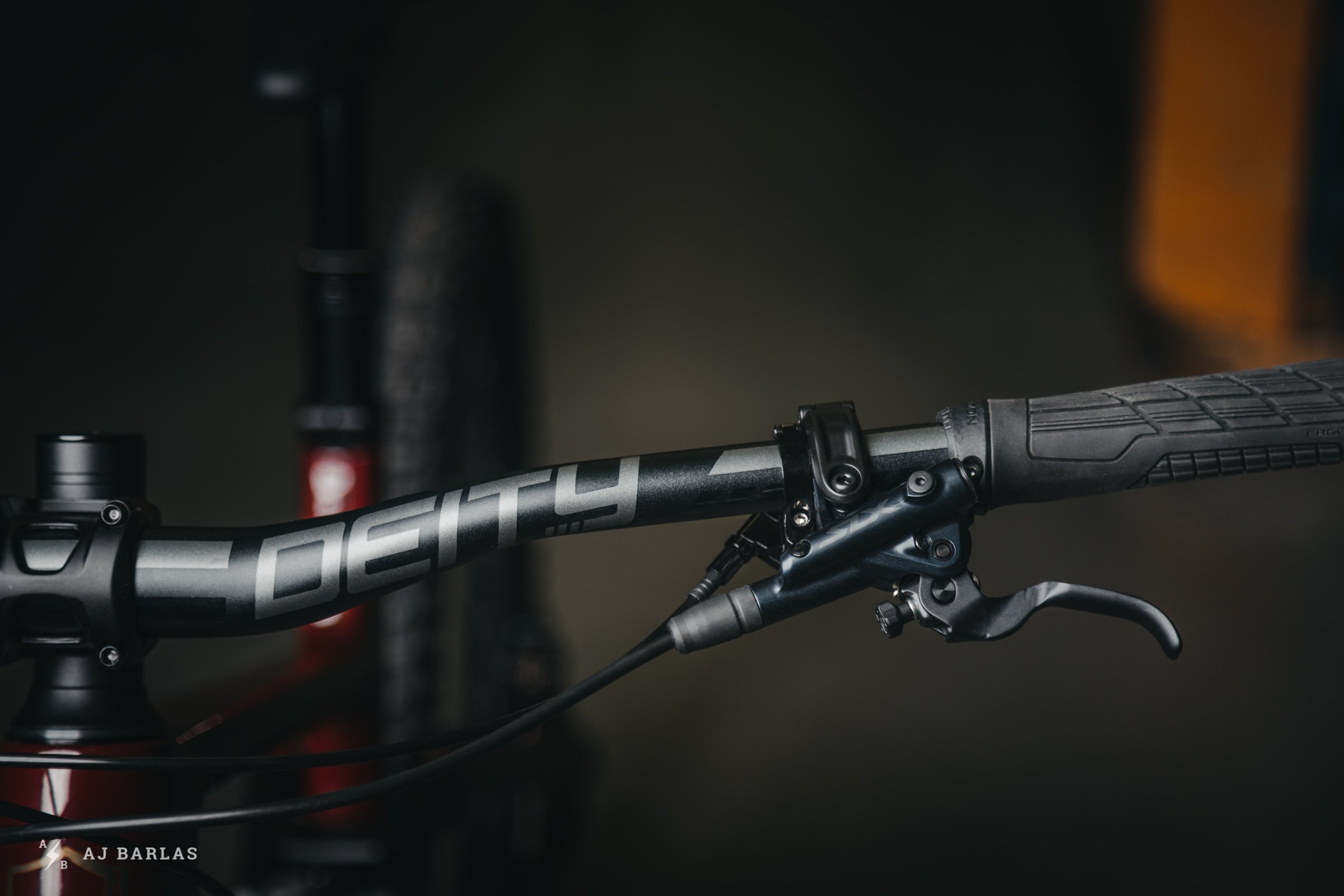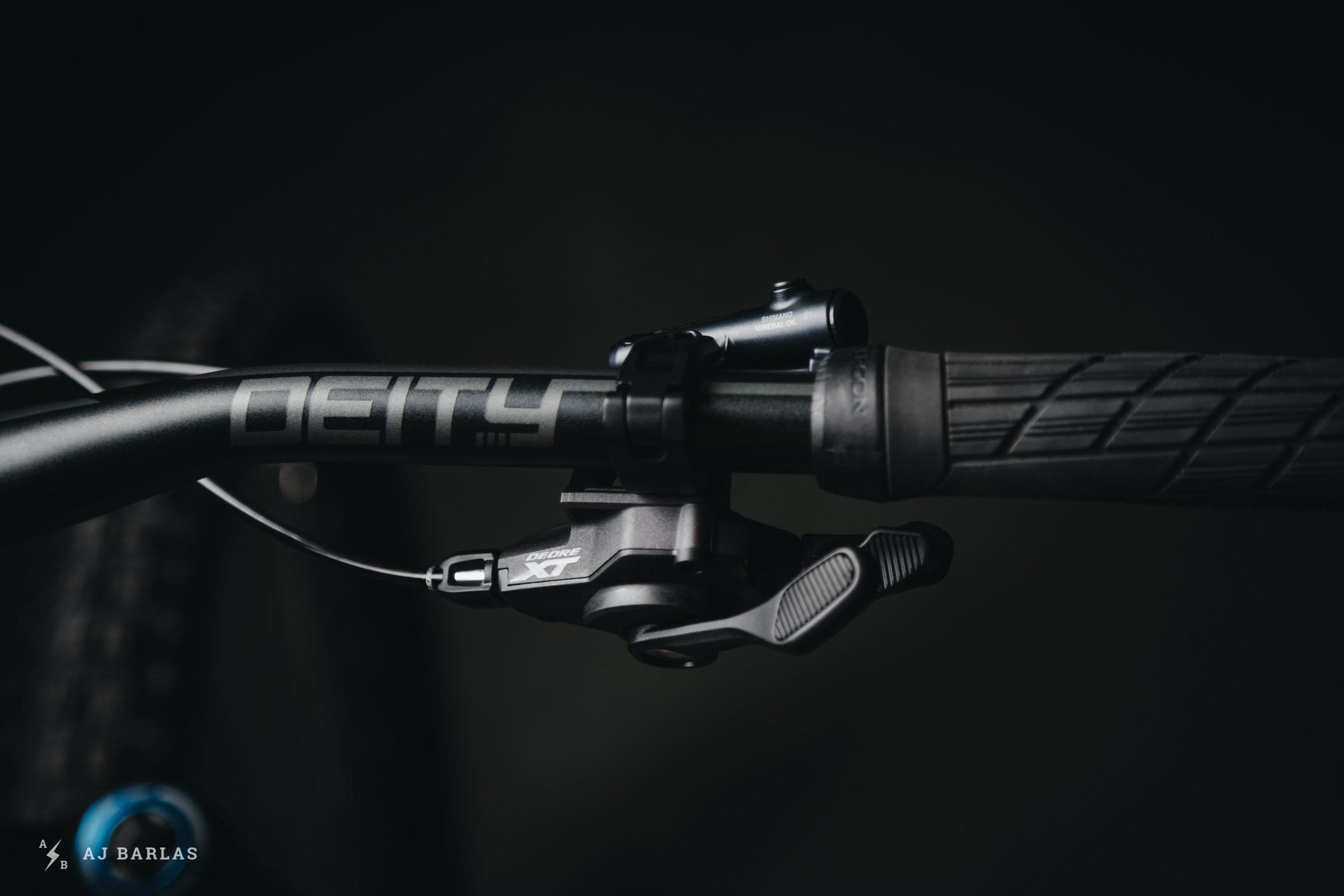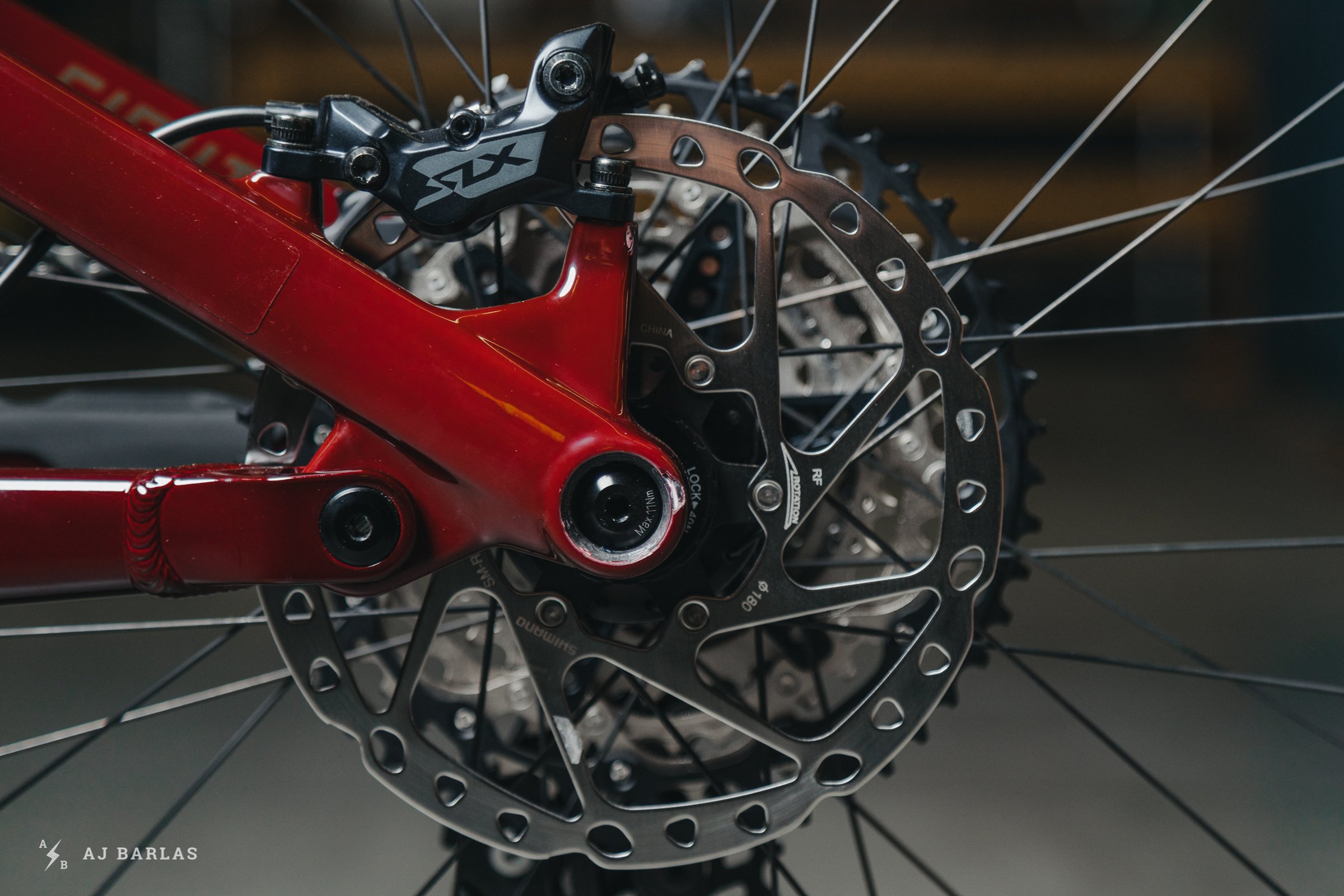 Frame and Suspension Design
As I mentioned above, Norco has been providing bikes for years that grow not only in the front centre and seat tube but also in the rear centre. Previously known as their Gravity Tune, the concept was simple; keep the riders' mass centrally located in the wheelbase. They've since tweaked their frames to better accommodate today's riders, moving completely away from the road bike influenced sizing structure of the past and leaping ahead with shapes specific to the intended purpose of a mountain bike, on trails, in varied terrain.
The frame design goes a step further with the layup and tubing dimensions for each size adjusted to provide the same feel throughout the range. Two discerning riders, one on a small, the other on an extra-large, should feel similar support and flex characteristics from the frame. Specialized does this, and others likely do as well, but I'm strapped to come up with any competitors that also employ the comprehensive size-specific geometry and suspension setup that Norco has implemented.
When it comes to suspension, the 2020 Sight has a clean leverage curve which should make for increased tunability and consistency. Norco says the suspension kinematics were formed from an analysis of wheel force and energy absorption with an air spring. The leverage ratio starts at a relatively high rate of just above 3.2 and drops to below 2.8, resulting in a progressive suspension package. That should equate to more grip from a lighter initial touch at the top. Norco has also tuned the shock to provide improved mid-stroke support when compared to its outgoing model.
To help riders get the most out of the SIght, Norco has the Ride Aligned setup assistant. The assistant uses a series of forms to gauge what a rider is after from the bike, their height, weight, and skill level. It even includes an option to switch the front to rear suspension offset, to adjust balance to the rider's preference. Not to be confused with fork offset, suspension offset changes the balance of the bike front to rear. I generally prefer the front of my bikes to stand taller, so the default offset was my choice but for someone who prefers a more level balance, it can be changed, bringing the sag percentage closer together, front to rear. The guide makes setup as simple as possible and from there, Norco hopes riders will only need to make minor adjustments to get the bike working perfectly for them.
Geometry
Norco has grown quite progressive when considering geometry and bike shape but they haven't pushed as far as Pole or Nicolai/GeoMetron. As a large-scale manufacturer, it's impressive where they've taken things and judging by the interest surrounding the new bikes, they may be hitting the sweet spot for consumers. Of course, not everyone will be pleased by the numbers on paper but with this new direction in MTB geometry still developing, it's early days. As more riders get opportunities to spend time on different shaped bikes, I believe we'll see these sort of numbers become quite normal.
There are some standout points to the new Sight worthy of more attention. Steeper seat tube angles aren't anything new but frame-specific seat angles are on the cutting edge. Norco measures their seat tube angles where the actual and effective angles intersect instead of at the horizontal top tube measurement intersection. In many cases, seat tube angles decline as frame size increases, but not here. Norco has developed the frames so that the STA grows subtly steeper as the size increases. As a tall rider, this is something I'm grateful for and I look forward to spending time climbing tech singletrack on the Sight with its claimed 78-degree seat angle.
In addition to the steeper STA on larger frame sizes, the rear centre grows 5mm between each size. The two work together to move the mass of larger riders away from the rear axle and should provide improved climbing grip and weight distribution across the wheels. In my experience, keeping the front wheel planted and the rear gripping makes things more enjoyable on the trail, negating bike weight to an extent. How that will translate to the Sight remains to be seen, but I should mention that it's not the lightest feeling bike I've grabbed hold of.
Finishing Touches
As with a large majority of bikes today, the Sight features internal routing, including the rear brake line. There is a firm anchor where the cables pass by the bottom bracket and seat tube, mounting them to the lower shock mount. These mounts hold the cables snug, creating a point to pull the cable tight from the headtube.
As with the Optic, the upper shock mount rotates on sealed cartridge bearings but unique to the Sight, so does the lower eyelet. Norco appear keen on improving grip from a more sensitive initial portion to the rear wheel travel. This adds some weight to the overall build but the benefit of better functioning suspension should outweigh that.
Frame protection has been bolstered and the Sight comes with 3M clear tape on the top tube, downtube, behind the seat tube, on the chainstays and a portion of the seat stays (where heels generally rub). It's a great addition and one I believe adds value to the purchase price; there's no need to seek an aftermarket vinyl wrap solution here. But the rubber protection on the chainstay and underside of the seat stay remains minimal and doesn't provide ample coverage. I've added a strip of rubber mastic tape between the chainstay and chainring, which is a location that saw some damage on the Optic I tested last year. There's a solid rubber moulded protector beneath the downtube by the bottom bracket and another to protect the downtube from shuttle pads.
Overall the 2020 Norco Sight looks great and I'm excited to get it on the trails. The Build Your Ride program is an excellent option for riders to customize the build kit, particularly for those who don't care about carbon frames but still want decent suspension or components, this option opens up the possibilities.
Learn more about the Norco Sight or play with build options in their Build Your Ride custom builder.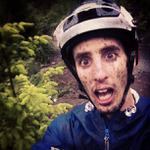 AJ Barlas
Age: 39
Height: 191cm/6'3"
Weight: 73kg/160lbs
Ape Index: 1.037
Inseam: 32"
Trail on Repeat: Changes as often as my mood.
Current Regular: Every test product spends time on Entrail