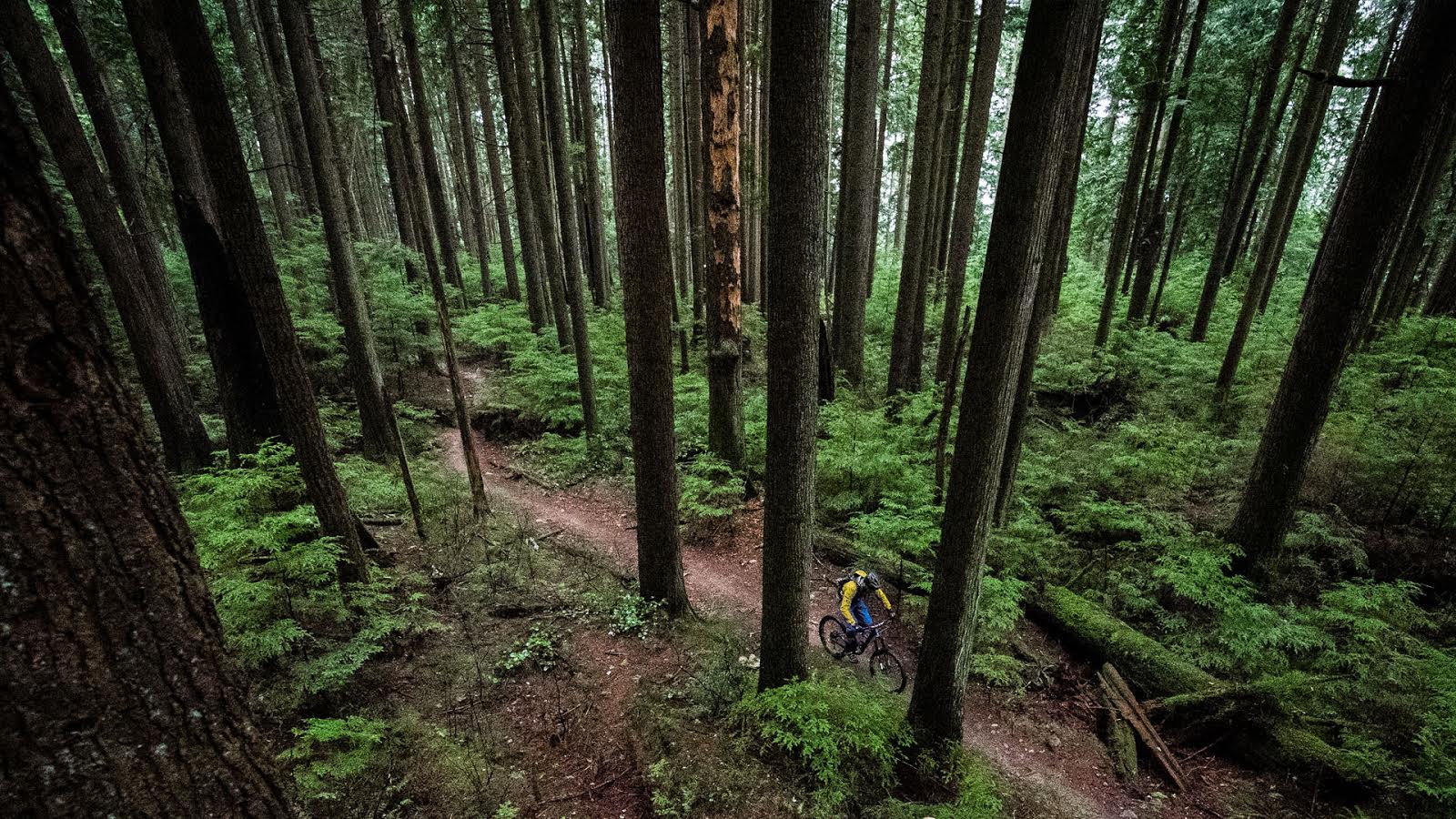 Kiss & Tell with the X-Fusion Trace
I'm sometimes envious of riders who can jump on a bike set-up for a rider two weight classes in either direction, and shred. I'm not the-Princess-and-the-Pea but I am definitely particular about my setup. So it was a with a bit of trepidation that I bolted this un-ridden X-Fusion Trace onto the Cannondale Jekyll and headed out the door to meet Kaz for a ride.
Starring: Kaz' famous stick! Supporting cast: X-Fusion Trace HLR & Cannondale Jekyll.
Psychology is a huge part of riding. After plugging in base settings – 20% sag, mid-point LSC, mid-point HSC, rebound to preference – the fact that the Trace was so well built out of the box boosted my confidence as I followed Kaz and his 150lb camera bag into our first descent.

The range of adjustment on the Trace's Roughcut HLR damper is huge. It goes from as slow as not-quite-frozen gin to greased lightning on the rebound and from an empty void to brick-wall-firm on the compression damper with a million (metric measurement) clicks in between. It was easy to dial in base settings, but, as is common, I spent part of the ride and a couple of rides after, playing around for my optimum set-up.
These dials go WAY past eleven! There is a huge range of adjustment with many usable clicks around my preferred settings to truly dial in the Roughcut HLR damper.
X-Fusion's forks include a handy sticker on the lower with a base setting for air pressure based on rider weight. As with most suspension forks I have ridden lately, I would guess they err heavily towards comfort and 'that guy' who has to bottom out his fork three times a ride to feel like he, and it's always a he, is getting maximum value from his suspension. Even with running ~ 30% sag on the Jekyll's DYAD shock I would have been getting pushed over the front on any remotely steep trails with the Trace's base setting for my weight class. I would always recommend setting your suspension up based on sag, not pressure, and ~20% sag on the Trace combined with the Roughcut damper supplied great traction and support.
Dialing in the basic ride on some smooth fast trails: X-Fusion Trace riding high.
Rolling into the trails I could definitely tell that the fork was tight, tight but not sticky. The Trace doesn't have the showroom plush feel of some other high performance suspension products. By the end of our ride I could already feel that the fork was starting to break-in and it will be interesting to see what it feels like after a couple of months of riding. I think it's important to re-iterate that the fork is tight, as in the bushings/stanchion interface, and not sticky from a lack of lubrication in the lowers like a lot of forks I come across. Those forks need a service not a break-in period, even if they are new. That's not the case with the X-Fusion.
Nice & Tight Bushings; Nice & Tight Trails.
Point & Shoot: Riding a confidence inspiring fork is a lot less work than climbing trees to photograph said experience!
In addition to it being my first ride on the X-Fusion Trace, it was my first ride in over a decade on Boogieman. My amazing local trail association, the NSMBA, their trail crew, local builder Dan Lui, and a handful of awesome volunteers have put in huge hours over the last couple of years dialing it in while maintaining its original character and I was shocked. Firstly, because I hadn't ridden it in so long and it's a beauty.
A Kaz-eyed view of Boogieman. An inspiring day on an inspiring trail.
Secondly, because you should always look before you leap. Riding blind and WAY too fast into a rolling ladder was looking to be a recipe for disaster as my rear wheel tried to pass above my head. I found the bottom out bumper on the Trace fork, and heard my rim touch despite ~28psi in a Magic Mary Super Gravity tire. The Trace kept its composure as I bottomed in and rolled out and was predictable through the entire event. Not how I generally choose to test suspension components, especially on the first ride, but definitely confidence inspiring going forward.
Kaz had climbed into his camera bag at that point, so after a moment of self-reflection I hit the roller a few more times at a more controlled exit speed and everything was beautiful. A good reminder to check yourself if you're riding blind.
Look before you leap: the Trace's bottom out bumper prevented a harsh, metal-on-metal, ending and possibly an intense make-out session with the ground on roll-in #1.
Lastly, because the engineering Dan & Co put into reinforcing this log ride is as epic as the ride itself. Thanks for all your hard work folks!
Definitely higher up than I remembered it… this is about where I told Kaz I'm afraid of heights. Rode it again a few days later just to be sure— ride it three times and you own it right? Probably also true for dialing in fork settings.
I think I'd be justified in calling the ride of the X-Fusion Trace a bit old-school compared to similar platforms in the high-performance fork category. Whether it be the RockShox Pike, Fox 34/36 Float, or the Ohlins' RXF 34, most current forks are very supple off the top and then rely on a combination of their air spring curve and damper to provide mid and end stroke support.
Beauty first day on the X-Fusion. The Trace needs to be ridden to be appreciated: good support and traction from the Roughcut HLR damper.
Despite having a large coil negative spring, the Trace doesn't fall into its travel the same way. As soon as you get past the static push test and get on the trail, the small bump performance and traction is excellent. The harder you push the fork the more you will appreciate the support of the Roughcut damper. You may not be blown away by a parking lot test on a brand new fork. Test Ride; Then Decide.
Ride it slow. Ride it fast. Just keep a foot on the gas. The Trace responds well to rider input and likes to be pushed into berms and technical trail features alike.
Smooth and fast, slower more technical lines, and stomping short technical climbs out of the saddle; it was a great first day on the Trace that set me up for the following rides. The fork has broken in quite a bit after a couple of pedals but it still likes to sit high and be pushed into trails.
Black & white striped pink-lightning-bolt socks. Don't be jealous. Just e-mail Pete and ask him when the NSMB.com special edition of the same/same is coming out!
Outro fork image: I like the new graphics. I like the new damper. I'm looking forward to dialing in the ride.
I am interested to ride the trails I've recently hit with the excellent 2016 Pike that came stock on the Jekyll, because the Trace rides differently. Over the course of the long term review I hope to use the Pike, which so many riders have experience with, as a baseline for comparison.
---
The start of a beautiful more-than-friendship?