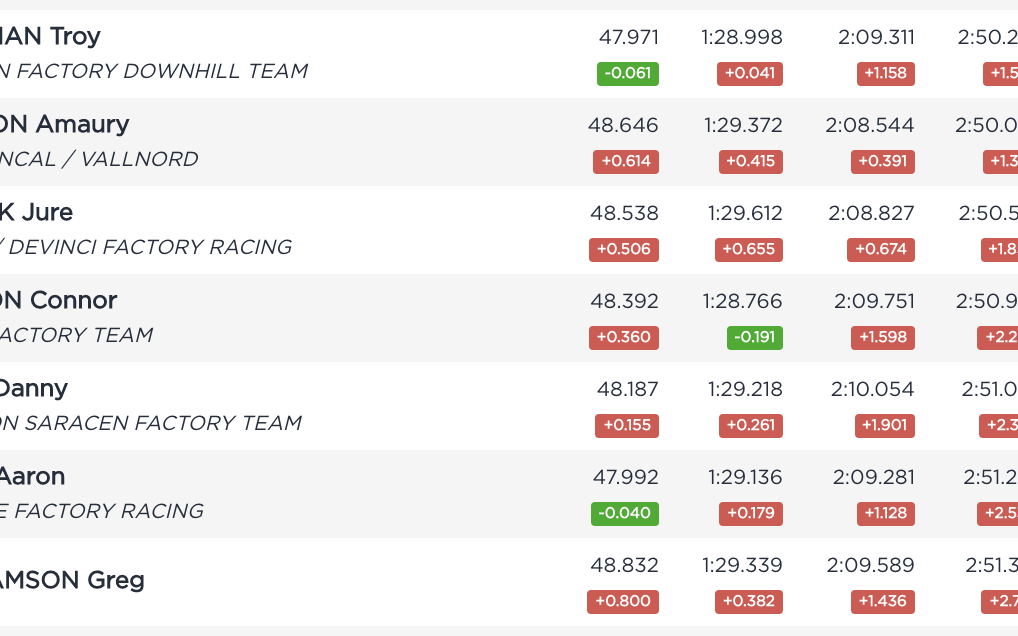 RACE NEWS
Results and Commentary: Leogang World Cup 2019
Elite Men
Young US rider, Charlie Harrison put in a stormer and was the first to beat the qualifying time of Greg Minnaar. It was fast enough for him to get very comfortable in the hot. His final section of the race track had riders puzzled, as many would have him beat on the upper splits only to lose time in the final section. Harrison's time was looking good until 11th place qualifier and current World Champ, Loïc Bruni hit the course. Bruni had a blinder and put more than three seconds into Harrison. Bruni lit the finish board with green, up at every split. He made the tough dusty conditions look easy, holding inside after inside as he flew down the track and into a cheering finish corral.
The man who has done the unthinkable in Leogang before, Aaron Gwin, had a solid run despite his injured ankle. He went into second place but it didn't stand for long. Danny Hart came down and into second, bumping Gwin down a peg. Hart took the fastest time in the first split but was unable to beat any of Bruni's splits the rest of the way down.
Winner in Fort Bill, Amaury Pierron, couldn't match the speed of his countryman. He had a strong run but was another rider only able to land on 3:18, with three of the top five at this point on that second. Troy Brosnan was the first rider to get on the same second as Bruni, but it wasn't enough to take top spot. Brosnan went into second with only a few riders to go.
Loris Vergier, who was close to the top qualifying spot, was unable to make it into the top five. He was down at every split but slowly clawed back time in the second half. But then trouble struck. He slid out in the loose flat turn exiting the woods into the final straight to the finish. Then it was first place qualifier Greg Minnaar. Minnaar has done well in dry conditions in the past but started his run behind in the splits. As he continued each split showed red but he was close enough to go into second place, only 0.324 seconds back. Bruni took a strong win on track where he admitted he was struggling. .
Men's Final Results
Loïc Bruni – 3:16.132
Greg Minnaar – 3:16.456 (+0.324)
Troy Brosnan – 3:16.878 (+0.746)
Danny Hart – 3:18.126 (+1.994)
Aaron Gwin – 3:18.550 (+2.418)
Men's Overall Standings After Leogang
Elite Women
The women's race was tight but Tracey Hannah was able to hold onto her first place qualifying run to take the win by more than two seconds. Rachel Atherton went down in loose dry conditions during her race run. Tracey took the overall series lead after qualifying first and with this win has a good lead going into the fourth round.
Women's Final Results
Tracey Hannah – 3:42.107
Nina Hoffmann – 3:44.542 (+2.435)
Kate Weatherly – 3:51.467 (+9.360)
Marine Cabirou – 3:51.671 (+9.564)
Veronika Widmann – 3:54.192 (+12.085)
Women's Overall Standings After Leogang
Junior Men
Thibaut Daprela looks unstoppable in his second junior year and took another win in Leogang. The competition aren't letting him have it easy, though, and Kye A'Hern from Australia was just over a second back. But on a track like Leogang times are tight so over a second here is a good amount. Another French rider, Matteo Iniguez, qualified in third, Jamie Edmondson from the UK was in fourth just over four seconds back and Canadian Patrick Laffey finished with another strong result, in fifth.
Junior Men's Final Results
Thibaut Daprela – 3:23.950
Kye A'Hern – 3:25.913 (+1.963)
Matteo Iniguez – 3:27.075 (+3.125)
Jamie Edmondson – 3:28.068 (+4.118)
Patrick Laffey – 3:28.779 (+4.829)
Overall Standings After Leogang
Junior Women
Valentina Höll is back on top at home in Austria, beating second place finisher, Anna Newkirk from the USA by almost 19 seconds. Vali put more than a second into her first place qualifying time in the finals.
Junior Women's Final Results
Valentina Höll – 3:49.363
Anna Newkirk – 4:08.112 (+18.749)
Millie Johnset – 4:08.629 (+19.266)
Cassie Voysey – 4:24.740 (+35.377)
Lauryn Chappaz – 4:25.705 (+36.342)
Overall Standing After Leogang