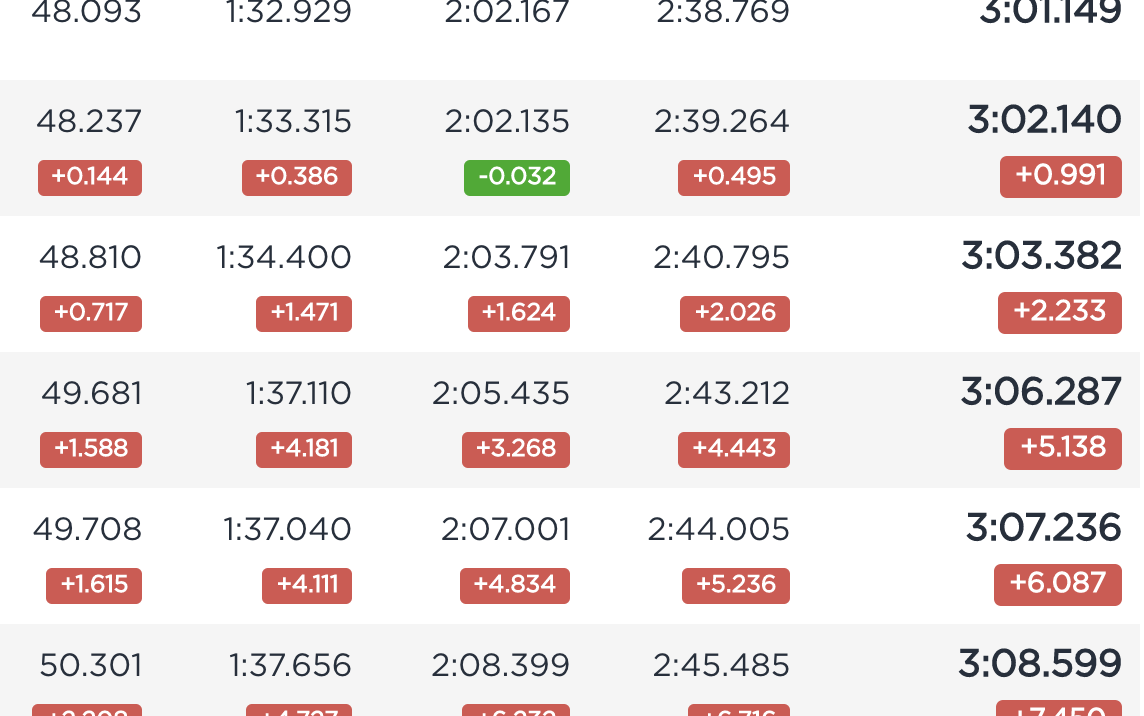 RACE NEWS
Final Results: Lenzerheide World Cup DH
Racers awoke to a wet, foggy day for racing in the Swiss alps. Condtions looked to be about the worst of the weekend. One bonus was that the new sections, which were slick and wild on the first day of practice, were now cut in after all of the practice traffic. That doesn't mean that it was easy and the slick conditions proved challenging for the best in the world. Needless to say, conditions for race day were very different to what they were for World Champs last year.
Elite Men
Young ripper, Kade Edwards, was the first rider to spend a solid chunk of time in the hot seat this weekend. After qualifying 54th, Kade remained fastest until Baptiste Pierron bumped him. After qualifying 27th, fellow Frenchman Thomas Estaque fell victim to the first corner in the same manner as Fairclough did in qualifying. With the track being so tight, his day was over but he continued to smash his way down the track. Had he not crashed there's a good chance he would have taken the hot seat.
Baptiste remained in the hot seat until Flo Payet. He came into the finish area with close to four seconds to spare. The sun had also started to shine at the bottom of the track and while still foggy at the start of the track, conditions looked to be drying up. Brook MacDonald took advantage of the drying conditions in the open, railing the inside line through the track's classic high-speed berm but when he hit the woods the damp conditions were still obvious. MacDonald lost considerable time in the third split, where he struggled to make it through the woods with speed. For a moment we almost had a repeat of Gwin's awkward crash off the stump drop from a few years ago, but the Bulldog managed to make it through with his right foot unclipped and hovering over his pedal. He came down into second, more than three seconds back from Payet.
Reece Wilson looked at home in the slick conditions and used his time on the bike in Scotland during the winter months to knock Payet from the top. Wilson has shown promise in the past and bagged a podium finish in Fort Bill last year. Was his run good enough for his second podium? With 15 riders to go and the track continuing to improve, maybe not?
By the time Neko Mulally dropped in, the fog at the top of the track had cleared. Visibility was now great the whole way down. Mulally ripped the new steep section of the track and looked to be building into his run but it wasn't good enough. Looks can be deceiving and it was especially true with Mulally. His run looked solid but it wasn't enough to better Reece Wilson's time and he lost valuable seconds in each split. He came into the finish area in third.
Luca Shaw was visibly quick. It's not something we're used to seeing because he normally has hidden speed. His best results before – or runs where he's looked good until a mishap – have all looked smooth, so smooth he hasn't looked quick. That wasn't the case this weekend and he took some time out of Wilson in the fourth split. It wasn't enough to take the top spot but he slid into third.
Shaw didn't stay in third for long though. Laurie Greenland, hot off his first World Cup win the weekend before in Val di Sole, came down into the hot seat. Greenland was pushing during his run and while not as wild as the Greenland of past, his cleaner racing technique was still thrilling to watch. He made lines work that others didn't seem to be quicker on and crossed the finish line by close to two seconds. HIs time was just outside Danny Hart's fastest qualifying time.
Dean Lucas has a good rapport with the Lenzerheide track. He finished on the podium in 2015 and had qualified well this weekend. He looked fast on track, making time in the first, third and fourth splits. But he lost time in the final split and after making a mistake in the last turn, lost momentum. He went into second place with nine riders left.
Finn Iles had a disappointing race. He was looking fast and solid until he made a mistake in the woods, followed by another that put him off line forcing him to jump off the side of the bridge into the road gap. That put him outside the tape, forcing him to walk back up trail to get back inside the tape where he left the course. He crossed the finish line in 50th place.
The USA's Dakotah Norton had a solid, event-free run until the very last corner. His fourth split had him set to bump Luca Shaw from fifth place but with his eye on the finish line drop, he lost the back wheel and laid it down. He jumped up quickly and forced it off the smaller drop but the damage was done. On a track with times this tight, any mistake will penalize racers hard. Norton crossed into 23rd.
As Loris Vergier dropped into his race run the fog returned. Vergier has finished on the podium at every race he hasn't crashed in this season and looked crazy fast through the steeps and off the stump drop. He was neck and neck with Greenland's time throughout his run, swapping fastest splits in each section. He went into third place, just over half a second back from the lead. He shook his head as he crossed the line, indicating he knew there were some mistakes that cost him the lead.
Amaury Pierron's run was impressive! He looked quick, bouncing through the roots in the woods. By the third split Pierron had put more than three seconds into Greenland! He continued to push and crossed the line with more than four seconds to spare. His run wasn't perfect though and there were mistakes made that cost him valuable time. Was it enough to hold off the top four?
Minnaar was up at split one but visibly struggled to hold the same momentum as Pierron in the second split and lost time. He dropped more time in the third split but in true Minnaar fashion, bit into the time of Pierron in the fourth split, taking almost a second back! He wasn't able to get more of that time back though and went into second place.
Brosnan looked strong on track and confessed to being hungry after VDS. He looked smooth and fast but didn't look to be pushing the same as Pierron. It was wasn't enough and he crossed the line in the third. Minnaar was the only rider within a second of Pierron and with times this tight, that made Pierron's time all the more impressive. Bruni was fastest in the first split but lost time as his run progressed. He was smooth but clearly isn't pushing the same as we've seen him push before claiming the leaders jersey. Bruni went into third, giving more points to Pierron as we head into the final World Cup in Snowshoe.
Could Danny Hart help Bruni though? No! Hart wasn't riding at the same pace as the Frenchman and made a couple of mistakes that cost him considerable time. By the third split he was almost two seconds down! There's no making that back in Lenzerheide. Hart battled down the rest of the track but he couldn't match Amaury Pierron. Momo takes his third win of the season and will push for the overall with Bruni in Snowshoe!
Elite Men's Top 5
Amaury Pierron – 2:49.422
Greg Minnaar – 2:50.373 (+0.951)
Loïc Bruni – 2:50.822 (+1.400)
Troy Brosnan – 2:51.582 (+2.160)
Danny Hart – 2:52.644 (+3.222)
Elite Women's Overall After Lenzerheide
Elite Women
The wet conditions quickly split the women's field between those who are comfortable. Mid-way through their finals the rain let up, making conditions tougher again. Kate Weatherly surprised herself, coming down into first place in the slick conditions and holding on the top spot for some iime before being knocked from the top seat.
Local Swiss rider, Emilie Siegenthaler, looked fast down the tricky new steep section but lost nearly two seconds in that split, She continued to take energy from the home crowd cheering her on and by the bottom she had done enough. She went into first with a 0.39 second buffer. Would it be enough to equal or better her third place result here in 2017?
Veronika Widmann was going to stop her. Widmann struggled in the tough conditions, making too many mistakes and losing value speed in a number sections of the track. She came down into seventh with three to go.
Marine Cabirou "made mince-meat" of the difficult off-camber sections. At the end of the first split she was up by more than four seconds. Cabirou flew down the steepest section of the track only to make a big mistake in the following section. It was enough to deter her though and she was up by nearly seven seconds heading into the finish line. She crossed the line with more than seven seconds. She was visibly not happy with her run but had she done enough?
Nina Hoffmann looked back on form. Hoffmann smashed the high speed berms and looked fast, but she was still 2.1 seconds back from Cabirou at the first split. She was on pace with Cabirou through the following section of the track before making mistakes in the slick sections of the track. Eventually it got the better of her, crashing before a flat rear tire ended her hopes of a podium finish.
Number one qualifier, Tracey Hannah needed to win to keep her hopes of the overall alive. Cabirou is breathing down her neck and either of them could win it all in Snowshoe. But if Hannah could win here in Switzerland she keeps a bit of a buffer.
Hannah looked strong through the top of the track but was just 0.2 slower than Cabirou at the first split. Tracey built into her run and started pulling away time, riding smooth and in control, but fast. It looks like she rode too conservatively though and lost time in the fourth split. She came down into second place, giving Cabriou her second World Cup win.
Now it goes onto the World Cup finals in Snowshoe. With only 150 points between Cabirou and Hannah, the overall is truly within Marine's grasp. If Tracey finishes outside the top eight in Snowshoe, she'll hand the overall win to Cabirou.
Top 5 Elite Women
Marine Cabirou – 3:34.304
Tracey Hannah – 3:34.568 (+0.264)
Emilie Siegenthaler – 3:41.389 (+7.085)
Kate Weatherly – 3:41.782 (++7.478)
Camille Balanche – 3:41.953 (+7.649)

Elite Women's Overall After Lenzerheide
Junior Men
For the second week in a row, French phenom Thibau Daprela had trouble in his race run and had to settle for 16th. That opened it up for young Canadian Freeracer, Seth Sherlock. Seth's been building on his racing for a few years and today it came together. He went fastest by just less than half a second. Swiss rider Janosch Klaus used his home court advantage to take the second ahead of Kiwi, and the previous weekend's race winner, Tuhoto-Ariki Pene. Canadian Norco Factory racer Eliot Jamieson and Australian Kye A'Hern rounded out the top five.
Junior Men's Top 3
Seth Sherlock – 3:03.829
Janosch Klaus – 3:04.291 (+0.462)
Tuhoto-Ariki Pene – 3:05.079 (+1.250)
Junior Men's Overall After Lenzerheide
Junior Women
Valentina Höll showed her dominance in the sloppy Swiss conditions, winning by more than eight seconds over the USA's Anna Newkirk. Höll and Newkirk continue to push the junior women and put a considerable margin into the rest of the field. In third place was Nastasia Gemenez of France, close to 30 seconds back from Valentina and more than 20 seconds behind Anna.
Junior Women's Top 3
Valentina Höll – 3:34.755
Anna Newkirk – 3:43.016 (+8.261)
Nastasia Gemenez (+29.816)
Junior Women's Overall After Lenzerheide