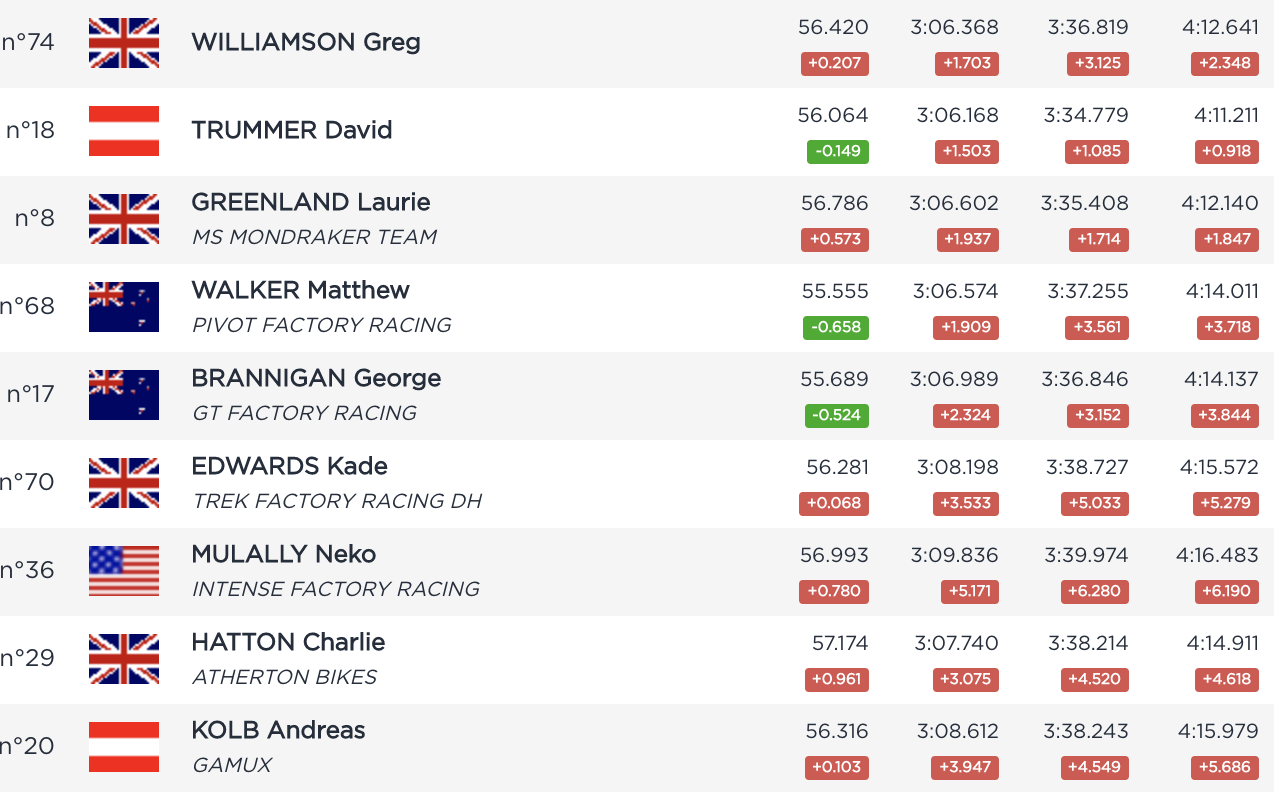 RACE NEWS
Final Results: Fort William World Cup DH 2019
Racing in Fort William is always tough and after a couple of years with unusually nice weather, 2019 marked the return of the rain and wind. Conditions were challenging for riders despite many noting the improved traction when wet down most of the track.
Elite Men
There was very little rain for the men but there were a few light showers for the top 30. After a horrific crash in qualifying - which apparently resulted in setup changes so he could even ride — Loïc Bruni came down and landed in the hot seat. Aaron Gwin had a massive crash in the top section of the track and would take the lift down. The G.O.A.T. showed that he's still one of the fastest in the world, even at 37 years of age. Minnaar has a rare ability on the Fort Bill track to claw back time where most lose it; on the motorway. He went into the hotseat but couldn't hold on.
Young Canadian, Finn Iles put on a stormer despite being battered and sore from a crash in qualifying and put over a second into Minnaar. Hart came close and showed that there was time left by Iles in the final sections of the track. Troy Brosnan took advantage of that and put more than three seconds into Iles.
Then came the fast Frenchman. Peirron was first and he made time at every split on his way down. He comfortably went into first place but made everyone gasp when he landed nose heavy and came close to cartwheeling across the finish. But it was in first that he remained. Loris Vergier didn't have the speed in the final and while he was close in a number of segments, he had to settle for third.
Men's Final Results
Amaury Peirron – 4:28.578
Troy Brosnan – 4:32.160 (+3.582)
Loris Vergier – 4:32.209 (+3.631)
Finn Iles – 4:35.781 (+7.203)
Danny Hart – 4:36.096 (+7.518)
Men's World Cup Standings After Fort William
Elite Women
Rachel raced like we've come to expect, smashing the times set before her the entire way down. But number one qualifier, Tracey Hannah had Rachel sweat in the hot seat as she pulled ahead in a number of splits. Unfortunately for Hannah, she couldn't hold the speed of Atherton through the flat section leading into the motorway and fell short.
Women's Final Results
Rachel Atherton – 5:15.560
Tracey Hannah – 5:17.171 (+1.611)
Nina Hoffmann – 5;24.382 (+8.822)
Marine Cabirou – 5:28.934 (+13.374)
Veronika Widmann – 5:31.295 (+15.735)
Women's World Cup Standings After Fort William
Junior Men
Can anyone in the junior men beat Thibaut Daprela? Luke Mumford thinks he's got a chance and the young Brit came within a second of taking the win today. Patrick Laffey from Canada put in a stellar effort to take third place and second place qualifier, Luke Meier-Smith had to settle for fourth place, just 2.4 seconds back. The top five was rounded out by another young Canadian, with Lukas Cruz finishing 3.67 seconds behind Daprela.
Junior Men's Final Results
Thibaut Daprela – 4:45.455
Luke Mumford – 4:46.324 (+0.869)
Patrick Laffey – 4:47.608 (+2.153)
Luke Meier-Smith – 4:47.869 (+2.414)
Lucas Cruz – 4:49.125 (+3.670)
Junior Men's World Cup Standings After Fort William
Junior Women
Vali Höll does not win the race! We've come to expect the young Austrian to sweep every race and her results over the last 12 months have placed her well into the top end of the elite women. But today it was Anna Newkirk who sat atop the junior women's podium. Anna put down a time of 5:33.835—three seconds faster than Valentina's winning qualifying time—to take the win.
Junior Women's Final Results
Anna Newkirk – 5:33.835
Valentina Höll – 5:37.074 (+3.489)
Mille Johnset –5:43.177 (+9.592)
Junior Women's World Cup Standings After Fort William