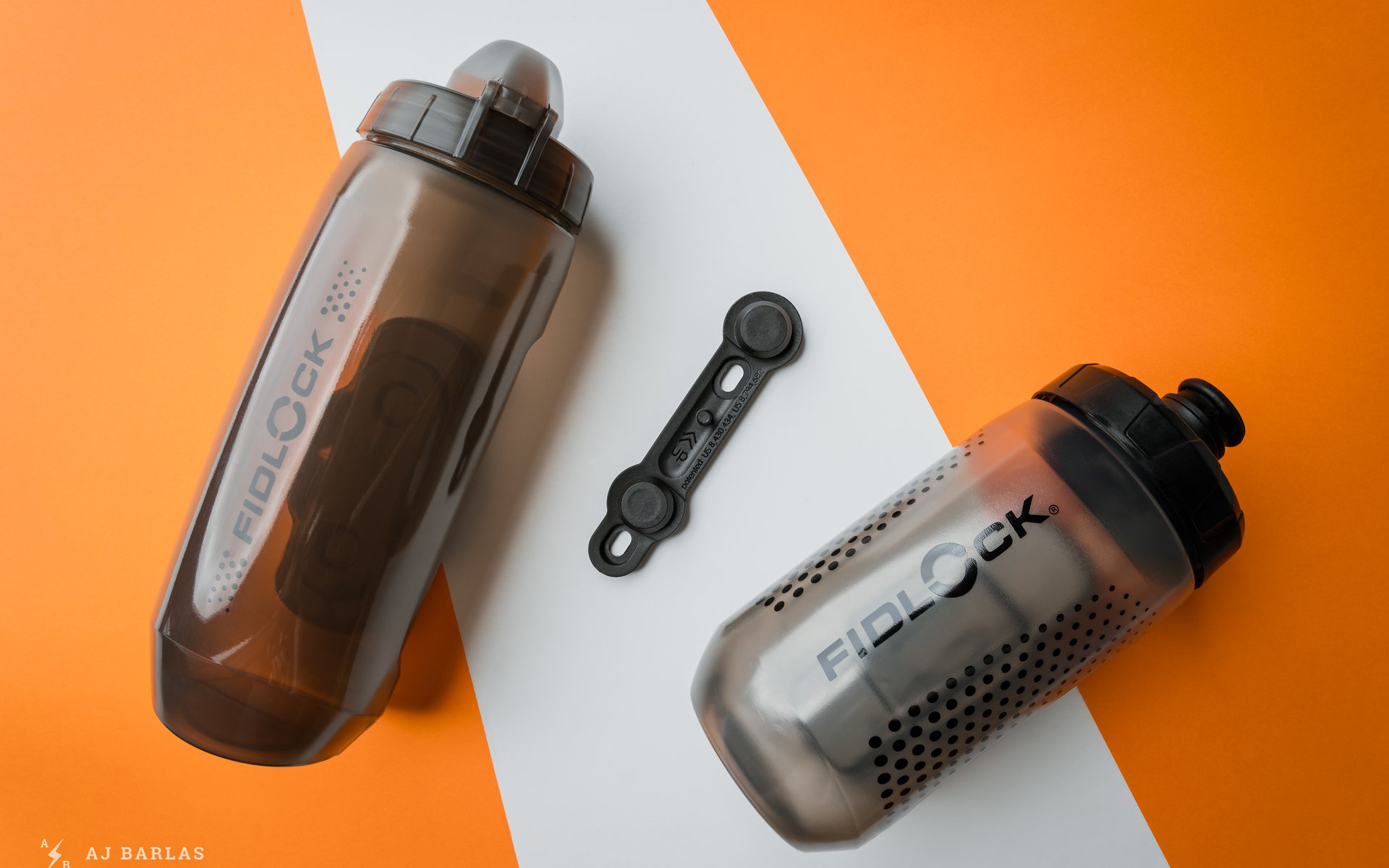 Review
Fidlock Twist Magnetic Bottle System Review
Shouldn't water bottles be designed to fit the bike and not the other way around? According to a recent Pinkbike Poll, the majority of mountain bikers want a bike that will fit a bottle, and I'd assume many of those want it mounted within the front triangle. More frames have gone this route as well, including Yeti with their latest range, or Santa Cruz. I agree that it's important and I too need a bottle to attach somewhere on the bike, but I believe the frame and suspension design should come first and the bottle made to fit that.
I'm not suggesting every mountain bike with room for a bottle in the front triangle is flawed or that all bikes should have some strange custom bottle, but there are challenges for engineers to overcome when adding bottle fitment to an already complex puzzle. When the front derailleur was axed from 99% of mountain bikes, it freed up engineers to do things they previously hadn't been able to. Designing for the bottle can put similar limitations on some designs.
To be clear, I'm all for a bottle within the front triangle but I don't believe bike companies should have to limit their creativity or suspension designs because of it. YT appears to have gone about it this way with their Jeffsy and other bikes in their range; designing the bike how they desired and then developing a bottle to fit within that. The Jeffsy requires a specific bottle and the design of that has been updated over the years. Their latest version, the Thirstmaster 4000 and 5000 each utilize Fidlock's connector and bike base. YT designed the bottle to work with the Fidlock technology and has the bottles made by Fidlock's supplier. The bottles aren't your typical shape because that wouldn't work in the space available.
Before noticing YT and Fidlock had partnered on the latest bottle I was prepared to claim Fidlock has the potential to get us down the route of bottles made to fit bikes. They've already started. Who knows if we'll see others pursue Fidlock for this service but the fact they're already working with YT to create bottles that fit the bike design is music to my ears.
But Fidlock is more well known for its regular-looking bottles and the unique Twist system. For anyone keen to ditch the cage and simplify the bottle mounting process, this is an option. However, what drew me to them was their Uni-Base; a set of flexible straps that mount the magnetic base to just about any tube. Fidlock has a regular base that attaches to the usual cage mounts of a frame too and there's a clip that provides a mounting point to textiles, like a backpack or your back pocket.
Fidlock also has various bottles available and their original looks like a regular water bottle. The mouthpiece is a pop-up, pop-down type, which for many riders may be a bit dated but it works fine. It's made with PP, the same as Camelbak uses, but features the Twist connection on the belly. Their new bottle, the Deluxe, is made with LDPE which is said to be a softer and easier to squeeze material. Specialized bottles use this too. It also features a slightly different shape – a small hump across the top provides more room for fluids from a shorter length – and includes a removable dirt cover over a high-flow, self-sealing valve.
Highlights:
Twist bottle connector can be transferred between Fidlock bottles
Two different bottles, Standard and Deluxe, each in two sizes

Standard: 450ml and 600ml
Deluxe: 450ml and 590ml

Three mounts or "Base" styles

Bike Base
Uni-Base (flexible straps)
Tex-Base (Clips to soft textiles)

MSRP: 49.24–57.13 CAD / 37.99–44.99 USD / 31.35–37.13 EUR (each for the system).
The Fidlock Twist System
Fidlock's unique approach to carrying fluids on the bike breaks down into three key parts. The base, which houses a set of magnets in two posts, the connector, which is mounted to the bottle, and the module/bottle. Fidlock also has Twist bags, which are a type of semi-hard case that can carry tools, snacks or other items. I've only used their bottles but the bag sounds interesting for riders that have the space to mount one.
The package riders will start with includes the connector and bottle, which come as one piece, and the base of choice but it's possible to purchase each separately. Having the individual components available separately will help with the product's longevity after investing in the system, which is more expensive than most. For comparison, I've been using the standard Specialized Zee bottle cage for years and those are 25 USD. The Specialized Purist bottle in a 22oz size is 10 USD. That's 35 USD compared to the 39.99 USD for the Fidlock set up with an equivalent size bottle. If you're like me and require the Uni-Base, the price jumps to 52.99 USD for the same bottle size.
But once invested into the system, replacement bottles range from 9.99 USD for the 450ml with a regular valve to 16.99 USD for the largest Deluxe bottle. These will likely need replacing more often than the connector or base, with minimal wear showing on my test product after months of abuse in the shittiest conditions – a wet, Coastal B.C. autumn and early winter. I typically discover mold growing in my bottles and eventually have to toss them after they can no longer be adequately cleaned. The connector and base are available separately as well, should they need replacing in the future.
The unique design incurs a cost penalty but the clean setup and fuss-free use will be worthwhile for some riders. Riders on bikes without any mounts are easier to sway into the system thanks to the flexibility of the Uni-Base but anyone interested in a clean, unobtrusive bottle mount will also appreciate Fidlock's Bike-Base package.
Setup & Use
My GeoMetron G1 doesn't have any threaded cage mounts thanks to the suspension design. But fortunately, my size 'Extra Longest' does have room for a bottle in the front triangle, it just needs a way to be mounted. For the first year, I mounted a bottle cage to the front triangle using zip ties, as I had with my earlier G16. To my surprise, it worked quite well but it did cause minor wear and I was interested in how the Fidlock Uni-Base system would work.
I was also hoping for a cleaner setup with the Uni-Base but before receiving one, I didn't realize how the buckle of the straps worked. These loop through and fold back on themselves, leaving a rather large and unsightly mass hanging from the frame. But we're talking about strapping items to the bike, something nobody does for looks. Functionally, it worked great.
The soft TPU straps of the Uni-Base don't wear at the metal finish of the frame like the zip-ties did and do an admirable job of holding everything firmly in place. I found them to relax after a while of use but a quick adjustment snugged everything back up. The straps will work with any tube width between 28 and 62mm and on the alloy downhill tubing of the G1, I was left with about 110mm excess strap after securing the base to the roughly 50mm wide tube. I tucked the excess away for the test period but now that I've had time with the product, can see trimming it.
Using the magnets with the bottle took a moment to get used to. Mounting the bottle in the side-load cage is second nature but I was able to adjust after one ride. Once I discovered it was easier to hover the bottle near where it needed to go and let the magnets take care of the rest, it was smooth sailing. And despite the tight space, particularly when using the larger 590mm Deluxe bottle, it snapped in place seamlessly.
The biggest surprise for me was the Deluxe bottle itself. Some would argue it's ridiculous to cover the bottle valve and that it makes getting a drink slow, but I've found it to be extremely beneficial. With a regular bottle, I would either waste fluid trying to clean the mud and grit from the valve or end up spitting out dirt and often both. I've also been on rides where I was afraid to drink from my bottle for fear of falling ill from all of the cow shit unintentionally being ridden through.
With the cover over the valve, there's no need to worry about any of that – the mouthpiece is kept squeaky clean. It's slower to get to the fluids and I've not opened the cap cleanly with a single hand while moving but I usually stop to take a drink anyway. Cross country racers will benefit from removing the cap of the Deluxe bottle but for most riders out there having a good time, enjoy the clean drinking experience. The new self-sealing high-flow valve is also great – anyone familiar with the valves on bottles like Camelbak will appreciate the update.
The bottle design also made it possible for me to fit their large bottle in my frame. The standard 600ml bottle would not have fit but the shape of the Deluxe and its overall shorter length means I can carry more fluid.
Conclusions
Unique ways of attaching a bottle to the bike are something I approve of, particularly because I ride a bike that requires it. But the magnetic system and minimalist base are nice to work with no matter how it's mounted.
Fidlock has established itself as a company not willing to follow the usual methods and they've instead developed an interesting system that's intuitive and flexible. They're capable of being the company bike manufacturers go to when in need of a unique bottle to fit a design that limits a regular bottle. It's started with YT and perhaps companies like Production Privee or Nicolai will also work on something.
Will Fidlock put an end to the "looks like a Session" comments? Probably not but it would be great to see engineers freed from constraints forced on them because of the regular water bottle.
More on Fidlock.