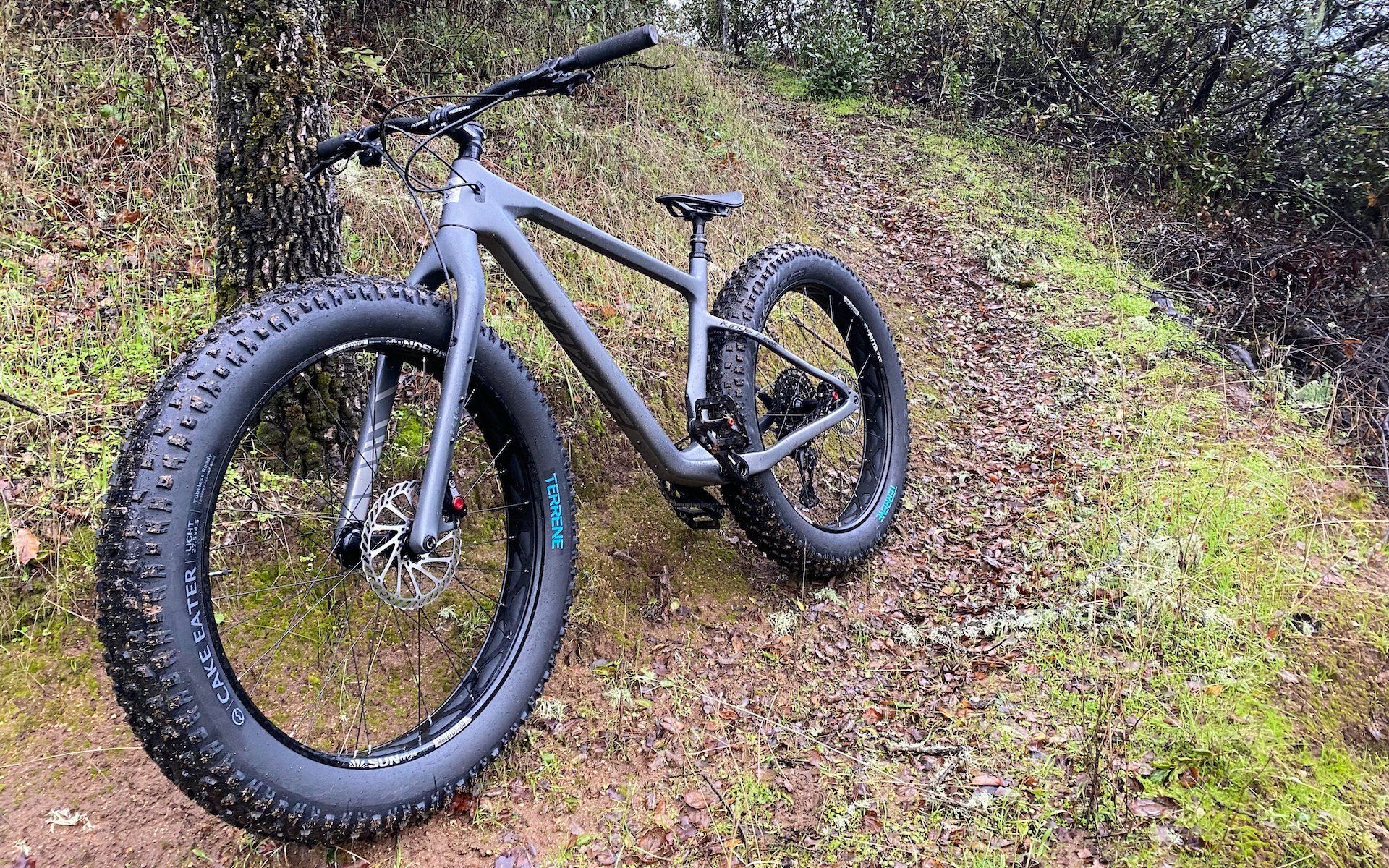 First Impressions
Fezzari Kings Peak
"Oh no, here he goes again. The old codger trying to justify another dumb bike. Too much rubber, not enough sense. They really oughtta send him out to pasture..."
I CAN HEAR YOU!
Okay, let's get a few things out of the way here.
One, this is not an attempt to convince anyone what to ride. It's more of a discovery trial of my own, an attempt to answer some questions I have about traction, trails, terrain, temptations, temerity and whatever other t-words I can think up as convenience permits.
Two, I don't intend to justify a fat bike in the context of modern bikes on built trails. On any trail that has jumps and berms and speed and all the usual things that we consider to be part of modern mountain biking, a modern mountain bike will flat out smoke a fat bike in just about every conceivable measure.
Three, I probably won't ever ride this in the snow. Yes, I know that a whole lot of people only think of fat bikes in terms of snow riding. They are pretty damn good at getting around in the snow. That is hopefully an accepted fact.
Four, ummm... nevermind. Here, take a peek at the Fezzari Kings Peak. Fezzari is one of a few companies that are beginning to combine contemporary geometry and Very Large Tires (other notable brands tilting in this direction are Rocky Mountain, Pole, and a fistful of small custom builders. Otherwise, things remain generally short and steep in the Land of Fat). By "contemporary", we mean head angles that are 67 degrees or slacker, and reach numbers that are up around 470 or so for a large. No, those numbers don't seem very radical in modern trail bike parlance, but we are talking about fat bikes here, and things are... different.
Oh, right! Four, this will probably end up being something that experienced fat bike riders will read and say something like; "Duh, there's a reason why fat bike geo is still living in the late 1990s. Fat bikes are different, fool. Your skinny tire physics don't belong here."
Which of course only makes me want to scratch that itch even more. And what better way to do that than with a relatively progressive carbon fiber-framed fat bike that only costs $1999 USD? For a whole damn bike. With tires roughly the same size as on my KTM 150XC. Frame only price for this slate gray zombie apocalypse escape machine is $1499 USD, and the eye-popping low price of this test rig is thanks to a winter sale, but still, $1999. Full carbon frame. Direct from Fezzari to your door. Super hands-on order process where you enter a WHOLE LOT of data about your shape and size, and get to upgrade everything from wheels to saddles to seatposts to pedals along the way. Ready to ride straight out of the box. Whether it registers as a gateway drug to a life of fat biking, or an experiment on how far to push the whole N+1 bike ownership paradigm, this particular Kings Peak represents a surprisingly frugal point of entry.
Two things have been driving my fat-curiosity.
First, the Baja Peninsula. I have been puttering around on that 1000-mile long finger of inhospitable ground for about 35 years now, and for the most part, have been pretty content not to ride bikes there. Because, by and large, the riding sucks. It is sandy, rocky, sometimes sandy and rocky together, thorny, scratchy, bleedy, hot, dusty, and generally uncivilized. It's hard going, on the easy days. The hard days just make me want to cry. Then one day I borrowed an elder expats new Surly Krampus for a rip up the arroyo out of Loreto, and the sudden illumination was akin to being struck by lightning. This fat bike, so out of place in the mainstream flow-trail reality up north, was a game changer down there. A landscape that is generally defined by a ride/push ratio almost always heavily skewed toward "push" suddenly became a whole lot more possible to "ride".
Second, the gravel trap I built in my driveway. This was unintentional, and relatively recent. But it was also devastatingly effective at stopping most bicycles dead in their tracks. And it got me thinking about that Krampus down in Baja, and how that led me to head down there with a Specialized FatBoy, and about that time when I tried to tear my face off crashing into a cactus on said Specialized Fatboy, and how I then decided that maybe bikes in Baja were still a bad idea.
But that was a while ago. And the cactus spine that lodged in my eyebrow a few millimeters away from my eyeball eventually worked its way out in a very David Cronenberg sort of way, and I eventually got over that trauma and began thinking that maybe fat biking in Baja deserves some deeper investigation, again.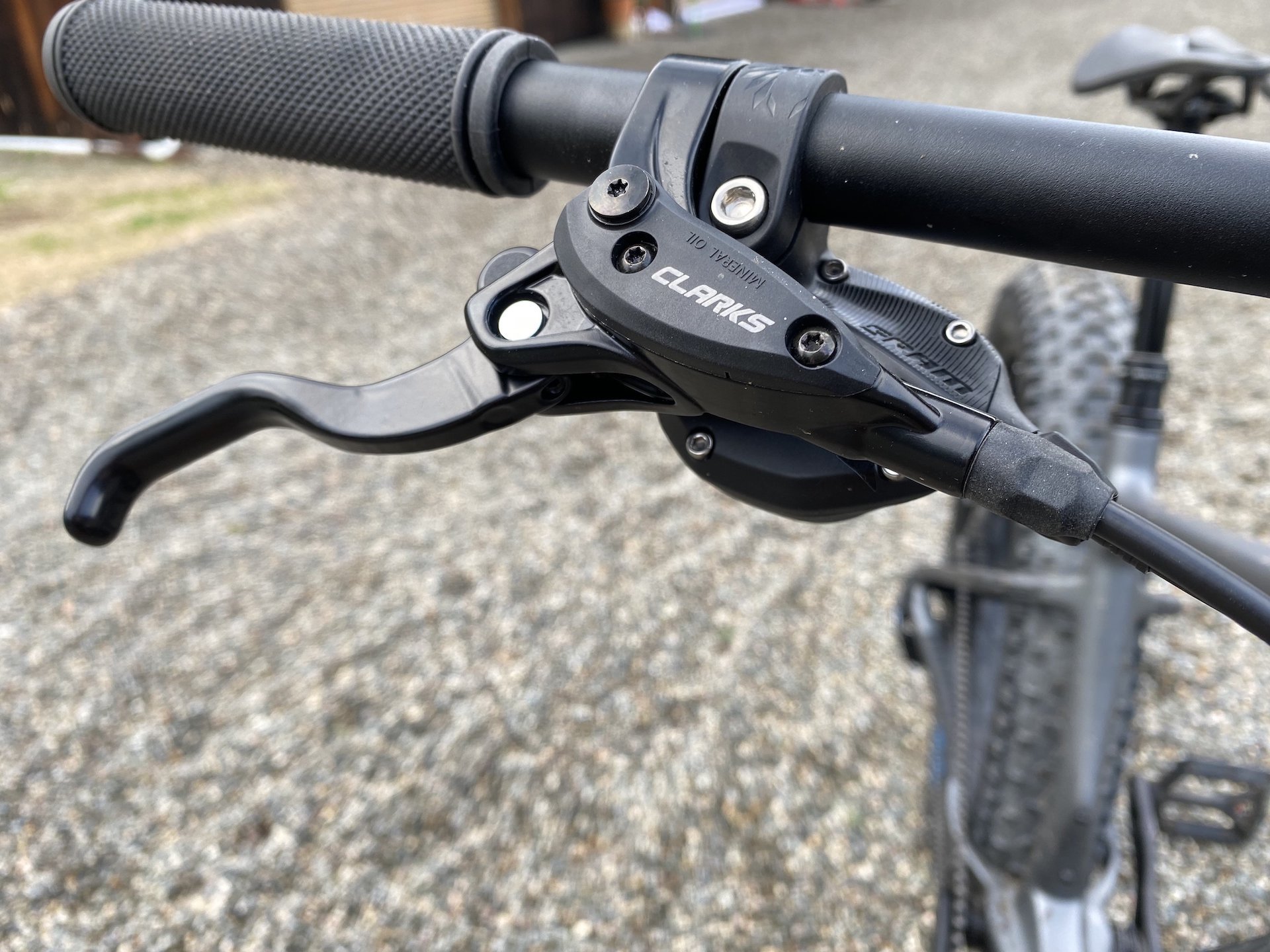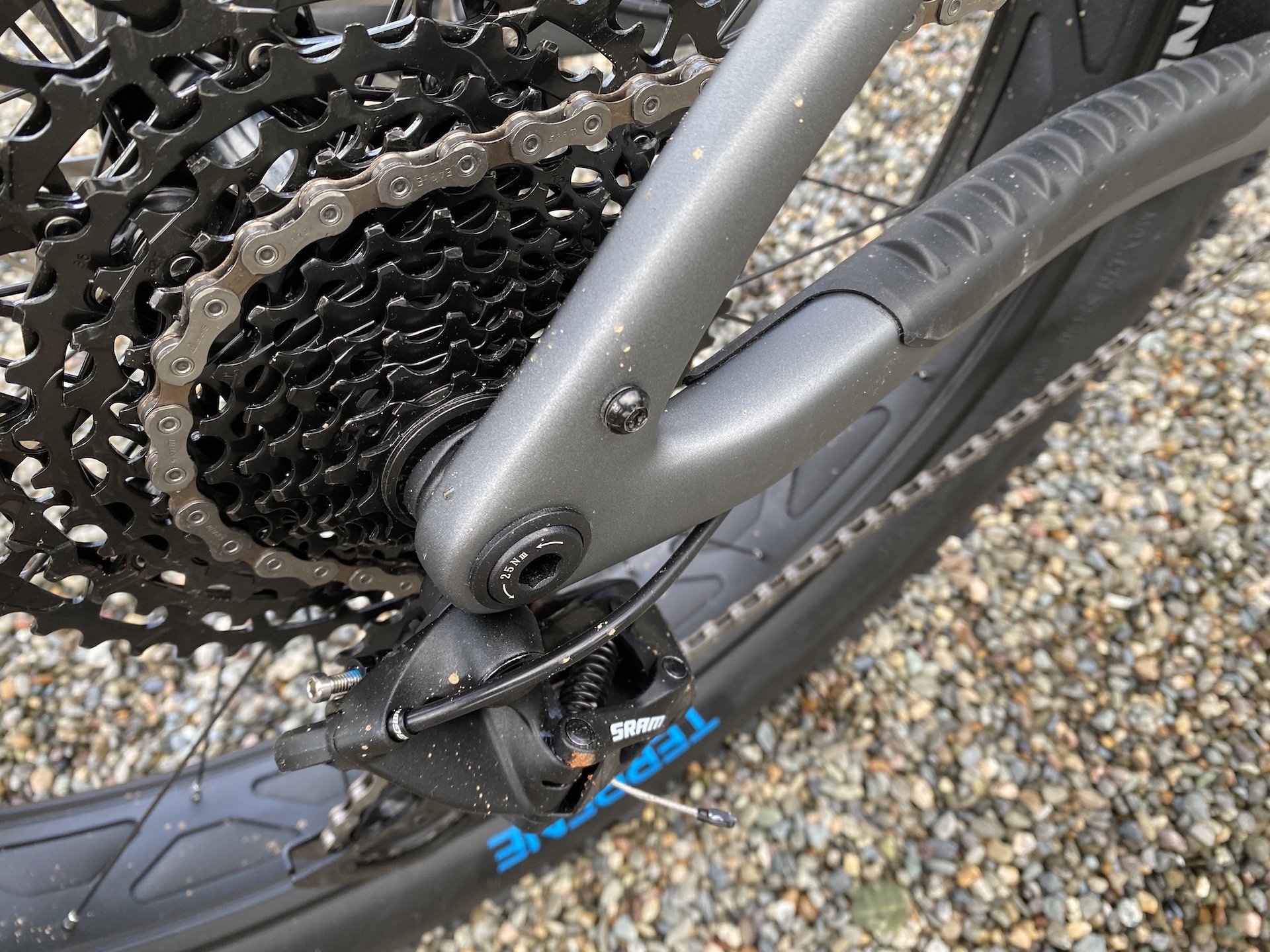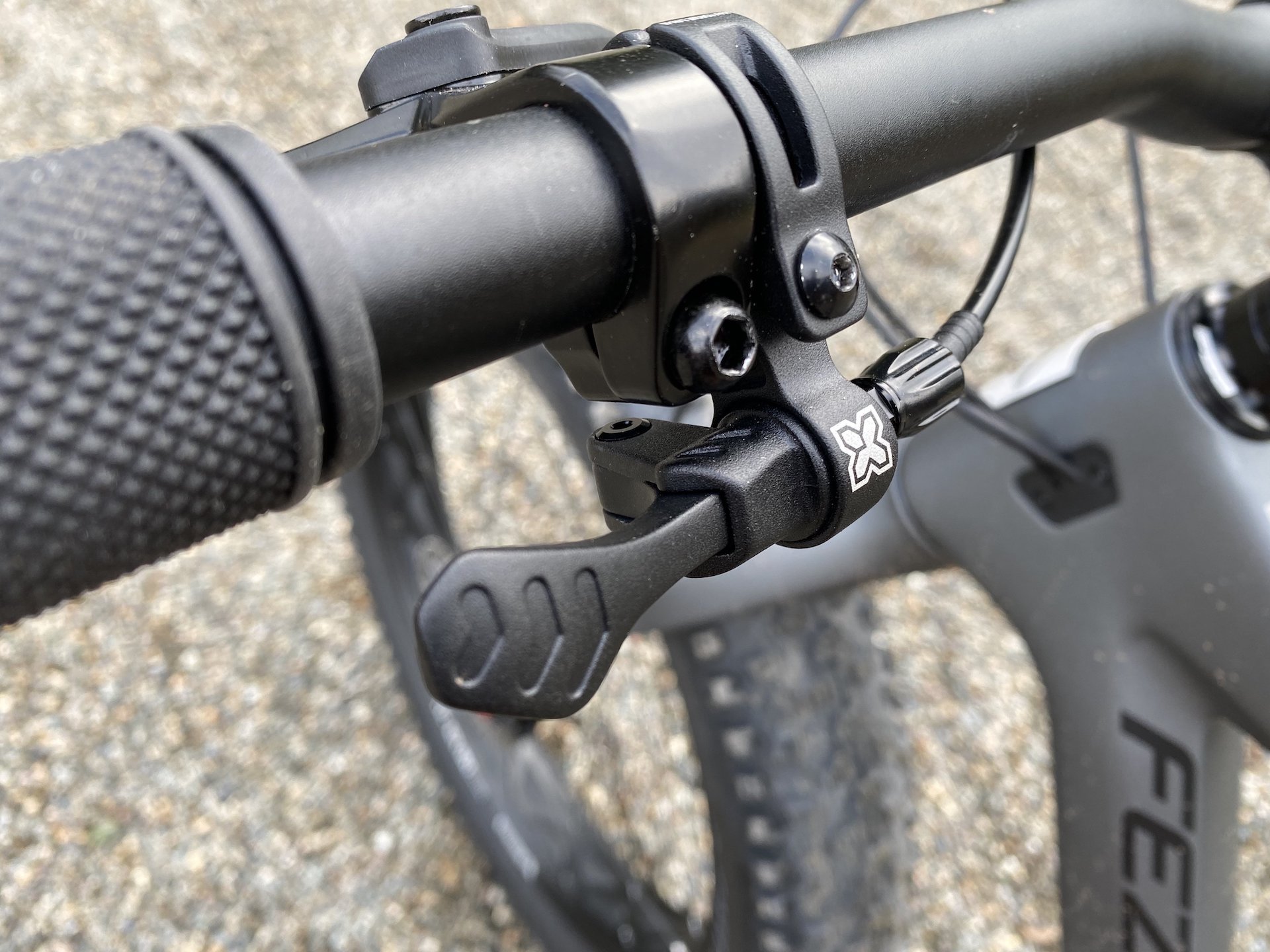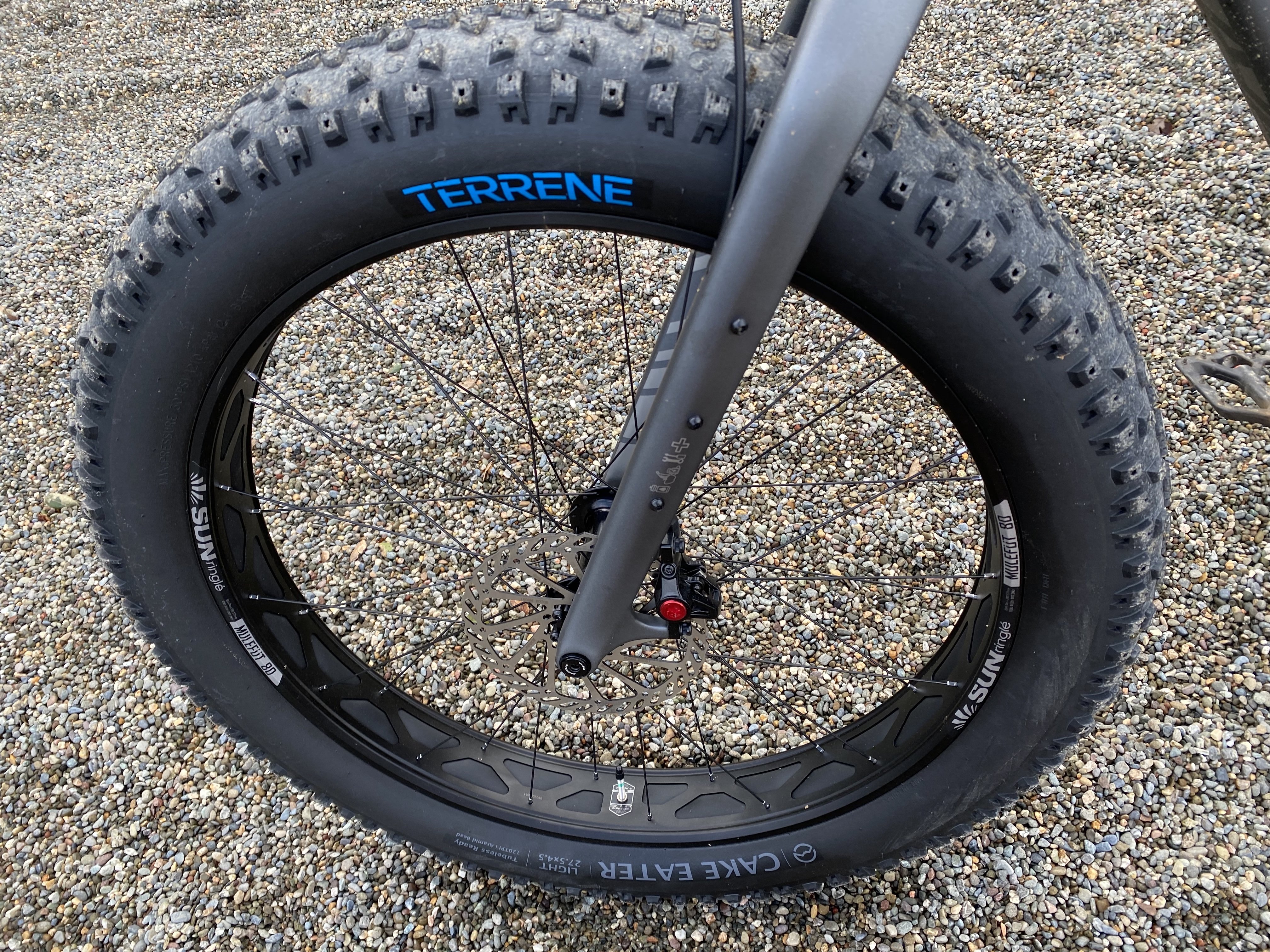 So, what does $1999 get us?
It gets us that carbon fiber frame, with a 100mm wide bb, 197mm rear hub spacing, and 150mm front spacing. Stock spec is 27.5x4.5" Terrene Cake Eaters spooned onto Sun Mulefut 80 rims, but it'll also fit up to 26x5.0" or 29x3.0" wheels. The frame is absolutely festooned with mounts for bottle cages and racks and... other stuff. There's a quad bolt mount on the downtube, triple mounts on the the top tube and each fork leg. Then there are standard two bolt mounts on the seat tube and under the downtube. As well as what may be some kind of rack mounts on the seatstays. 67 degree head angle, 75 degree seat angle, 470mm reach on a size large, 450mm chainstays and a 1208mm wheelbase.
The SRAM SX drivetrain isn't likely to elicit cheers from the cheap seats, nor will the Clarks brakes. But the wheels are a solid choice, and the Fezzari branded cockpit does the job without invoking any cursing. The non-lock-on WTB grips feel pretty damn nice, actually, but seem like an odd spec given the wet/snowy usual intended home. Maybe I've just become spoiled by lock-on grips. And again, THE PRICE. If I really don't like some of these bits, I'm so far ahead of the money game that I can afford to blow coin on upgrades.
And there will be some upgrades, ohhhh yes...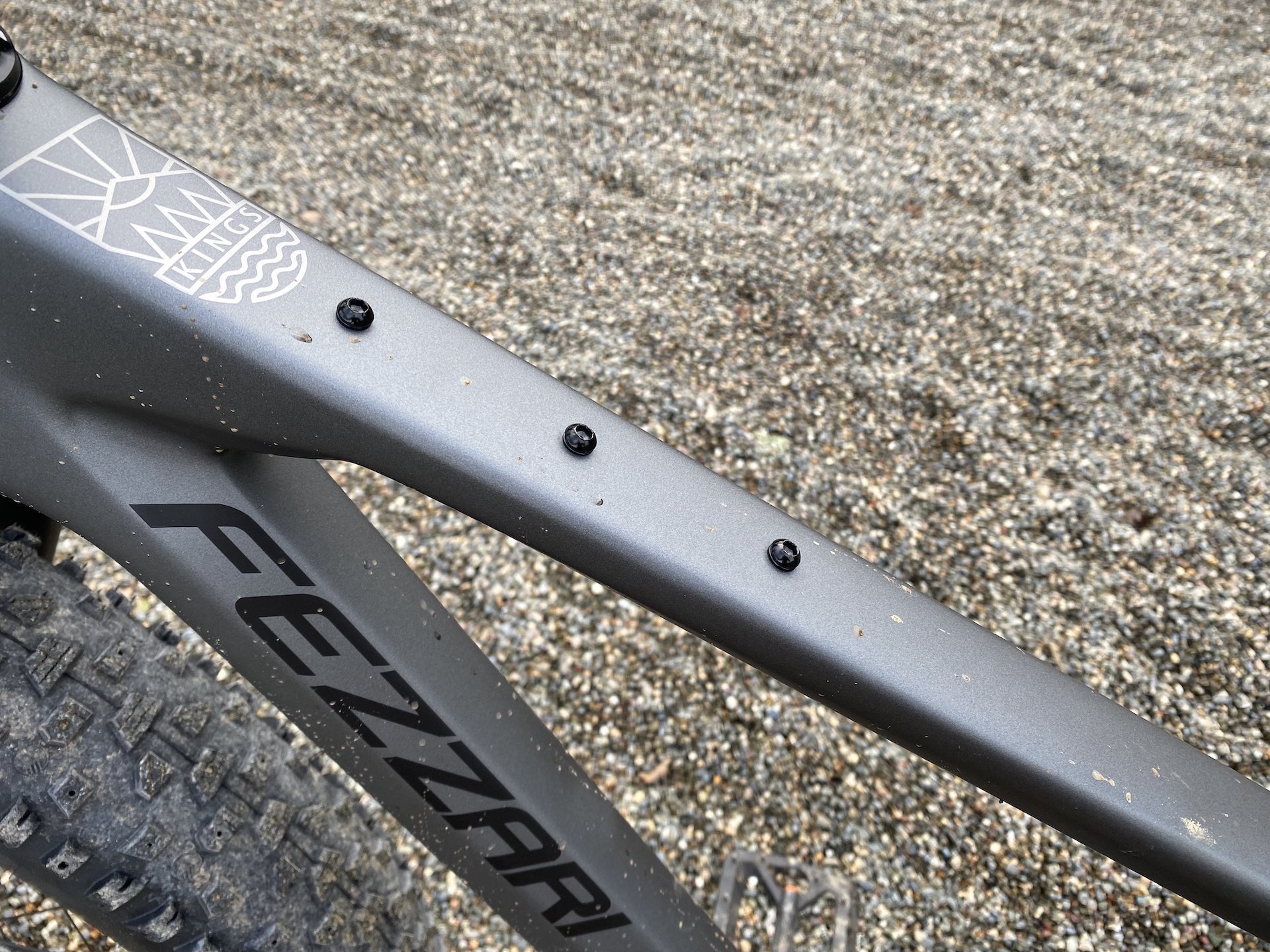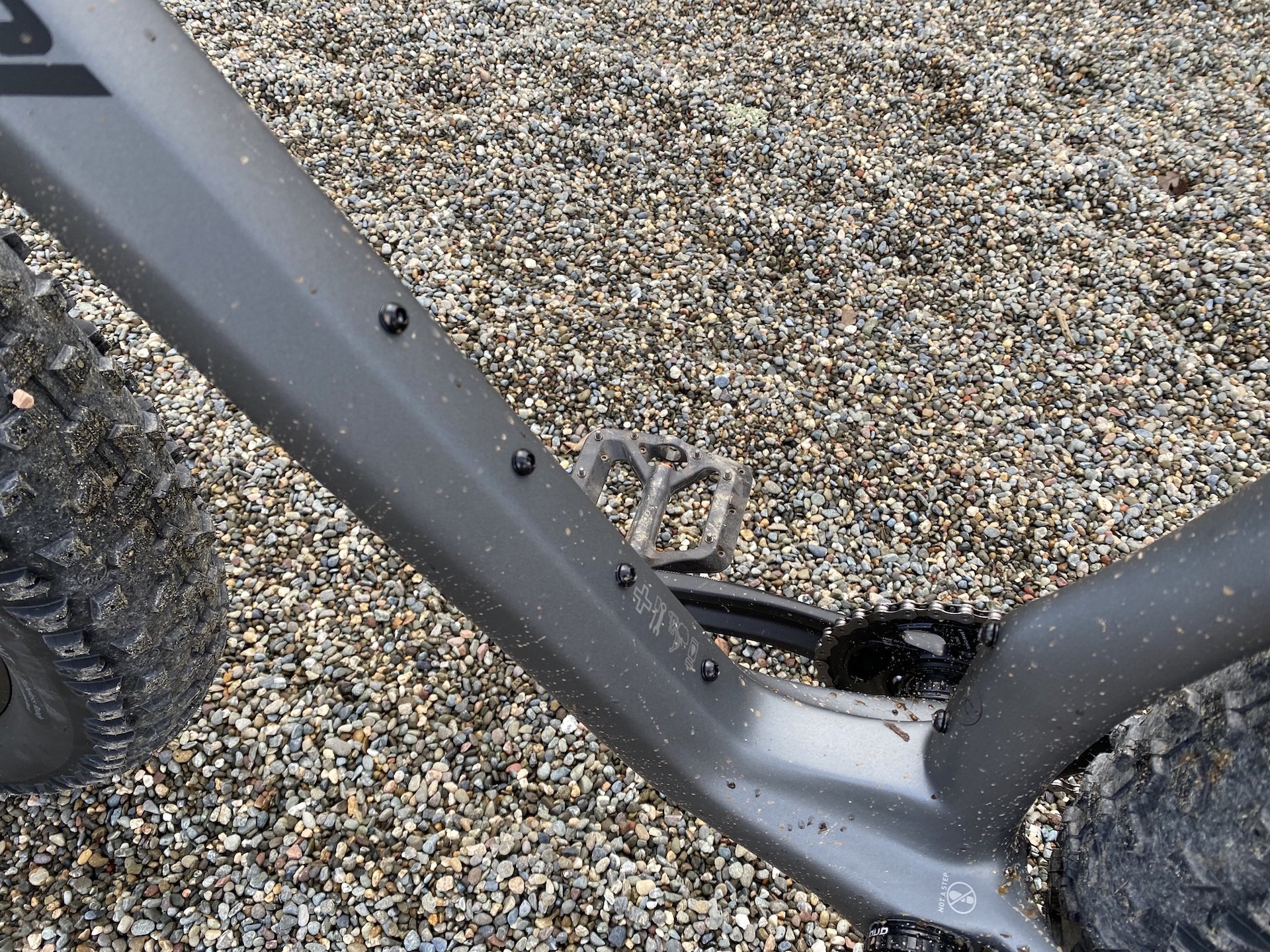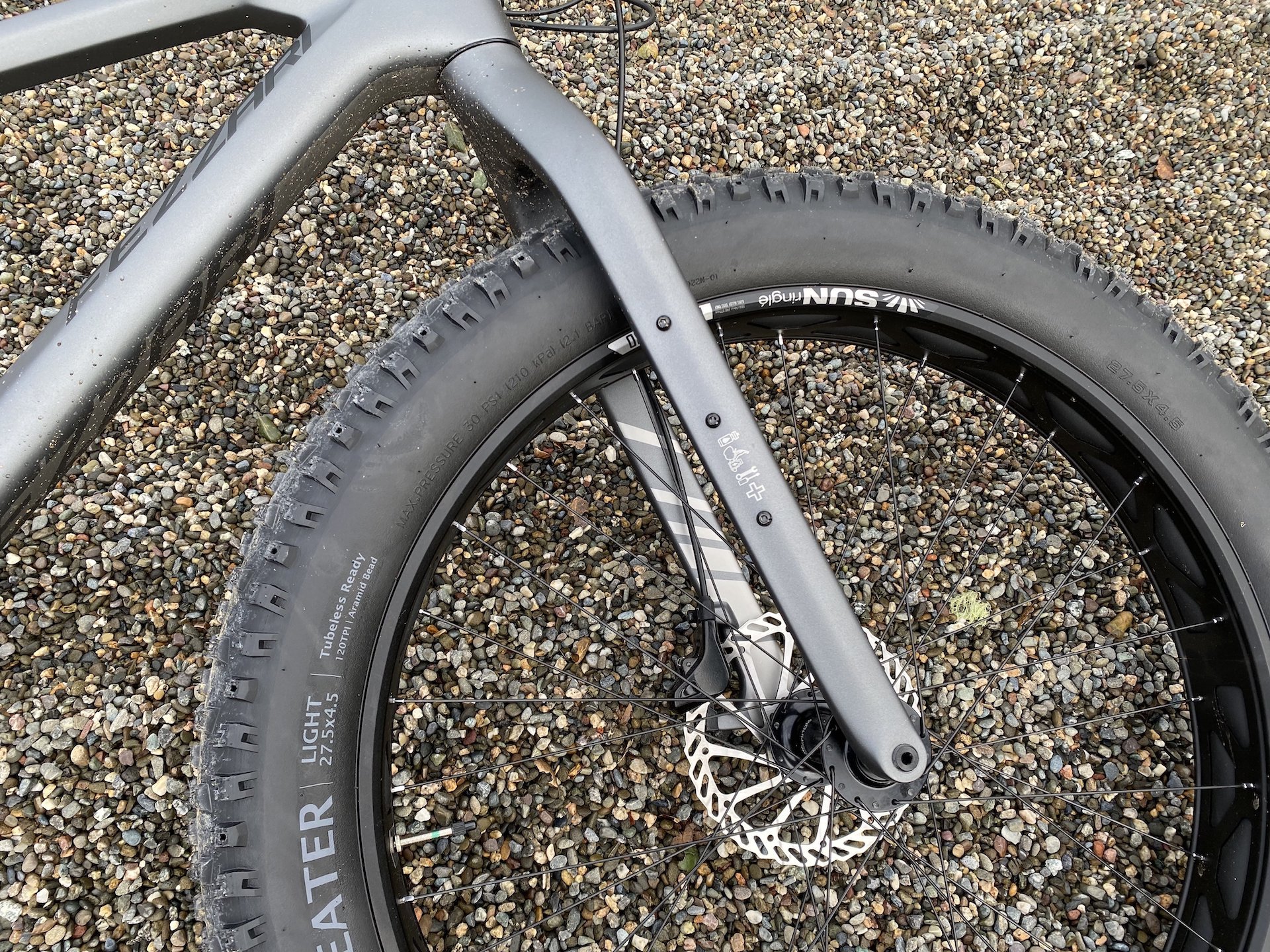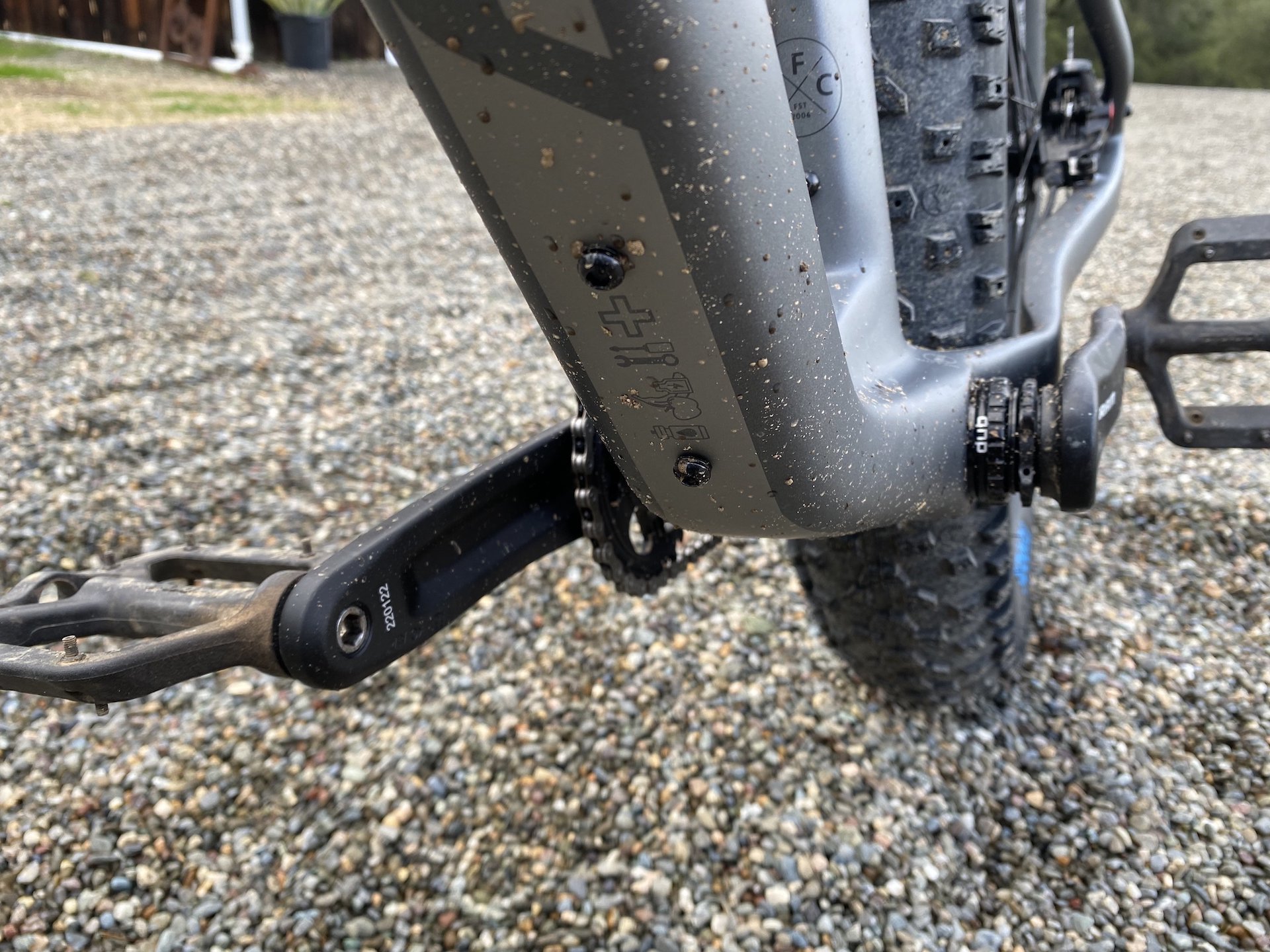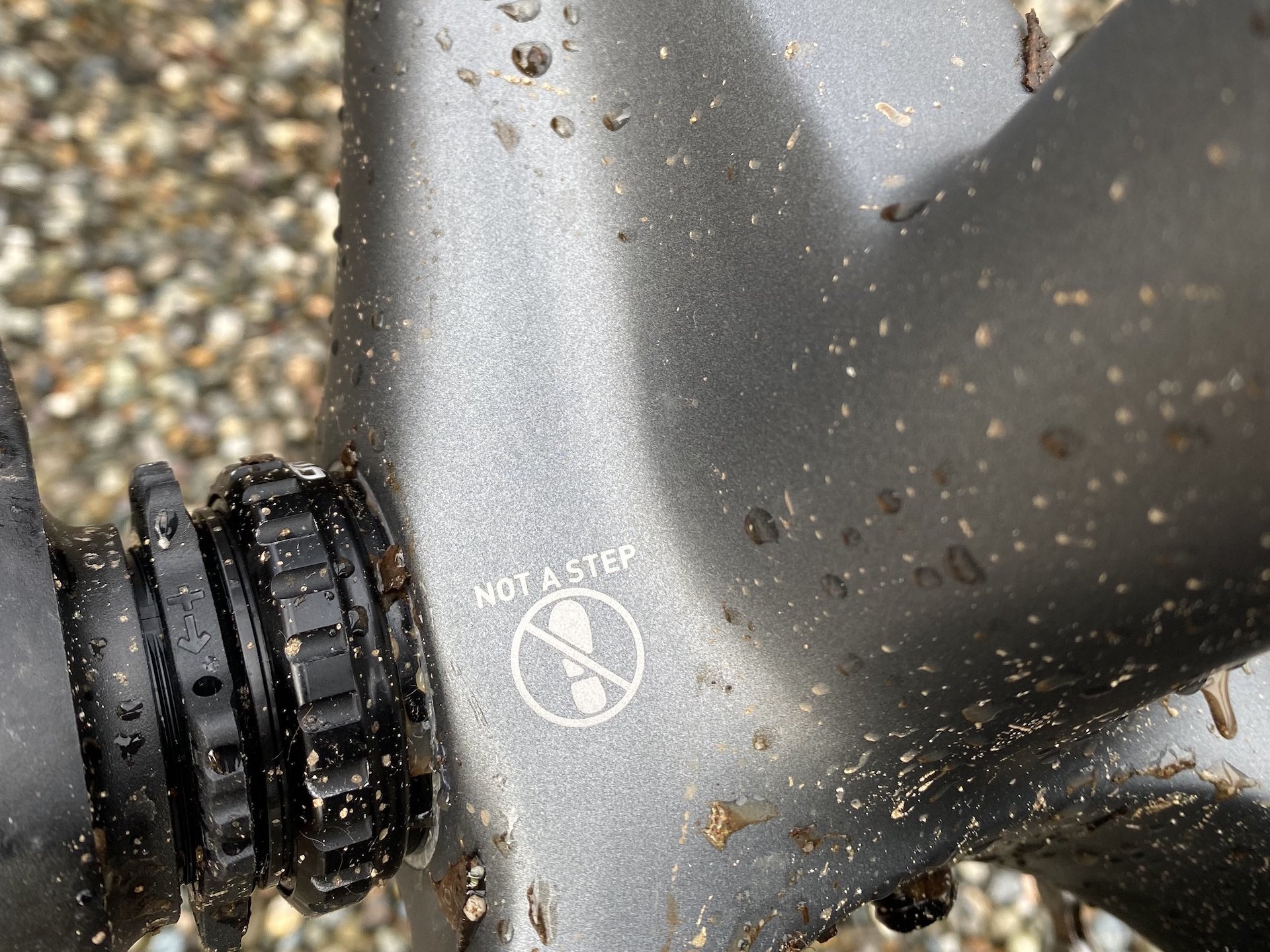 Thus far, the Kings Peak has seen a limited diet of swampy winter riding on trails that are most charitably described as janky; steep, narrow, strewn with slimy leaves and usually about as much fun to endure as a dental procedure. The Kings Peak, in conditions that generally precluded riding any other kind of bicycle anywhere at all in California, just sort of rumbled around implacably and was, dare I say it, about as much fun as a person could have when it's raining an entire year worth of rain in a couple weeks.
The easiest analogy would be to align it as a pedal powered rock crawler. Nobody even thinks of going crawling with anything smaller than 35" wheels at the bare minimum. That little 22RE motor is gonna have trouble turning them big old meats, so you regear the diffs and slap on some air lockers, but there goes your fuel economy, freeway speed, any semblance of using it as a daily driver. That's fat biking in a nutshell. Forget about going fast, be prepared to learn an entire galaxy of nuance when it comes to tire pressure and things that happen when you load into corners, but revel in the sudden freedom to ride wherever the hell you feel like pointing the front wheel, trail or not.
Speaking of pointing the front wheel... Back at the beginning of this, when I was carping on about progressive geometry? Yeah, I might have some learning to do here. I am not sure if it's a massive amount of extra trail relative to the head angle (which I doubt, because a 51mm offset fork on a 67 degree head angle pencils out to less trail than a lot of bikes I can think of), or some quarter to half-psi incremental something or other in the front tire, but there is a very, profoundly, different feel in the front end when leaning into turns. Im not saying it's good. I'm not saying it's bad. I'm just making a note of it here.
For now, that's about all I gotta say. There's a desolate chunk of empty desert south of Cataviña that I have a date with in a few weeks. Hopefully I'll understand a bit more after that.