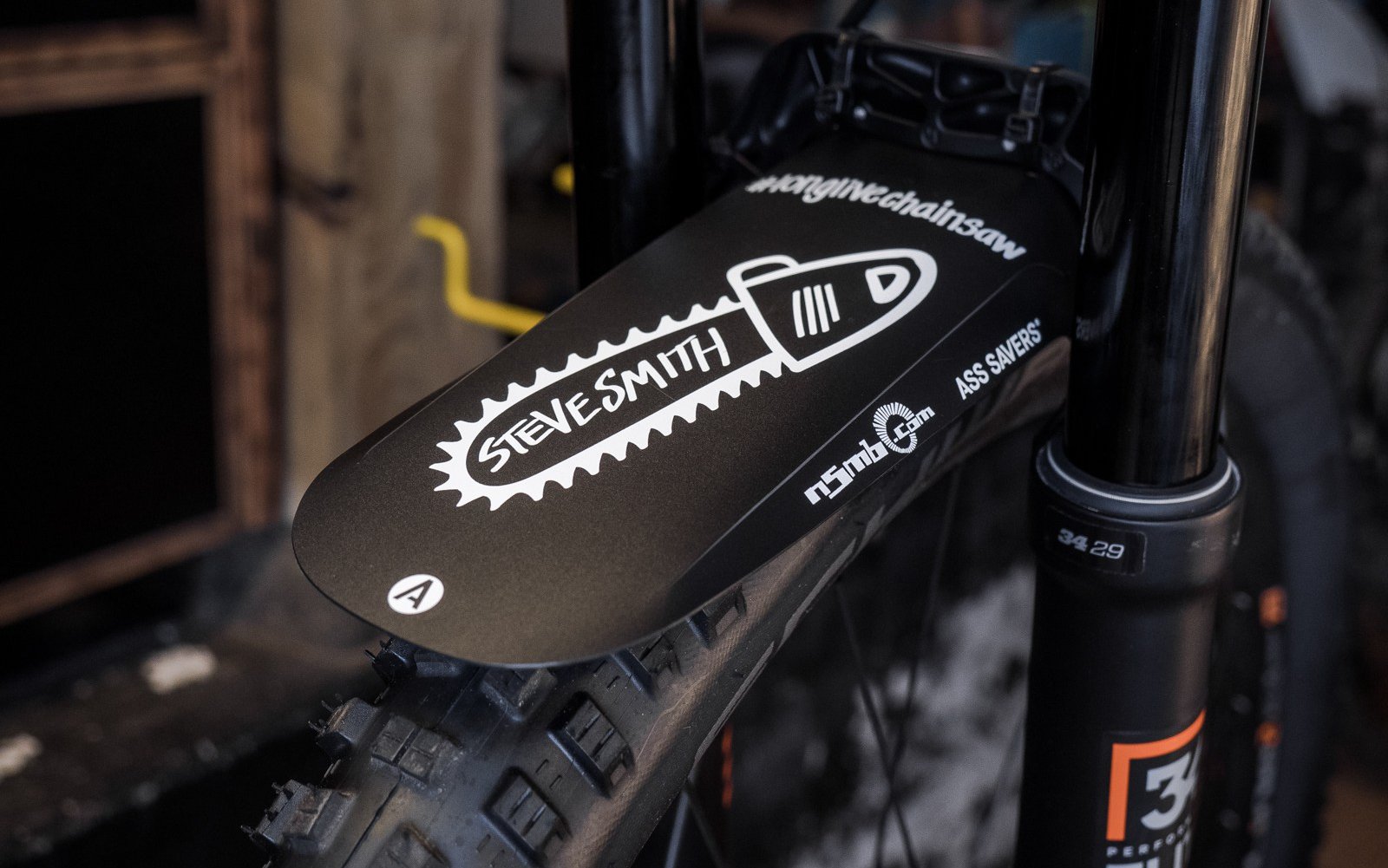 8 Front Fenders for your MTB
Fenders For Fall (and Winter)
Fenders For All
Front fenders keep crap (sometimes actual crap) out of my face, especially at speed when my big knobby tire wants to whip that sh*t straight into my (sometimes actual) sh*t eating grin. 
They also keep the worst kinds of sandy discharge off my fork seals, keeping my fork sealing, preventing damage, and saving me money. Fenders; is there anything they can't do?
*like that time a small rock used my fork arch as a base to launch an assault on the my stanchion. 
Below you'll find a few fenders that have graced the NSMB workbench. None of them are expensive, especially compared to the money and torment* they can prevent. I've personally broken an example of every fender listed below except for the Syncros bolt-on and RRP, both of which I've never tried, and the SKS Flap Guard which I have one ride on. I've never felt that one of these fenders owed me anything since they're recyclable, and relatively cheap.  
*I have a mental image of my buddy Bri, bent over in the pissing rain, mining his eye for an invisible asteroid with dirty fingers while performing a blue-language version of the Alphabet Aerobics. 
Zip-Ties 
I don't care about getting dirty but I prefer to avoid crashing due to dirt-induced blindness, eating deer feces, and having to landscape my eyeballs with booger-infused gloves. For my purposes, the most diminutive fender options work great while limiting the commuter look and the potential crash-carnage. I'll take the original Mucky Nutz, the Marsh Guard, or the Ass Savers for Zip-Tie arch fenders. 
That said, having the fender extend ahead of my fork arch keeps the gunk down. Particularly when smashing through puddles. Whether the extra protection is worth suffering the commuter-chic look will depend on your perspective.
More and more forks - DVO, X-Fusion, Suntour, Fox, etc - are coming with fender mounting points on the lowers. While a bolted on fender looks clean, it requires two, or four, tiny threaded holes for hamfists to strip out, not to mention a marginal increase in production cost. 
In this era of internally routed everything, the once mighty Zip-Tie is no longer ever-present on our frames and, on top of looking clean, custom-manufactured bolt-on fenders are more easily installed and removed. Zip-Tie fenders win for mounting universality, lower cost, and generally lighter weight but there's no "here's mud in your eye" moment coming if you prefer tiny hex bolts. 
Bolt-On
Some companies, like DVO and SR Suntour, ship forks with bolt-on fenders in the box for a some added value. Others, like Fox and X-Fusion, have handy holes drilled in the lowers without offering a fender to fit. For those with an aversion to zip ties, Scott Sports has responded with a super clean bolt-on option designed to work with Fox forks, 
Have a Fox fork and an aversion to zip-ties? Scott Bicycles answers the question "what the heck are the holes on the back of my Fox fork lowers for," with a super-clean bolt-on fender. 
SR Suntour's bolt-on fender interfaces nicely for a factory look. It's not something I leave on year round but the length and shape offer the best coverage of any bolt-on fender I've used. Install is fast enough that I've fired it on five minutes before a ride and it's solidly made.
Winning With Fenders
If this was a 'shoot out' I'd have to declare a winner, but all of these have a spot on someone's podium. You, however, will be the real victor after your 15-25 USD fender saves you from bleeding cash on extra fork maintenance and from digging detritus from your eyeballs.