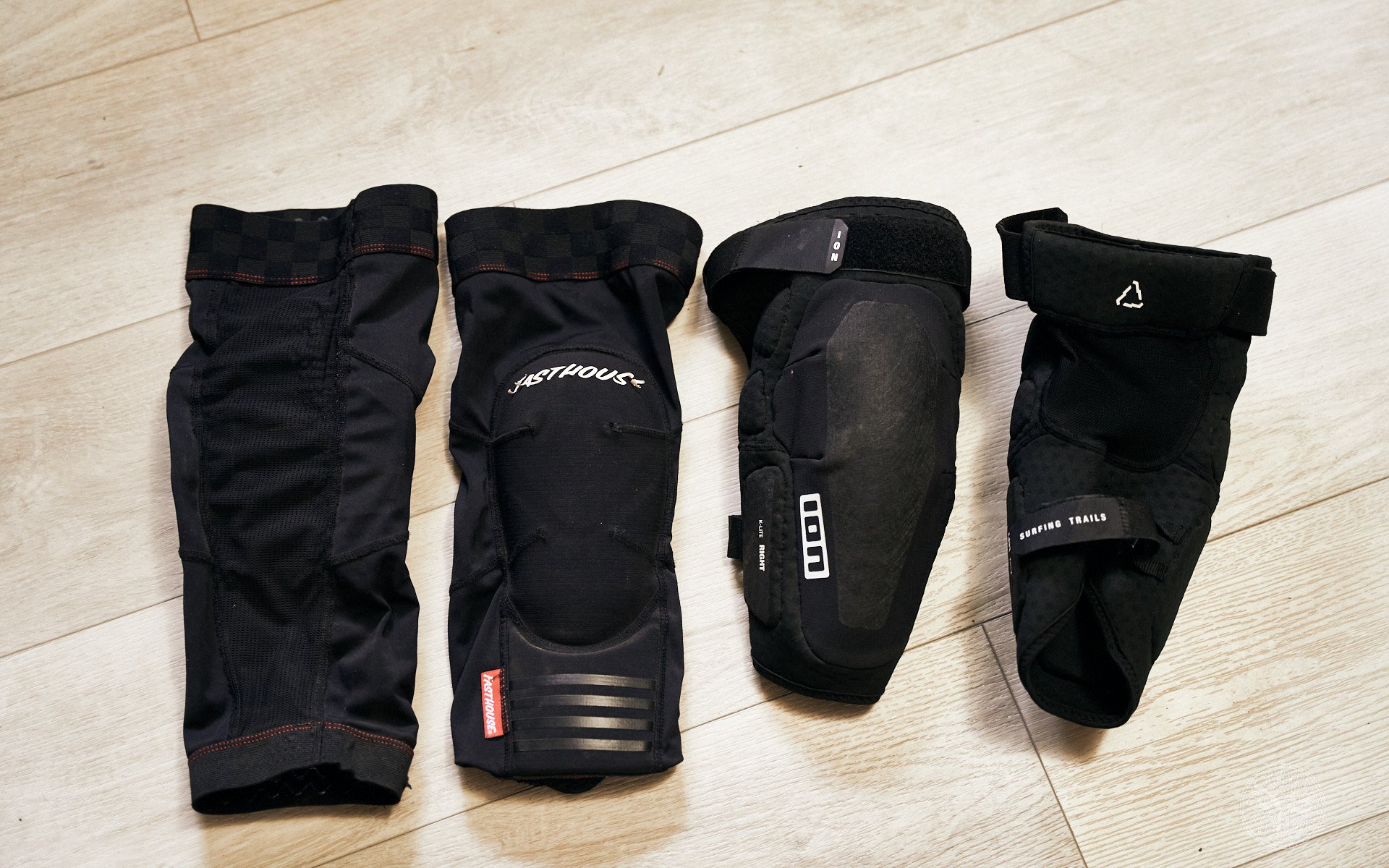 Mano a Mano Review
Fasthouse Hooper & Ion K-Lite Kneepads
Yesterday, I was at the trailhead with a couple of veterans of the Sport and the Shore. We were trying to find parking to drop into a one of the lesser known trails. The trailhead was busy and there was one last spot to back our TRD Pro Tundra into and attempt avoid any unwanted attention to drop into an even lesser known trail. We had all the markings of a crew that would blend in at trailheads all across the continent. The truck, the bikes, the monochromatic outfits, lightweight kneepads, the whole nine yards. There was a buzz of people around us getting ready to drop into one of the more tracked and mellow routes. The rituals these people were going through were slightly different than ours. There was an excess of concern and faffing going on. As the observer I am, I noticed a common denominator on these folk getting ready to "shred" the Shore if you will.
Hardshell armour!
The white plastic, velcro-strapped, gladiator monstrosities looked like a sea of Shredders dropping into the NYC sewage tunnels to fight the Turtles. Knowing I had some riding and hiking on the plate for the day, I couldn't help but feel bad for this uncomfortable looking fashion show.
I don't mean to belittle anyone because of their perception of safety and the daily responsibilities that may require such precautions to be taken. On the opposite end of the spectrum, I've never seen Cooper Quinn wear anything more than thin shorts while rocking bare knees even in the middle of winter, riding gnarly-ass trails. He is a man of comfort and he doesn't set out riding expecting to crash,* so why bother with protection? I admire that approach but it's a little out of my comfort zone unless the ride calls for it. I will set out with bare knees if the ride is of XC nature or the weather is very hot, or I if I've forgotten my kneepads. Otherwise I've been wearing The Hooper from Fasthouse or Ion K-Lites all summer.
*Is that what the rest of us do? -Ed.
Fasthouse The Hooper Kneepads
Designed by the man who is responsible for one of the deadliest flat pedals, Tyler McCaul, the Hooper knee-shin pads from Fasthouse are a slim and long approach to protection. No velcro in sight on this sleeve-like design. Retention becomes even more important when you can't adjust the fit for a size range. With a 19" thigh girth certificate, I tried both the Medium and a Large before settling on M for optimum retention.
There was no choking on the upper cuff and behind the knee felt unbothered by the well-ventilated flexible mesh material. My go-to pads before the Hooper were 7iDP Sam Hills that are also long in construction for extensive coverage. What the 7iDPs lacked in shin protection, the Hooper definitely made up. The Hooper has a removable shin pad for throwing the pads in the wash which is what you should do every now and again apparently. The minimal fabric around the back of the pads allows knee-pit perspiration to evaporate nicely. I never once thought the pads were suffocating me or causing excess sweat. There were times I left them on for 8+ hours and completely forgot they were there. That is the highest praise I can give a kneepad, apart from saving my ba-con in a crash.
The Hoopers stay put quite well in all weather conditions. The length helps with this but unlike my 7iDPs, that are equal length, the Hoopers have a more effective silicone traction pad that locks them to your thighs. All this 'stay put business' made me worry that I'd have a hell of a time removing them after a ride but I was surprised to easily slide them off my leg without having to peel. Great coverage, great retention and does not smell like death after a sweaty summer ride. Fasthouse did their homework right and came up with pads I would even place into our worth every penny column, which means I will head to my local shop and buy a backup pair soon.
The Fasthouse logo is peeling off which is unfortunate because it makes the pads look cheap. There is no damage to the fabric behind them however. It could be all the washing or some abrasion that caused them to separate. This wasn't a deal breaker for me.
100 USD/130 CAD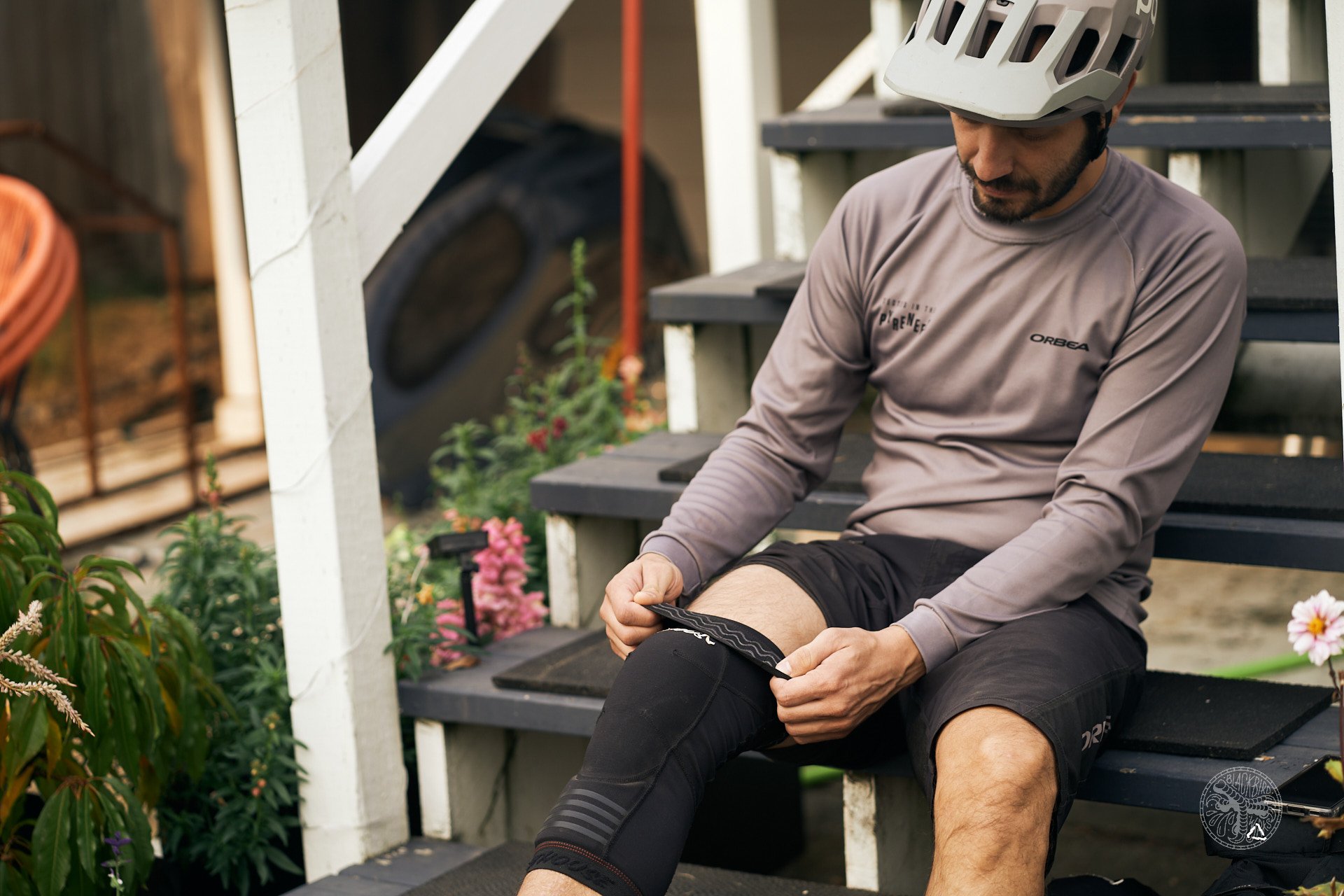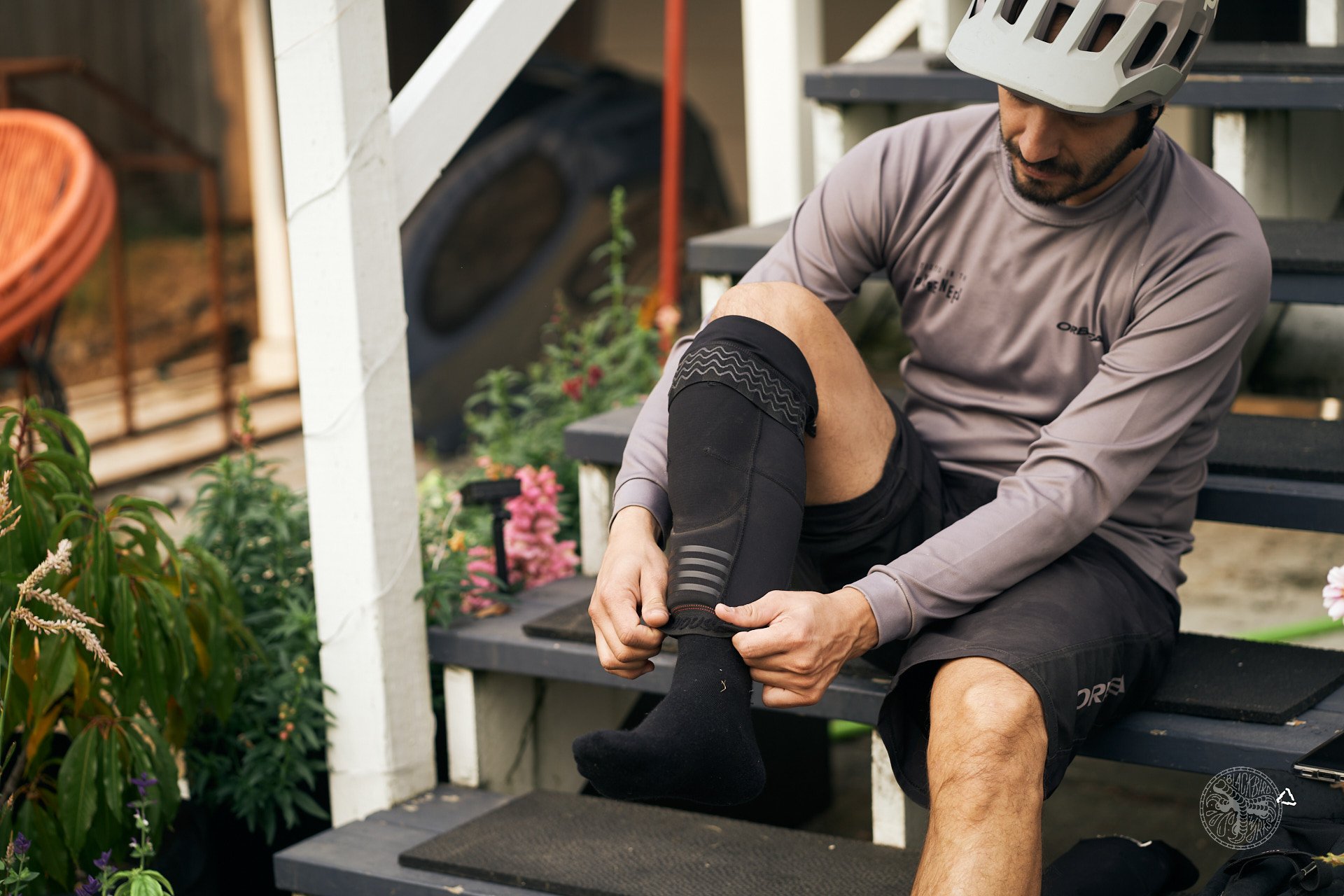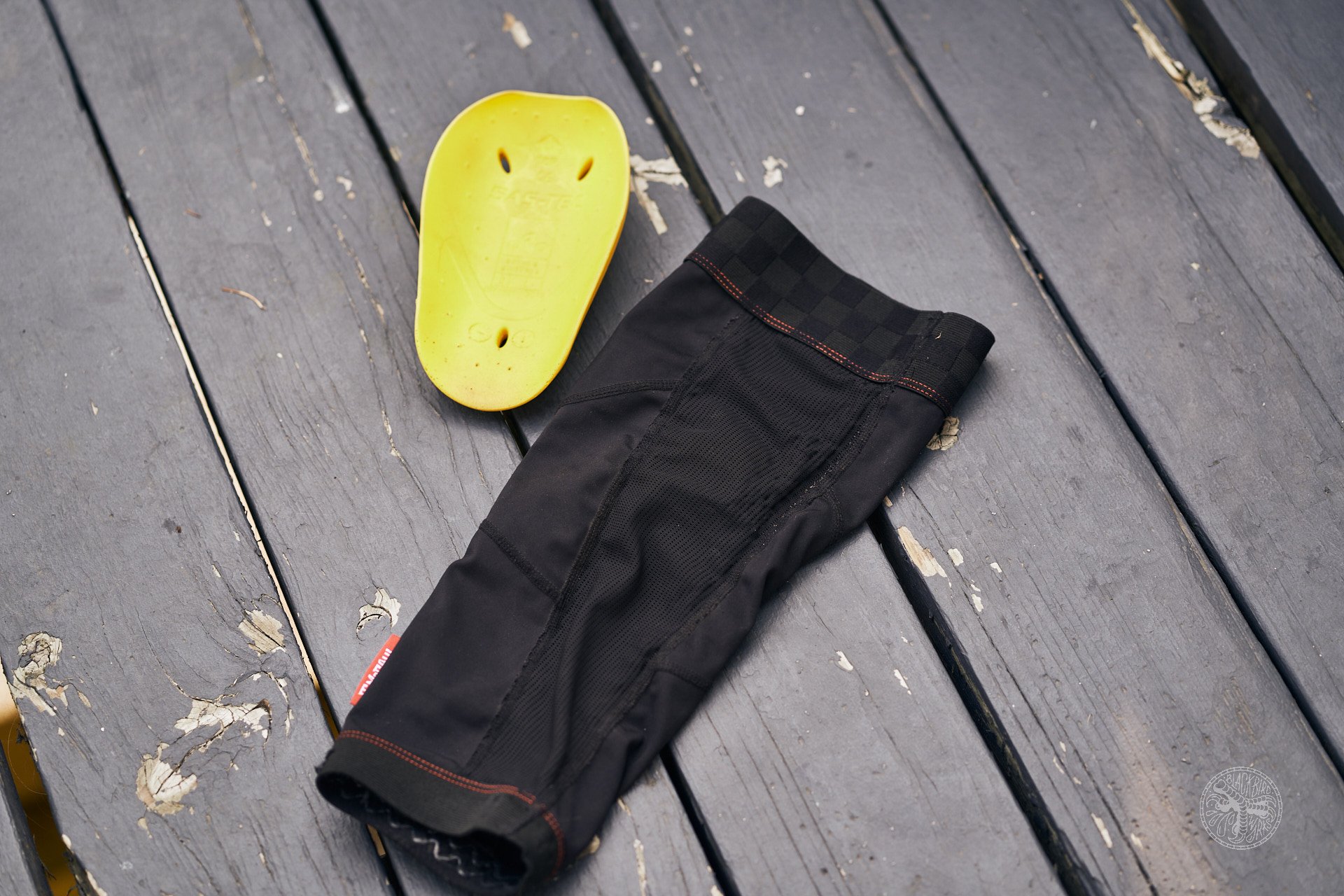 Ion Bike K-Lite Kneepads
Ion's K-Lite Kneepads are slightly different in construction and intended use compared to the Hoopers. These are less of an all day pedal trail, more of an Enduro oriented kneepad. Whenever I see the Enduro as an intended use, I think of people pedaling up paved or fire roads. Perhaps people who like to slide their pads to their ankles for the climbs and pull them back up for the descends. This wouldn't be too far off the mark for the Ion's K-Lite pads. Heavier duty in construction compared to the Fasthouse Hoopers, there is more padding on the sides of the knees. Some people will appreciate the protection from the bike itself with these little pads of safety. Attention to detail is incredible with these K-Lites and the construction of the pad seems to back that up. Stitching is burly and the velcro strap system is designed to last a couple of seasons at least. I like the rounded corners of the velcro tabs; these are generally sharp and dig into your skin on other pads I've encountered. The lower velcro also runs through a loop with clear piping for buffer and bearing-like smoothness when pulled on.
The Enduro-certified removable inner pad has great shape and articulation,. But no matter how I adjusted it, I couldn't get the K-Lites to feel as comfortable as the Hoopers. On riskier rides, I did reach for the K-Lites for added knee protection knowing that I sacrificed some shin coverage. Unless I was on an E-bike, I didn't love pedaling with the Ion pads for extended periods of time.
After months of use, there doesn't seem to be much evidence of wear. They have successfully been through the wash a few times but I am more hesitant to toss them in due to the velcro construction. I hate it when socks and gloves get destroyed by velcro in the wash so I laundered these a little less than usual. They run warmer than the Hoopers and they retained a little more stink with all the perspiration.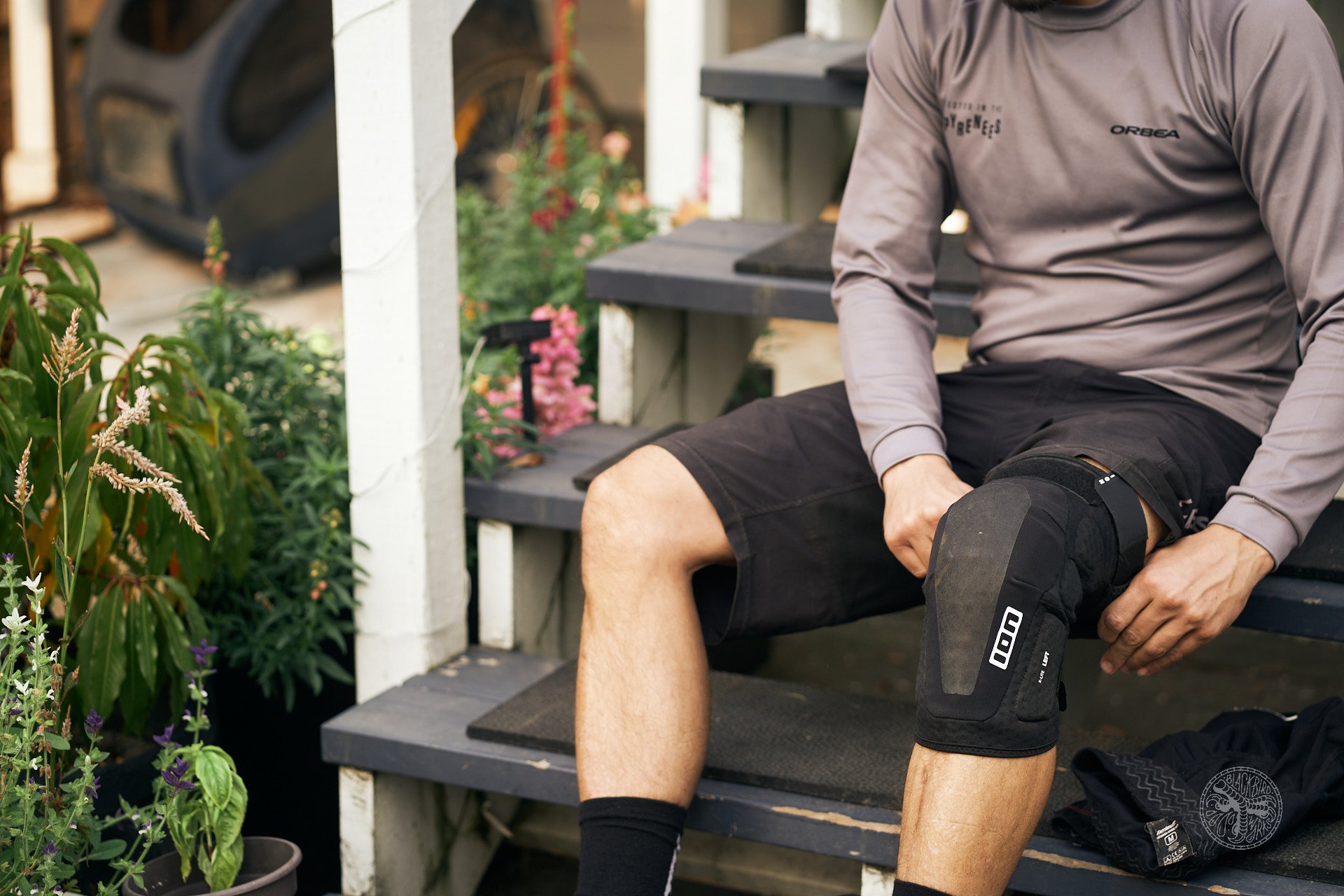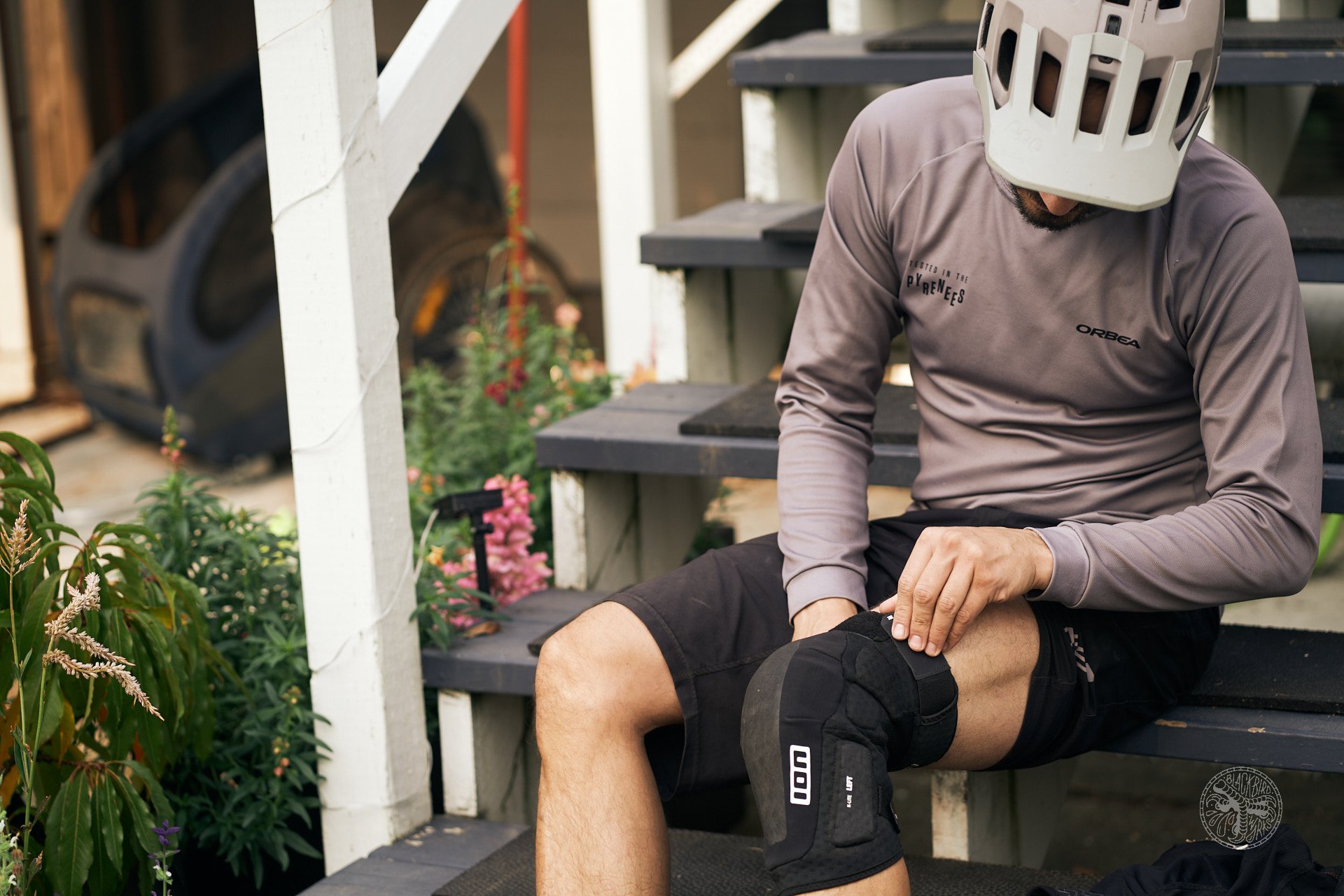 I did appreciate the burliness of these pads on couple of occasions when I decided to leave my bike and ride the trail with my body. Sore body was all I had to deal with; no cuts or abrasion on knees.
110 EUR/150 CAD