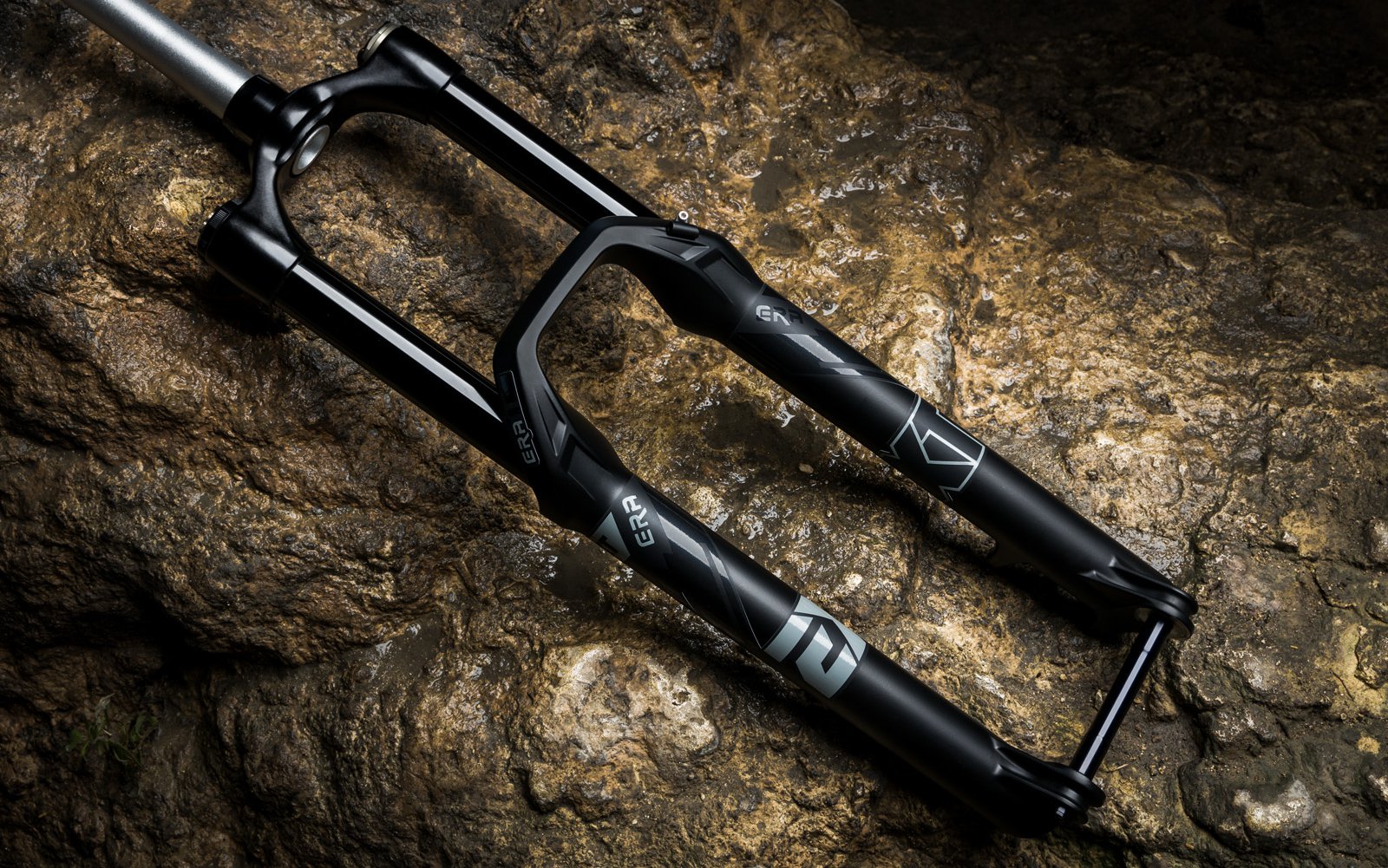 Release/Interview
EXT Releases Era Fork
Italian suspension manufacturer EXT (Extreme Racing Shocks), are bringing their experience in automotive racing to the front of our bikes. Their Storia V3 shock already has riders lusting for their product but now EXT is looking to occupy both ends of the mountain bike. Their new ERA fork is here and with it, several different approaches to controlling the front wheel.

"The difference between something good and something great is attention to detail." – EXT
EXT believes that making a great product involves high attention to detail and they've worked hard to produce a fork that maintains a strong dynamic bike geometry. They believe that in doing so, the suspension and bike can perform better, allowing greater flexibility in any situation. To do this EXT has developed new approaches to the chassis and internal functionality while working within the restrictions present in modern-day mountain bike suspension and production.
Like other MTB forks, it consists of a spring side, damper side, magnesium lowers, bushings, seals and fluids developed to provide what EXT believes to be the best performance. Reducing friction in the system repeatedly comes up in their release, something echoed by other MTB suspension manufacturers. Using special coatings, materials and fluids they claim the new fork has excellent glide but they've gone further than surfaces and treatments. To help prevent issues with binding from side loads the lowers have an asymmetric design, there's more material in the stanchions, making them thicker and heavier, but EXT has focused on performance over saving weight.
Features:
HS3, Hybrid coil and air spring: Two adjustable positive air chambers and one high volume negative chamber with an integrated coil spring

ERA Coil Spring version will be available soon, stay tuned -

Patent-pending crown design: Forged 7050 T6 to substantially increase stiffness
High volume damper cartridge with Ø22mm piston
3-way adjustable, low and high-speed bump (compression) and rebound
Main strut low friction system: new DU bushing material from our WRC technology combined with dedicated EXT oil
Cartridge and air spring low friction system: innovative floating shaft guide combined with the EXT proprietary coating and Superfinish chrome shaft
Travel option: 140, 150, 160, 170
Offset: 44mm
Wheel size: 29-inch
Claimed weight: 2,280g (29" 170 mm with uncut steer tube, axle and lube)
Price: 1,480 EUR +VAT
Before getting into what we know about the features and an interview with EXT about the new Era fork, some basic items caught my attention. First, the fork is only available in a 44mm offset. This is a topic Ryan Palmer recently commented on and while I won't go into detail here (watch his video, it's good), he's likely fist-pumping, or perhaps cursing it. Regardless, he's beginning to look more like a reliable MTB tarot card reader with each "Palmer's Peeves" video.
With only a 44mm offset, the fork is also exclusively for 29-inch wheels, at least for now. Riders who enjoy smaller wheels will have to hope and wait or shop elsewhere. However, if 29-inch wheels are your jam, a fairly wide range of travel options are available; from 140mm through to 170mm. Lastly, despite their focus on performance and confessing little attention to making the fork light, the weight isn't too bad when compared to the Öhlins m.2 coil – the Era HS3 looks to be lighter than my test fork. It does weigh over 200g more than the current Fox 36 and RockShox Lyrik. How that translates on the trail remains to be seen but the slightly heavier Öhlins has been more precise in many ways. Weight isn't always a bad thing.
HS3 Hybrid Air Spring
While EXT will have both air and coil sprung options available in the future, they're currently focused on the air spring. The HS3 system uses a combination of two positive chambers that work with a single, high volume negative spring and an integrated coil spring. In development, EXT focused on mid-stroke support around the dynamic sag position while providing great sensitivity and bottom-out protection.
Maintaining great support and bike shape around the dynamic sag, the fork can perform better while keeping the bike closer to its designed geometry. This should provide riders with greater control and comfort, allowing for more aggressive bike handling. But EXT says they wanted more stability and precision from the fork, and it led to them designing a new patent-pending crown, increasing stiffness in all load directions.
Chassis
EXT found the crown to have the greatest influence on performance, noting that the force momentum generated by force at the wheel reaches its peak around the head tube and crown junction. They found that increasing stiffness in this part of the fork has the greatest effect on reducing wheel deflection. The EXT Era crown is made from forged 7050 T6 aluminum, a process that reduced weight while increasing front and lateral stiffness a claimed ~20% over a standard crown.
To implement rigidity, the magnesium lower has an asymmetric wall thickness, increasing frontal stiffness. This helps prevent the wheel from deflecting, minimizing bind and more precisely activating travel. Reducing friction in the system also plays a role in allowing the wheel to move freely and EXT has used a new DU bushing material developed in the World Rally Championship. The bushings are specifically sized to strict tolerances for each fork and work with EXT's dedicated oil.
Damper Cartridge with HDRV
EXT uses a high-volume cartridge design with a high-flow 22mm piston in the Era fork. A new compression valve design they call High Dynamic Response Valve (HDRV) uses two different shim stacks to provide mid and high shaft speed control. This is intended to provide better management of small bumps and protection from big impacts. An IFP with a guided piston and custom thrust bearing reduces bending, enhancing response, further improving performance.
The high flow 22mm piston in the damper was used for improved control of dynamic response, allowing the damper cartridge to avoid cavitation while minimizing lag in dynamic oil flow and hysteresis. Compared to other dampers, the cartridge is said to provide ~35% more oil volume, which adds weight but increases consistency during long descents. Giving riders real-world change to the damper, it provides a fully tunable, three-way externally adjustable high and low-speed compression and rebound with a usable range. As with EXT shocks, the fork damper separates the hydraulic circuits between compression (bump) and rebound.
Friction
EXT notes that fork behaviour isn't influenced solely by damper and spring performance. Friction and stiction from any of the moving parts can result in even the best spring or damper performing sub-par. To reduce problems from friction or stiction, EXT focused on everything from materials and chassis construction to coatings and fluids. The World Rally Championship developed DU bushings and dedicated oil, the fork specific bushings and tight tolerances, asymmetric lower, patent-pending crown and carefully considered internal components take the Era a long way. But EXT has also developed a dedicated wiper seal with RacingBros which they say will keep things moving smoothly.

Friction and stiction "remain the enemy of comfort, precision, smoothness and sensitivity." – EXT
A floating radial damper shaft guide utilizing an aeronautical carbon charged PEEK material is combined with their proprietary cartridge coating and Superfinish shaft. EXT says this also reduces the chance of friction in all load conditions. The HS3 spring also uses a Superfinish Steel Chromed shaft to reducing surface roughness by a claimed five times. This avoids stick, improving response from the fork.
It all sounds interesting but until we can get time on one, whether or not the technology adds up on the trail will need to wait. I was curious about the new technologies from EXT, so I fired over some questions to dig a little deeper. Below is my Q&A with their Italian team. I've added minimal smoothing to the translation for a clear understanding of the responses.
The EXT shocks are built in Italy. Where will the forks be manufactured?
Yes, the fork is also built in Italy.
The HS3 air spring's three chambers have the potential to create more friction thanks to more seals being required. How has EXT mitigated the extra friction?
There are technically three chambers but really the separating piston works as two-chamber air springs would. The negative chamber is self-activated by the same piston in the main chamber.
We have worked a lot to reduce friction and stiction with dedicated coatings, materials, seal design, tolerances, specially developed lubricants, piston design and guiding system. There's a self-lubricating storage system on the pistons and to reduce friction to the lowest level we are using a hard chrome steel shaft with an incredible surface finish. With this choice of "steel" we did add some weight compared to other manufacturers but the friction level is really low.
How does the "integrated coil spring" work with the air springs? Is it focused on providing a soft initial touch or is it involved throughout the entire stroke?
The coil spring is calibrated to work at sag position.
The graph for the air spring curve shows a significant bump in the curve. Can you explain this and its effects on the use of travel/feel on the trail?
To use your words this significant force is generated only in mid-stroke where we consider the support is needed.
That means the bike can stay within a more efficient head angle to the fork/frame system so obstacles induce smaller changes to the bike geometry, giving a more stable ride. Good support also means more available fork travel for the compression stroke and more capacity to avoid bottoming out while using lower pressure, enhancing comfort.
EXT developed the HS3 hybrid spring system to achieve this goal adding other features to implement other benefits.
How did you arrive at a 22mm piston? Other brands with a 22mm piston have had issues with harshness and improved it with a smaller piston. How is EXT avoiding this with the large piston size?
Research, development and good understanding of valve flow, a good simulation software package and good know-how of working principles are one of the main advantages of EXT – our R&D capacity and heritage. The requests for flow control and maintaining consistent and tunable characteristics cannot go together with a simple bleed valve system design as chosen by the majority of competitors. This 22mm piston cartridge is the result of our very extensive work in different fields of motorsport.
Our cartridge has no cavitation, no hysteresis, very low friction, no drag, and no stiction! It's really tunable with the external adjustments and also easy to change valve characteristics.
Tell us more about the thrust bearing in the damper. What is it and how does it improve performance.
The thrust bearing is a way to control and reduce side load-deformation during spring compression. This side-load deformation increases friction and reduces dynamic response in the system. Due to the dedicated design and dimensions, we designed a bespoke thrust bearing for our compression valve assembly.
How does the High Dynamic Response Valve (HDRV) differ from the competition?
HDRV is combined with the IFP piston compression design concept. Both work with a 24mm piston an increment diameter "around 26%" from competitors. All I said in point six above, is valid for here too. This choice makes an easier and more controlled oil flow especially at high flow velocity to 6mt/sc and less movement on the IFP double guided reservoir floating piston that again runs on a chrome shaft to increase dynamic response.
This is a complex system that boosts two different shim stacks and a dynamic valve cage. Again, this design comes from our innovative motorsport solution that allows a different level of influence at low and high velocity while keeping an exceptional sensitivity on small bump absorption and very good control and tuning protection on big impact without affecting low-speed.
Every detail of the different components is designed with conscious knowledge for use of the HDRV system with a large piston diameter. That results in very good port flow control that allows a super accurate choice for shims for very fine-tuning and damping curve characteristics.
Again, no stiction, very low friction and very high dynamic response while offering a very smooth action.
With the damper being a cartridge-based system, is there any desire from EXT to develop an aftermarket conversion for customers with other forks?
At the moment we are considering this as a possible option.
There has been some discussion around the use of magnesium lowers and potential issues with them. While the ERA uses an asymmetric wall thickness, how does it avoid the other issues associated with magnesium lowers like durability with bushings?
The MTB big boys, "big suspension players and monopolizer" making choices that obligate everyone to stick to. Some are good choices, some are bad, sometimes the good is transformed to bad by bad execution or cheaper decision. Bushing durability is not a magnesium related problem but can be when not using a better design system for the job.
And this takes us to the next question…
It sounds like the custom DU bushings are made specifically for each fork, taking in manufacturing tolerances to provide an accurate final tolerance. If I'm understanding this correctly, how does this affect customers if/when they need to replace the bushings?
You should come here and we could show some interesting graphs and test! [A.J: I'd love to visit!] Very good assembly and correct DU/stanchion tolerances with good lube can really make a difference!
This is one of the most critical and important parts of an MTB fork with the existing design. If you want quality you cannot do this job in your garage just by changing the bushing!
Bushings must be replaced and sized to stanchion tolerances and with well-controlled DU bushing and correct sizing tools.
With an increase in bikes with progressive geometry – at least slacker head angles – there's more force on the fork in some aspects than before. EXT has looked to improve frontal stiffness with a new crown design and asymmetric lowers. Was a dual crown option considered to achieve the same benefits? Why the choice to stick with a single crown fork?
Again, we are making a fork that must be easy to understand for everybody and must be appreciated and comparable with the others, keeping the weight at a lower level. Even though this parameter hasn't been an important factor in our design constrictions, we have tried to keep it simple but very effective with our innovative, integrated crown design. The asymmetric lower wall and stanchion tubes have a generous thickness compared to competitors. Again, this confirms that saving weight wasn't a must.
Will a regular crown race fit?
Yes.
It doesn't look like there's a floating axle. How has EXT worked to ensure there's no binding introduced when mounting the front wheel?
While benchmarking all different competitor forks we also measured front hubs and all showed a very good, precise tolerance with a minimal difference that we can assume has no influence on the assembly.
At EXT, during fork assembly quality control of every single lower and stanchion tube is performed for a perfect fit, with best DU bushing tolerances. Our rig test measurement for side load input guarantees us to have less friction and more riding precision.
Head to the EXT website for more on the brand and products.