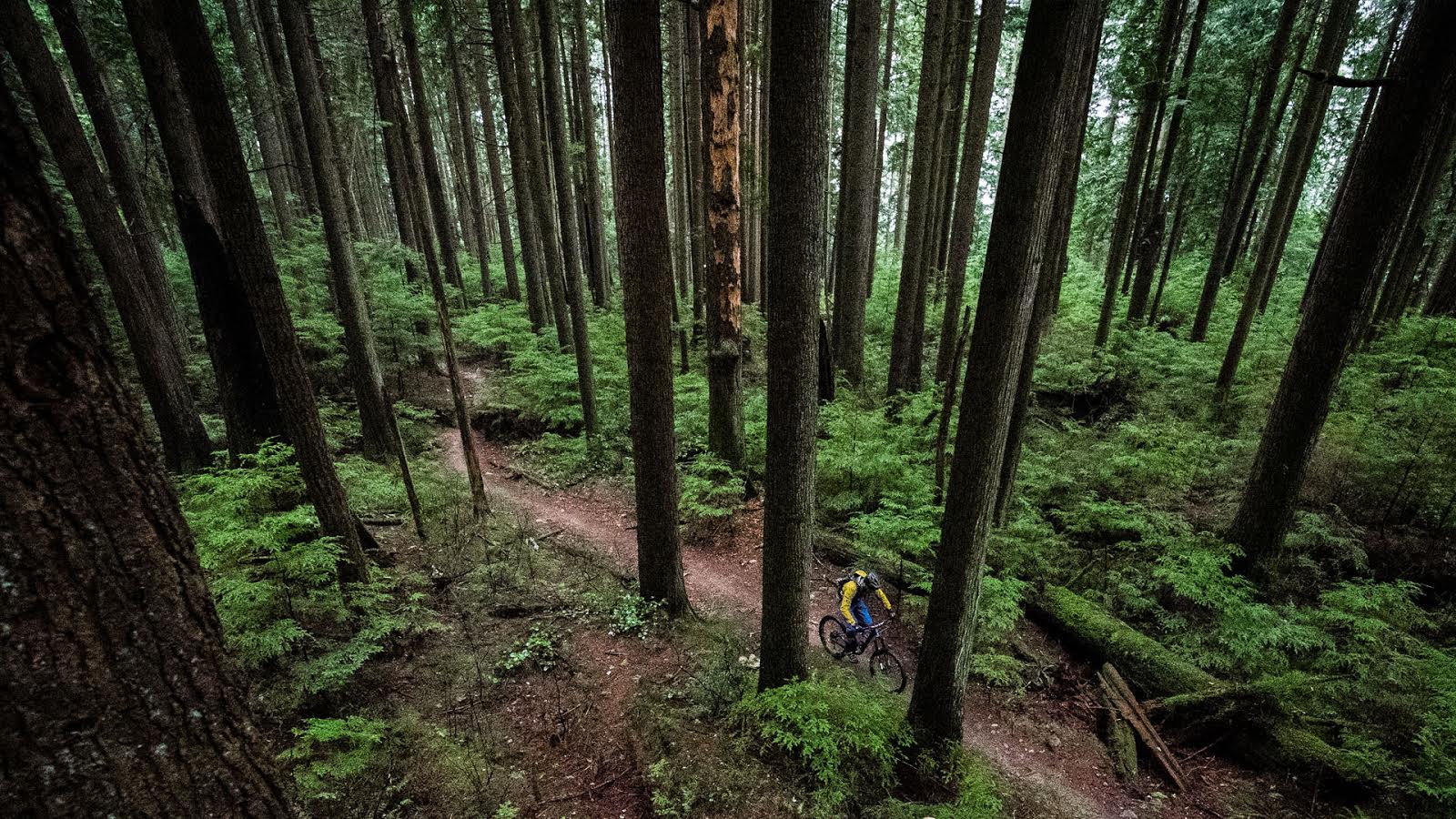 Expresso Trail Day Afternooner: Thursday, June 5
The crew keeps growing every trail day this year from 32 the first day to 46 this past Sunday May, 25th. We had 9 women, 5 under 15's and a pile of dudes all in it to get this trail done. The latest section reroutes the chundered, braided, way-too-wide section close to the exit to Baden-Powell with a new undulating serpentine of rollers, step-ups and berms all covered in rich gold hand delivered by the 46 dirt slingers.
Digger flagged out the latest section addressing the drainage and braiding issues of the old trail. He then spent the day advising, motivating, cheering, story telling and singing his way up and down the new section ensuring the level of work met his high standard of care. He has his flags ready for the last section that will take the trail to its end a little further west of the old embattled exit. Four trail days this June from both the NSMB.com and MEC crews will get the job done and the trail polished in time for the BCBR racers to roll right through and for the rest of us to enjoy a top to bottom ride for a long time to come.
Come on out to our next trail days: Thursday, June 5 4:20-8:20 pm; and Solstice Saturday, June 21 9:00-2:00 pm.
As usual, we'll have swag from the NSMB Store, and RockShox, so no one goes home empty-handed. To make it even sweeter, RockShox has ponied up a Reverb seat post to be given away on each of our trail days. Also, each time you come and spend the day putting shovel into dirt, you'll be entered to win a RockShox Pike, which will be given away this Fall during our last trail day of the year. This is the last trail day to be entered to win a  Brinkmann 4-burner gas grill from Toyota BC, 'cause if you haven't heard, it's grilling season. And don't forget about the post-build supported by Shaftebury.
When: Thursday, June 5th @ 4:20 pm. Facebook event HERE.
Where: The day starts and ends at the Trailhead located at Dempsey Rd. and Braemar Rd East. Map HERE. Please park on the North side of the street below the trailhead parking lot so we minimize interference with residents' street parking in the area. At our meeting point we'll have Coffee from Cowboy Coffee/Bean Around the World and some breakfast goodies.
What to bring: Bring some water to drink in your own container (we will not be providing bottled water) and/or a coffee mug if you'll want to bring one for the trail. Work gloves are provided but feel free to bring your own. Appropriate footwear and clothes to keep you warm and dry while you work.
Lunch: For this shorter, afternoon trail day, we'll be providing some snacks. Let us know if you are coming and have special meal requirements. We aim to please.
Experience necessary: None. If you are new to trail work we'll have lots of experienced builders there keen to show you the ropes.
Time commitment: That is up to you. If you'd like to ride up to meet us and work for a few hours part way through the day we'd be stoked to see you. If you can stay for the whole trail day, that is much appreciated.
---
Hope to see you this Thursday afternoon, June 5th, and again on Saturday morning, June 21st!