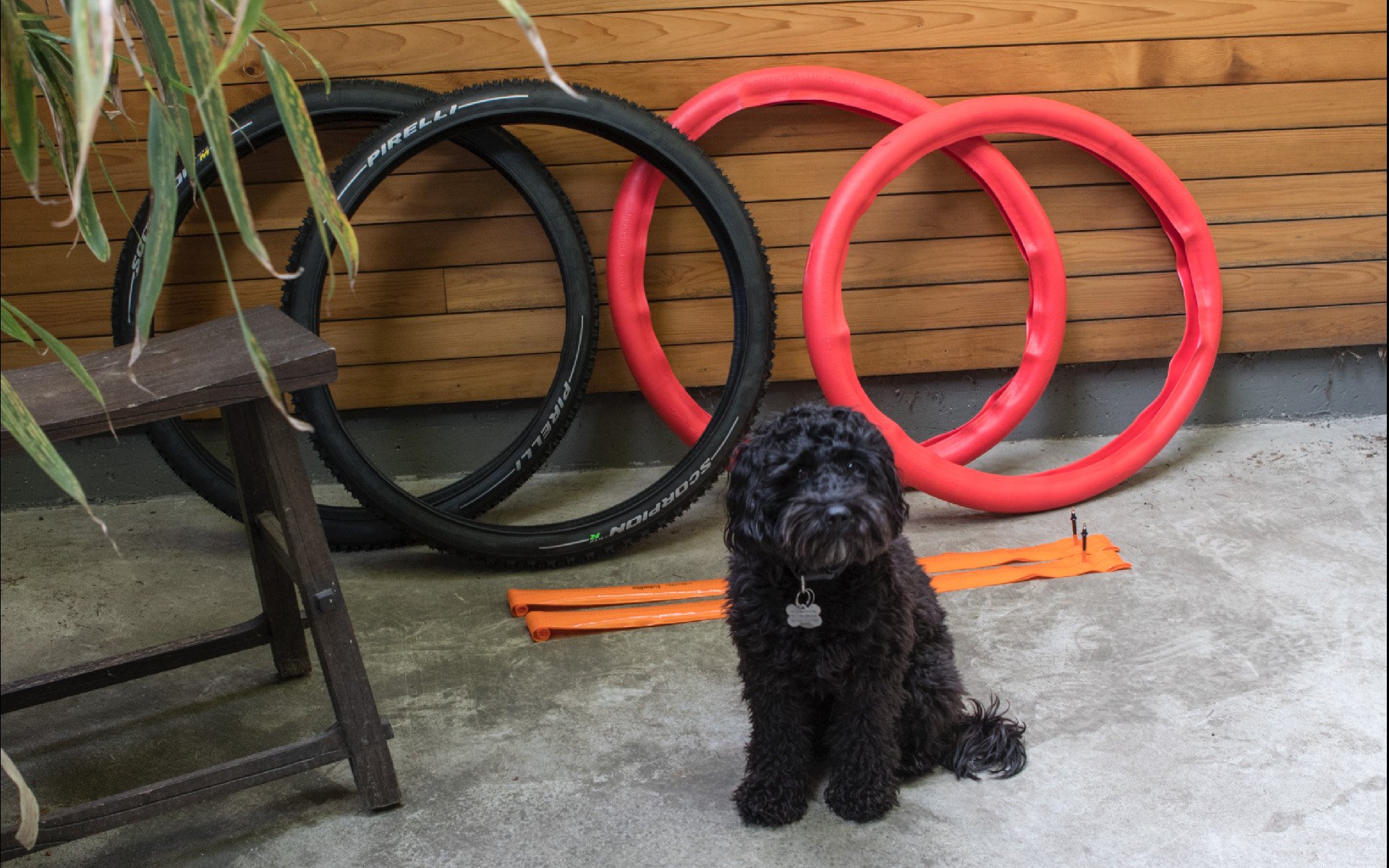 Results from the Dirt Lab
Experiments with CushCore and Tannus Inserts
Compromises are a fact of life. Want a promotion? Better suck up to your jerk of a boss. Or get him or her fired. You must get fit? There is no substitute for hours of pain and sweat. Except drugs. I want it all however, without compromise, and I was prepared to make the ultimate sacrifice of installing tire inserts up to 8 times to achieve this goal. Which sounds like I've been compromised.
I was seeking an insert solution without the usual weight penalty, with two different insert types. Tannus and CushCore approach the problem from different angles. CushCore, which is likely the best known insert at this point, is shaped like a teacup by cross section and it occupies the space closest to the rim and supports sidewalls. It is a tubeless solution that requires sealant and good rim sealing but the foam layer prevents flats by putting a cushion between the impact and your rim. As you can imagine, the system protects your rim in the process and can be run flat with remarkable capability.
Tannus is like a foam tire within your tire. It is a foam liner that presses against the inside of your tire. It diverges further by using a tube instead of a tubeless valve and sealant. If you put a thorn through your tire, you won't go flat unless said thorn goes through both the Tannus insert and the tube. Otherwise you'll be none the wiser. Tannus isn't light at 330 grams apiece, and adding a tube can easily add another 250g making the whole thing a little ridiculous.
My angle with both tires was to use lighter than recommended tires that wouldn't be appropriate for riding on the North Shore without some sort of modification, like inserts. To get Tannus closer to Cush Core I was going to use Tubolito tubes, which weigh just 40g. Between everything I was hopeful to eliminate the weight penalty while reaping many of the benefits of inserts, which does not include smooth installation.
Tannus was up first. The install isn't too bad but some fiddling is required. This was compounded by the filmy shapeless nature of Tubolito's S-Tubo 40 gram tubes. Getting them to seat inside the liner was like playing whack-a-mole, but eventually I got there. The first ride was a bit of a bust, I think because I hadn't adequately tightened the valve. I'm not certain this was the problem, but I couldn't find any punctures in the tube after a thorough dunking. Despite the lack of culprit, I decided it made more sense to put the hefty Tube MTB in the rear, weighing in at a whopping 85 grams. I had no problems after that.
Based on my initial CushCore experiences, when I used truly flimsy and wholly unsuitable Mavic Quest Pro XL 29 x 2.35 tires. They were under 800 grams each and were basically semi-slicks. I don't know quite what I was thinking in retrospect, since I hadn't ridden CushCore ever before, but it turns out I was onto something. The pressures I was able to run, combined with the excellent sidewall support for cornering, turned dumpster tires into a decent option, as long as things didn't get too sloppy. I could ride them in pretty much any situation and do okay, and in the dry there was almost no issue at all. Of course dry around here is a rare and temporary condition, but the experience had given me an idea. If I could get my mitts on relatively light tires with aggressive and well-spaced knobs, rubber enlightenment might be achieved.
I dreamed of rubber under 900 grams that was basically all knobs, and with decent volume. My wish list was a tough ask in 29 howver and I began with a pair of 29 x 2.4 Pirelli Scorpion R Tires weighing 880 grams each. Based on my initial Tannus experience, I expected to be able to run lower pressure without losing much grip or cornering bite. That first ride on Tannus was on burlier E13 TRSr tires, rubber I was more than happy to run without any performance enhancement, and the results didn't compare. The Pirellis were not up to the task with Tannus. To achieve decent grip I had to drop quite a lot of pressure, but when I did cornering precision went out the window and I managed to bottom out my rim loudly enough to make me cringe more than once. And still the grip was unsatisfactory.
I repeated the installation process, slightly more smoothly, with a set of Bontrager SE5 Team Issue 29 x 2.4s. Their width measured somewhat below 2.4", they were more portly than I was hoping for as well at 1060 and 1100 grams, and I would have preferred taller and more aggressive knobs, but otherwise they were perfect. Or at least adequate.
Performance improved over the Pirellis, and grip improved, but there was no comparison between this set up and the WTB combo I'd replaced. Traction wasn't as positive, cornering bite wasn't great at the range of pressures I tried, but grip was adequate. I began to realize that Tannus doesn't provide sidewall support that comes anywhere close to what I'd experienced with CushCore, and that higher pressures were required to provide enough support for a tire with a less robust carcass. The weight challenge was a success however, compared to what they replaced.
The WTB Verdict and Judge combo I was running came in as a complete wheel with rotors and cassette at 2260 grams front and 2895 grams rear on WeAreOne Faction rims with XTR hubs. The Tannus/Bontrager/Tubolito combo was 2140 grams front and 2680 rear. Weight without performance means nothing for the kind of riding I enjoy, so this combo will be identified as a failure.
I didn't see any point in trying CushCore with the Pirelli tires, because I'd already had a similar experience, so I mounted them up with the Bontrager SE5s and around 100ml of fluid. This was my second CushCore install and it went better than ever, thanks to CushCore's Bead Dropper tool. It was still tricky getting the CushCore around the rim, and then getting the tire around the CushCore, but the final mounting steps were a revelation.
I started off using the bead dropper to push the bead as deeply as possible into the rim channel with the hook facing toward the rim. Eventually I turned it around so the hook was away from the rim and it became easier and more effective. I dropped the rim all the way around on one side and then easily pushed the tire into place with only my fingers. The tougher second side took a little more effort but once again I could easily mount the side without any tools after the bead was dropped.
I hadn't spent much time on CushCore since I initially wrote about the experience in 2017. Generally I'm testing tires, wheels or a complete bikes, and using CushCore throws everything off. It makes all tires pretty good, protects rims from damage, and changes with way a bike rides because of the damping characteristics and sidewall support. It isn't fair. So I was eager to give them another try and see if my impressions had evolved in three years.
Right away the difference in sidewall support of CushCore was evident. Even running 16 psi rear and 14 front, the tires dug in reasonably and were precise both when angled and moving straight ahead. Grip was also hefty considering the relatively modest profile of the tires, and much better than my previous experience on the Mavic rubber. Wet or dry the traction I could generate was comparable to the much burlier, knobbier and more substantial WTB Verdict/Judge combo.
The most marked characteristic of CushCore for me is the damped ride. Because the insert takes up a significant portion of the air volume, the remaining volume ramps up more quickly, just as adding a spacer does the same to your fork. Once you push through that cushion the foam insert conforms to match the terrain producing a supple feel and a satisfyingly muted sound. The pleasures of CushCore came flooding back to me and I was able to ride very well (for me) in some snotty circumstances on some very steep and burly terrain. On loose terrain I might have had slightly less bite and control than with the WTBs, but in most other situations, including slick granite slabs and slimy roots, the traction offered is similar.
In the end, while my lightweight experiment with Tannus failed to produce results, I remain a fan of the product for some uses. If punctures are all but unavoidable where you live, these should make a dramatic difference. With a good tire with a supportive sidewall, Tannus gives a very solid, damped and high grip ride. Getting rid of sealant is a huge bonus as well, Tubolito drops the weight but a full pound overall, but running lower pressures and tires with less gallant sidewalls won't likely make you smile.
My feelings about CushCore however have been reinforced and amplified by this experience. Today I was in some very fast and rough corners, wondering how my grip would be despite my low pressure tire setup, and the tires dug in admirably. If you are looking for more traction, rim protection, and the ability to ride out on a flat without damaging rim or tire, CushCore could be for you.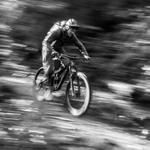 Cam McRae
Height - 6'/183cm (mostly legs)
Weight - 170lbs/77kg
Inseam - 34"/86cm
Ape Index - 0.986
Age - 56
Trail I've been stoked on lately - Boogieman
Bar Width - 760mm
Preferred Reach - 485-500mm (longer with 27.5 wheels than 29)