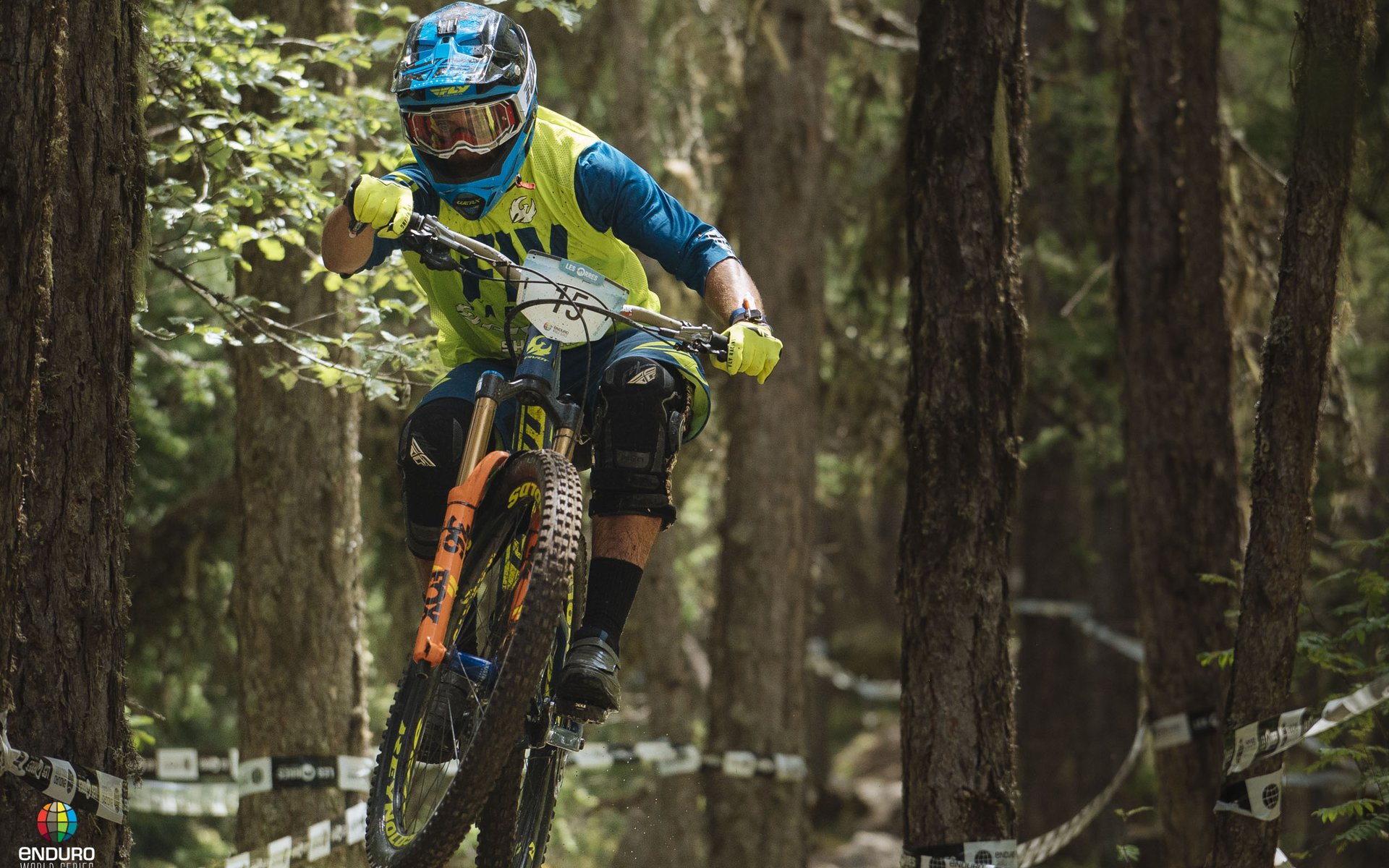 RACE NEWS/EDITORIAL
EWS Les Orres: Two Days, Two Races
Two days, eight stages, and somehow each day presented two different styles of riding. The Enduro World Series stopped in Les Orres, France for the first time this weekend. This small mountain town has held French National Enduro events before but it was the first time welcoming the world's quickest enduro racers. A huge few days of practice and racing were in store and despite making good use of the bike park's chairlifts the days weren't any easier.
All but one of the first day's four stages were on the same side of the valley. Each stage was tight and technical, challenging riders and making it difficult to get their speed right. Patience was paramount and as soon as riders lost it, a mistake would see them struggle to make the time back or worse, on the ground. Little crashes were something that heaps of the top men dealt with during the day and top riders like Richie Rude weren't immune.
After more than 37 minutes of racing on day one, only three seconds separated the top three men. Already claimed to be one of the tightest EWS races in history, no one predicted it was about to get tighter still. On two the race moved into the Les Orres bike park for stages five through eight. And where day one was tech and involved upwards of 100 switchbacks—according to Wyn Masters—day two involved more open corners, clearer sight lines and as a result, higher speeds. There were still fresh trails to work with and after a thunderstorm in the morning—which cancelled stage five—many were expecting wet loam.
Once on course, it was clear the rain didn't do much for the super dry soil and the race remained dusty. To many of the pro field's surprise, conditions were great and the hammers were dropped. But despite day two featuring a different style of trails, the top riders in each category remained the same. With day one involving slower and more technical trails and day two more about all out speed, no one would've been surprised to see the race mixed up. But for the best riders in the world, it was just another day racing.
Maybe if it were 10 years ago a mix of trails like in Les Orres would have thrown a curve ball at the riders. Racing is so close now and all competitors, from Pro Men to Junior Women, are similar in terms of skill and training. Where some seem able to break away is in confidence and after such a great start to the season, Eddie Masters has steadily built his to the point of winning. Don't be surprised to see him bag another excellent result at the DH World Cup in Les Gets this weekend either.
More surprising is seeing Richie Rude come into the season a few races in and manage to perform. He's hungrier than ever and it shows, but if he is building as many do, the rest will have to watch out through the second half of the year. Richie's riding with heart and its clear in every clip of him on track in Les Orres. Sam also looks on pace but an unfortunate flat, followed by a 30-second penalty after missing the following start time put him out of contention for the weekend. However, he managed to claw himself back from 102nd to 12th, with five top five results.
Isabeau Courdurier is also riding on a confidence high. She's not dropped a round or a queen stage this season, maximizing her points over second place in the series, Noga Korem. She's possibly thanking her lucky stars that young German rider, Raphaela Richter isn't racing the full series. Richter took two stage wins from Isabeau in Les Orres. Each win was on a different day, proving she has the skills to mix it up on a variety of terrain. Miranda Miller used her downhill experience and comfort with the high speeds of day two to move up from fifth, to secure her first EWS podium with a third-place finish.
Now the Enduro World Series gets a break, and riders will wait until Crankworx Whistler for the next event. Some, like Miranda Miller and the Masters brothers, will head to Les Gets to race the DH World Cup, while others will take a rest from high level racing.