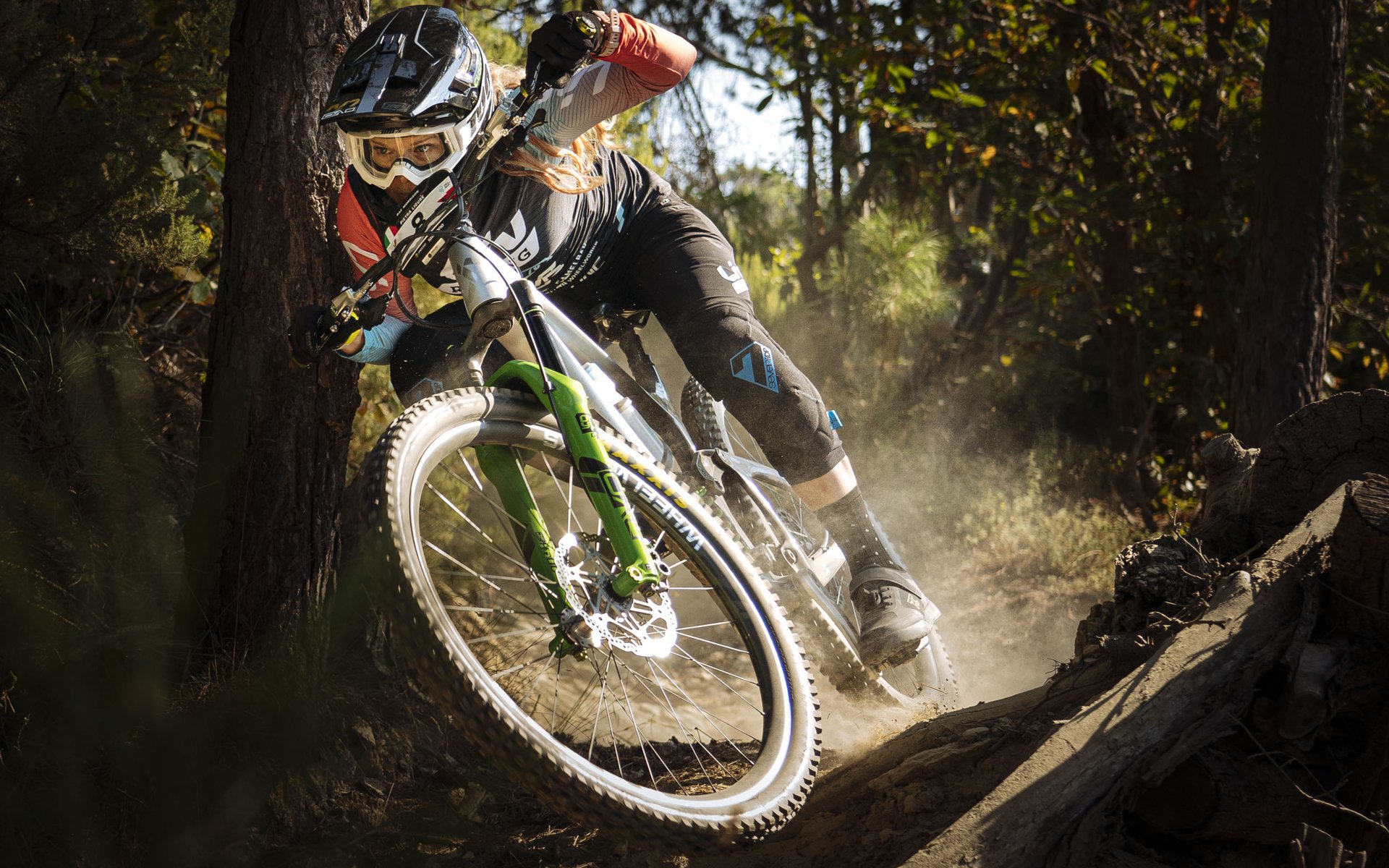 Weekly MTB News: April 28, 2021
EWS Coverage Improvements, Counterfeit Product Crack Down & More
Product News
Pole Stamina Remastered
Pole has released an update to their Stamina platform. The Stamina 2.0 includes improvements based on issues raised by customers, in addition to their team. Most notable of the updates is a redesigned swingarm, which was an issue for the previous incarnation during the Pinkbike Field Test. Pole maintains that the failed swingarm in Pinkbike's Huck-To-Flat test was a "lighter pre-production chainstay," nonetheless, they've updated it with a new manufacturing process and design they call the 'dog bone.' They've also listened to concerns about their customer support and have moved to address those, overhauling their customer support system. They also claim to have updated their supply chain to better implement quality control of their products leaving the factory.
All of the improvements, both to their bikes and with their customers, have resulted in Pole moving to a larger facility while adding new staff to the mix. They've streamlined their processes and they claim now have a larger capacity to pump out bikes while maintaining the improved Q.C. and customer interactions. Essentially, Pole has taken everything that's happened in the last 12 months and moved to improve, rather than plant their feet and claim they're right, and the customers are wrong. Perhaps one of the most exciting elements for potential customers is the new Pole Stamina can be purchased in a Gucci Gold, and they have plans for more colours in the future.
The Pole Stamina 2.0 will be available in 140, 160 and 180mm travel options and a variety of build kits.
Tubolito Gets Technical
We've previously shared our experiences with electronic tire pressure trackers but found they didn't quite live up to expectations. With most riders set up tubeless, systems like the TyreWiz and SKS Airspy have a greater chance for adoption. But Tubolito has added their name to the ring, only with their lightweight tubes.
The Tubolito PSENS is the 'first smart inner tube.' The system uses an N.F.C. chip inside the tube that communicates with an iOS or Android phone using their Tubolito app. The chip is located near the valve, adds a claimed eight grams and 8 USD to the standard lightweight Tubolito tube.
Event/Racing News
Discovery, Inc Invests in EWS to Revolutionise Enduro Race Coverage
For years, race fans have requested better coverage of the Enduro World Series. The organization has done a great job with what can only be described as a challenging task, given the race format, but things may be about to get much better.
The EWS and EWS-E have joined forces with Discovery, Inc. and Play Sports Group. Discovery, Inc. – home to Eurosport – has invested in the organization that owns and operates the EWS and EWS-E events, Enduro Sports Organisation Ltd. The EWS announcement claims that the involvement of Discovery, Inc. "will provide the existing EWS team with the backing they need to begin the journey towards live production for the first time in the history of the sport." Live race days… That sounds like what everyone has been asking for.

I'm incredibly proud to announce this new step for the Enduro World Series and our company and staff team. The integrity of sport and staying true to the culture of mountain biking and mountain bike racing have always been central to our mission. From the very first meeting I had with our new partners at Play Sports Group, it was clear that we had a deep and shared passion for the sport and a vision for developing cutting-edge and worldwide broadcast technologies. Together, and with the full backing of Discovery, Inc and Eurosport, we will build a platform to bring the athletes, teams, destinations, technology and drama to fans around the world using the very latest of innovations in broadcast. It's been an incredible journey to this point and I thank the riders, fans, teams and partners for the support to this day – but this is just the beginning. – Chris Ball, Managing Director of the Enduro Sports Organisation

This is one of those great moments you dream will happen one day. I've had the pleasure of getting to know Chris and the team over the last few years – what a team – I have long been a fan of the Enduro World Series and the inspiring racing that takes place all over the world. They represent and foster an incredible mountain bike community.  This deal represents the binding of a number of great businesses E.W.S, G.M.B.N, the wider Play Sports Group and the far-reaching platform of Eurosport all powered by the remarkable machine of Discovery. I am so excited to see what we will do together. – Simon Wear, Found and C.E.O. of the Play Sports Group
X-Games RealMTB Winners Announced (Full Broadcast Show Now Available)
The winner of X-Games first RealMTB contest was announced late last week and since then, ESPN has released the full broadcast show for all to see on YouTube. The broadcast tells much more of the story behind each athletes video part, the work that went into their features and the effort needed to provide something that they thought represents the sport of MTB. It's an interesting watch, particularly if the story behind things is of interest.
Industry News
Earth Day Highlights Upcycling and Recycling in the Bike industry
April 22 is Earth Day, and while individuals like Yoann Barelli made it a full week event this year, others celebrated with news of ways we can do better with their products. As reported on Bicycle Retailer, brands like GU Energy, Bern and SmartWool have implemented methods they are working on to improve, through upcycling and recycling programs.
Packages from GU Energy, as well others, are a common sight on the trails, especially after an event. GU is looking to change this and for the last six years has been working with upcycle company, TerraCycle. TerraCycle takes the wrappers collected from events and retailers and turns them into plastic products. That park bench down the road may be made with lumber from the upcycled GU Energy wrappers.
GU hopes to collect all of the wrappers from products it provides to supported events during 2021. They're also working with retailers – mostly running shops – to begin collecting wrappers from customers. And while upcycling is a big part of GU's future goals, they're also researching biodegradable packaging.
Bern Helmets is striving to become 'plastic neutral' and for all plastic created, they plan to recover a measured equivalent. The company says helmets don't need to go in the landfill and is urging riders to recycle old helmets, breaking down the individual components – cutting the straps, removing pads, and foam– before disposing of each part appropriately.
Outside joined forces with Tennessee-based organization Soles4Souls, which accepts donations of used shoes and clothing across the U.S. The company repurposes the products to disaster relief programs and direct assistance efforts around the globe. Old shoes or boots can avoid the landfill and be put to good use by people in need. More information on how to take part can be found on the soles4souls website.
SmartWool is another brand that's taking our sticky foot coverings and repurposing them. I remember the discomfort of socks that my mother had patched to prolong their use, and thankfully that's not what SmartWool is doing. Instead, they're collecting used socks, shredding them and using the material to stuff dog beds (and who doesn't love their dog). Until May 2, consumers can recycle any brand or material of sock in any condition (as long as they're clean) at drop-off bins at more than 250 participating specialty retailers nationwide. After May 2nd, socks can be shipped directly to SmartWool using a pre-paid postage recycling bag, available through their website when a purchase is made. Buy new socks, send the old ones back to be upcycled.
One Hundred Percent Cracking Down on Fake Online Marketplaces and Counterfeit Products.
Similar to Shimano's announcement a few weeks back, 100% has announced they're moving to cut the number of fake products available to consumers. In a release available on their blog, the brand says they're working to police the increase in fraudulent activity they're seeing for their products but are reaching out to customers and partners to help.
Their announcement goes on to educate readers on the issues with counterfeit products, including a statement that 'the International Chamber of Commerce estimates the total global economic value of counterfeit products is as much as $1.2 trillion per year.' The biggest concerns raised are in relation to safety standards and the article goes into methods to spot fakes including:
Packaging
Counterfeiters typically use inexpensive and flimsy cardboard material or will ship products without packaging.
Product packaging may include wording that is misspelled or an incorrect model name.
Product
If you compare the counterfeit product to the images of products on www.100percent.com, the fake product may appear distorted, "off" or altered.
The accessories offered with the product do not match those offered with the authentic product.
The 100 Percent logo may be altered, missing, or replaced with other imagery.
Colours and hues may differ from authentic products, and product quality may feel flimsy or poor.
The invoice from the seller may not provide contact information or an address.