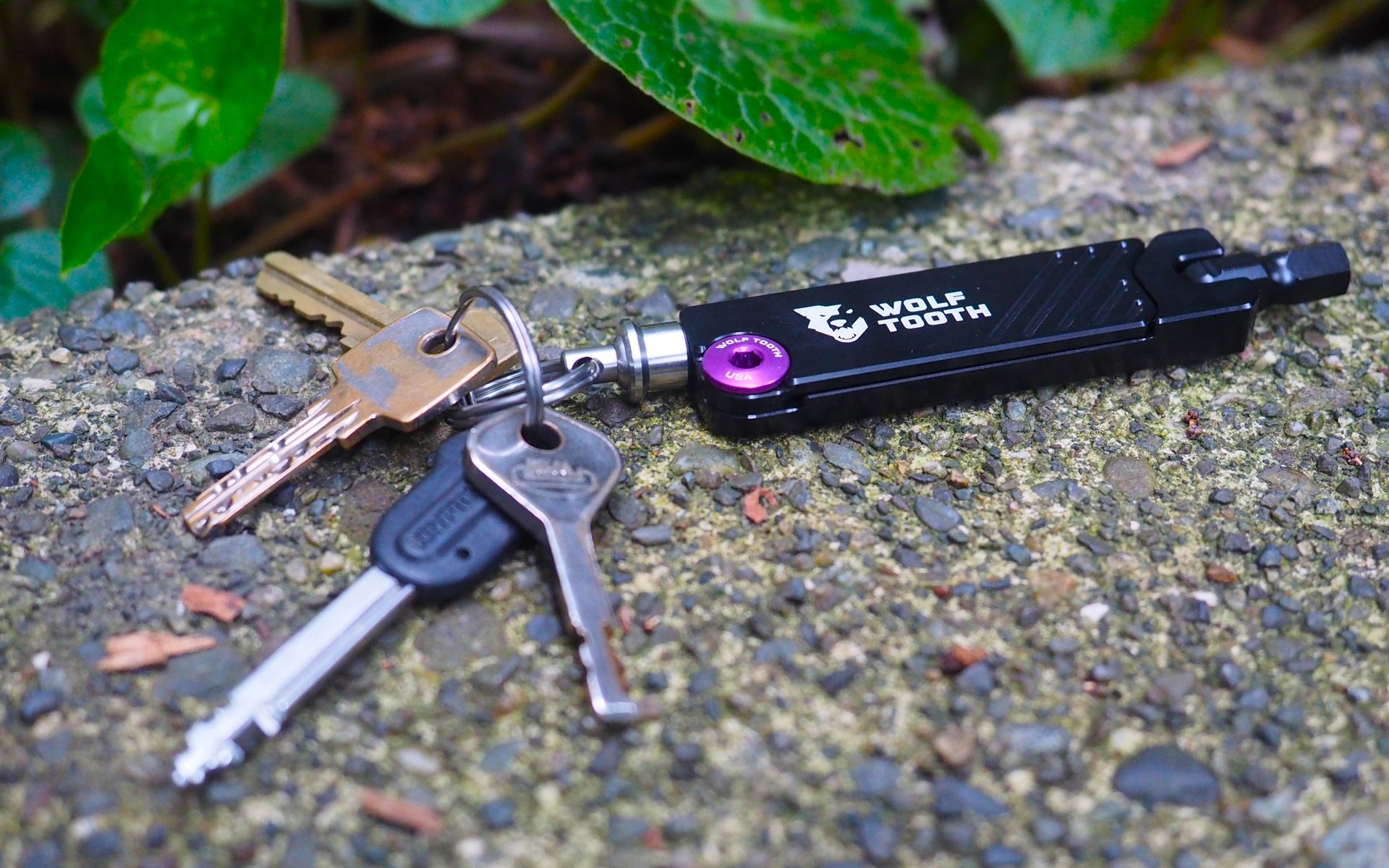 REVIEW | EDITORIAL
Everyday Bicycle Tools
Pressed
I own a headset press. A nice one, from Park Tools. I've had it so long that I couldn't tell you what I paid for it and it's quite possible that it's paid for itself in beer over the years anyway. It's a convenience I enjoy having, but it's certainly one I call a luxury tool because other than headsets or bottom brackets it really serves no purpose. I'm assuming most pay a shop to press in the one headset they buy a decade. I mean, every bike comes with one and it's usually cheapest just to replace the bearings - and that makes the most sense.
I know from past comments that plenty of folks use a hammer and a block of wood but I feel the need to caution you, before going that way, that like many things in life it works great until it doesn't, and when someone f***s up their multiple thousand dollar frame and/or expensive headset you don't tend to see those stories. If you are going to thwack in anything pressfit on your bike from bearings, to headset cups, to bottom brackets just do cycling a favour in general and check all the boxes on the mental waiver before hand. Celebrate your home mechanic successes and own your screwups. Personal accountability and all that. Put another way, no your cracked carbon headtube is not a defect in manufacturing and materials.
Thinking about the few times a year I use my headset press moved me on to thinking about tools in my bicycle tool box that I use regularly around the house. They're tools I specifically acquired for working on bikes but which serve many purposes. I've used everything here in the last week.
Non-Metal Manipulators
Despite my well-documented lust for titanium, I haven't been able to justify buying one of those glorious multi-headed Ti hammers. Like an Abbey Tools or an Acoustic Cycles. I have a slightly-rusted Estwing hammer for driving nails that was beyond used and free-to-me over twenty years ago. My short sledge I use for driving spikes for trail work isn't much newer. My bigger sledge is also long bought and paid for. In fact, when it comes to metal hammers I figured most folks probably already own what they need.
But what's surprising to me is how few of my friends own a rubber mallet and a soft-faced hammer. There are some 2-in-1 options as well but I like my mallet to have a big surface area where the plastic soft-faced hammer, sometimes called a fretting hammer, delivers more concentrated force. In the bike world both are great for getting stuff unstuck without any of the cosmetic, or more than cosmetic, damage that can come from whacking and thwacking with a metal face. Like removing a crankset stuck in a bottom bracket, or pivot hardware that's a bit too friendly with your bearings when servicing a suspension frame.
Around my place I seem to always be coming up with stuff that requires some manipulation without defacement, whether it's trying to sort something out on the car, or fixing an appliance, or just tap-tap-tapping something back into place. For a combined 30-40 CAD amortized over many, many years, definitely pick up some soft-surfaced thumpers. You'll be surprised how often they come into play.
Knipex.
Can you even be a bike mechanic and not own a pair of Knipex Parallel Pliers? They only have come up in almost every teardown piece I've done on NSMB, not to mention showing up in every article written about wrenching anywhere in the last decade. Are they that good? Yes. Plenty of leverage, a firm grip, and once you start using them in the shop it's amazing how many jobs you end up doing with them. I press some linkage bearings with them, carefully remove fork top caps when I don't have yet another size of flat socket, and recently used them on some very-stuck brake caliper pistons.
In a professional shop environment there's an argument to have a couple sizes - but at home the 52mm/2" is all I have and that's great 99% of the time. You can buy them plenty of difference places, mine are dual-branded as Cyclus and Knipex. They're made in Germany and they seem to last a very, very long time under regular use, if not forever. They are not cheap to buy but now I'd own a pair even if I never worked on bicycles because they're that useful. Actually, for a lot of stuck nuts or bolts they grip so much tighter than an open wrench, I'll reach for the Knipex first as long as there isn't a space constraint. I hate round edges on nuts and bolts.
Olfa Utility Knife
Sometimes brand names do matter. Olfa's box cutters, or snap-off utility knives if you prefer, are made in Japan. They're not that much more money than buying generic crap, and the stainless steel blade channel means never grabbing your blade and realizing it's just a seized hunk of crap. The thumb-wheel friction lock mechanism is easy to use and the blades stay sharper longer than cheap units I've used. I think this last one cost me 8 CAD. You can easily make the argument, as with the soft-head hammer and mullet, that this is not a bike tool being used everyday but rather an everyday tool being used on bikes. I'll counter that 80% of the time, if I'm holding an Olfa utility knife, I'm doing something bicycle related. Either way it's a great tool that's not expensive.
Working on bikes I use mine to trim zip-ties, to remove the seals from bearings to add grease before installation, and for other duties as required. Outside of bikes they're great for opening boxes, cutting up cardboard, and trimming an endless number of different materials. The last non-bike job I used it for was cutting a bit of drywall so my socket cover would fit properly, but it's rare a week goes by without me pulling it out for something or other. They're available at every hardware and tool store and I've even seen them are the grocery store on occasion.
Wolf Tooth Key Chain
I always carry a multi-tool with me wherever I go in addition to my EDC Leatherman Skeletool, which covers knife, pliers, and Philips-head screwdriver. I guess I just regularly see things that need to be fixed and I hang out at enough local institutions that I semi-regularly see mountain bikers who need a hand. Now I'd argue that these days anyone who can afford a GX-level bike or higher has little reason not to be carrying some kind of bike-stashed multi-tool but it's still nice to help out another member of the community even when they're a victim of their own decision not to wear a pack or stash a multi-tool.
For the last little bit I've ditched my multi-tool and my key chain in favour of this Wolf Tooth 6-Bit, which is a slimmed down pair of the 8-Bit Pack Pliers that I use for mountain biking with the added advantage that it locks closed when it's in my pack or pocket, assuming you spend the extra ten bucks for the keyring attachment. Even without the keyring attachment it stays closed pretty well thanks to the power of magnets but for me the addition of the lock and keyring combined is what makes it an every day tool. I take it everywhere and I've already leant it to a couple of mountain bikers and tightened a bunch of stuff around my building. The 6-Bit system has the big 8mm hex on a swivel and then inserts for 2, 2.5, 3, 4, 5, and 6mm hex, a flat head #3.5 and a Phillips #2 screwdriver, plus T10 and T25 Torx bits.
Knipex parallel pliers don't go on sale very often but I have had some friends score good deals on multi-packs if you would like to own multiple sizes. Locally the 52mm/2" option seem to run 80 CAD most places.
My Olfa box cutter was about 8 CAD but depending on the version or if it's a package with extra blades I've seen them listed for 15-20 CAD as well. They make a lot of different versions but any of the 'heavy duty' versions will have the stainless blade track. If you're feeling generous you can always buy a three pack and hook up a couple of friends as well.
Non-metal manipulators come in at every price point from a 10 CAD mallet to a 500+ CAD Ti hammer with replaceable plastic caps. If I had to choose between the two options I have, I'd probably stick with the plastic-faced soft hammer as I use it all the time, but there are moments when having a rubber mallet is the only way to go.
The new 6-Bit is the one item here you can't grab at the local hardware store. But, you can now get them from your local bike shop or direct from Wolf Tooth. They're 52 CAD without the keyring and 62 CAD with and come with nine different colour options for the accent chainring bolt.
Let us know what's in your tool box, for bikes and other stuff as well.