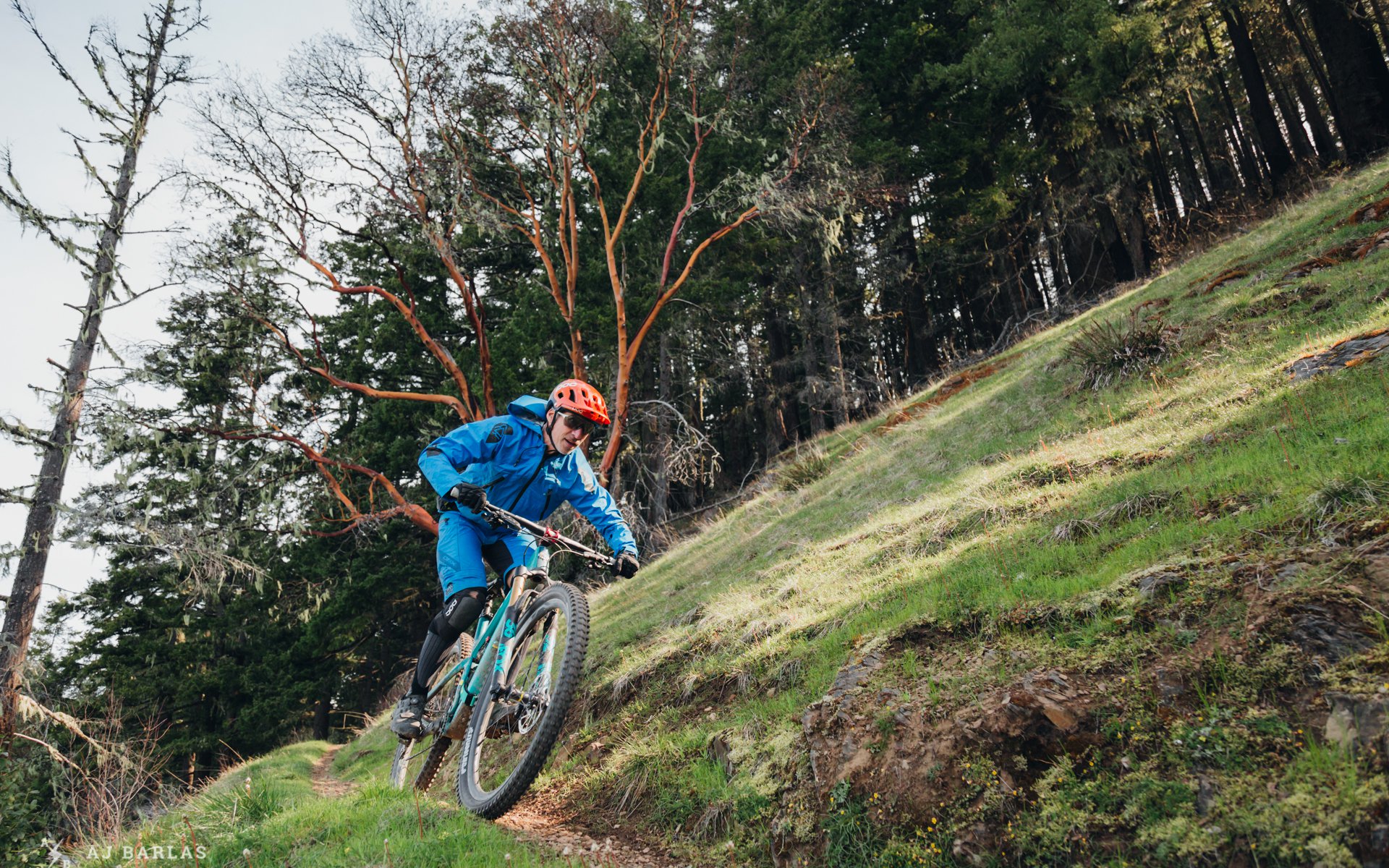 Product Review
e*thirteen's Updated 2018 TRSr Tire Reviewed
Impressions by Cam McRae
I'm often underwhelmed by mountain bike tires. Many of them work well but few shine to inspire me to write anything. I rode a pre-production version of the TRS tires a couple of years ago and I liked them quite a lot for our terrain. I like rubber with lots of grip because of our trails and weather. I often ride steep lines and I like to ride even when the weather is crap so anything semi-slick or advertised as 'fast rolling' is off the list for most of the year. I'm always racing when I ride with my buddies but I don't do Strava and I don't race in an organized sense so control and fun mean more to me than speed.
e*thirteen relaunched its tire line because of new capabilities on the manufacturing end. The new supplier, Thailand's Vee Rubber, paved the way for new sidewall reinforcements. More importantly, Vee Rubber was able to keep up with demand while the previous rubber mill apparently was not. 
I mounted the TRSr 29x2.35 (a true 2.35 e*thirteen assures us) on my Yeti SB5.5 before our annual road trip to Sea Otter and after a couple of local rides I was keen to see how they dug in on different terrain. The big difference between these tires and the ones I tried earlier is the centre knobs. They aren't as tall as most tires designed for aggressive terrain. I didn't think this boded well but I suspended my judgement until I had some trail time.  
Riding in Ashland Oregon the tires felt good, but conditions were ridiculously good. I've ridden there several times now but the velcro peanut butter we were treated was new to me. Perfect conditions are imperfect for tire testing. I could have ridden well on a micro-knobbed dirt jump tire. When we rode in Aptos conditions were good but not quite all-time like in Oregon and I started to notice the cornering capabilities of the TRSr tires. Holding lines felt easy and this comfort allowed me to play a little, take inside lines or straight line the beginning of each arc. Traction and precision felt really good as well and my bike was moving where I wanted it to almost intuitively with more suble inputs than I was used to.
On the way back from Sea Otter AJ and I stopped in Oakridge, Oregon at the recommendation of Nathan Riddle (namesake of WTB's Riddler tires). He told us the Alpine trail is one of his top five in the state and he had our attention. More on Oakridge later but the riding we did ranged from loamy to hard packed bench cut but most of the riding shared a common element; it was fast and curvy. 
On one of these fast sections I must have hit something sharp because I front flatted. In defence of the tires, perhaps because of the Aramid reinforced sidewalls, the TRSr tires can be run at extremely low pressures without feeling too squirmy. I often push the lower pressure limits and it's possible I was under 20 PSI when this occurred. Speed and randomness and low pressure likely created a perfect storm that would have punctured most sidewalls, so while I'm not about to draw conclusions from this event, it had to be mentioned. 
While a fast roll isn't important to me, I found the TRSr preserved speed relatively well considering the abundance of grip. There are certainly faster tires but they come at a grip cost I'm unwilling to pay.
Tire design is one of the last unmeasurables in mountain biking. Testing requires skilled riders and subjective evaluation because there is not currently any way to document what is actually happening to knobs or sidewalls under heavy loads. Conventional sipes and accordion sipes make sense, in that they allow knobs to deform predictably, increasing grip and delivering a softer trail feel. The sipes on the centre knobs alternate between providing braking and climbing traction. The sipes that are at right angles to the direction of travel are for braking while the those that are parallel aid cornering. The side knobs have a diagonal sipe on the contact portion of the knob while accordion sipes allow them to bend when the bike is laid down 

Thus far I have been impressed with the ride of these tires on everything from brown pow to granite. The taller side knobs deliver a smooth transition between straight line riding and cornering. The height differential means that no transitional knobs are necessary and there is never a vague feeling as you head into a turn. Grip is good in every situation and the tires are predictable and precise. If I could have one more version, I'd choose one that was lightened up to compensate for the weight of CushCore, but otherwise these are the bomb. 
TRS tires Ver 1.0 versus 2.0 (2018) by AJ Barlas
The differences between the old and new TRSr tires are clear when grabbing hold of them. The new carcass is sturdier feeling with a thicker sidewall and there is a little more weight because of it. After mounting the tire the difference in shape becomes clear, with the new version appearing more square than the old one. Volume is smaller too. To properly see the difference in shape, the old and new TRSr tires were mounted on e*thirteen's TRSr wheels. The new tire doesn't have the same volume as the old version and when standing on level ground, the old tire is considerably taller. The change in volume and updated side lugs give the new TRSr tire its more square profile, with the side lugs having a taller outside edge making them more level across the top (see images). Also of note is the difference in ramp on the centre lugs.
On the trail I've found the tires to ride similarly to the previous model but the changes noted above transfer to a slightly different experience. On hardpack the new tires don't like to lean aggressively on edge as much as their predecessor. While the side lugs provide a good mix of support and give, when pushed hard they break loose earlier than the original. In fresh dirt or deep, loose dust, the side lugs offer excellent hold, digging into the terrain early to provide support and control, inspiring confidence in these conditions. A similar experience was found when conditions were soft and wet. 
The side lugs have worn more quickly on the inner crown thanks to the square profile, because they're in contact with the ground more. The tire continues to provide plenty of support when worn to this point but the bite fades some. I don't see any of the above as an overall negative – it's just different to the old tire. Some prefer a squarer profiled tire and it can benefit riders that don't bank the bike aggressively. Different strokes.
The rubber remains excellent, providing great traction in a range of conditions and so far is proving to be of similar durability. The heavier carcass provides a more stable ride when things get rowdy and also provides improved flat resistance. There is more support but the tires remain supple and comfortable when there's a lot of feedback. The lower volume of the carcass will excite some, but I personally was a fan of the previous TRSr tire shape. If the old shape had this casing it would be heaven! The new TRSr remains an excellent and favourite tire but it's different to the old version and those changes are worth considering.