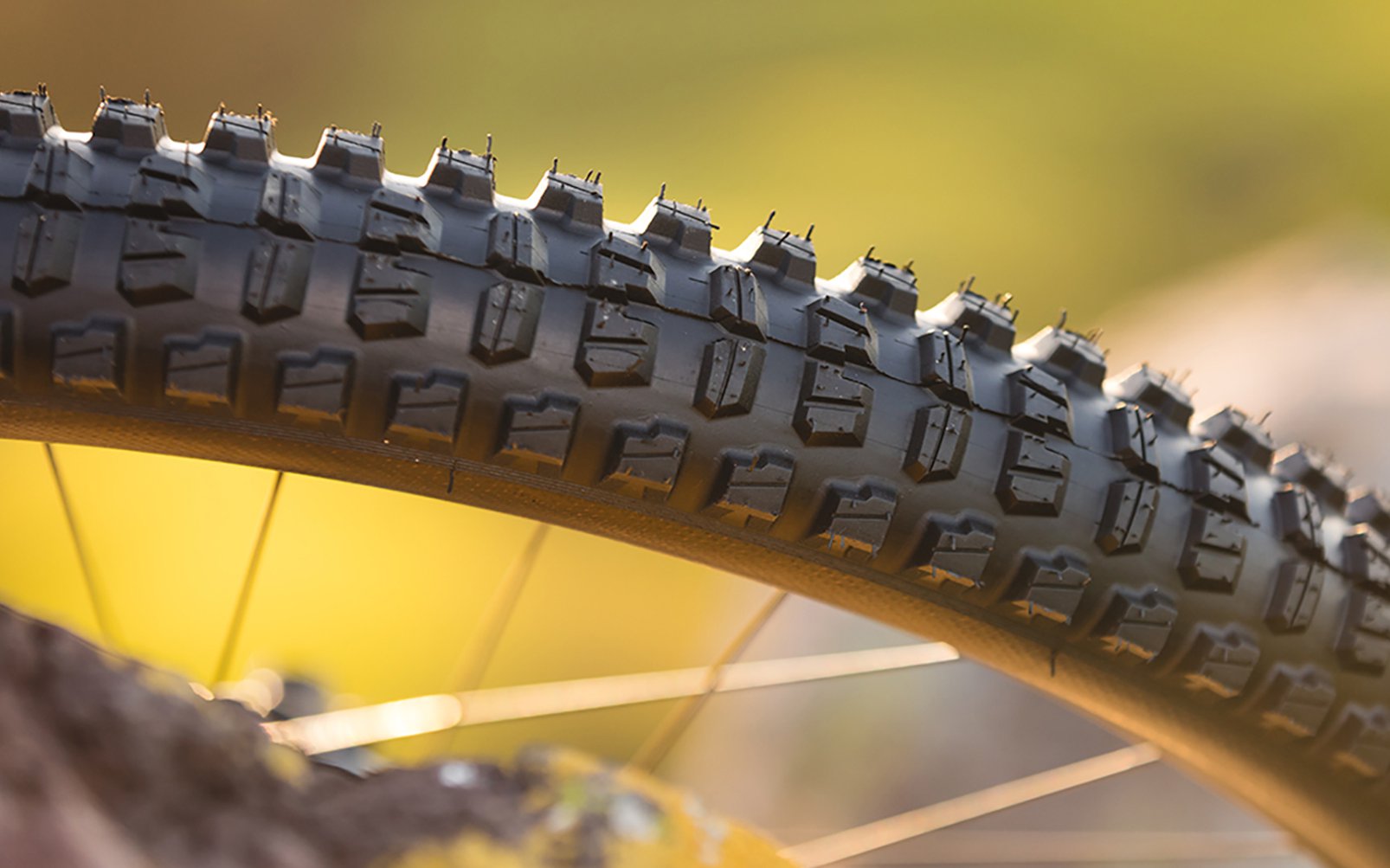 Rubber Review
e*thirteen's New TRS/AT and LG1 MOPO Tires Reviewed
I was a big fan of e13s previous tread pattern. It was unusual at first glance, with relatively widely spaced centre knobs that were somewhat smaller and shorter than those usually seen on aggressive, high-grip tires, but the side knobs were the biggest difference. They were huge and they dug in hard even on low angle corners. Grip was great and cornering traction was excellent, at least for the riding I normally do here on the North Shore. And I did some riding elsewhere, near Aptos California and Ashland and Oakridge Oregon where the tires also did extremely well. At least under me. In each instance though, conditions were perfect. We were either riding on loam or velcro it seemed so I didn't get much experience on loose over hard or extremely dry conditions.
As it turns out some riders began to complain the tall side knobs would sometimes abruptly lose grip in harder conditions at higher lean angles. It's possible the more square profile contributed as well. The other perception was that rolling speed wasn't comparable to some of the competition, so e13 went back to testing and tweaking some new tread patterns and released the designs in July 2019.
When my wife was pregnant with our daughter, her then-favourite cereal became "new and improved!" Fuming, in her hormonal state*, she wrote a strongly-worded letter (an actual paper letter) to Quaker describing what a disaster the new Oat Squares were. Why were they messing with perfection? And who needs more sugar anyway? (Quaker replied with several boxes of cereal and a note indicating they would be changing back to the original formula - so either others agreed, pregnant or not, or my wife scared them).
*entirely understandably!
That's how I felt when the new tread pattern was first described to me (annoyed but not pregnant). How dare you mess with my favourite tires! So I installed with trepidation and gave them a shot. The install went smoothly and everything seemed fine until I hit the trail... Actually everything was fine on the trail as well. It took a little time to adjust to the tweaked cornering support, and they indeed feel a little more drifty in some conditions, but overall I think the change is positive when the variety of riding conditions most riders encounter is considered. And when I think about it, the previous version often performed like a mud tire; great in the soft/loamy or wet conditions I usually find myself on (which is why I liked them so much) but not as good on harder trails or some rock surfaces. And probably not ideal riding loose over hard conditions either, but that's not a condition I've encountered much lately.
The changes were, predictably, larger centre knobs with closer spacing, shorter side knobs with tweaked accordion sipes with an arched cutaway, deeper sipes on centre knobs and a less square profile.
At first I was running a softer Mopo compound in the front and the race compound in rear with both tires in the TRS Race A/T casing, but I blasted a sharp rock with the rear and had to replace it. I bumped up to the LG1 EN A/T Race MOPO in the rear. It's only 140g heavier but it has withstood some incredible smashes, including the one below. My tire survived without even a burp. I smashed it again today with an ugly bang on a nasty rock and again came away unscathed.
The more I ride these trails the more I am getting used to the predictable breakaway and it actually gives me confidence in sketchy corners. In fact I find myself, ever so slightly, two wheel drifting purposely. Knowing I have grip even beyond the limit allows me to hit corners a little harder.
Braking traction is good and the MOPO compound grips like a MOFO on rock slabs or wet roots. Being able to feather my braking deeper into something sketchy without breaking away is a revelation and it also makes the margin between gripping and letting go more gradual and predictable. I wouldn't have chosen to use MOPO front and rear necessarily but now that I have them I'm pretty chuffed.
In a straight line, or when turning at a low angle, the all out braking grip on softer surfaces is slightly lower when compared to the wider knob spacing and taller side knobs of the previous version, but it's basically going from outrageous grip to very good grip and it hasn't been a performance issue for me. Rolling speed seems fine but I wasn't complaining about the last gen. either. That's simply not one of my concerns generally.


What The Hell is MOPO?
When E13 CEO and lead tire designer, Joel Peters, was meeting with Vee Rubber* in Thailand to discuss the new tires, he noticed a poster of some "crazy looking souped up mopeds," and there was an example in the showroom as well. When he checked out the rear tire of the beastly looking scooter it was "gummy bear soft." The representatives at Vee were at first dismissive, saying they didn't think it would be possible to bond the ultra sticky compound properly. As E13s Connor Bondlow told me, one of the bonuses of working with a smaller manufacturer like Vee is that they will take the time to work something out, and they did just that, allowing the MOPO or motion potion rubber to be put into play.
*The design of the tires is all e*thirteen while Vee Rubber takes care of manufacturing. We do have some Vee rubber tires to test as well though.
These scooters are seriously fast - hitting almost 200 km/h in under 11 seconds.
So e13 changed my favourite tires... into my new favourite tires. And I prefer the MOPO version to any of the previous ones. The weight is respectable and the LG1 Enduro version has proven to be robust without sacrificing trail feel. If you are in Canada and after the previous version, MEC still has some in stock.
For more info hit up the e*thirteen web site here...