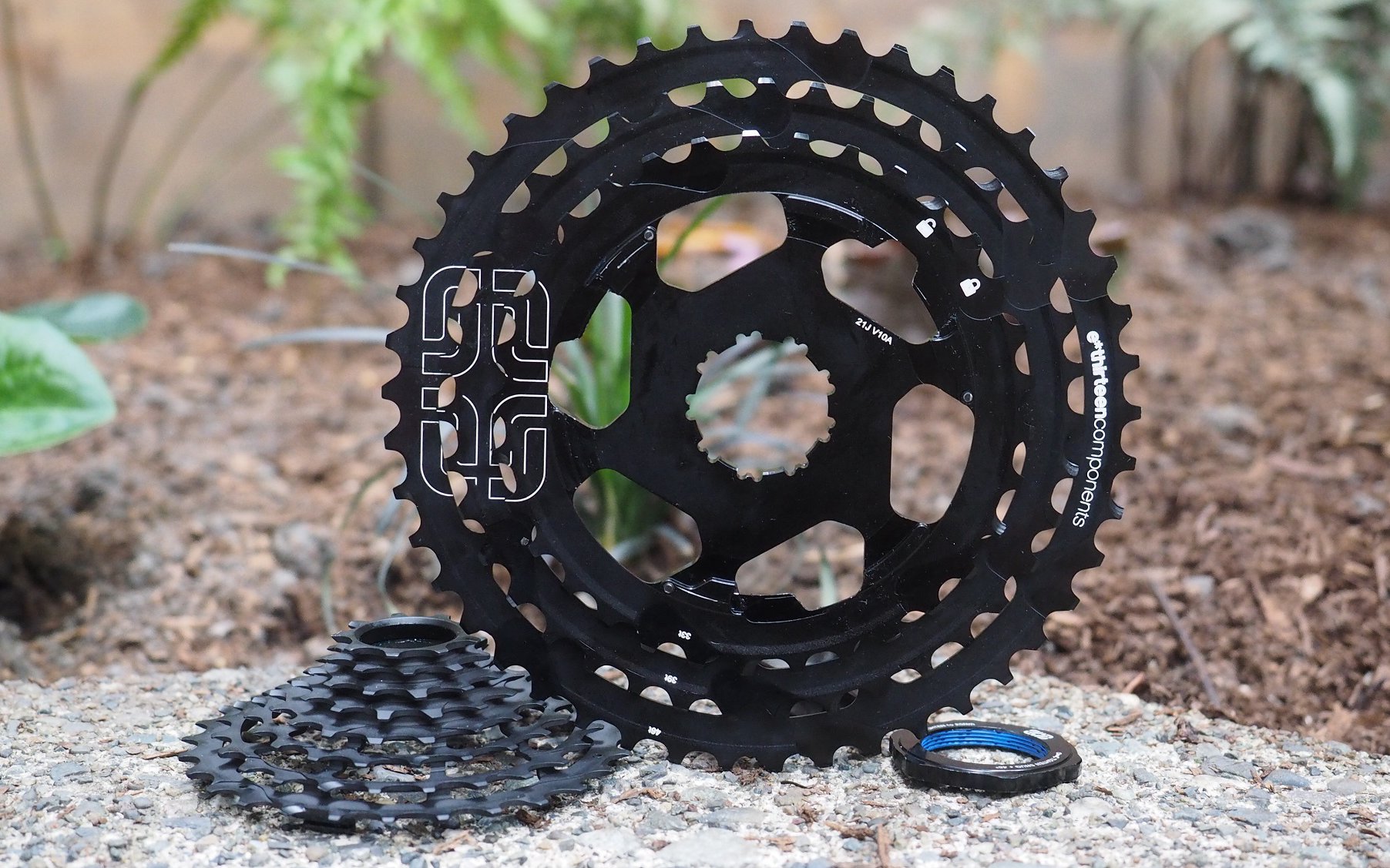 FIRST LOOK
e*thirteen's New 511% TRS+ 11-speed Cassette
TRS+ Cassette
e*thirteen has positioned their TRS+ cassette as a foil to SRAM's 12-speed Eagle drivetrain. That's not surprising, the market leader in 1x* is the obvious target for everyone looking to sell drivetrain parts. It's just that e13's litany of product pros reads like an answer to every complaint - informed or otherwise - I've ever read about Eagle.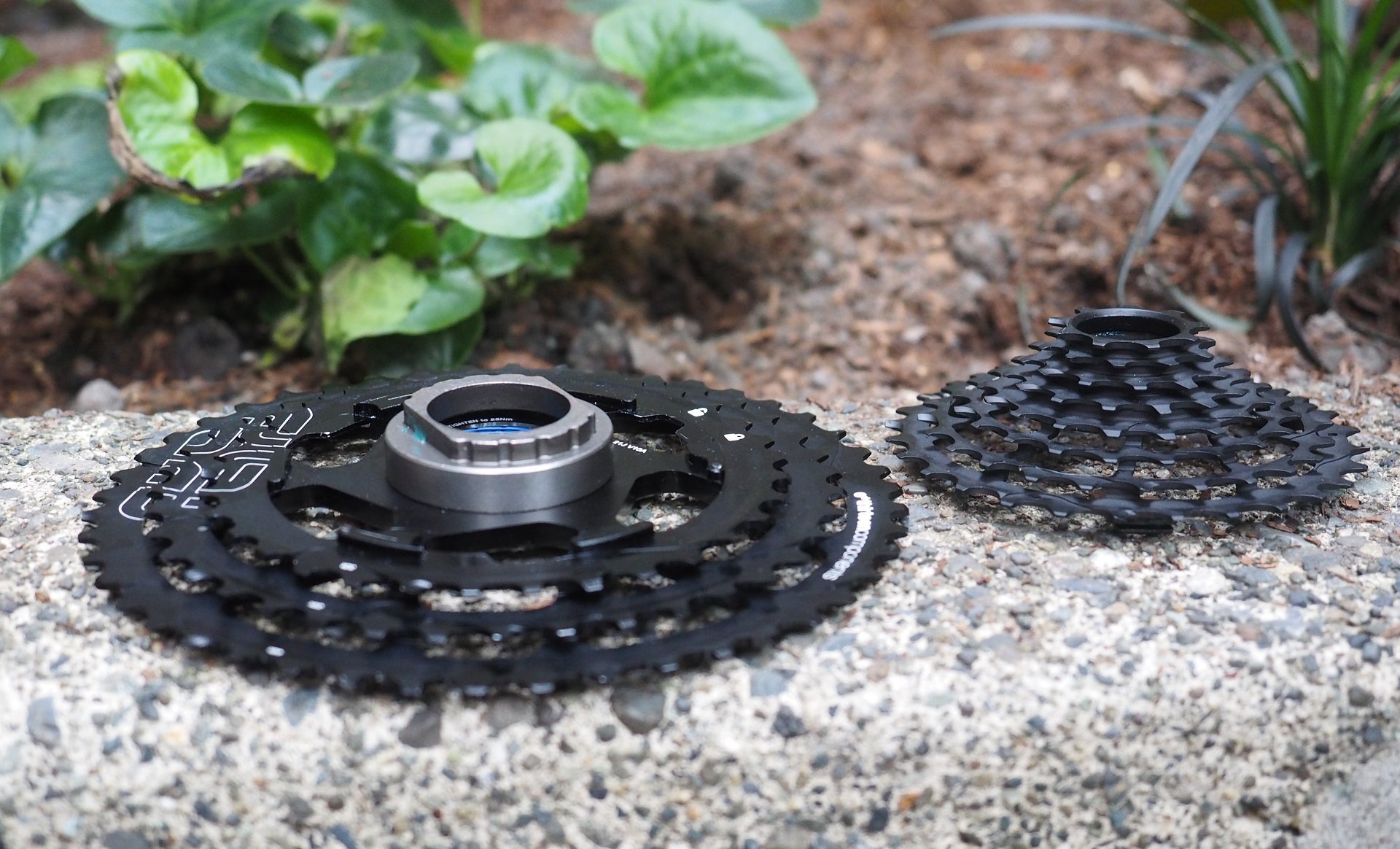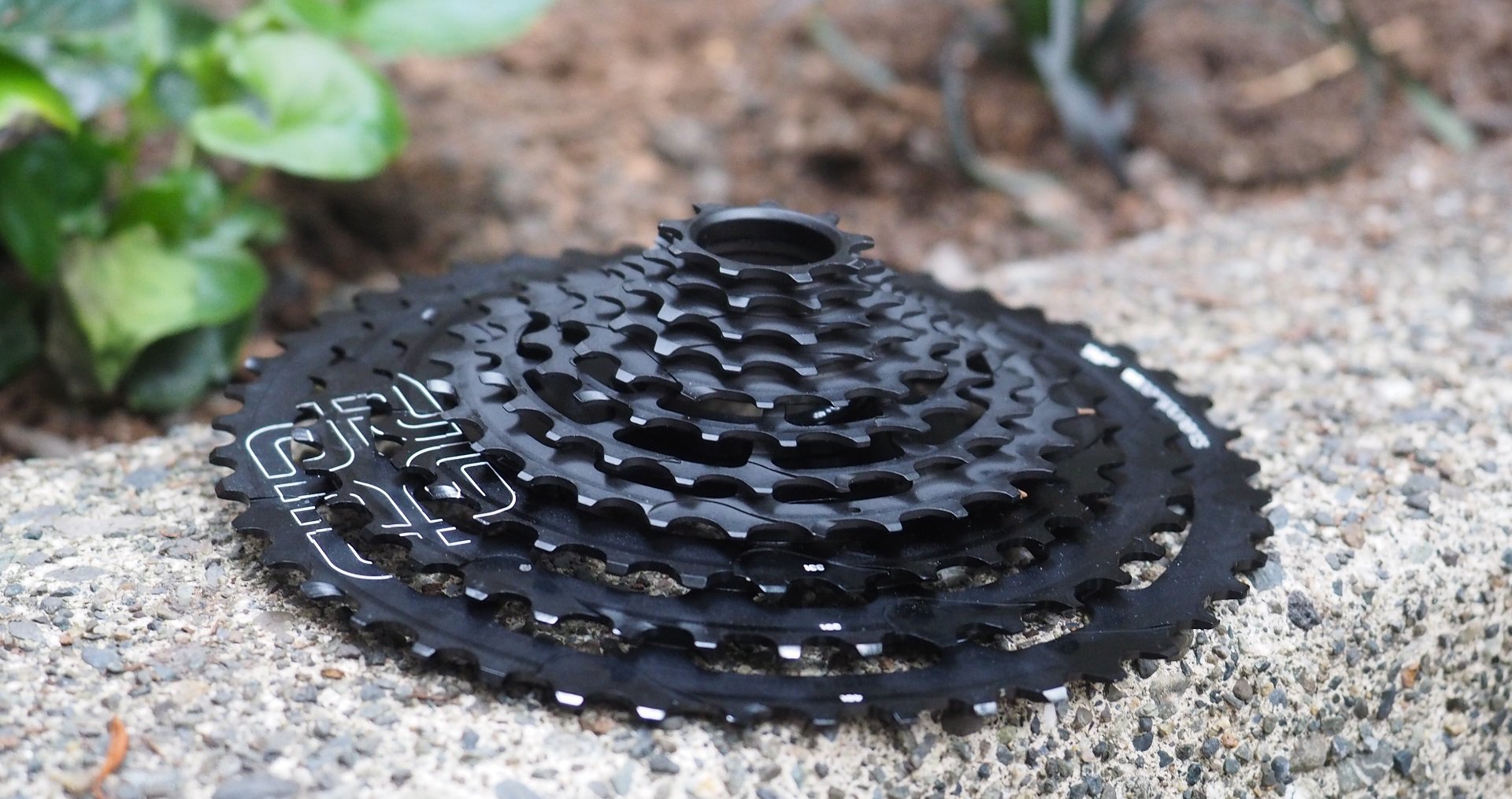 Compatibility
The TRS+ cassette is compatible with SRAM or Shimano 11-speed drivetrains with a hub using an XD driver. It greatly expands the stock gear range of either system with a 511% spread compared to a 418% gear range for Shimano's 11-46t and a 420% gear range for SRAM's 10-42t 11-speed cassettes. 
That means it's possible to get an easier gear without going to a smaller chainring for bikes that have their suspension optimized around certain tooth counts. There's also no sacrifice of suitable riding-to-the-trail gears in exchange for more bailout options on steep technical single track climbs. 
Pros
The e*thirteen cassette's 46-tooth cog and compatibility with 11-speed drivetrains mean the TRS+ works with a shorter derailleur cage than Eagle. I've mounted this cassette with 11-speed GX and didn't even need to add a chain link when replacing the stock 42-tooth**. Additionally, the TRS+ is cheaper and lighter than an X01 cassette and a claimed 100 grams lighter than a Shimano XT M8000 cassette. 
SRP on the TRS+ is $250 USD and the top three alloy cogs will be replaceable separately for around $100. Locally I'd imagine replacing a few of the top clusters for every steel lower since those gears see the most torque and sheer hours of pedaling which should make for good long term value. 
There are a few bike and crankset factors to be considered but the chainline of the TRS+ should also be better than with 12-speed Eagle. 
Cons
The only con I have at this time is the 9-tooth cog is a bit clunky - even more so than when the comparison is made between SRAM's 10-tooth and Shimano's 11-tooth cog. 
I'm running a 29'er with a 32-tooth front ring so the only time I'm regularly in the 9-tooth is on the road, where it also happens to be more noticeable than on the trail. 
This is a long term test so I'll be reporting back on durability in the future. 
Okay, one more con. I'd like to see e*thirteen make a 12-speed version as well. If the price point was similar I think there'd be a lot of interest from riders buying Eagle GX drivetrains or replacing wear parts on existing X01 and XX1 Eagle kits. Perhaps it's in development already.
Future
The TRS+ is ready to roll with an existing 11-speed drivetrain or potentially to be purchased with an 11-speed GX shifter and derailleur on clearout for the ultimate price point drivetrain. 
The only question I have is regarding the durability of the aluminum cogs and the interface between the two cassette halves. I'll be able to build an opinion on that over the course of my review. 
The TRS+ sells for $250 (USD) with the one-piece upper aluminum cog set selling for around $100. It will be available towards the end of this month. For more information check out bythehive. 
*I was going to say 'mountain bike drivetrains' but SRAM's 1x road groupsets are category leaders as well. 
**Your mileage may vary re. chain length.