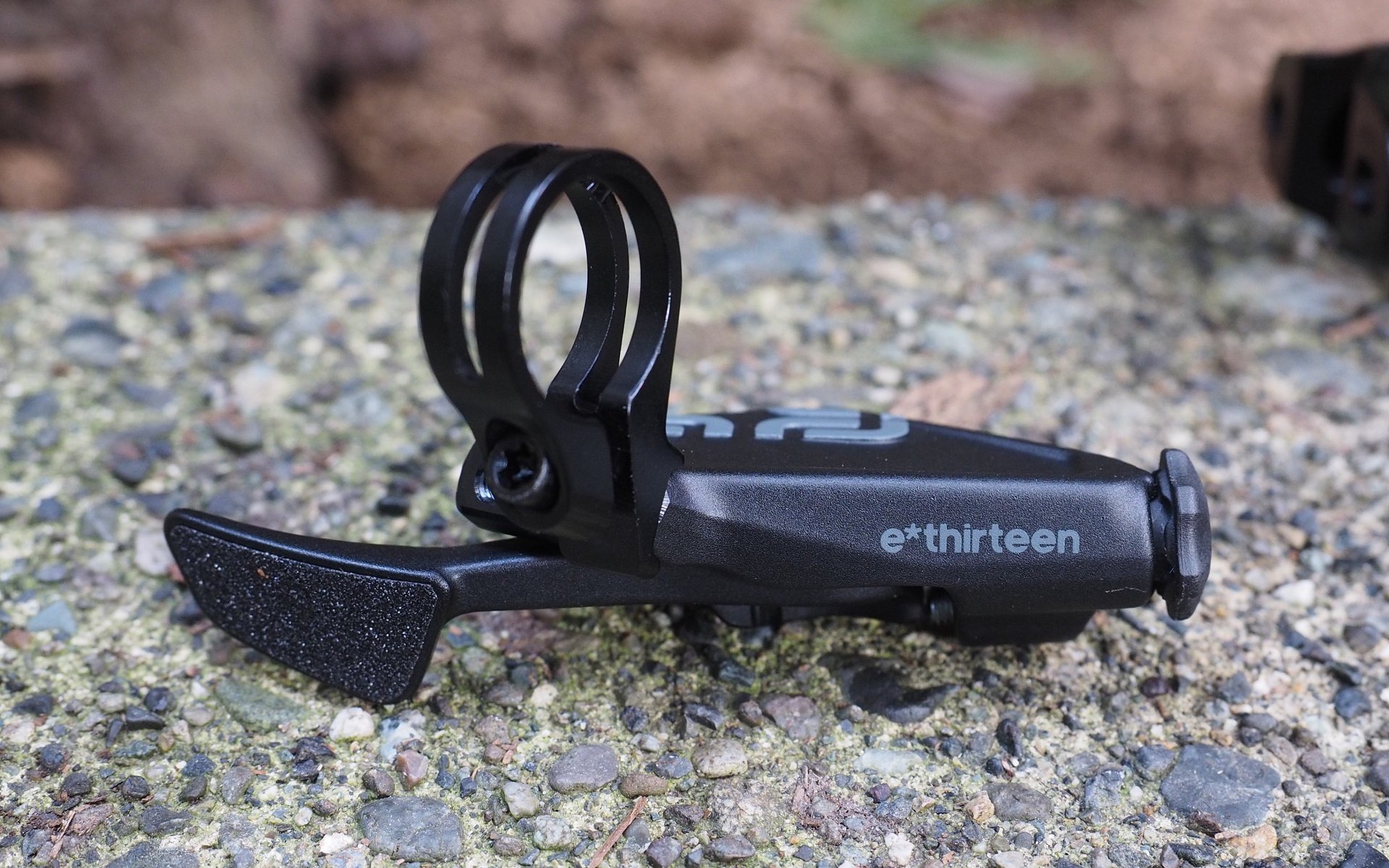 TEARDOWN | FIRST IMPRESSIONS | EDITORIAL
e*thirteen Vario Dropper Remote & 180mm Vario Dropper Post
e*thirteen Vario
If you can't beat them join them, but for the love of bikes put a spin on it. With the new Vario dropper posts, e13 has done just that. They've gone the Wintek route with the easily replaced, infinitely adjustable, gas-charged cartridges powering their take on the max-travel adjustable chassis. Two versions exist, the 'why bother' edition is a 150mm travel post that can be lowered to 120mm and the 'new normal' edition is a max 180mm dropper post that can be incrementally lowered to 150mm so riders can find the maximum travel usable with their frame. More on that below.
I'm sure I have this ass-backward, but what's really exciting to me about this release is the new Vario dropper post remote. The ergonomics, action, and construction are all improved from their excellent first-edition and at fifty bones (USD) it's a solid challenger for best dropper remote, at any price, for a bunch less cash. I hope they made a bunch because I could see plenty of folks with perfectly okay dropper posts purchasing one as an upgrade. More on that below too.
A Note To Bike Manufacturers
It isn't just tall riders talking about 170mm dropper posts being the new normal. The "hi, do you play basketball?" types in my life are all going on about 200mm plus posts and even those I know who are closer to hobbit-height are not satisfied with a 100mm dropper post any more. Sure, some folks haven't come over yet but if your suspension design still has a pivot or bend restricting seat post insertion there's nothing your marketing department is going to be able to do to save you from yourself. Plenty of dropper post manufacturers are trying to help out with travel adjustable posts and lower seal head to clamp heights so riders can max travel for their frames but you have to help.
Short folks buying bikes, even if all you need now is a 125mm dropper post (or 100mm with some bike designs) it's still a great idea to future proof yourself by making sure your new purchase can accommodate more travel. Your excellent local shop can confirm max insertion and also saddle v. tire clearance at full-drop on any bike they're selling you.
If in doubt, Cavan at Knolly Bikes guaranteed* me something along the lines of "anyone who can stand over one of our small frames can run at least a 150mm dropper post and probably a 170mm" so I think that's a great baseline for every brand to strive achieve for. It was in the context of shopping around for a new full suspension bike for my 5' tall wife, so if you're a cm over 5' you're golden‽
*Not an actual written in blood guarantee.
Vario Remote
Looking around for the best-in-the-game dropper post remote? The e13 option looks big compared against anything other than SRAM's Reverb battleship but let's give Vario a chance. The ergonomics are excellent and it's SRAM MatchMaker X compatible with three positions giving it a massive range of lateral adjustment outside of clamp position. The lever is long for leverage and turns ever-so-smooth on a pair of cartridge bearings. Oh, and it has a return spring.
The return spring is my favourite feature as it has the potential to make a lot of dropper posts perform better since the stealth actuator buried in my seat tube is no longer solely responsible for retracting the lever and cable. It's a push-pull setup now.
So it looks to be fantastic quality, the action is most excellent, and the price is right. What's the catch? The Vario looks to be built like a tank and actually is built like a tank. Its 73 grams doesn't sound like much but compare that to a Wolf Tooth ReMote or PNW Loam Lever and it's double.
I'll talk more about the lever in a future review once I've had the chance to abuse it thoroughly, but my expectations are high. I'll be using it with a few different posts as part of satisfying them.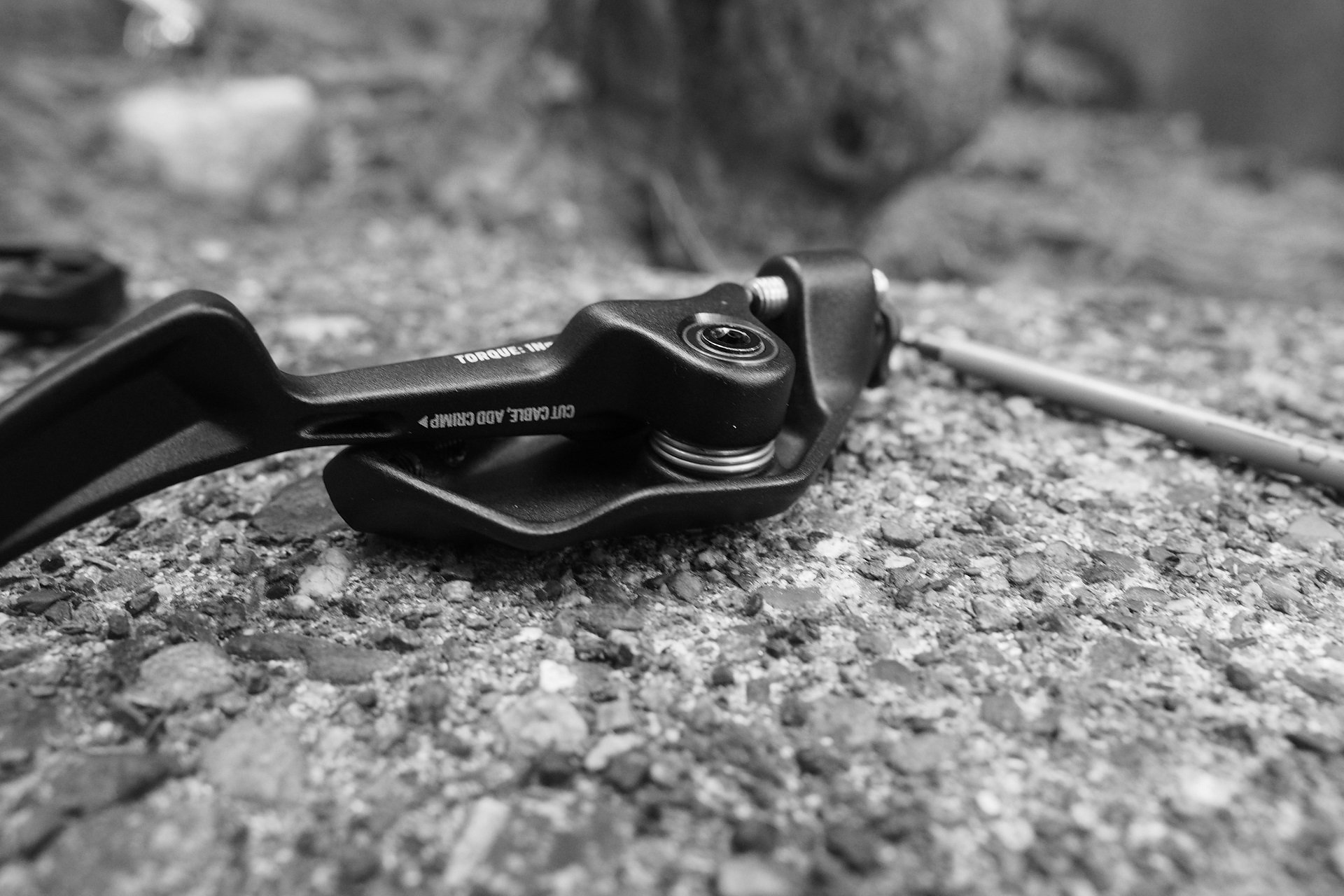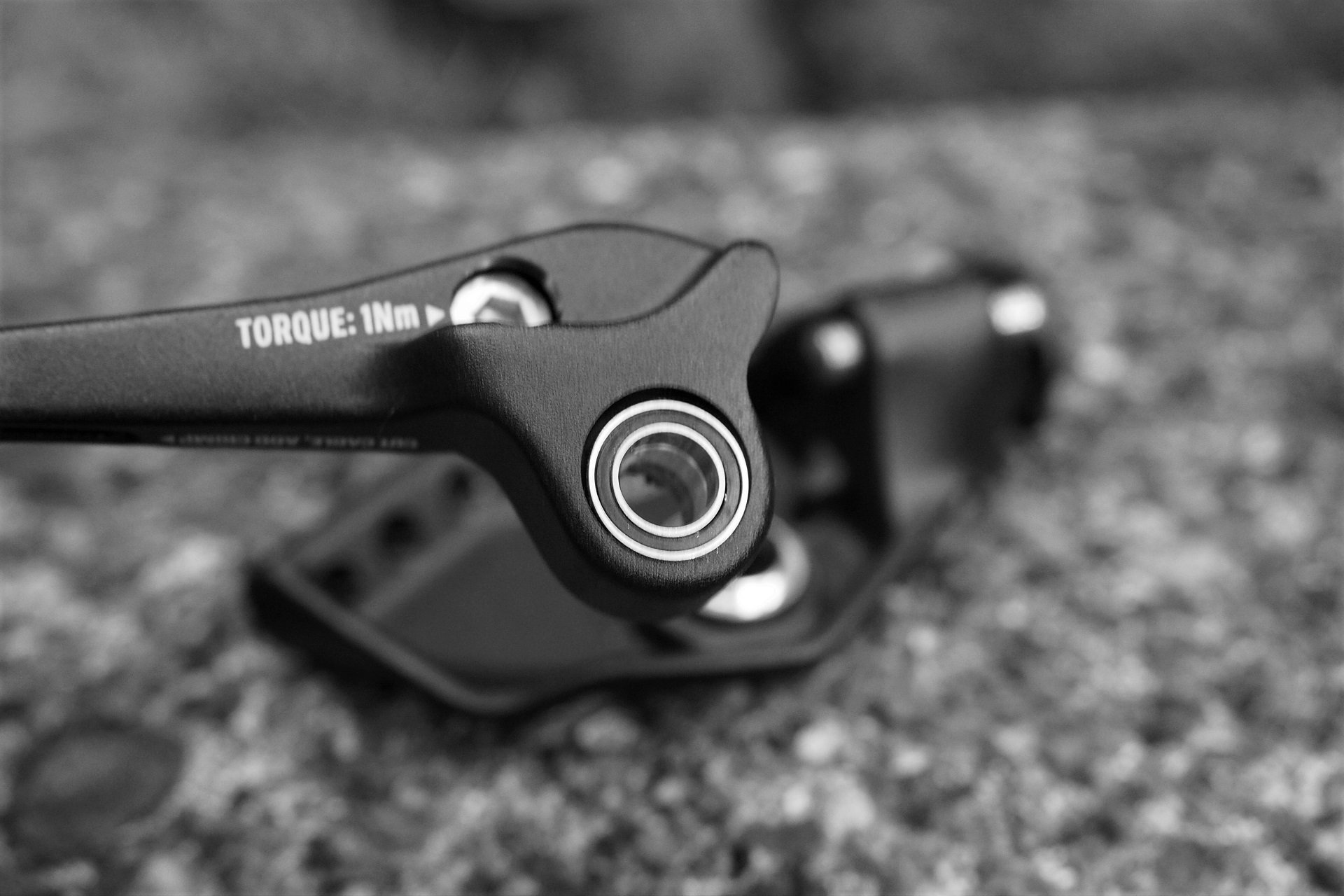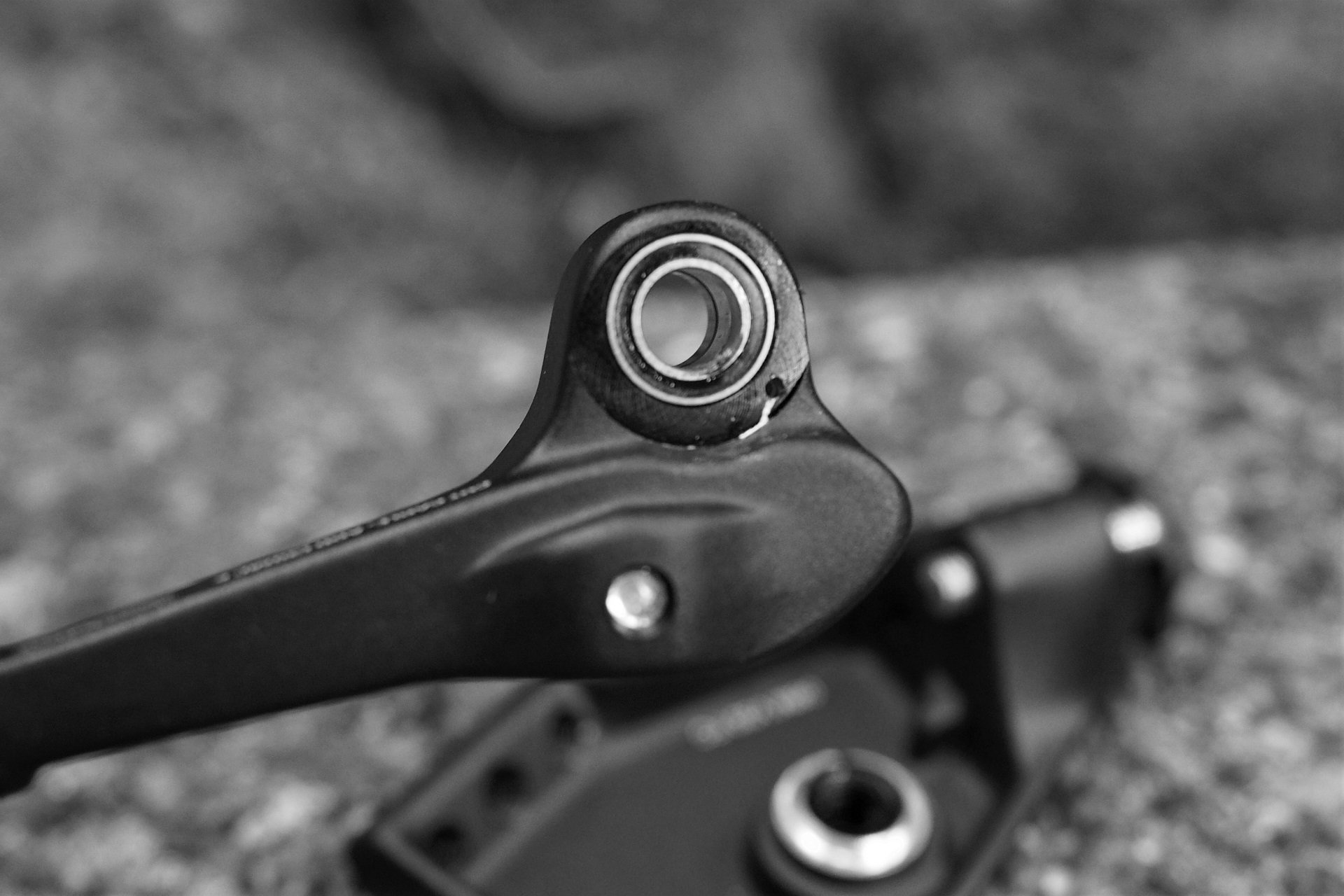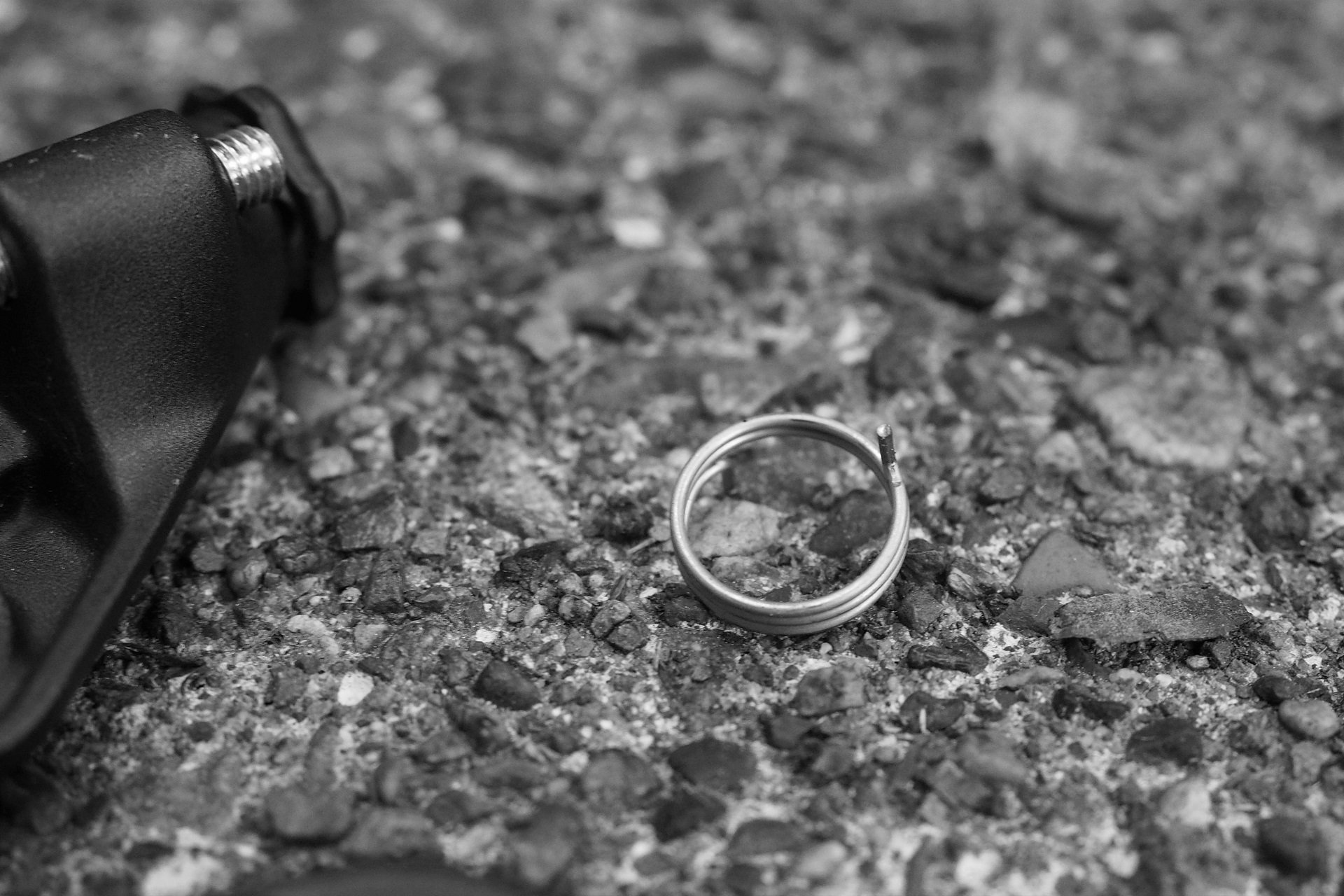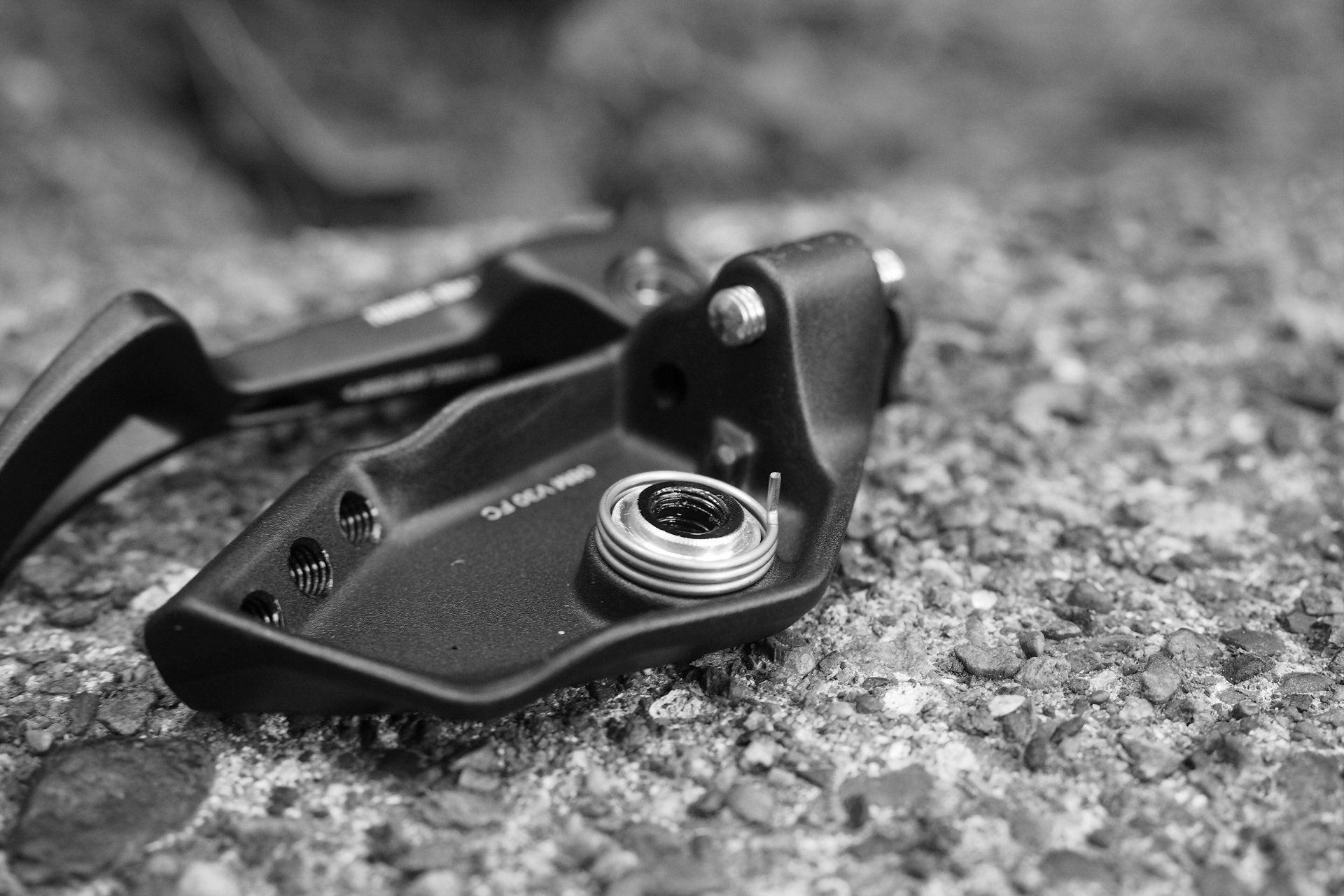 Vario 150-180mm Dropper
I may be the only person in the world who was a fan of e13's previous TRS+ dropper post? I love the idea of a coil spring, the ball bearing collet worked well, it was easy to work on (the way the post-head attached to the shaft was less than perfect however). I've been waiting quite a while for a revised post and the Vario is not what I excepted. My usual message is that a dropper post has to offer something unique - like BikeYoke's Divine or PNW's Bachelor - to justify a higher cost than a Wintek-equipped post, so in that sense, it's a pleasant surprise.
The Vario is selling for 210 USD for a post, sans remote, so it's well-positioned price wise for a 180mm dropper. It has zero side-to-side head play out of the box thanks to massive key-ways that also act as stops for the tool-free max-travel adjustment. The posts are also easily rebuildable with a 25 USD bushing & key kit and a new cartridge will run 50 USD.
I do feel a bit bad for e*thirteen regarding my introduction to the Vario. They're obviously excited about the new post; it looks great, the max-travel adjust feature is going to be prized, 180mm is currently acceptable for most riders, and the price is very reasonable. And then... my post has cartridge issues right out of the box.
I've tested multiple Wintek cartridge-equipped posts from Crank Brothers as well as units from FSA, Bontrager, PNW, and X-Fusion, and I've never had a cartridge issue. I think the Crank Brothers cartridges with their anodized shaft are the smoothest but they've all been good. The unit in this Vario post, unfortunately, sounds like the shaft is getting dragged back and forth on aggregate as it compresses and rebounds.
Dropper speed is compromised by the friction but despite this the post is fully functional and the rest of the build quality looks excellent. I'm waiting on a replacement cartridge from e13, (this would obviously be a manufacturing defect covered by warranty) and I'll be going forward with that for my review.
I can easily run the post at 180mm in my hardtail but may need to lower it to 175mm or 170mm to run it on my, size large, Marin Alpine Trail. Either way, the travel adjustment process is beyond simple. Un-thread the seal head (by hand or using a strap wrench if required), push the remote button and compress the post. The travel spacer will pop up and can be rotated as desired. The system is so foolproof-simple and weights nothing factored into the 600-620 gram weight of the post (30.9 v. 31.6) that even if I never had a need to use it I wouldn't begrudge its presence.
I'll put the 180mm travel, 210 USD, Vario post to work once a replacement cartridge arrives. The Vario remote is in play right now my inner bike-nerd is looking forward to the days ahead when I can pass my bike over to a few friends to try. I think the 50 USD lever is going to be a hit.
More information at e*thirteen and in this handy animation they put together: