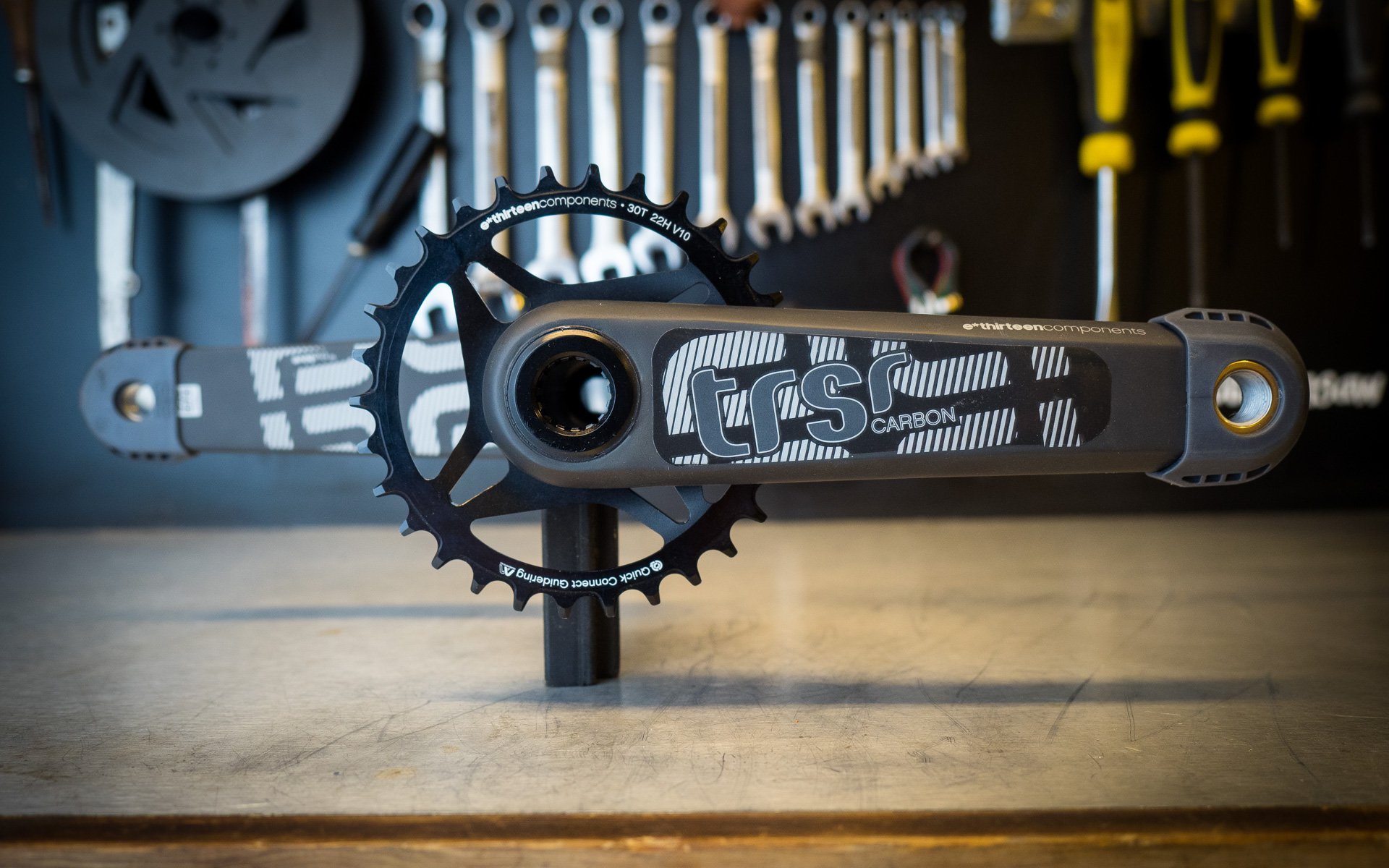 FIRST IMPRESSIONS
e*thirteen TRSr Carbon Cranks
Back to the Future
I still remember digging deep into a box of fresh parts and pulling out the first set of Shimano XT Hollowtech II cranks I had seen in person. Mine. The year was 2003; they were FC-M760. Proprietary tools for installation were included.
These cranks weren't as sexy as some locally machined Raceface cranks I had owned. They certainly didn't stare at me like they were going to beat the crap out of me, drink my beer, and piss down my seat tube like the brutally tough Profile Racing cranks they'd replace. And they instantly rendered my collection of crank pullers and BB tools obsolete.
Proprietary tools aren't a big deal. When they're included and made from steel to last forever.
The XT cranks made promises; to be strong; to be light; to offer improved bearing life. They delivered. No rounded square taper crank arms. No more blown-to-sh*t ISIS or Octalink bearings. No more heavy as steel (because they were steel) BMX cranks.
The price of this performance upgrade? A proprietary bearing preloader* and a bottom bracket wrench. The plastic preloader tool survived for years – it really isn't under any load being hand-tightened and hand-loosened. My original TL-FC32 is still being put to work today.
What's my point?
'Proprietary' has become a curse word. 'Standard' has become the punchline to most jokes about new sh*t. Shimano introduced something new** to the mass market with no regard for either and it was well welcomed. I started seeing the cranks everywhere that summer.
The dual control shifter-brake levers that arrived in the same box? Not so much.
The steel BB tool included with all e*thirteen cranks can be tightened on using any*** type of Shimano external BB tool or a regular old wrench.
I'm telling myself this story while drinking a coffee and staring at a couple of e*thirteen boxes. The Hive doesn't lose too much sleep over what other companies are doing and the TRSr cranks inside are no exception.
A proprietary crank pulling tool. A proprietary lock ring tool. A German designed DIN 32711 polygonal axle-to-arm crank interface. There's a lot of different stuff going on.
The BB Tool
Opening the first box I was pleasantly surprised to discover the first of their proprietary tools. A beefy steel BB tool. On further inspection, it is also the lock ring tool for e*thirteen's direct mount chainring. That's handy.
The tool interface is well considered. A wrench or set of Knipex locking pliers works great. A Shimano-compatible external BB tool*** works great too. Options.
The included e*thirteen BB tool is also used for their direct mount chainring interface. It's made from steel where many brands ship cranks with plastic tools. It can be tightened with a Shimano compatible external BB tool or a wrench.
It's also the BB tool for e*thirteen's PF30 and BB30 bottom brackets. These very cool 'press fit' bottom brackets actually thread into themselves for easily installation and removal.
The Crank Puller
At first the idea of a separate crank puller seems foreign. Self-extracting setups have been the rule for years now on any type of press fit crank axle-arm interface. The non-drive arm on the e*thirteen cranks is threaded in such a way that designing a self-extracting cap would be easy enough.
When I pulled their crank puller out of the box it all started to make sense. Remove the very light alloy crank bolt and use an 8mm hex key to thread a steel fitting into the crank axle. Use a 10mm hex key to tighten the steel cap into the crankset up to 6nm. Insert an 8mm hex and back out the steel fitting against the cap. The non-drive crank arm comes off with minimal sweating.
The polygon 'P3 Connect' crank interface is designed to maximize surface contact negating the wear and creaking that can develop in splined interfaces. Extraction is accomplished by an 8mm hex-key insert pulling out against the 10mm hex-key crank cap. Both are steel tools.
I've played around with installing and removing the crank a half dozen times and it's a clean and simple process. Dedicated tools should enhance the life of the alloy crank bolt and ensure no extraction damage to the non-drive arm.
APS
Most cranks sold these days have some form of bearing preload adjustment separate from the actual process of affixing the crank arms. No more playing around with crank spacers to find the perfect point between tight and too tight.
The APS (Adaptive Preload System) is simply a spring loaded telescoping spacer. Mount the cranks up and turn the dial by hand to dial the bearing tension. There's no tiny lock screw to tighten/loosen and no faffing about trying to generate extra force. The three-part assembly is elegant in its simplicity.
The e*thirteen bearing adjuster is a telescoping spacer than is easily turned by hand. Tighten the non-drive crank arm down and then spin the APS until you hit the perfect combination of bearing tension and smooth spinning action.
Review
There is also a pair of aluminum TRS crank configurations with the same features for anyone turned off by the no-holds-barred carbon configuration of the TRSr.
These cranks were simple to install, freakin' light, and so stiff I now notice the flex in the aluminum cranks I'm running on other bikes. I'm obviously impressed with the quality of the included installation tools. It definitely takes all the bite out of my complaints about proprietary tools or processes when those tools are included along with really simple, straightforward, instructions.
I'm looking forward to seeing how they hold up through a long-term review process.
These cranks weigh a little over 500g with a 32t chainring. Or you could call them $1 US a gram.
---
*Which frankly could have just been a hex key bolt; however, Shimano was concerned about the bearings being over pre-loaded. This was a common enough issue with similar cranks from FSA so they were generally correct.
**Yes Shimano introduced HT2 the year before with XTR. Yes Bullseye, Sweet Wings, and Magic Motorcycle had all previously sold external BB cranks. XT was readily available and reasonably affordable.
***Any original sized Shimano, FSA, Raceface, or etc compatible external BB tool. TL-FC25 sized tools don't work.