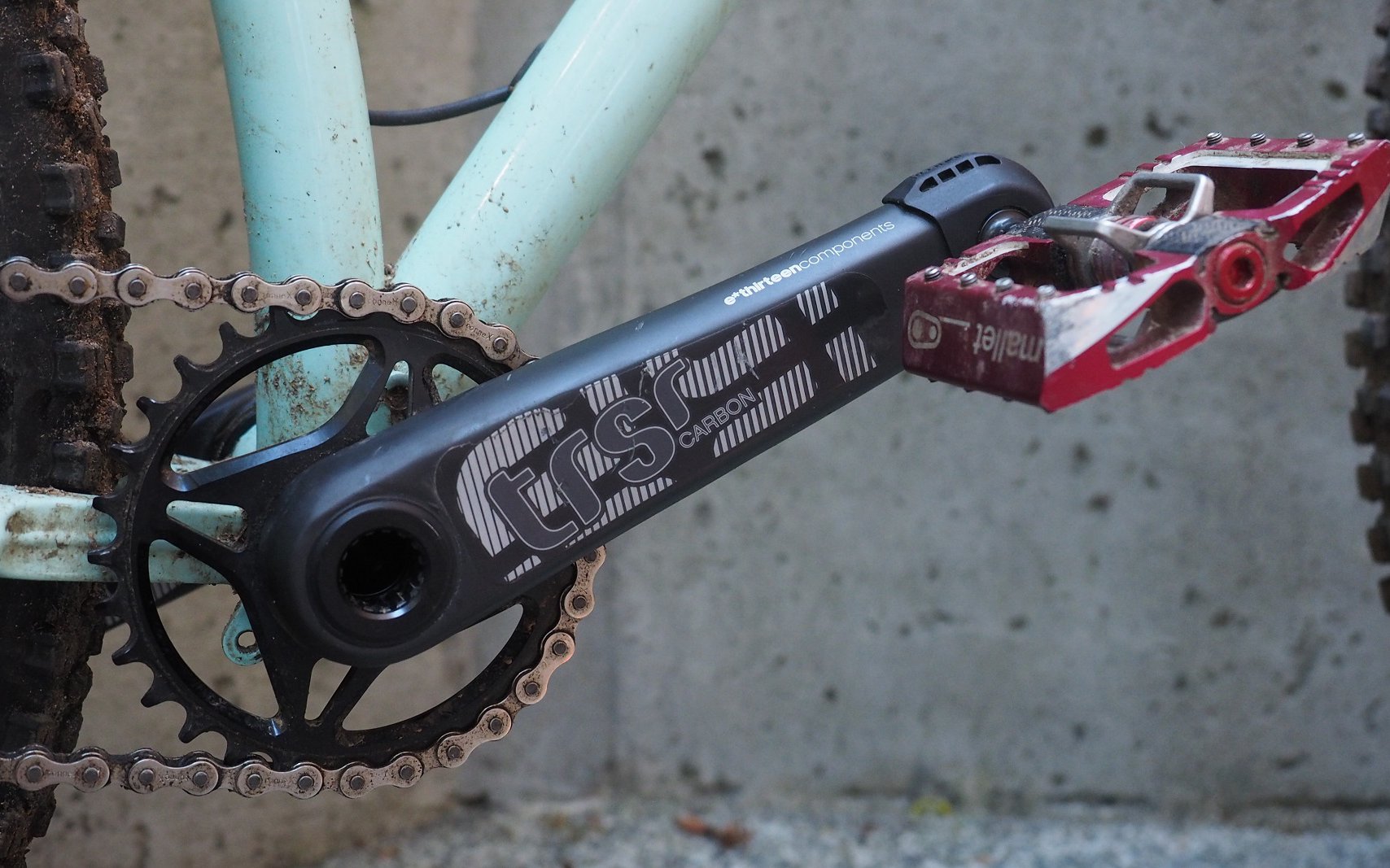 REVIEW
e*thirteen TRSr Carbon Cranks
Stiff, Light, Carbon
Why Carbon for cranks? It's a question that gets bounced around a lot and most of the time the answers seem more aligned with emotions, opinions, a limited number of good experiences or a singular bad experience rather than grounded in any careful cost-benefit analysis. 
e*thirteen's response is an Enduro-racing-rated crankset that weighs less than 500 grams, carries a 5-year manufacturer's warranty,  is as stiff as they come, has a best in class bearing preloader,* looks awesome and comes with all the installation tools required. 
I prefer the ride quality of a good aluminum bar and I ride steel or aluminum frames. I have had both excellent and poor experiences with carbon rims and have always chosen aluminum cranks based based on their relative value to me. 
That said, I have sold many sets of carbon cranks working in bike shops and it is a fact that there are few places on a bike you can drop so much weight with no loss of performance - and arguably performance gains due to increased stiffness and lighter bike weight. 
Bike Swapping
These e*thirteen TRS race cranksets made frequent back-and-forth appearances on my two personal hardtails. The bikes ride very differently and it was an opportunity to discern how the super stiff arms affected the ride quality and performance of machines that flex differently. Obviously, weight savings are weight savings. 
I also ran the cranks on the Marin Hawk Hill for sh*ts and giggles. There is something strangely satisfying about riding a bike where the crankset is 1/3 of the total cost of the bike. 
The spring loaded and indexed APS adjuster is my favourite feature of e13 cranksets and the one takeaway I would love to have on all my cranks. It is both much faster and more micro adjustable than playing about with an un-indexed pre-load adjuster and then tightening down a tiny set screw. Just tighten down the non-drive crank until it bottoms out and then turn the APS to preload the system. When lateral play is eliminated and the cranks spin smoothly that's just right. The 'Adaptive Preload System' comes on all e13 cranksets including the more wallet friendly aluminum $250 TRS+  and $200 TRS models.
Value?
I don't mean any disrespect but anyone who has spent the last six months agonizing over the relative value propositions of different aluminum cranksets can just skip this review. Buy a set of Race Face Aeffect Cinch cranks, fire them through a Hope bottom bracket and bust out hundreds of days of hard riding content in having made a solid decision. 
Riders are either in the market for a carbon crankset or they're not. The crankset is an obvious place to save a pile of grams for no loss in performance. Racers looking to translate every watt can justify the purchase based on stiffness alone. It's just money right?
At 441 grams (170mm / arms only) and with e*thirteen offering a 5-year warranty for Enduro racing it's actually a very reasonable value compared to a lot of carbon cranksets. Burning cash building the ultimate Nomad IV is going to be an entirely different process than justifying a top-end crankset as an upgrade for a Kona Precept. I'm not trying to justify a $500 (USD) carbon crankset, but for anyone in the market here's a $500 carbon crankset. 
Wear 
I'm a notorious heel rubber. I actually rubbed a hole through a set of first generation Shimano Saint crank arms. It's bad. Thankfully for wear resistance, the TRSr is the best crankset I've used in carbon or aluminum. The profile of the crank arms is such that it is largely saved from the ravages of my footwear. My personal Race Face Turbine crankset is a similar vintage with fewer miles and the outer face is as silver as it is black from shoe contact. Combined with the crank arm boots for all those times I have hacked my pedals into rocks the e13 cranks still look very fresh but for a few small scars on the arms from various misadventures. 
As I swap back and forth between bikes I was also swapping back and forth between 30t and 32t e13 narrow-wide rings and more recently between a 30t e13 ring and a stainless steel Wolf Tooth narrow-wide ring. Given the hours on the cranks have been shared over a couple of rings, albeit in pretty awful conditions, chainring wear has been good compared to narrow wide rings I've ridden from SRAM and BlackSpire. 
I haven't been pumped on the out-of-the-box feel or survivability of the e13 bottom bracket. It's sticky right out of the box and is not lasting to the level of my Hope bottom bracket. The Hope is roughly twice the price but for my own crankset it would be well worth the cost. I'd love to see e13 construct a similar bottom bracket with easily replaced bearings. 

Failure
I was just riding along, very early in the test period, when the drive arm of my e*thirteen crankset started to float. At first I thought it might just be a loose chainring but as it turned out the carbon arm had debonded from the aluminum spindle. The nature of the Quick Connect system meant that my chainring was also loose because it loads against the crank-axle interface. 
I can't remember being more angry at a bike part failing. As it always seems to be with these things I was out of town riding on a long weekend. 
To e13's credit the TSRr cranks have a secondary pin that acts as a fail safe in the event of the axle de-bonding. Recognizing that there was nothing I could do to fix the crankset on trail, I managed to ride out some 10km aware of the compromised arm. I was taking it easy but still riding trails with a group**.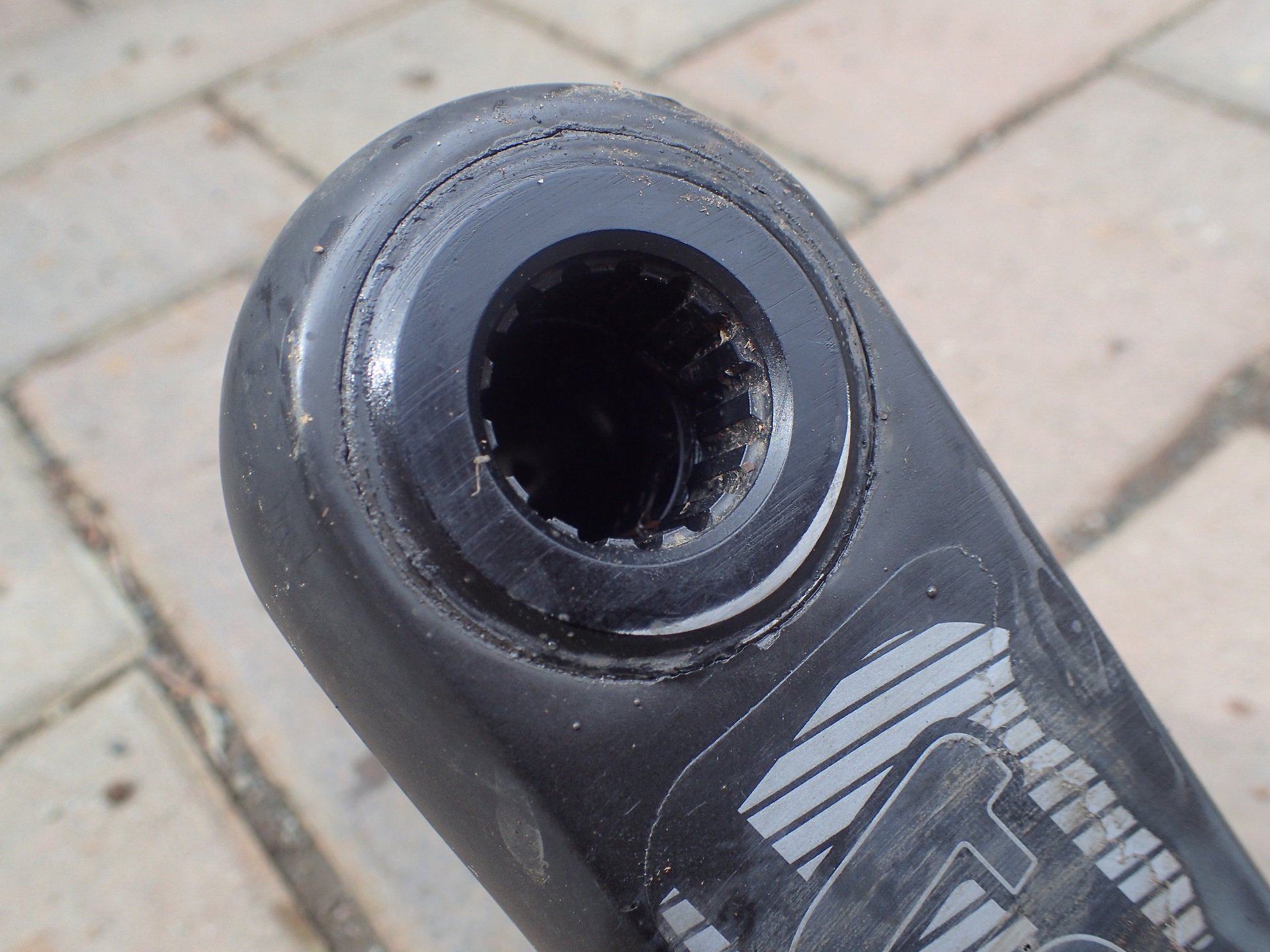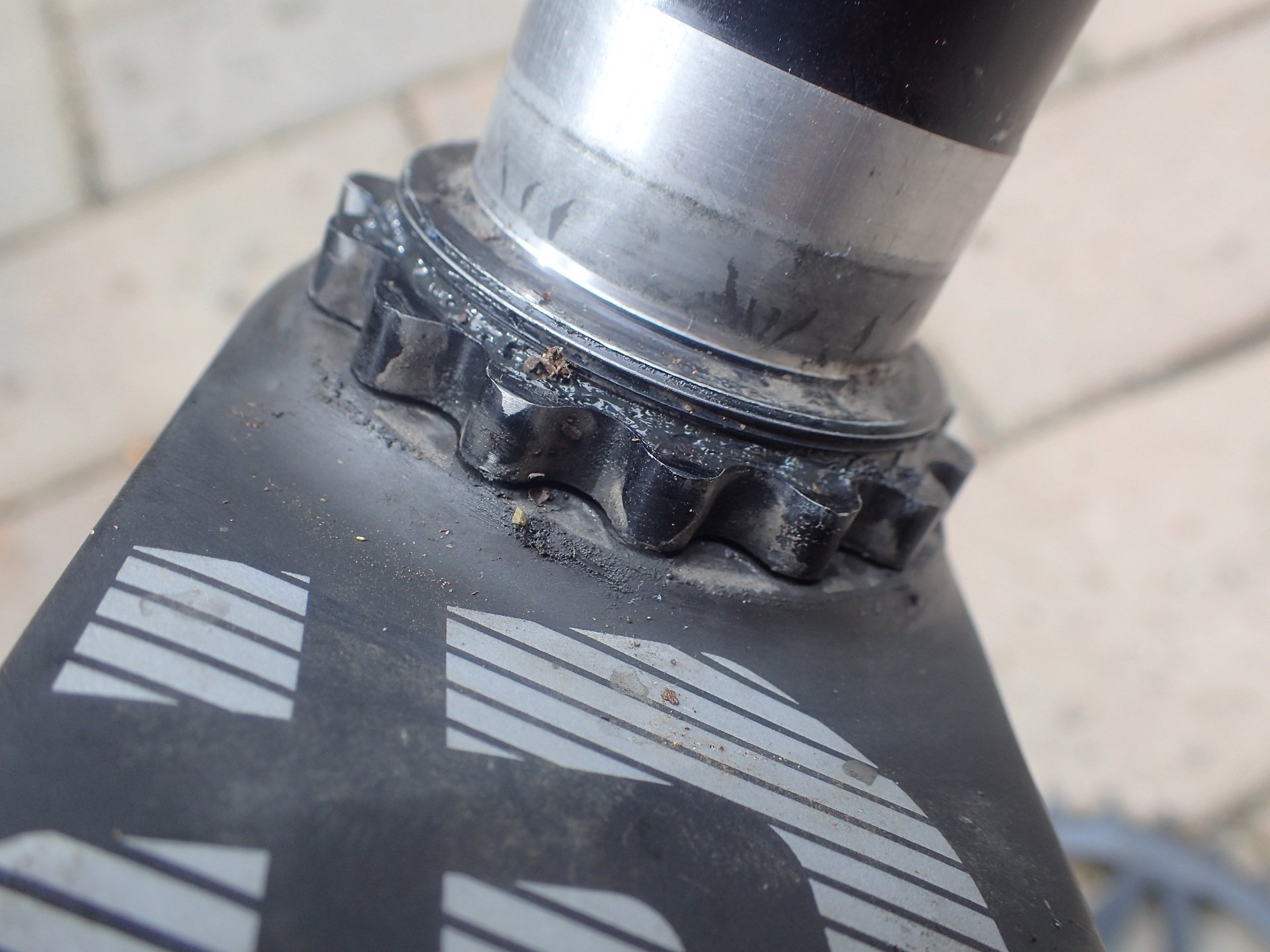 For the folks at e13 this was an obvious warranty situation and they replaced my crankset and chainring quickly. The failure happened early in my testing process and I have had zero issues with the replacement crankset. Manufacturing defects happen. 
There is a Five Year warranty on e13's carbon cranksets and a one year warranty on bearings. 
The Ride

Riding down chunky DH trails on my Honzo on back-to-back days with the e13 TRSr crankset and either the Race Face Aeffect (24mm) or Turbine (30mm), it's obvious after a couple of minutes that the carbon cranks are much stiffer but not in a negative way. In fact they suit the bike as a package but it's notable. 
I also feel like there is an increase in efficiency on the way up. There is zero perceivable flex. I'm not calling the Turbine or Aeffect cranks 'flexy' but there's a difference. It's the same as riding a set of Turbine's compared to Race Face's NEXT SL or SixC cranks. All in all I am happy with this setup. 
On the other hand with my tangibly flexier titanium frame with aluminum rims the TRS Race cranks stand out as the stiffest point in the system. It's entirely rideable but given the choice I find my Turbine cranks are more suitable to the package. 
The obvious hole in my testing is that I didn't install the crankset on a bleeding edge 6" travel carbon Enduro bike with a set of carbon hoops. I suspect in that case the weight savings would be the chief noticeable benefit on a properly supported and damped suspension system outside of potential time savings or increase in wattage at the rear wheel on an elite XC race course. 
I think it's fair to say that they deliver on what carbon crank manufacturers are advertising in terms of weight savings and stiffness compared to aluminum. The value of those improvements is up to the rider. 
Plans
This review gives me cold sweats. I can appreciate that my first set had a manufacturing defect that isn't present on the replacement set. It's just very difficult to decide when a product has had enough hours to finish a review when the first unit I received failed.
My plan is to continue to put hard hours on the TRSr crankset as part of testing Wolf Tooth's Camo chainring system and a pair of Crank Brothers Mallet DH pedals and to report back if there is any change in reliability.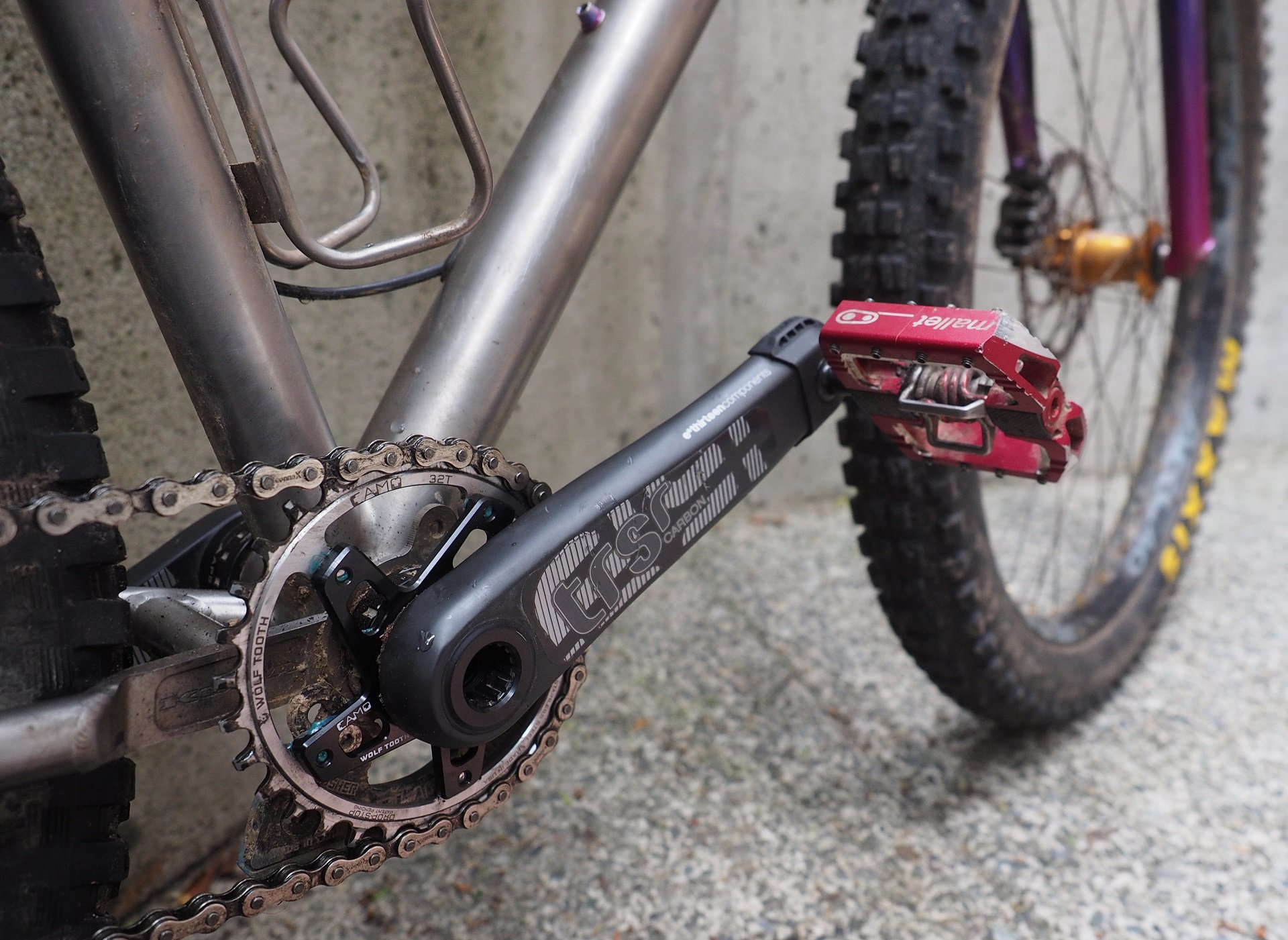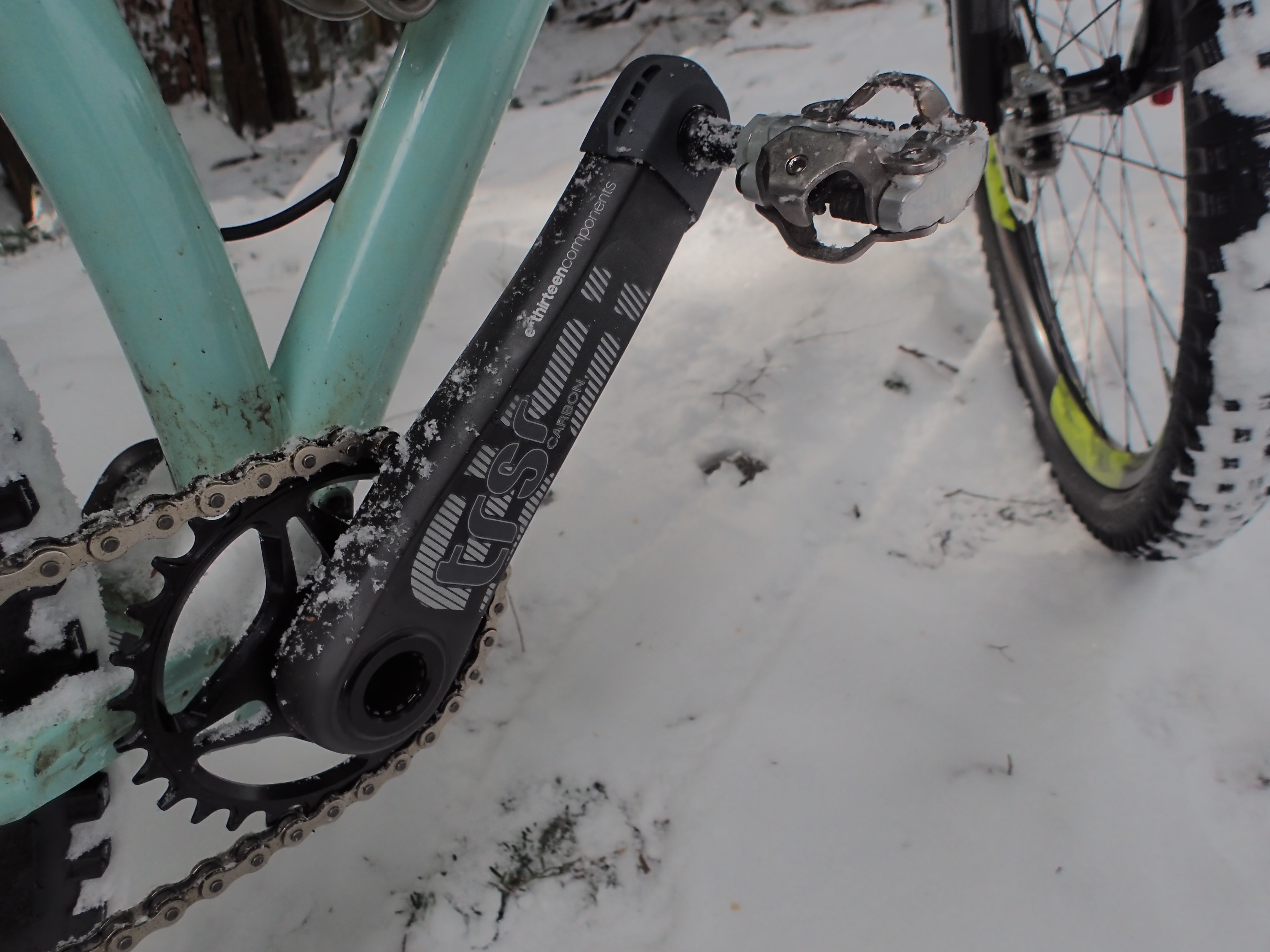 In the meantime I'm comfortable recommending the e13 TRSr to the carbon-hungry rider considering a fiber-and-resin crankset. It isn't cheap but for the weight and application it certainly isn't the most expensive option. As a bonus removal and install is an easy process for the home mechanic.
For more information check out the e*thirteen TRS Race crankset here. 
*Shared with all their carbon and aluminum cranks. 
** A big Thank You to Carter from Black's Cycle for selling me a set of Race Face Turbine cranks on his day off.