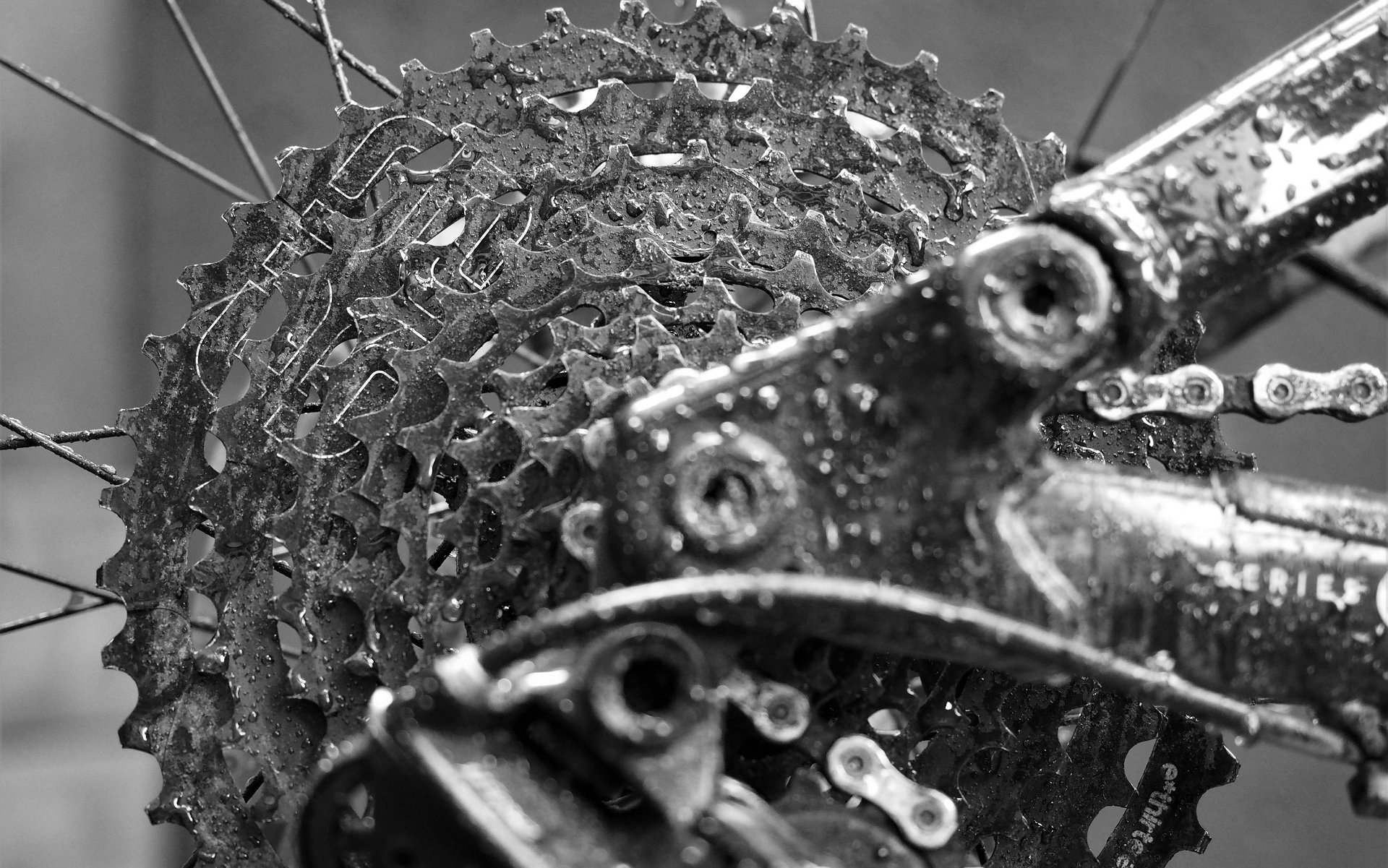 Long Term Review
e*thirteen TRS+ 9-46t Cassette
An Unfair Test
I think the best practices for a long-term test on a cassette are obvious. Fresh cassette, fresh chain, fresh chainring, fresh-enough jockey wheels, and ride that sucker into the ground. Straightforward.
This e13 TRS+ cassette was not that lucky. Three different bikes, four different chains in various condition, and five different chainrings from brand-new to 'how does the chain stay on there' were mated to the 9-46t 11spd cassette. 
I even did half a Seymour ride and the 45-minute pedal home with three teeth missing off the upper pulley wheel of my GX derailleur accompanied by a disgusting skipping feeling every third pedal stroke. 
I can't imagine a rider removing and installing their e13 cassette as many times as I did. There were no issues with the lockring or the steel-to-aluminum interface that joins the two halves of the cassette.  The TRS+ did not come loose on any of the wheels I used it with. 
This cassette has seen regular use on both test bikes and my personal bikes since before my first look in August. The steel lower half is still fresh and I'm assuming I'll get the summer out of the upper aluminum cluster before I need to replace it for around 100 USD. 
I've run it with both SRAM and Shimano 11-spd drivetrains without issue. The only caveat is it is only compatible with an XD driver. 
Setup
Installing the TRS+ cassette on the Trek Stache I reviewed was plug-and-play and an immediate improvement over the stock 10-42t when it came to getting the 29+ rig up local climbs. The chain was already well used but even so, up-shifts were crisp and down-shifts were crisper than with the stock, albeit worn, SRAM cassette. 
When I mounted it on my Marin Rift Zone I had issues with the chain skipping viciously, and randomly, on the first ride in every gear combination. Ugh. I had been meaning to replace that chain. 
As it turns out, as worn as my chain was, the issue was my chain length which, for whatever reason, was fine running 10-42t. I took out one link and I've not experienced any skipping since. Ugh. I have been meaning to replace that chain. As I noted in my first look, riding in the 9t is a bit clunky. That's even compared to Shimano's 11t cog and SRAM's 10t cog. I only regularly use that cog on the road where it is both more noticeable and bothers me less. That's commuting.
No adjustment to limit screws is required, but I did need to add some b-tension when installing the 9-46t on bikes equipped with SRAM 10-42t setups. I've mated this cassette to rings from Blackspire, e13, RaceFace, SRAM, and Wolftooth in various states. I didn't expect any compatibility problems and haven't experienced any. 
In Theory
Since the e13 TRS+ cassette has a 511% gear spread the theory is that I can get the range of Eagle with my existing 11-spd drivetrain and smaller chainring than I'd run with an Eagle setup. On a hardtail, like the Stache or my Honzo, this is absolutely true. Chuck on a 28t oval ring and climb everything without giving up the high gear.
Most 1x optimized suspension platforms work best within a range of chainring sizes. In these cases, the promise of 9-46t cassette falls short of the 10-50t Eagle cassette mated to a larger tooth count. A good example of this scenario is the V3 Santa Cruz Nomad, which I've discussed previously in reference to One Up's Shark. 
Maximizing suspension performance could tip the scales between a full drivetrain replacement and upgrades like the TRS+. When doing a 1x conversion or considering drivetrain upgrades it's a great idea to touch base with your bike manufacturer for the recommended chainring size range for your bike. 
In Practice 
I don't care about the 511% range. It's easy to gear a bike for the local terrain with a tighter range as long as running smaller rings is an option. I only ever use the highest couple gears on the road even when mated to a 30t or 32t. I know it really matters some places. Given the choice, I would like to buy an 11-46t version with tighter jumps at the low end. The stock cassette runs 9-10-12-14-17-20-24-28-33-39-46. 
If it wasn't for the durability I wouldn't care about the weight savings, but I have to say that given how well the TRS+ is holding up the fact it's less money and lighter than an X01 cassette and a lot lighter than a Shimano XT M8000 cassette is impressive. 
I like to stand a lot when I climb, including on full suspension rigs, and I never had issues breaking 9-spd and 10-spd cassettes but I have broken a couple 11-spd units. I'm not alone and I think it's fair to say that one of the negatives of 11-spd cassettes* is a lot more riders are experiencing failures. 
*XX1 and XO1 Eagle cassettes seem to be very durable and dependable. We'll need more time to say the same about GX Eagle. 
I can only tell you so much about the durability TRS+ based on my sample size of one, but the way the cassette is manufactured and the interface to join the two halves are solid. I'm as confident in this cassette as anything on the market short of the SRAM X-Dome units which are twice as expensive. 

There are several reasons to choose the TRS+ 9-46 cassette; excellent shifting and durability, flawless compatibility, lightweight construction, and of course cost savings from buying one 250 USD cassette rather than a fresh drivetrain. If the e13 TRS+ makes sense to you then it's an excellent product.