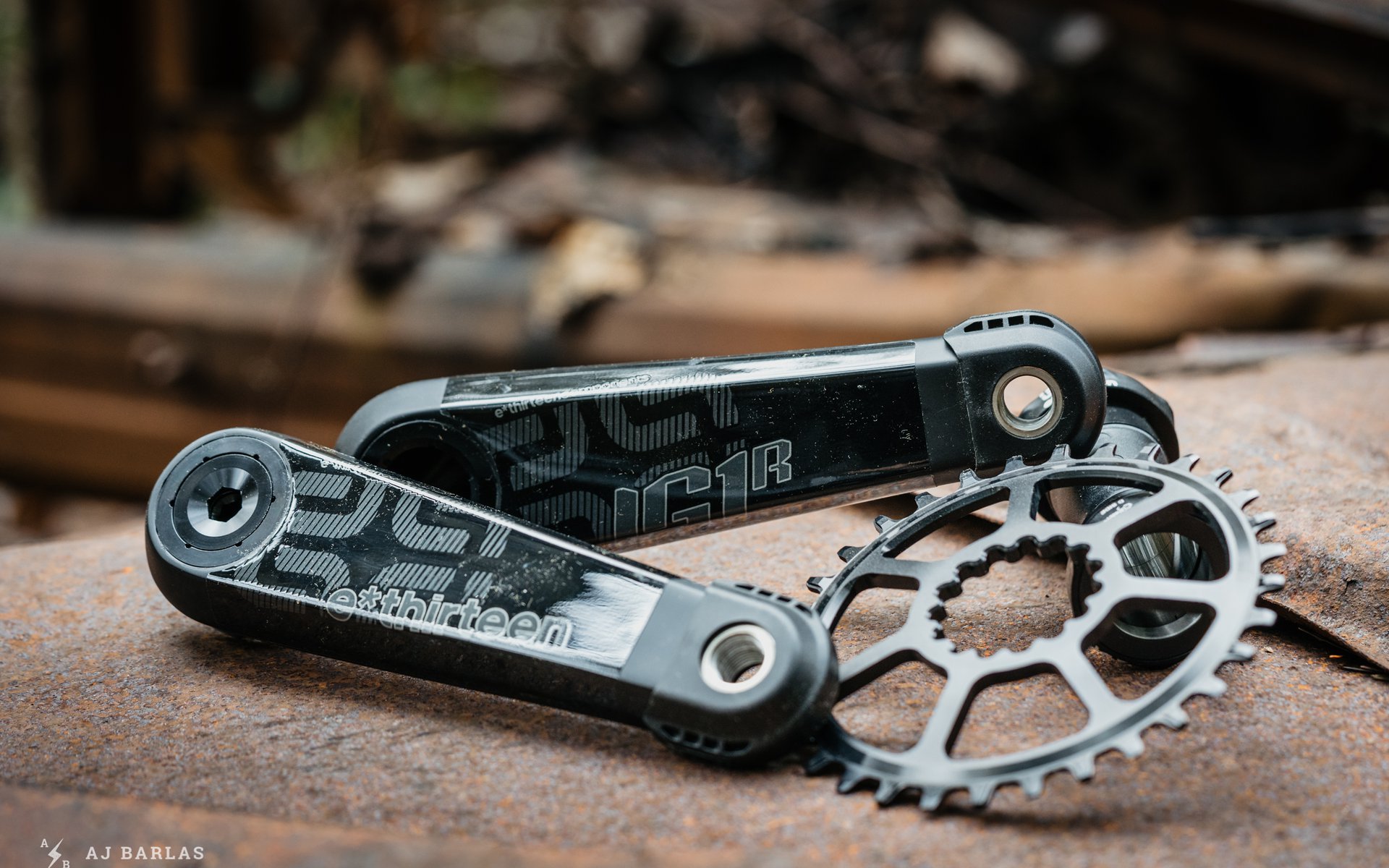 Long-Term Review
e*thirteen LG1r Carbon Crankset Review
The e*thirteen LG1 series is made for aggressive, gravity focused riders. Often parts that are built to take a beating come with a weight penalty but the LG1r cranks and bottom bracket weigh just 602g while the Saint setup they replaced are a full 316g heavier at 918g. The weight was less noticeable once the parts were fitted – which is partially why I'm fine with heavier aluminum cranks. If the Geometron G16 had a 73mm BB, I'd be happy to slap a set of Shimano XT or GX/Descendant cranks on, rather than the Saints.
Features:
P3 Connect interface prevented creaking
Adaptive Preload System is quick and easy
Quick Connect direct mount chainring interface w/ provided tool
73mm or 83mm (tested) alloy spindle lengths
160, 165 (tested) or 170mm crank length
Adjustable chainline
Now self-extracting w/ 8mm Allen
Chainrings 38–38t (sold separately)
Five-year warranty on the arms
One year warranty on bottom bracket bearings
Weight: 602g w/ 32t chainring and threaded 83mm BB
Price: 399 USD (Cranks) / 69.95 USD (threaded and BB92 bottom bracket) / 54.95 (SL Guide Ring)
These e*thirteen DH cranks weigh less than both of those alloy options and they're available for either 73mm or 83mm BB widths. There is a price to pay for lighter cranks made of carbon though and that tax may push you back to aluminum.
Design Details
e*thirteen has slimmed down the profile of their gen. 4 crank arms, and while there's still heaps of material between your feet and the frame, the more slender shape is noticeable. Also new since my last e*thirteen cranks is the self-extracting functionality. The driveside crank features a similar interface to other brands, with a smaller 8mm bolt tucked beneath a cap, secured with a 10mm Allen. Having to use a crank puller was one of my only gripes with older e*thirteen cranks. They're easy to use but if a crank can be removed with an 8mm Allen, life's a bit simpler.
e*thirteen continues to use their P3 Connect system rather than the splines common from their competitors. The system is based on the technology used in German tanks and said to provide 100% surface contact. e*thirteen claim it prevents creaking and my experience with multiple sets of their cranks featuring the system supports these claims. Bottom brackets have also proven themselves and this one was smooth and creak-free after more than six months on the cranks and there are no signs of corrosion on the bearing surface.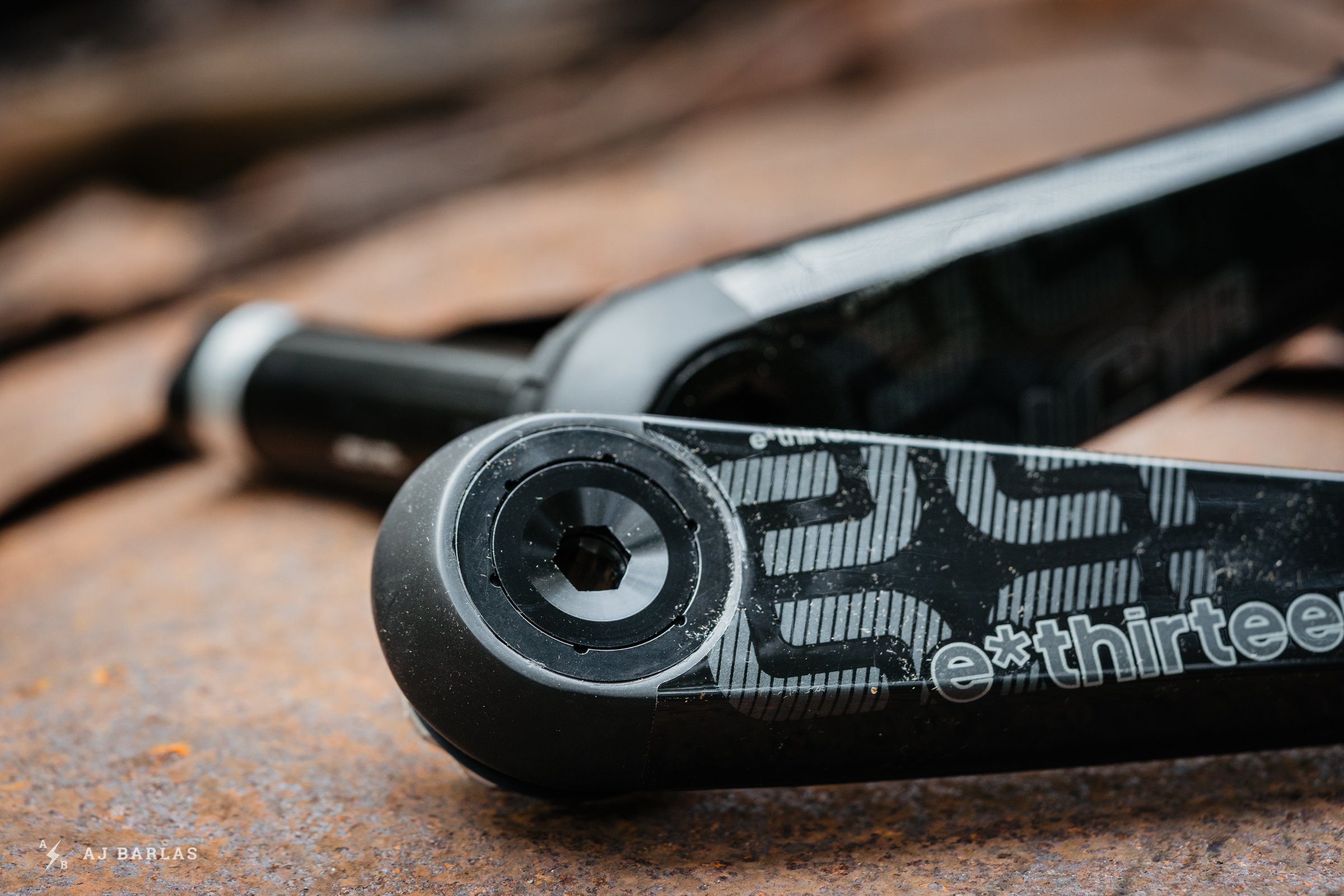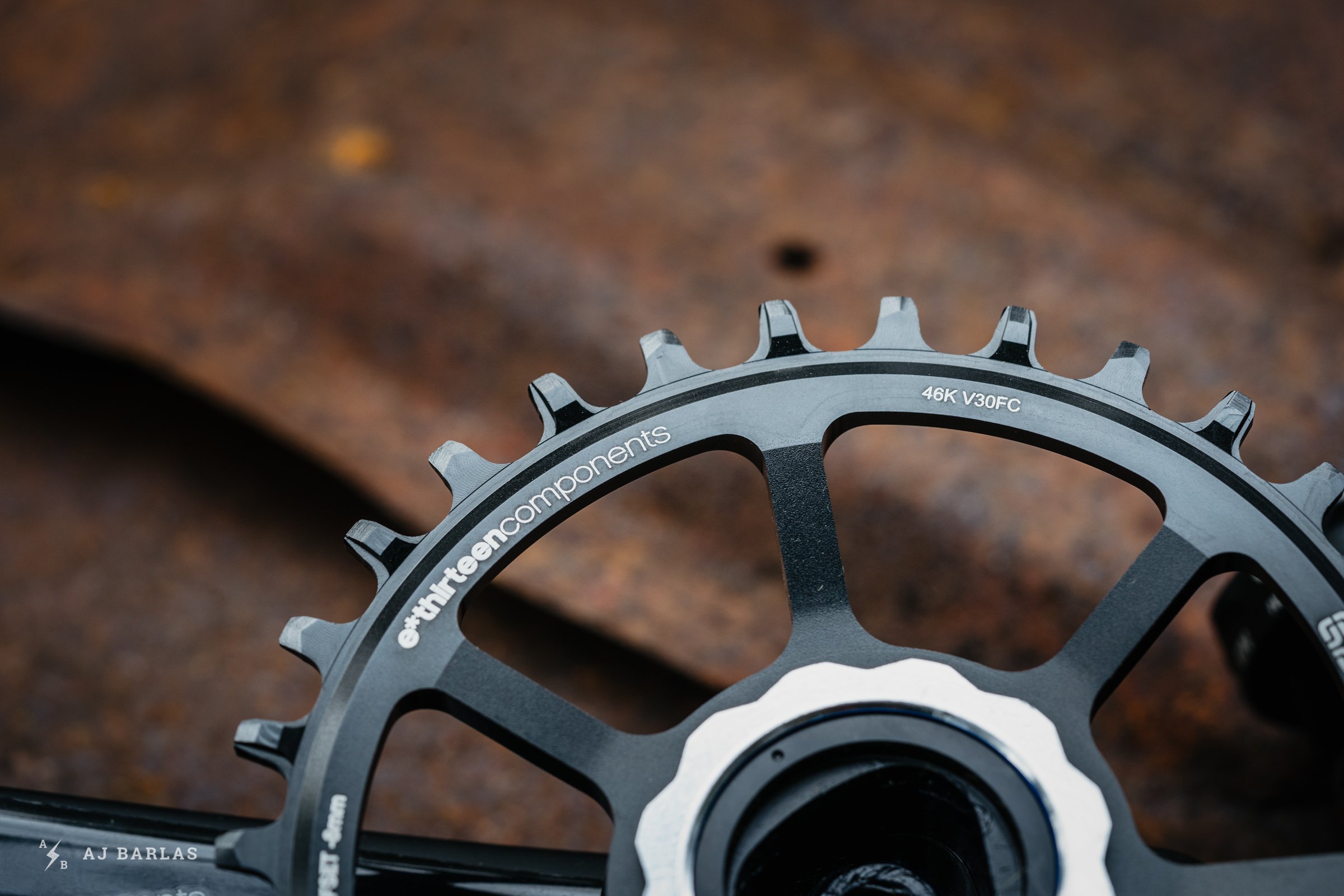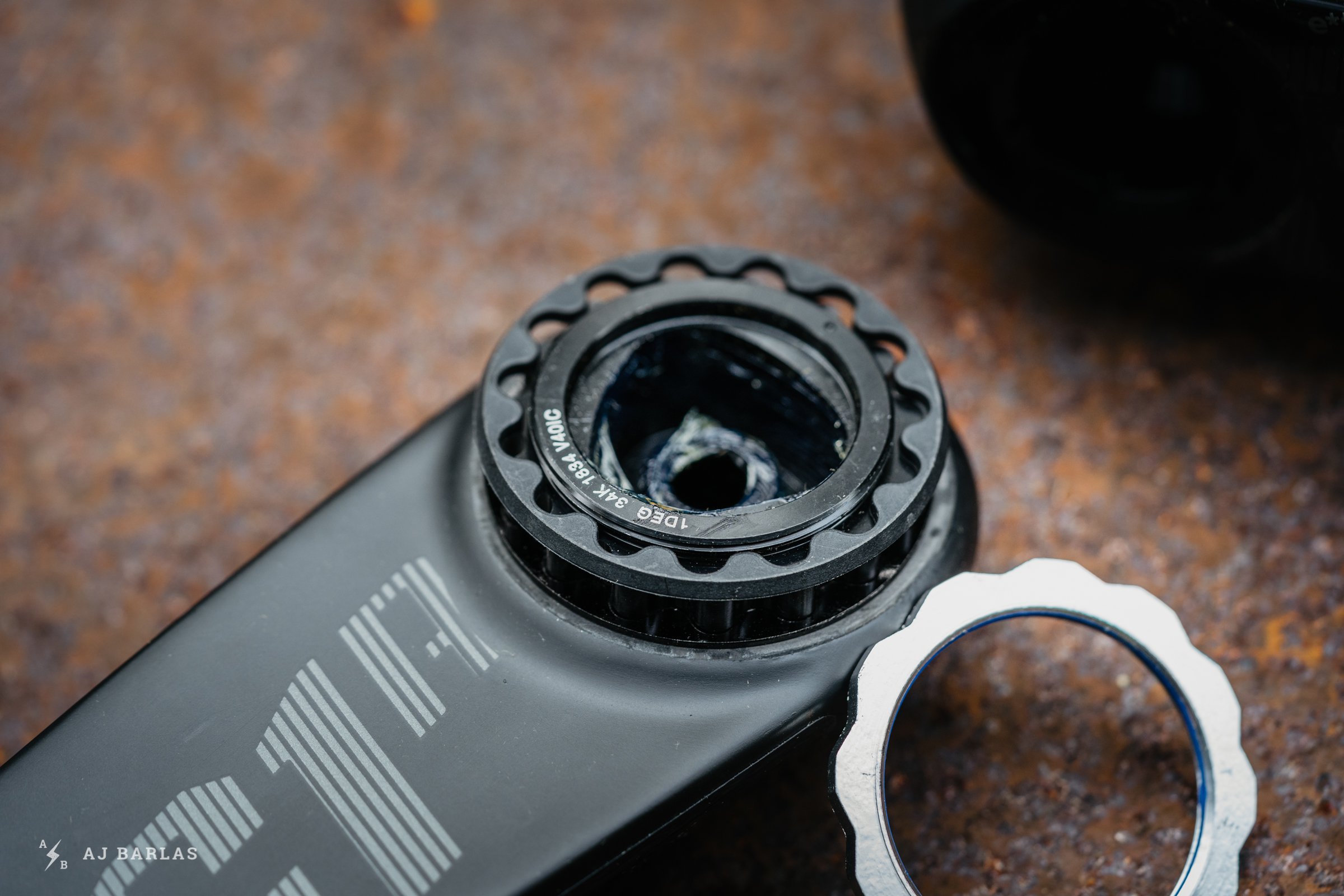 The Adaptive Preload System (APS) also carries on, though with some subtle updates. It's a clean, efficient system for applying preload to the cranks, without using dinky 1.5 or 2mm Allen keys. e*thirteen also provides a simple spacer system to make it possible to cover all chainlines – non-Boost, Boost, and Super Boost options. The spacer slots over the direct mount spline either between the crank and the chainring, or the chainring and the bottom bracket. There is also a -5mm and a -8mm offset to their chainring, making for optimal chainline.
The LG1r cranks are sold with protective boots for the ends of the arms and a tool to install direct mount chainrings and threaded bottom bracket. The bottom bracket and chainring are sold separately and in total, the setup will cost riders 523.90 USD.* That's similar pricing to the Race Face Next R crankset but these weigh ~28g less. With BB and chainring, the Race Face SixC cranks – which are in the same category – cost a few extra bones. SRAM's equivalent – the X01 DH – can be purchased with all the fixings for less.
*a PF30 bottom bracket the price bumps up to 543.90 USD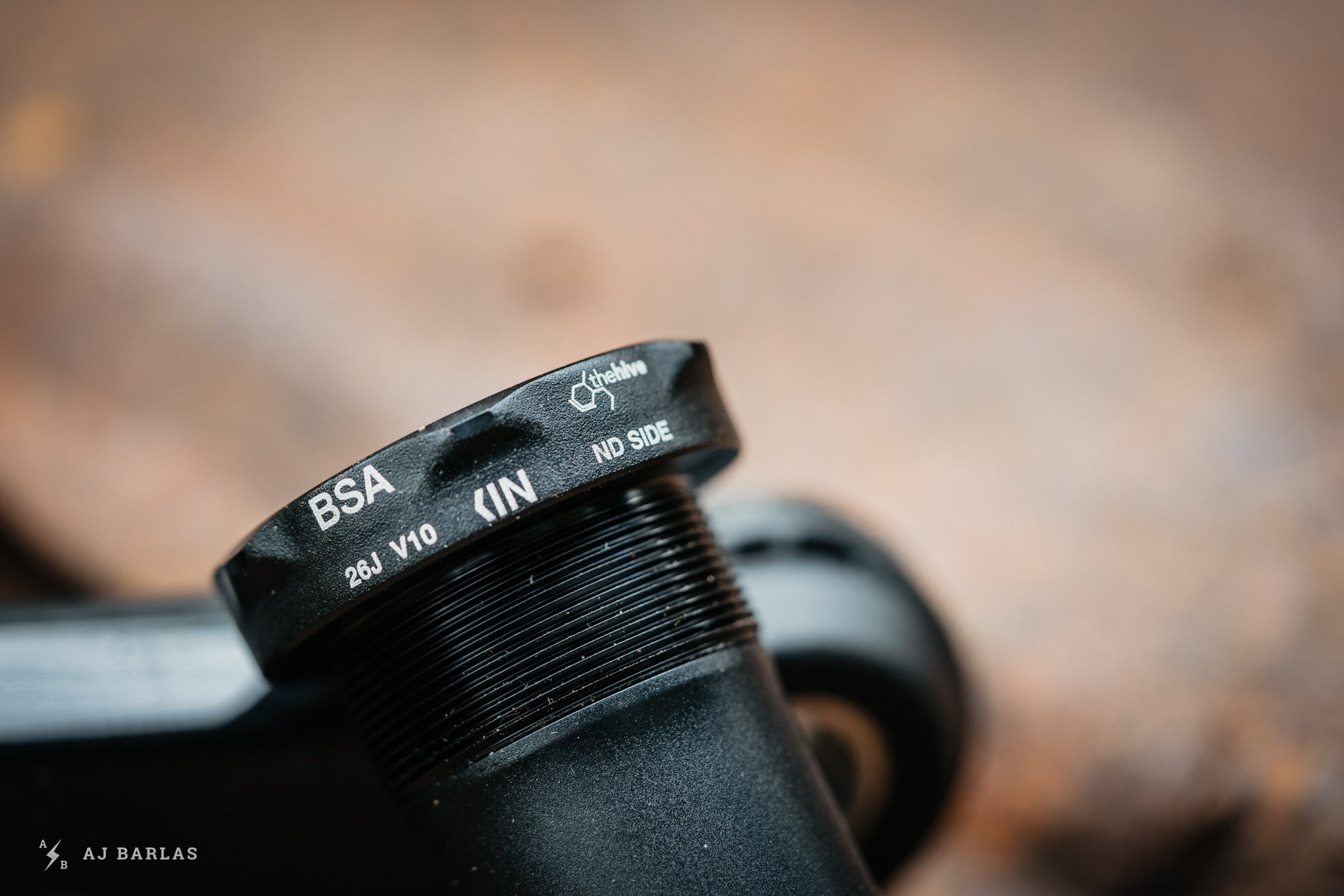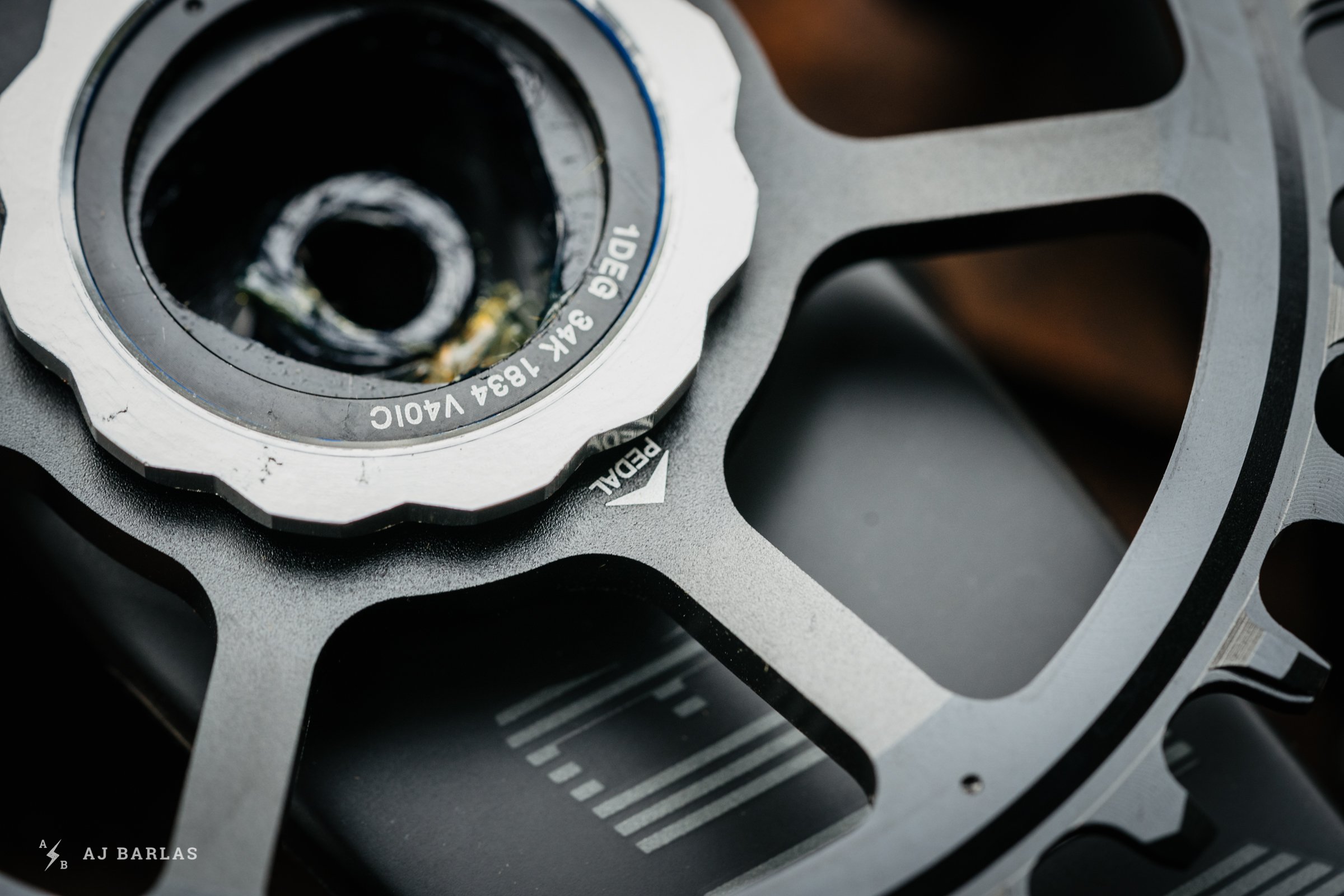 Ride Time
The LG1r cranks were installed in the dead of winter and until writing this, remained on my bike. Similar to the Race Face Next R cranks, they've not needed any attention during their time. Recently a creak developed from the crank area but I soon realized it was coming from the old pedals I was using. Six months riding in rain, muck, snow, freeze-thaw, more rain and muck, then dust and grit, and they continue to run smoothly and in silence.
When I first started riding the LG1r cranks, I noticed their more positive feeling underfoot compared to the Shimano Saints they replaced. Saint cranks are anything but flimsy but the LG1r feels firmer. Out of the saddle, each pedal stroke felt a bit snappier but the firmer feel was more noticeable when being active and pushing into the bike. This positive response was clear when steering through corners and while it wasn't something I thought was missing, it was nice.
Perhaps lab tests would tell the story a bit differently, but I perceive a more positive feel with the LG1r DH cranks over the heavier Next R cranks which are aimed at the enduro market. The SixC would be the equivalent from Race Face but I don't have access to a set for a weight or riding comparison.
Otherwise there wasn't much to notice. They've spun freely and when removed everything was reasonably clean – these seal out contaminants well. The chainring has worn well with regular chain swaps – there have been three since the cranks were installed – and the preload system has remained solid as well.
As expected there is evidence of impacts, particularly on the right crank since I ride left foot forward and multiple scars can be seen around the mounting area. The larger surface area is showing more wear than the Saints, or the slimmer X01 cranks I've run in the past. It's not clear whether this sort of damage is a concern and e*thirteen hasn't responded to my requests on the matter yet. They look cosmetic though and upon close inspection, there are no cracks in either arm.
Verdict
The e*thirteen LG1r cranks have been a total set-and-forget item, leaving more time for riding and less time faffing – which is always a win. When maintenance is needed they're quick and easy to remove with only an 8mm Allen key (unless swapping the chainring). They're lighter than some all-mountain carbon cranks and have taken heaps of abuse with no complaints.
Despite putting these through the wringer they continue to soldier on unfazed. Riders who enjoy carbon cranks will find the LG1r a solid piece of kit. These are more responsive to rider input than a pair of Saint cranks and the full setup weighs less than similar cranks from other brands. They may be ridden in the World Cup Downhill series but the option to fit a 73mm BB makes them a good option for trail bike smashers as well.
More information on e*thirteen LG1r cranks is available on their website.