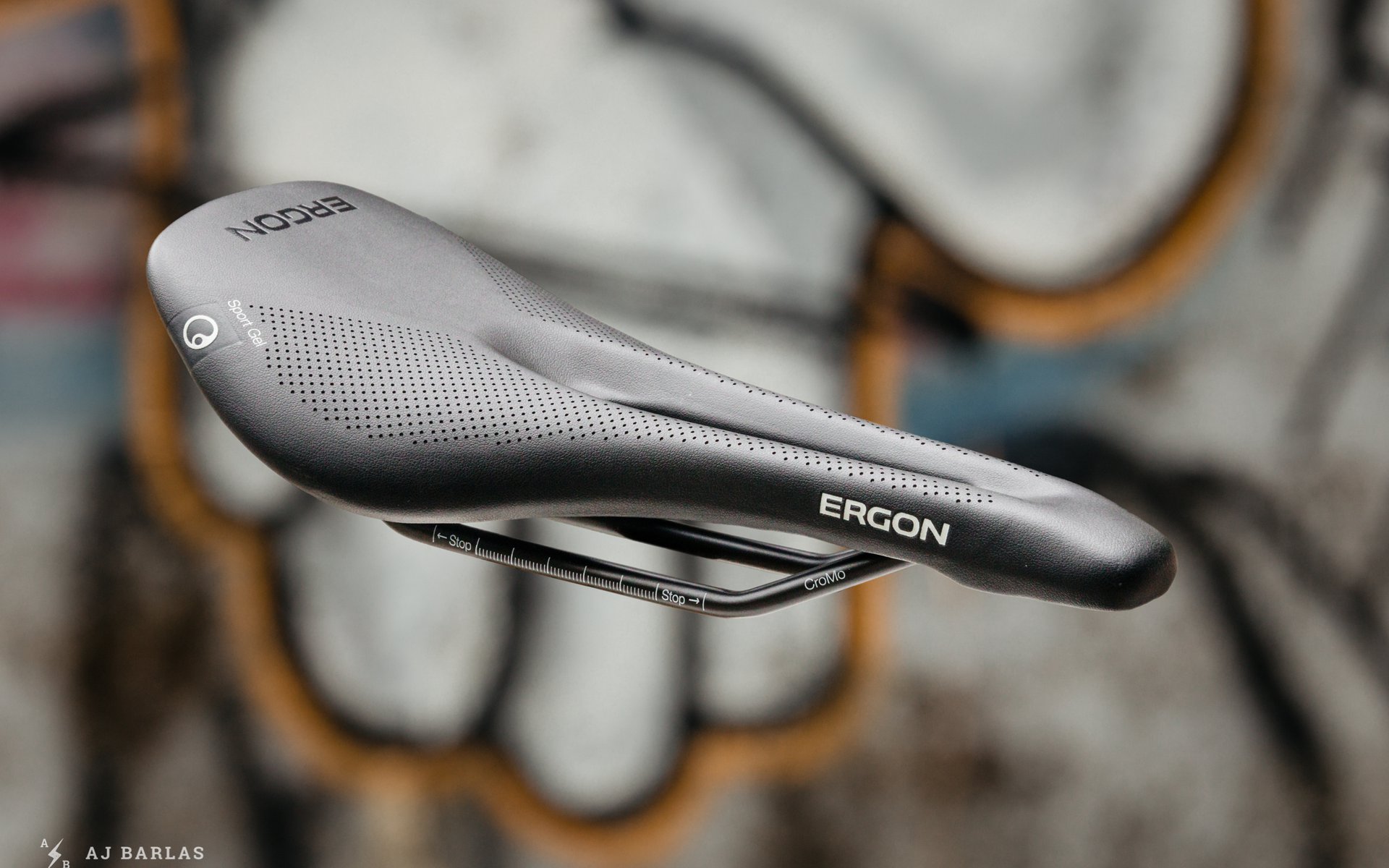 REVIEW: A saddle for women by women.
Ergon SM Sport Gel Women's Saddle
Ergon has based their design philosophy around sports ergonomics, the focus being optimizing performance while minimizing discomfort. Ergon put years of research and development into their women's saddles before launching them last year and all that hard work really shows in the Women's SM Sport Gel saddle.
It's an attractive design, very sleek and simple, available in the always practical black as well as a fun "berry" colour. Compared to most saddles, this is a slightly shorter saddle with a wider transition area and nose and a generous cut out. The saddle has 2 size options, small/medium, which is 143mm at its widest point and a medium/large, which measures 155mm.
Details:
Nylon Composite Shell
ChroMo Rails
Microfiber Cover
Orthopedic Comfort Foam with Gel Pads
Available in S/M or M/L
Color options are Stealth (black) or Berry
Price 89.95 USD
Learning My Fit
Ive had the Ergon on my trail bike for a few months now and I've been very pleased with it. I've also learned a few things about bike saddles. The most important consideration with saddles is finding the right size. Ergon provides an online saddle selector, where you input some basic information: riding preference, height, weight and hip circumference. From there it will come up with the correct saddle and size for you. Ideally, if you have access through a local shop to get your sit bone width measured, you can input your measurement and get a more accurate result. I measured for a medium/large saddle yet had originally been sent a small/medium.
This was the most educational part of this process for me as I opted to ride the smaller saddle until the appropriate size arrived. Right away I could literally feel my sit bones hanging off the edge of the saddle and while the saddle itself was still comfortable, I was feeling the chafing on the inside of my sit bones. Once I cross-checked some numbers, I realized that in the past, I've had the wrong sized saddle many times over. As a fairly "adaptable" rider, I just sucked it up and figured that everyone's butt hurt and their nether-regions went numb when riding! When the wider saddle arrived, the difference was obvious and it reinforced the importance of finding the right fit.
Trail Time
Right off the bat, the most noticeable thing about this saddle was how wide the seating area felt. The seat surface at the rear is quite flat and it gives the illusion of more space without actually having a larger surface area. The hollow channel down the middle is well designed to extend far up to the nose to relieve pressure on those soft tissues yet is still flanked with enough of a surface to support your hip bones when in a more aggressive climbing position. I have yet to have the sort of numbness I've experienced down there on rides in the past, so major bonus points for that one. I did get a little bit of rubbing in my inner thigh because of that extra width in the transition area but I think this is going to be specific to the rider and at this point the benefits outweigh the negatives.
The gel pads throughout the saddle add some suppleness to a nice firm platform. The gel extends all the way up the nose for some extra padding for the lady bits. Ergon designed this saddle to be a bit shorter based on the fact that women generally have a shorter cockpit setup than men and it gives more space when getting on and off the bike. Despite a shorter nose, I never felt like I was running out of space if I needed to slide forward on aggressive climbs and found that extra width on the nose really came in handy here as no one enjoys a bike saddle wedgie. The rear of the Ergon SM is slightly raised to give continued support when on steeper climbs or in a forward climbing position yet did not hinder me in any way on rowdy descents when trying to get behind the saddle.
V's Verdict
Overall, I have been extremely happy with this saddle's ability to enhance my ride experience and am so grateful to have had my eyes opened to the importance of saddle fit. Personal saddle preference varies wildly and while everyone has their favourite, I believe the Ergon SM Sport Gel for women will quickly become a crowd favourite.
Find out more about the Ergon SM Women's Saddle.