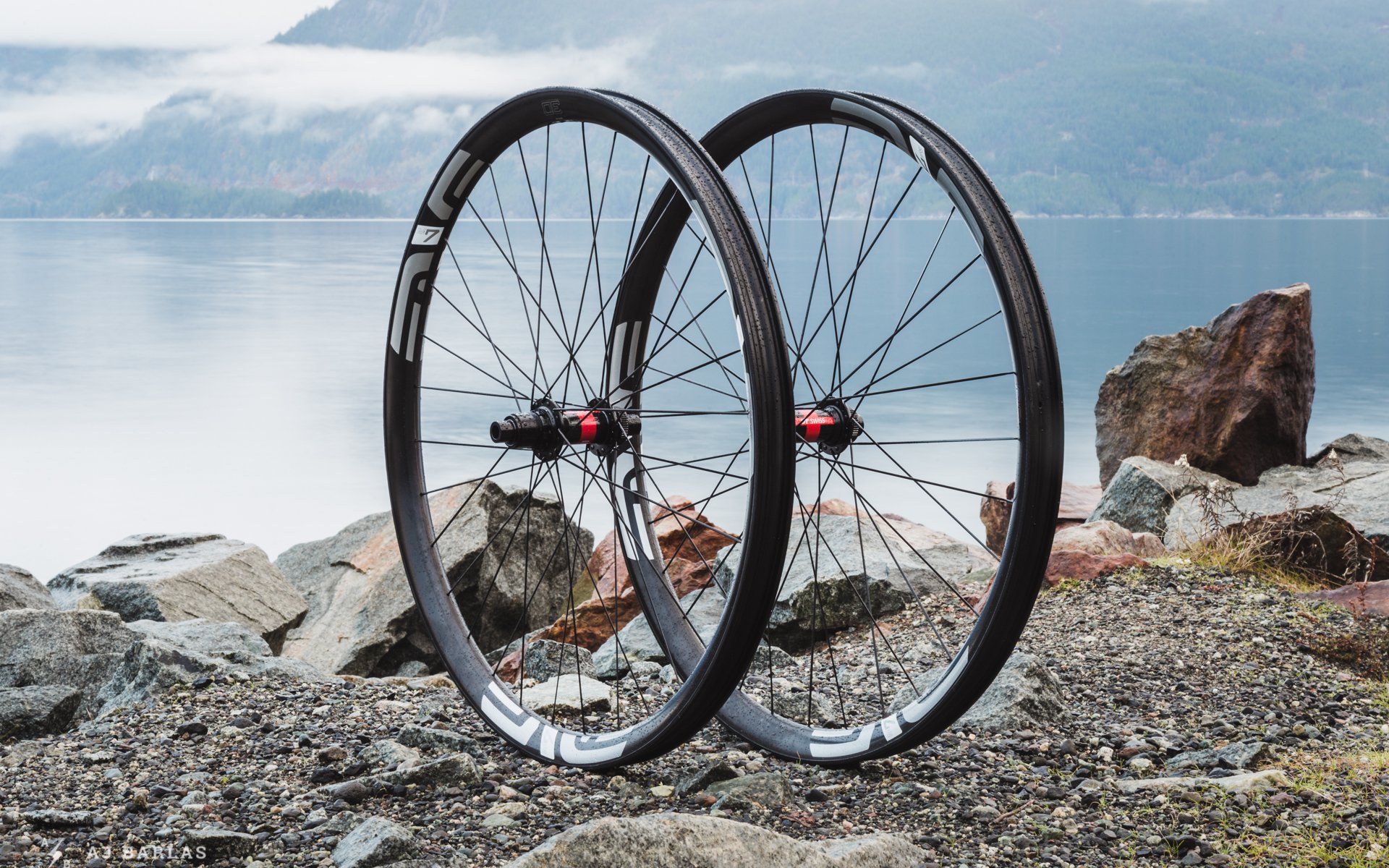 Long Term Review
Enve M730 Wheels
Enve released the updated M-series of wheels late last summer. Optimizing the wheel and updating to wider internal rim widths to meet market demands were goals of the new wheels. Where things got really interesting was with the integration of a protective rim strip in the M7 and M9 series. In addition to the protective strip, Enve claimed to have increased impact resistance using a patented "impact and anti-flat sidewall construction".
The M730 wheels have an internal rim width of 30mm and weigh a claimed 1,778g for the 27.5-inch set*. Enve recommends a tire width from 2.3 to 2.5 inches, which covers most aggressive tire choices currently available. Similar to their past rims, the internal spoke nipple remains. Why they choose to do this has been well documented but to summarize, Enve believes this design provides a stronger connection for the nipple, producing a lighter, stiffer wheel. My test set was built up with bladed j-bend spokes. A set of Enve M730 wheels with DT Swiss hubs, like tested, retails for 2,900 USD.
*The 29-inch wheels with DT Swiss 240 hubs weigh a claimed 1,955g


Enve's Protective Rim Strip
Enve's new Dynamic Impact Design tackles a number common issues riders experienced with carbon hoops; hookless carbon rims have resulted in stiffer, harsher riding wheels prone to flatting. Developing the protective rim strip allowed Enve to update the rim's layup. The improvements on the trail were immediately noticed compared with the previous version, but more on that below.
The rim strip can be a head-scratcher. To think a thin film of plastic between the tire and rim would prevent flats seems unlikely but in my experience it works. These wheels haven't suffered from a single flat during testing despite plenty of poor line choice and rim bottom-outs, some that I thought would damage the rim. When pressures fell below my preferred range the tires remained seated and I didn't experience any burping.
Trying to understand how the rim strip achieves this, I asked Enve for more information. Their engineers found that the old ghetto-tubeless setup helped prevent pinch-flats, but it needed improvement. The small layer between the tire and rim disperses energy from impacts and they discovered that a firmer, thinner material performed better than having a soft material in its place.



The rim strip works well to prevent flats, but I've found it beneficial when mounting tires as well. Tubeless setup with the M730 wheels is one of the simplest to date — it's close to a proper UST rim. Mounting tires without a hint of sealant and a floor pump is possible and required minimal effort — just make sure to get some sealant in there somehow. If the rim is damaged while riding the independent seal should allow the tire to stay inflated.
Another benefit of the system is how quickly rims can be prepared for truing. It's a problem that other wheels don't have because they use externally accessible spoke nipples, but for Enve ease of access to internal nipples is a big improvement. Removing Gorilla Tape and following up with a new strip, all to touch up spoke tension, was painful.

Ride Quality
As mentioned above, Enve has optimized the ride quality of the M730 wheels and when compared to the M70 the improvements are immediately noticed. Personally, I found the predecessors too stiff on the trail. The old versions tended to deflect off obstacles and unless riding a machine-built track with berms, the stiffer hoops became overbearing. Feedback through the bike and into the rider was higher with the old wheels and flat tires were more frequent.

The updated M730 wheels are more forgiving and there's less deflection, improving comfort and control. When things got extra wet and slippery I noticed the wheels skipping off obstacles more than an alloy wheel, but the improvement in trail feel and control is impressive. Line holding is improved and accuracy with line choice is excellent.
A possible downside to the improved comfort is a reduction of snap out of corners, but it's a worthy sacrifice for the comfortable ride. The M730s are more predictable on the trail and they respond more calmly when really loaded up into a corner. Compared to an alloy wheel, they provide more snap out of turns and they're comparable to other carbon hoops, rewarding an aggressive ride. The wheels provide a crisp feel under power and accelerate briskly, but the balanced ride quality means a loss in perceived acceleration when compared to the previous version.
The updated Enve wheels provide a more comfortable ride out of the box. They ride with a similar comfort to the e*thirteen TRSr and the Spēd Precision Maul TR wheels (Spēd wheels get the edge for comfort). Throughout the duration of the test, the M730 wheels stayed perfectly true and spoke tension remained solid on either side of the wheel. Visually, the rear wheel shows signs of wear from rocks and debris but they're both structurally sound. The rim strips are still in one piece despite having been removed a number of times.
Kudos to Enve for listening to riders because the improvement in ride quality is amazing. Add in flat prevention and simplified tubeless setup thanks to the rim strip and you get an excellent wheel. They remain a premium product with a price to match, but if you're looking for comfortable, high-performance carbon wheels they're worth considering.
Head to the Enve website for more on the M7 series of wheels.

---