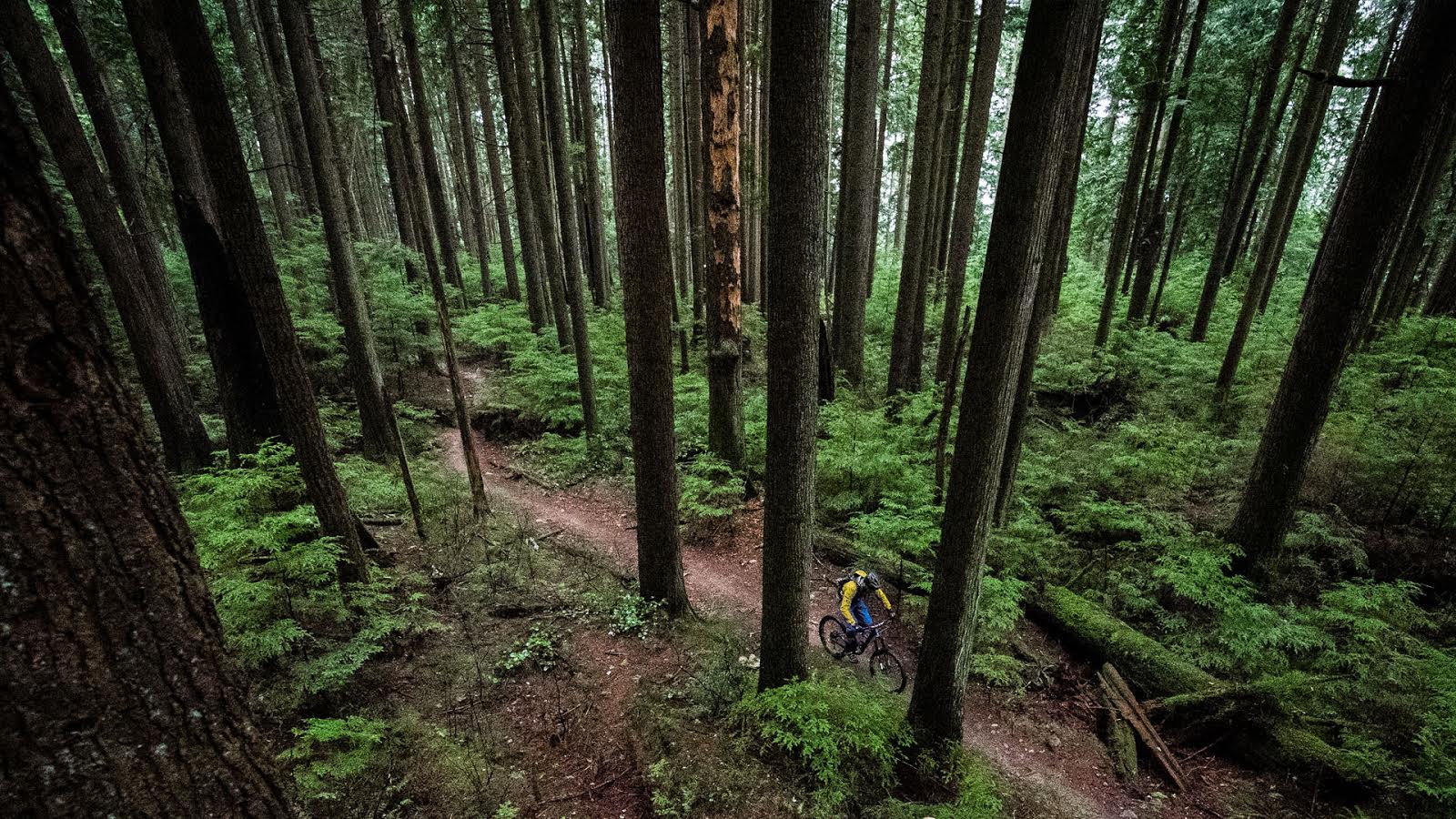 ENVE M60 Forty – Long Term Review
I was amazed by the point and shoot precision. The first time I rode ENVE wheels they weren't even called ENVE wheels. Out of the gate the company was called Edge Composites, but a Euro trademark issue forced them to become ENVE. It was 2010 and the wheels were strapped to a prototype Santa Cruz V10 carbon and at first they were the most striking thing about the bike. The accuracy and control delivered by these odd-looking and incredibly stiff carbon circles was a revelation. 
At the time we heard that the Syndicate could use these rims over and over again, while most aluminum rims lasted one or two race-speed runs. They were strong and light of course. What's the third thing? Since that time carbon rims have evolved and most manufacturers who joined the game since have taken ENVE's lead, incorporating a deep, wide structure for strength and stiffness, and more recently a hookless bead.
Despite an increase in popularity, carbon rims haven't dropped in price enough to become ubiquitous. Here in Canada you can get a bike with a carbon frame for under $4000, but a complete bike with carbon rims usually starts at twice that number. And while cheap carbon rims from China have begun to appear, and more and more manufacturers have entered the fray, ENVE hasn't yet been priced out of the market or forced to shift production overseas. And the pricing makes it clear these rims are not for everyone. A set of 27.5" M60 40 wheels with DT Swiss 240 hubs will set you back US$2718. But you get rim tape and bladed spokes for that. The same configuration on Chris King hubs is only $30 more, but you'll also pay a 100 gram weight penalty. If you opt for DT Swiss 180 hubs you'll drop the price down to US$2400. You may be wondering what in the name of Jeebus would possess anyone to spend the price of a new top-of-the line refrigerator on a pair of mountain bike wheels, besides vanity, obsessiveness and sheer idiocy. There are actually some pretty solid reasons, but I'm not sure I can come up with 2700 of them.
Consistent with my experience ten years ago, Enve wheels remain the stiffest rims I've ridden. My skill level isn't going to push most rims to the limit, but the Enve stiffness advantage is easily felt. The harder you ride the more you'll appreciate their robust feel but any experienced rider will notice the difference immediately. 
The rims are backed by a five year warranty against defects in materials and manufacturing and a lifetime crash replacement policy. If you run over your wheel in the driveway you can purchase a new rim at 50% off local retail (rims are approximately $1000 US at retail).
My experience has been close to flawless. After close to a year's use, which has included loaning my personal bike to irresponsible hacks, (ie riders who are faster than me) I haven't had any reason to true or tension the front or rear wheel – despite one exception I've noted below. I've run pressure that was far too low in nasty conditions, and heard the crack of rear rim bottoming on jagged granite many times. I've crashed and run into trees, bashed bike park laps and generally mistreated these poor wheels, all the while expecting issues to crop up. 
The biggest test however was two weeks in Peru this past November. We did twelve days of riding and descended something like 12 miles of vertical. To say that conditions were rough is like saying Donald Trump lacks diplomacy. Baby heads, elephant heads, dead heads; we encountered every type of nasty sharp rock you could imagine. One section of trail above Huaraz, referred to as The Dentist, was like riding down a river of partially jack-hammered tombstones. We were riding too fast at this point in the trip and hitting rock boners was inevitable. In the beginning I'd reach down and squeeze parallel spoke pairs to check for tension and spin to check for true, but since there was never anything to report, I stopped looking.
And then there was something to report. At the end of our hardest day (more on that soon) after nine hours of hiking, climbing to 4700 metres (15,400 feet) and eventually descending, there was one last short climb to finish off. Halfway up I heard a crack. A non-drive side rear spoke had snapped where the bladed portion ended. The loose spoke played a tune when I spun the wheel but the rim was still dead true. Rather than risk opening things up to replace it, which would have involved compromising the rim tape and starting from scratch on the tubeless, I taped the spoke in place and rode with 31 for our remaining three rides. Long, nasty rides. It continued to stay true, one spoke down.
My reluctance to perform surgery was also related to the challenges of removing and mounting tires on ENVE rims. The hookless bead of the rims often forges an almost unbreakable bond with your tire of choice. In my experience the M70s were much worse, but the M60s can still be nasty. That said, the tire removal and replacement went smoothly when I finally got around to swapping a spoke,. Which was an adventure of its own.
Adventures in proprietary mechanics (I am an idiot) 
Having never had a problem with an Enve wheel before, I didn't know what I was dealing with. I didn't know, for example, that the nipples go in with the flange pointed toward the rim, leaving the square head pointing out toward the opening in the tire side of the rim. I thought I might be able to tension with a screwdriver, like conventional spokes but I was far from certain.
Once I got home with my non-bladed replacement spoke, I learned that ENVE has a proprietary spoke wrench that pushes on like a socket. I didn't want to go back to the bike shop because A) I didn't want the mechanic to realize I am an idiot who didn't know this tool existed and B) Because I didn't want to deal with traffic and leave the house again. So it was Mickey Mouse time.
I managed to get the nipple to thread on using my finger and then started looking around my shop. I tried various needle nose pliers and even bent one set hoping the mod would work. It did not. Next I took the old spoke and threaded the nipple on until it bottomed out. Then I threaded the exposed end of the old spoke into the top of the nipple I was trying to tighten. I spun it tight and then used a wrench (bladed spoke!) to turn both nipples in the right direction until the old spoke bottomed out. From there I again tried the pliers and was again unsuccessful. I kept digging in drawers and eventually found an old plastic spoke key from some long lost DT wheels. I cut the plastic end, split it vertically and forced it onto the brass nipple. Unable to tell if it was turning or not, I pushed harder, modified further, and eventually the spoke seemed to be gaining tension. I got about a quarter turn from the nipple for every two complete turns of input. It was slow but eventually I got to the required tension. But at least I didn't have to go back to the shop. Don't be an idiot; buy the tool.
The Bad
It's not all roses. Even with the proper tool, truing these wheels involves removing the tire and the rim tape. Gorilla tape is challenging to apply perfectly, it leaves messy residue, and sometimes it takes more than one shot. Easton's carbon wheels (as one example) can be trued from the outside and, because the rims aren't perforated at all apart from the valve hole, no rim tape is necessary. Less mess and a much more reliable seal. Removing and mounting tires can be a pain, and you'll need a long valve presta valve tube in your pack when you get a flat. And if you need to true a wheel on a ride, which I admit is unlikely, you are probably shit out of luck.
The Good
In Huaraz, Peru there isn't a full service bike shop. If I had needed a replacement 27.5" wheel it would have had to come from Lima, a 9-hour bus ride away. I had absolute faith in the Enve rims being able to take the abuse – and that adds value. I also didn't have a single flat in 12 days of riding. These wheels are incredibly light at 1433 grams a pair, and as mentioned earlier, their strength and stiffness are second to none. You should be able to pass these wheels from bike to bike… assuming standards don't continue to change. These are incredible wheels without a doubt. In fact they are the best I have ridden.
ENVE rims are made in The USA and they use processes that others don't. Instead of drilling spoke holes, Enve moulds them so there are no broken carbon fibres. They also use removable bladders in the layup for clean, smooth inner structures, improved strength and lower weight. And while I've ridden other excellent carbon wheels, none have the stiffness or strength I've experienced with Enves, and none are as light for the intended use.
Pure Luxury
It's impossible to talk about ENVE wheels without discussing the value proposition, but let's be frank; these are a luxury item. Nobody needs wheels that cost almost 3G. Nobody needs a mountain bike either. Our sport, while it can be done economically, is one big extravagance, so there's not much percentage in arguing about which extravagance pushes things too far. But keep in mind that these are the best of the best. We aren't talking about Porsche, Ferrari or even Bugatti; Enve wheels are like getting Formula One or WRC-level equipment for your bike. Is that outrageous? Of course it is, but you'll have to decide what that's worth to you.
---
Do you appreciate luxury, or are you a value-conscious rider?