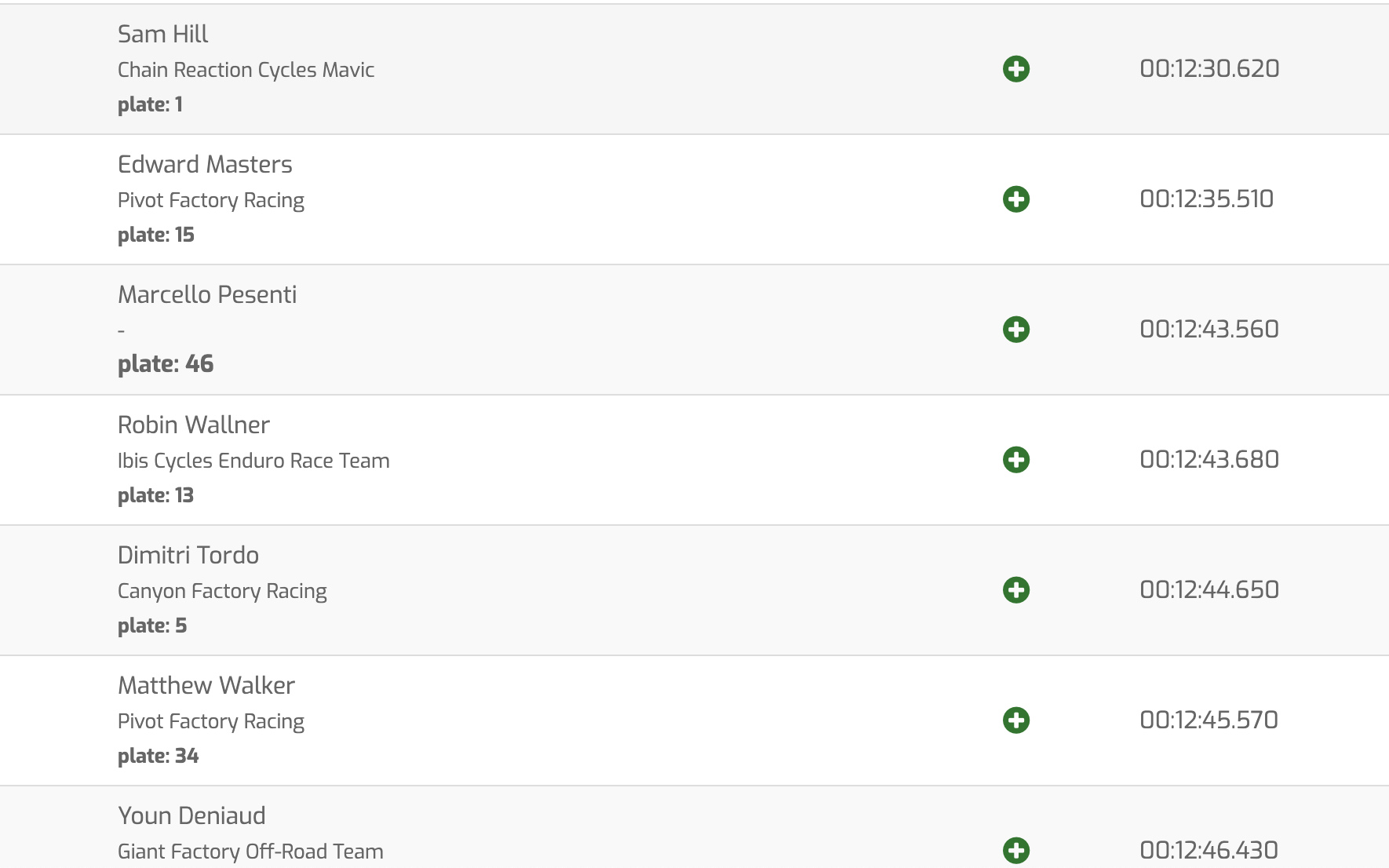 RACE NEWS
Enduro World Series Val Di Fassa Results
As if the tracks weren't enough to challenge riders at the Italian stop of the 2019 Enduro World Series. Throughout practice and again on race day, the European heat wave made sure racers felt it's presence. The track showed the effect of the heat too and after hundreds of riders had sessioned every last inch, things were pretty blown out.
One racer that looked strong all weekend was Richie Rude. After missing the first few rounds of 2019, Rude showed up to Italy and took all but one of the five stages. Not far behind him was Sam Hill on a new bike—which is rumoured to have a 50mm longer reach than his previous—followed by current series number one, Florian Nicolai.
Pro Men's Top 5
Richie Rude – 0:35:28.35
Sam Hill – 0:35:47.31 (+0:00:18.96)
Florian Nicolai – 0:35:53.99 (+0:00:25.64)
Ed Masters – 0:36:07.89 (+0:00:39.54)
Dimitri Tordo – 0:36:29.15 (+0:01:00.80)
In the women's race it was series leader Isabeau Courdurier who again showed her dominance. She also silenced the doubters who were rumoured to be claiming that 29-inch wheels wouldn't work for her, taking her Intense Carbine 29 straight to the top step. Then again, I wouldn't have bet against her on the smaller wheels she's been wiping the field with throughout the season. Canadian Rocky Mountain Race Face athlete, ALN took second place and her best EWS result to date. Following ALN was Noga Korem in third. Noga has consistently been on the podium (top 5) in 2019 and in Val Di Fassa kept that consistency.
Pro Women's Top 5
Isabeau Courdurier – 0:40:56.04
Andreane Lanthier Nadeau – 0:41:30.55 (+0:00:34.51)
Noga Korem – 0:41:47.16 (+0:00:51.12)
Melanie Pugin – 0:41:55.41 (+0:00:59.37)
Morgane Charre – 0:42:47.84 (+0:01:51.80)
Commencal Vallnord junior male, Antoine Vidal continued his winning ways, but he had a couple of Kiwis hot on his heels. Brady Stone was just 18 seconds back and with a solid gap between him and fellow countryman, Nils Heiniger.
Junior Men's Top 3
Antoine Vidal – 0:37:45.07
Brady Stone – 0:38:03.23 (+0:00:18.16)
Nils Heiniger – 0:38:27.14 (+0:00:42.07)
Only three junior women completed the day, with the fourth; Yana Dobnig not able to complete the third stage. It was young Canadian rider, Lucy Schick just barely coming away with the win. Leah Maunsell of Ireland kept it tight, losing out on the top spot by only a hair more than a second. The top three was rounded out by Polly Henderson of the U.K.
Junior Women's Top 3
Lucy Schick – 0:48:32.76
Leah Maunsell – 0:48:33.87 (+0:00:01.11)
Polly Henderson – 0:49:06.64 (+0:00:33.88)
Full Results