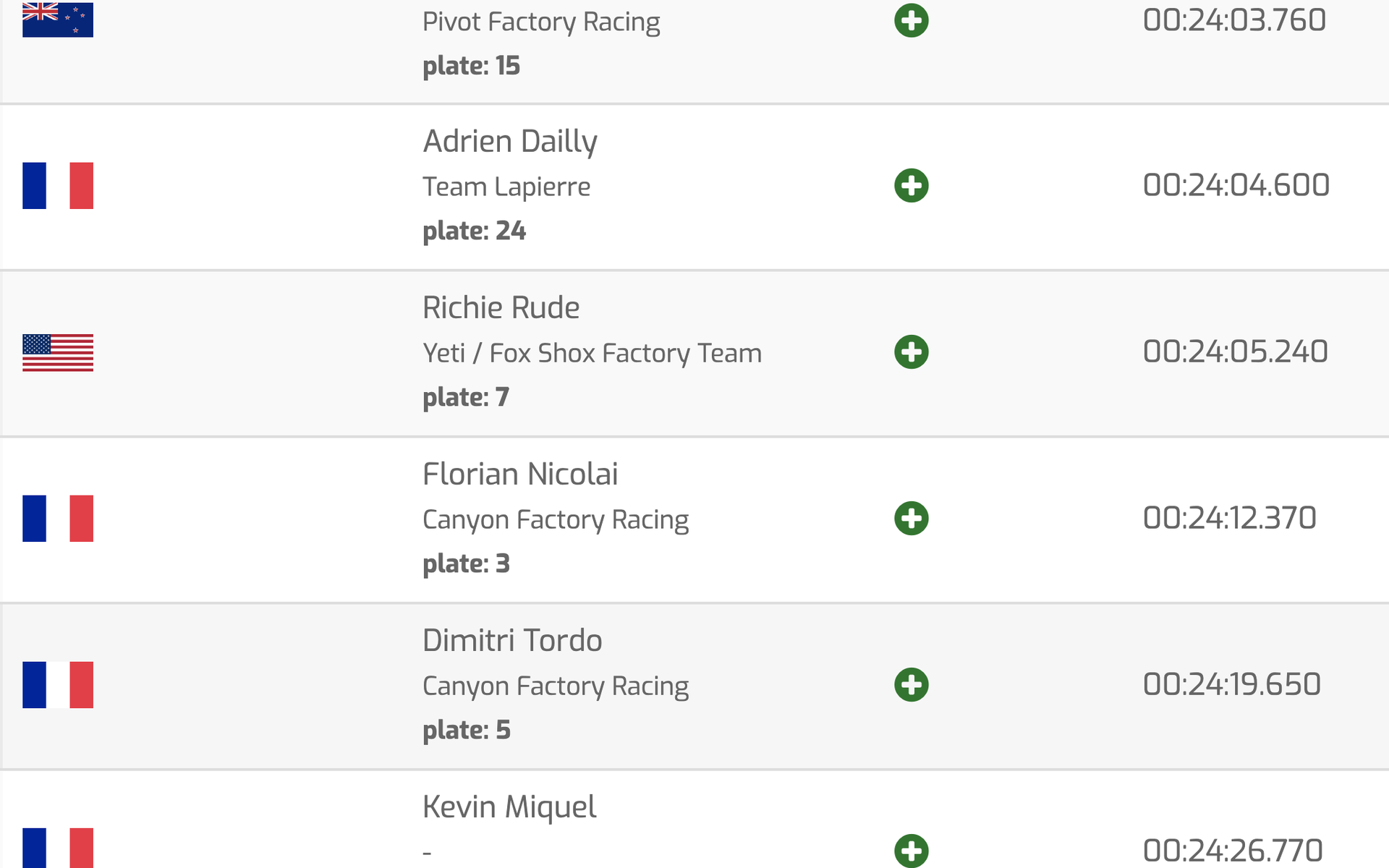 RACE NEWS
Enduro World Series Les Orres - Day One Results
The tough, warm conditions in Europe continue and the racers in Les Orres are battling. Racing was eventful for the first day of the weekend which saw the first four of eight stages completed. In the results it was a game of leap-frog for the men's field with, Masters, Rude and Dailly each leading at some point during the day. But it's Dailly who leads after the four stages, though not by much. Times are incredibly tight among the men with only seconds separating them after almost 30 minutes of racing.
Pro Men's Top 5
Adrien Dailly – 00:28:20.390
Edward Masters – 00:28:22.540
Richie Rude – 00:28:23.580
Dimitri Tordo – 00:28:38.040
Kevin Miquel – 00:28:42.270
In the women's race Isabeau Courdurier continued her form. Raphaela Richter beat Isabeau on stage 3 but hasn't done enough to bite into the healthy lead Courdurier has over her. The two have pushed each other ahead of the field by close to a minute but third through fifth is split by just six seconds between Thoma, Korem, and Miller.
Pro Women's Top 5
Isabeau Courdurier – 00:31:34.430
Raphaela Richter – 00:31:54.680
Ines Thoma – 00:32:48.640
Noga Korem – 00:32:53.790
Miranda Miller – 00:32:54.460
Commencal Vallnord junior Antoine Vidal is again looking comfortable in the leaders seat. Kiwi rider, Brady Stone is close and just four seconds back after more than 30 minutes on the clock. French Specialized Racing rider, Francescu Camoin is 30 seconds back from Brady as they head into day two..
Junior Men's Top 3
Antoine Vidal – 00:29:31.820
Brady Stone – 00:29:35.790
Francescu Camoin – 00:30:05.740
There are three junior women competing this weekend. British rider and Tracy Moseley's protegé, Harriet Harnden has the lead over Canadian, Lucy Schick. Irish rider, Leah Maunsell rounds out the top three.
Junior Women's Top 3
Harriet Harnden – 00:35:54.380
Lucy Schick – 00:36:46.720
Leah Maunsell – 00:36:56.960
Full Results