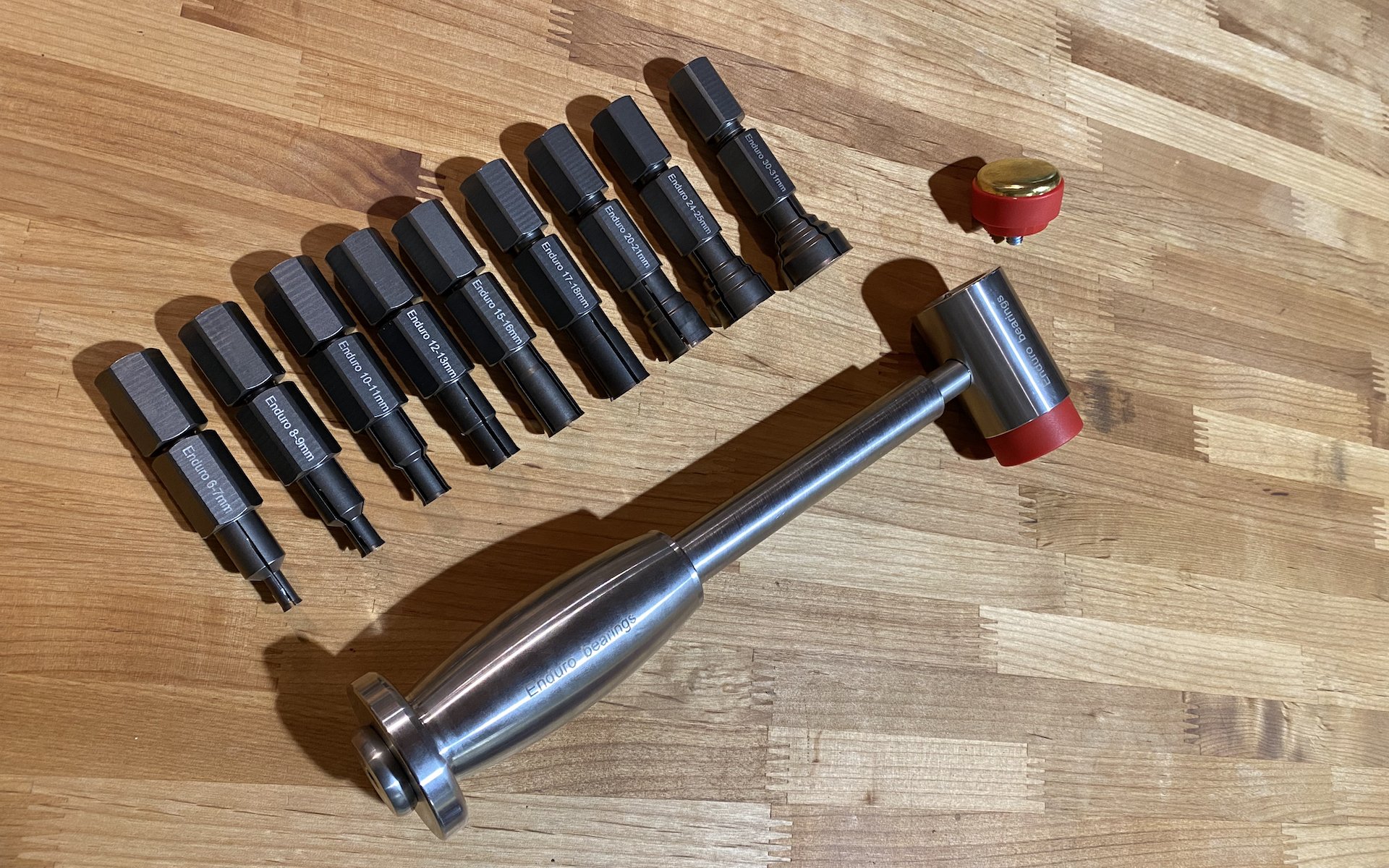 Tool Review
Enduro BBB-222 - Investment Grade Bearing Puller Tool
As our financial sensibilities get bludgeoned into a reality that includes $15k mountain bikes, it's not really even considered fetish-y indulgence anymore to buy expensive tools, is it? In the general scheme of things, expensive tools seem only slightly more indulgent than, say, pet rocks, compared to the kind of stuff we could really blow money on.
Good, glad we got that out of the way. Now check out this over-the-top bearing puller set from the fine folks at Enduro. Yes, it's expensive. No, you do not need it.
How expensive? $399 USD expensive. That's a lot of money. You could find a much shittier bearing puller set at Harbor Freight for about 1/5 that outlay.
Meanwhile, I have been removing bearings for the past 45 or so years with a hammer and a long drift fashioned from something just a hair more sophisticated than a piece of rebar. You can buy a LOT of rebar for $399. A lot of hammers, too.
But that Harbor Freight stuff, it's Chinese-made pot metal garbage. And that hammer and long punch, it only works when you can get at the bearing from the back side and drive it out.
Then there's that whole need versus want deal. Nobody needs a super swank bearing puller set, same way that nobody needs a Rolls Royce Phantom. Those of us who do not work on bicycles for a living probably don't need to pull bearings often enough to warrant even the pot-metal garbage tool. But then again, some of us like things, and one of us has an old motorcycle habit. Trust me, THAT involves a whole lot of bearing pulling, boy howdy.
And some of us wish we had bought into a Snap-On franchise opportunity that one time, but we were afraid that would've been like asking the town drunk to tend bar.
So here we are. Or here I am: Nine sizes of collets, to fit bearing inner race diameters ranging from 8mm through 32mm, and a slide puller that has a thread-on mallet head with replaceable urethane or brass faces. The backside of the mallet has a recessed 25mm hex machined into it with a pair of little magnets inset so that you can slap a cassette lock ring tool in there and now also have an incredibly over the top lock ring wrench. All the collets are made from heat treated stainless steel, the mallet is non-heat treated stainless steel, and everything except maybe the roll-up pouch it all comes in is made just down the road from Enduro in Gilroy, California.
Each collet has an angled "catcher" that hooks the back side of the inner bearing race as it get pushed through from the outboard side. The collet then gets threaded together, causing a conical driver to expand the collet until it sits tight in the bearing. Thread the slide onto the end of the collet, let that big stainless weight go to work, and out pops the bearing. It's a lot easier than the hammer and punch method, and can be entirely performed from the front side of any accessible bearing. It's not really any more effective than the garbage tool from Harbor Freight, but damn, this stuff is so nice to use. From a tactile perspective, everything about this is just so... damn... nice.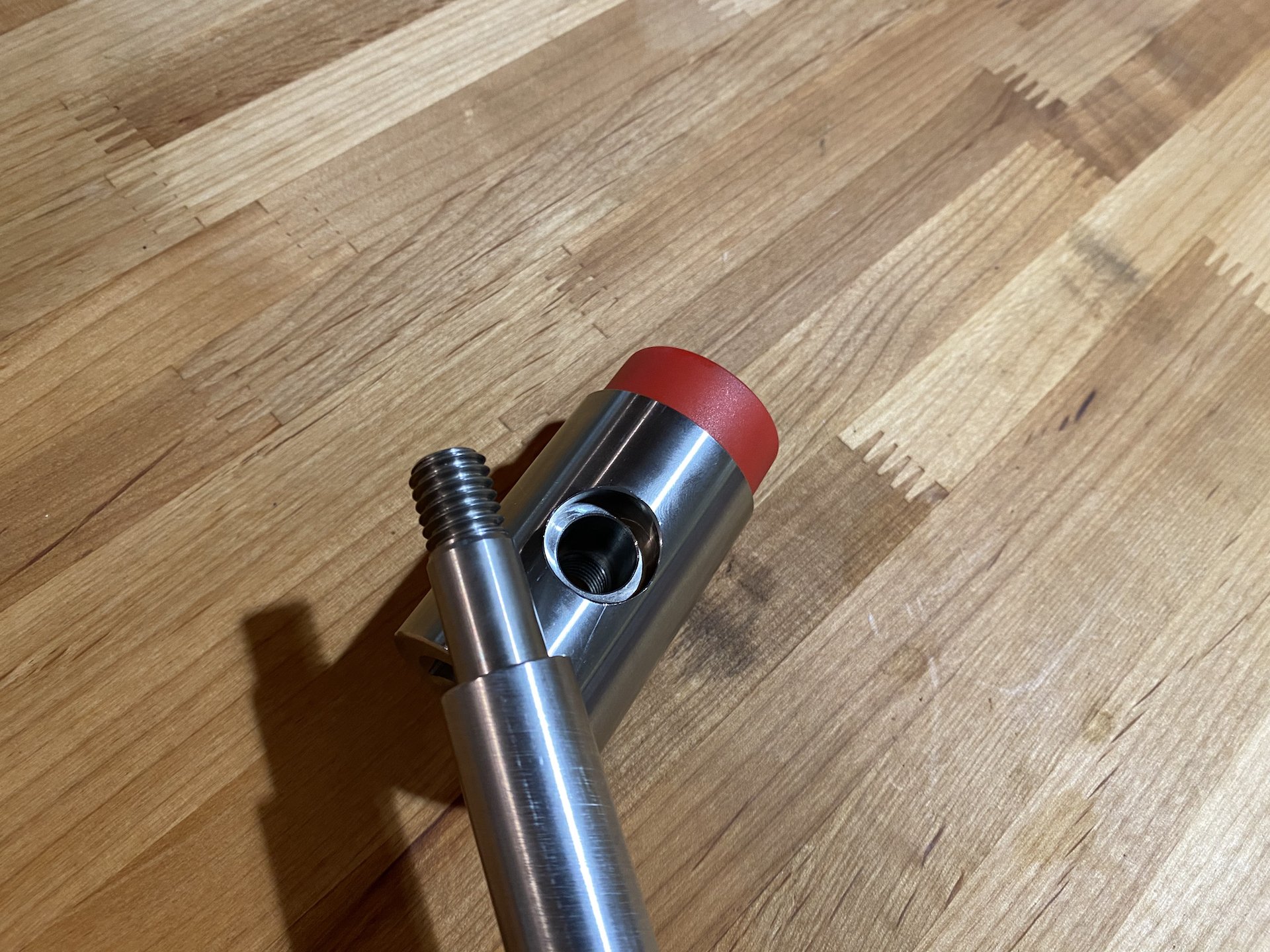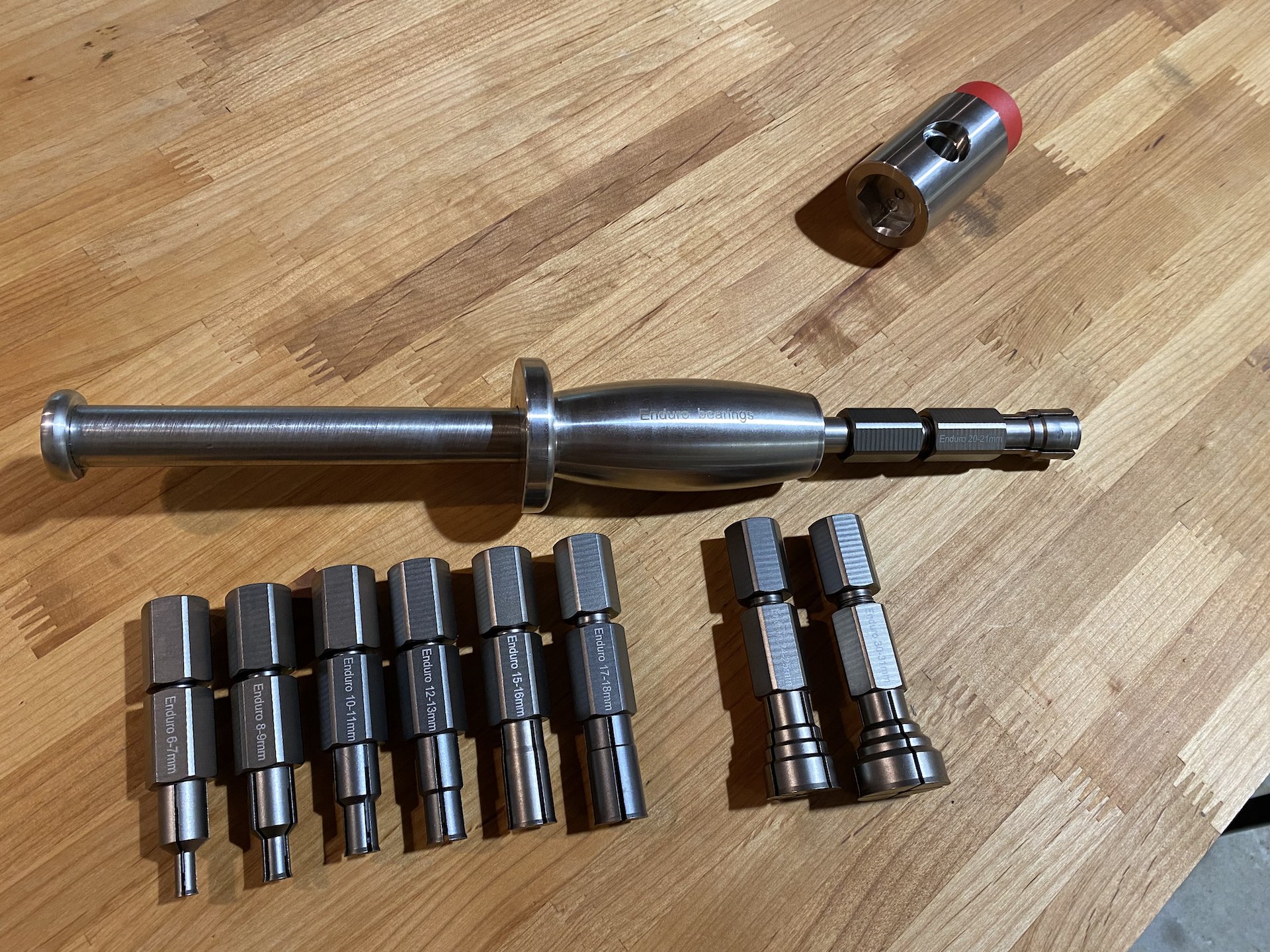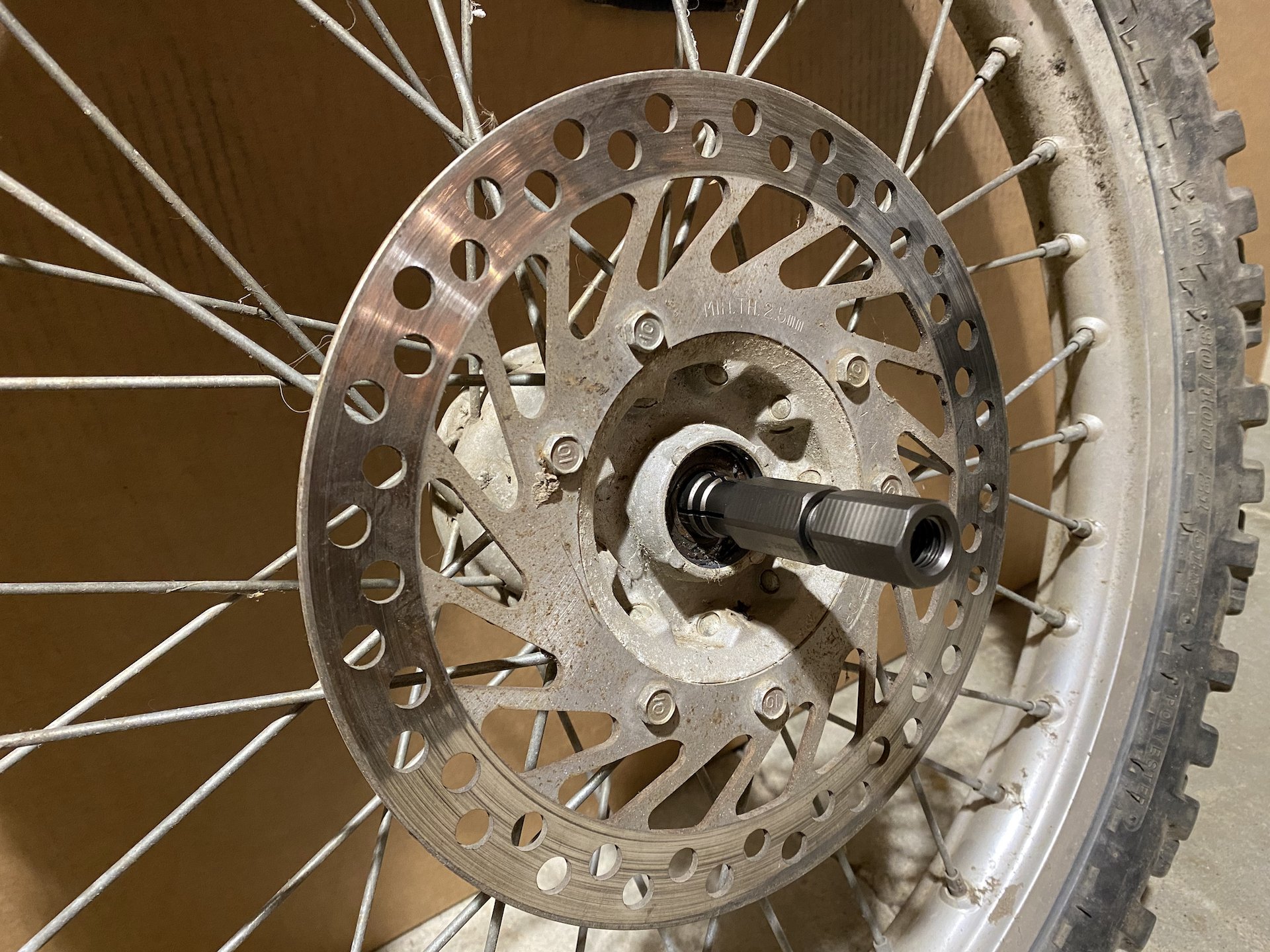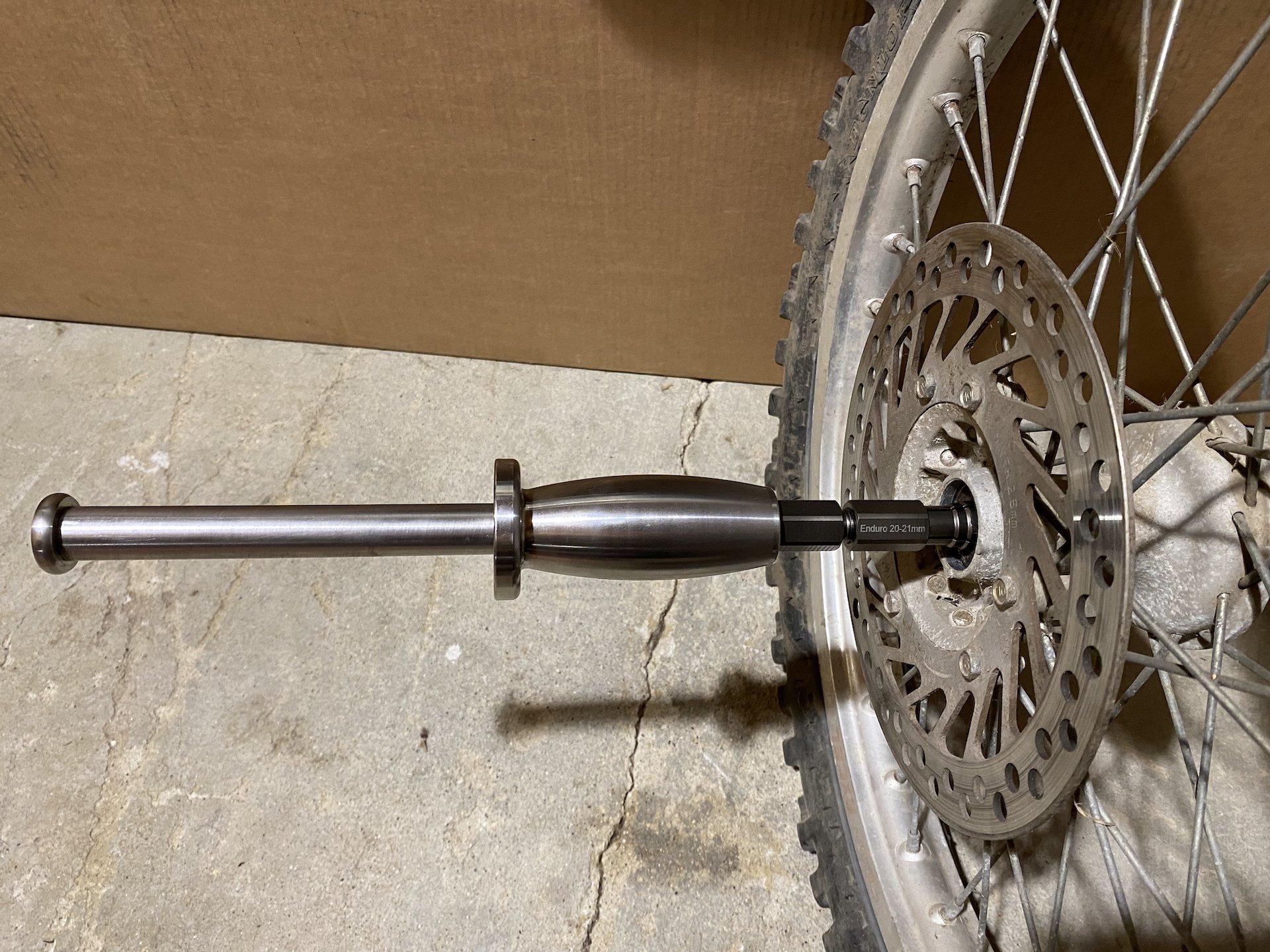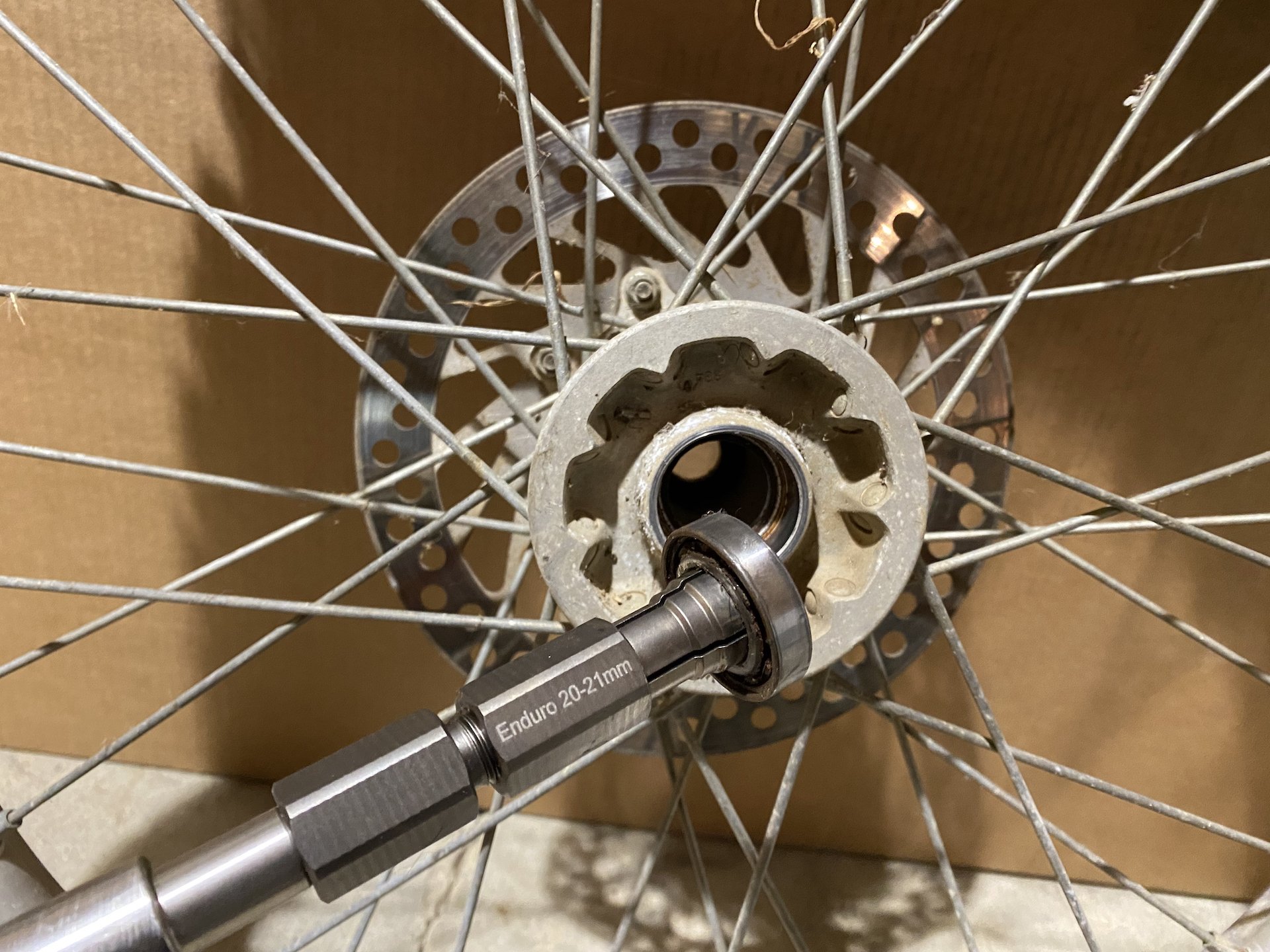 I was trying to come up with some professional sounding justification for why I need this puller set. There is none. But then again, this setup costs about the same as a real nice pair of road shoes, is less expensive than a Troy Lee D4, costs a whole lot less than that fancy new SRAM derailleur, and is likely to be around for the rest of your life.
An alternate, and I think totally valid, way of viewing the value proposition here would be to look at this from a dollar-per-pound perspective. The mallet/slide hammer alone weighs 4lb, 1oz (or 1845 grams for those of you who aren't mired in some weights and measures backwater). The combined weight of the nine collets is 3lb (1365 grams). That's seven pounds of stainless steel! I had a stainless steel framed 'cross bike once upon a time. The frame weighed about four and a half pounds, and cost a couple thousand dollars. By a similar measure, the Enduro BBB-222 is pretty close in both price and weight to three Maxx Grip Maxxis Assegais. Again, one of these things will last a whole lot longer than three of the other things.
I am not a sensible person, so it is easy for me to justify owning this using the shaky rationale already outlined upstream from here. Add to that the following justifications: It's locally made. It's beautifully designed and executed. It serves a function that makes a task much more enjoyable.
As for negatives? Well, it ain't cheap. But we've already talked that through. Functionally, the only thing that isn't one hundred percent awesome is that when using it as a mallet, it pays to remove the slide weight first otherwise the mallet tries to rotate on glancing blows. Easy enough; remove the slide weight. Except then, the bare tubular handle doesn't feel anywhere near as nice as a wood mallet handle. For hammer nerds, this might be a deal breaker. I prefer to think of the mallet part of this in the same way that I think of the cassette lock ring recess - as a nice addition to what is otherwise a sweet bearing puller set.
The real negative for me? Now that I have a fancy puller set, my old bench vise and block of wood bearing press needs to be upgraded. Say what? Enduro has a tool for that too? Shocker!