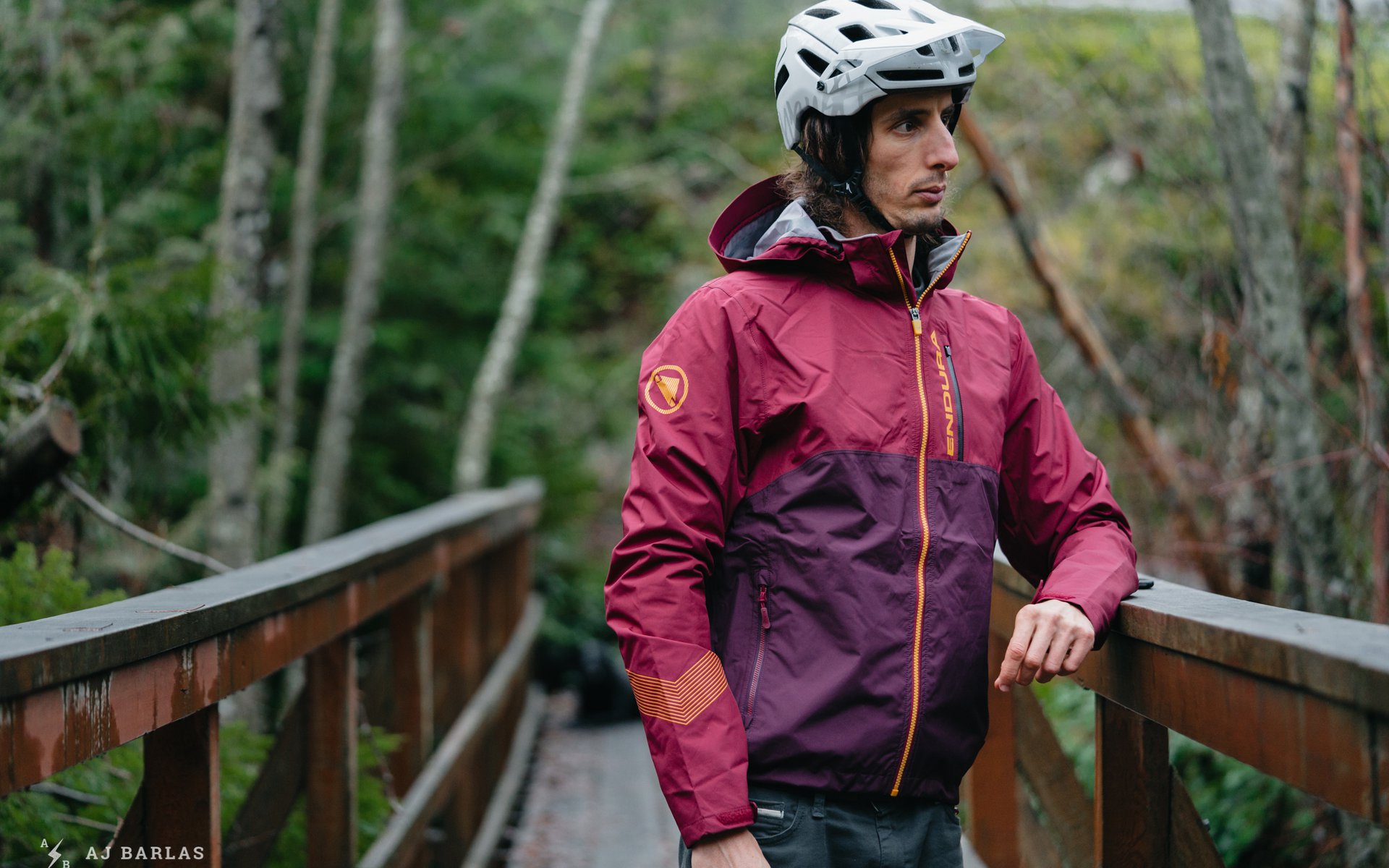 Review
Endura Singletrack II Rain Jacket
"Performance with enduro style" is how Endura describes the Singletrack range. It includes everything from rain jackets, as seen here, to eyewear. But the tagline isn't what drew me to the jacket, it was the price. I can't bring myself to spend the price of  airfare to somewhere warmer and drier on rain gear. Over the years a couple of jackets priced below 200 CAD have kept me comfortable when the conditions are gross.
The Singletrack II appeared to be one of the better value options. It features three-layer fabric, a longer back for ample coverage when riding, a hood that fits over a helmet, all for a little over 200 CDN bucks. With a claimed waterproof rating of 10,000 and breathability of 20,000, it fit the bill.
Endura Singletrack Jacket II Features:
Waterproof and breathable Exoshell20™ three-layer fabric

Ventilation provided via under arm zipped vents

Relaxed fit

Rollaway hood

Zipped chest pocket with media port

Front handwarmer pockets

Adjustable cuffs and hem

Waterproof rating: 10,000mm

Breathability: 20,000mm

Construction: 100% Nylon

Size Options: S, M, L, XL, XXL

MSRP: 169.99 USD / 206.99 CAD / 115 GBP
Jacket Fit & Details
At 191cm tall with a proportionally longer torso, the size large provided an adequate fit. Like many cycling jackets (and even some non-cycling jackets) the back is cut longer. This provides lots of coverage on and off the bike. When off the bike, the front panels are on the short side for me, making the jacket less comfortable to wear as a casual around-town piece. It's not unbearable but it certainly isn't ideal either. Arm length is good, with the cuffs running over the wrists when extended. The fit is relaxed and comfortable, but not baggy enough to become a hazard.
There's plenty of adjustability. At the waist and collar are elastic cinch cords to fine tune how it sits. The shorter front meant I had to set the waist adjustment looser than usual, but it wasn't an issue. Velcro cuffs allow for customization of the sleeves and the lack of TPR rubber here was welcome. Using the same material as the jacket meant there were no strange lumps or shapes at the wrist opening.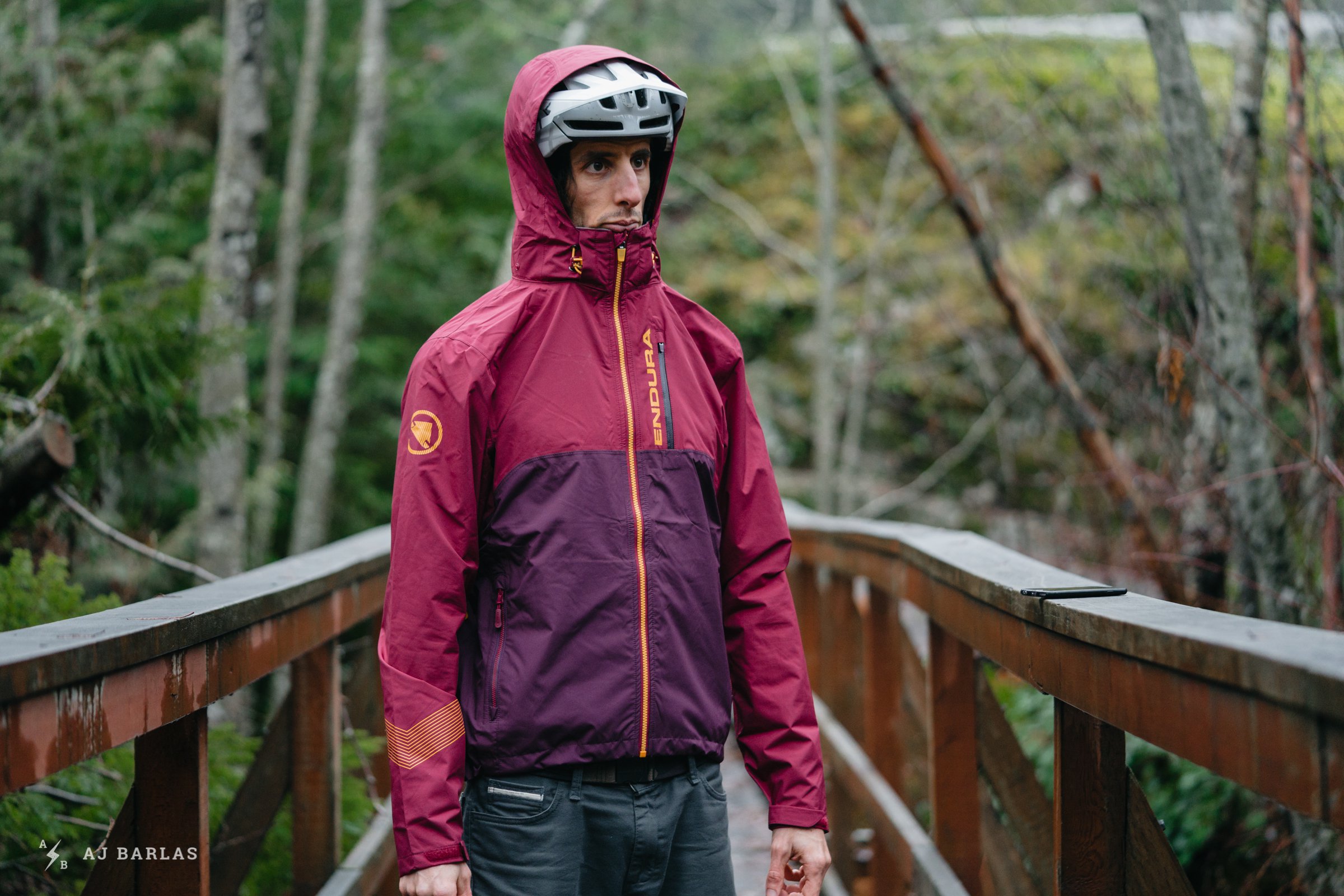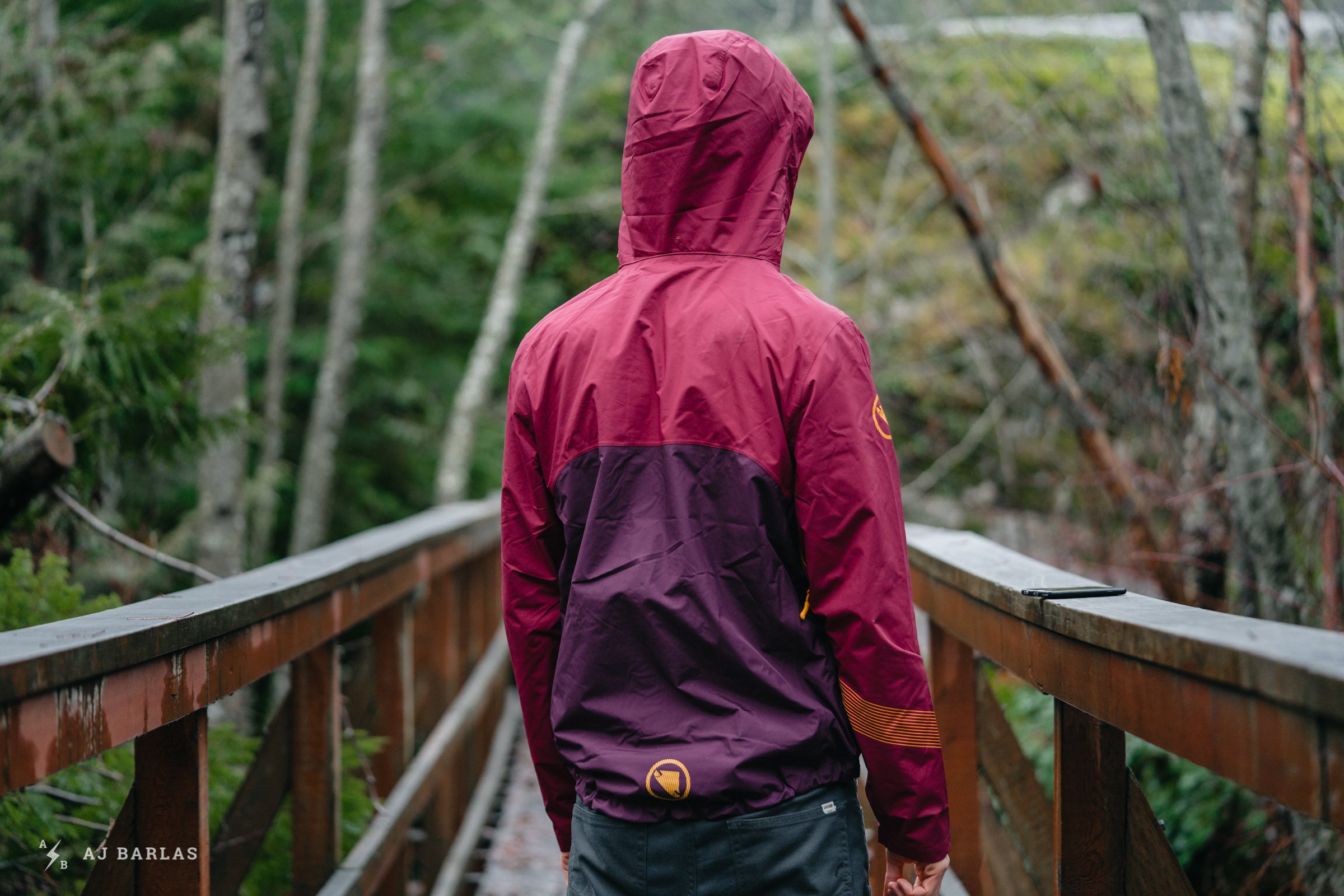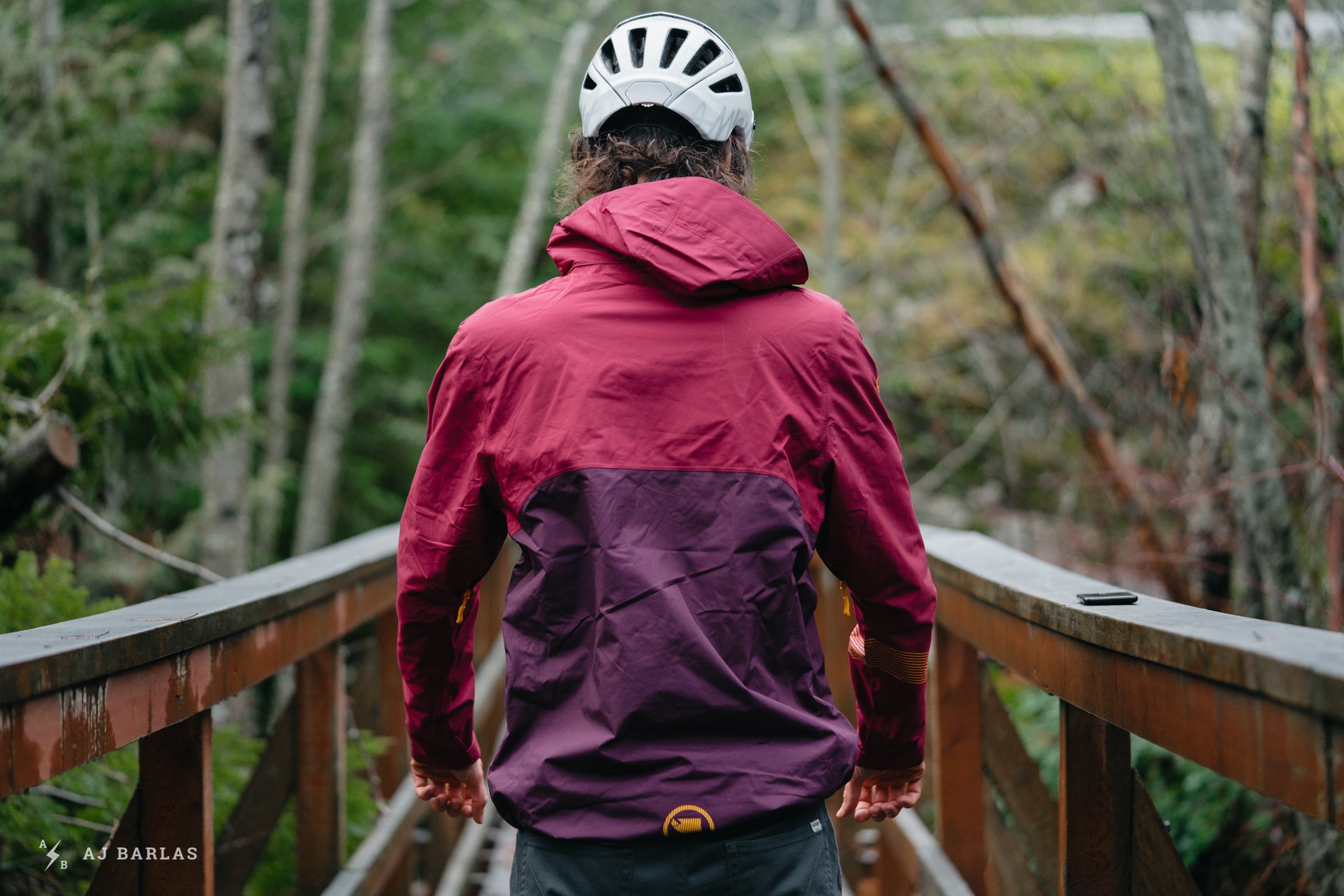 Grabbing hold of the jacket I was surprised by the feel. It's soft and flexible, where others are noisy and stiffer feeling. While it felt comfortable, the soft feel initially had me question its ability to shed water. Large pit zips with no mesh liner provide heaps of ventilation. There's no "exhaust" vent at the rear of the jacket though. Up top, the hood fits over a helmet without being yuuuge. But it's tighter than I'd prefer, especially when riding. Riders looking for a rain jacket to wear with a full face will be out of luck though.
Finishing it off are pockets on either side of the waist. Endura calls them hand warmer pockets but they're perfect for things like a pass or credit card too. The chest pocket is designed for a media device or phone, but I'm not a fan of putting anything that isn't soft, like a wipe for eyewear, in this spot. If you listen to music, there's a port for headphones to connect.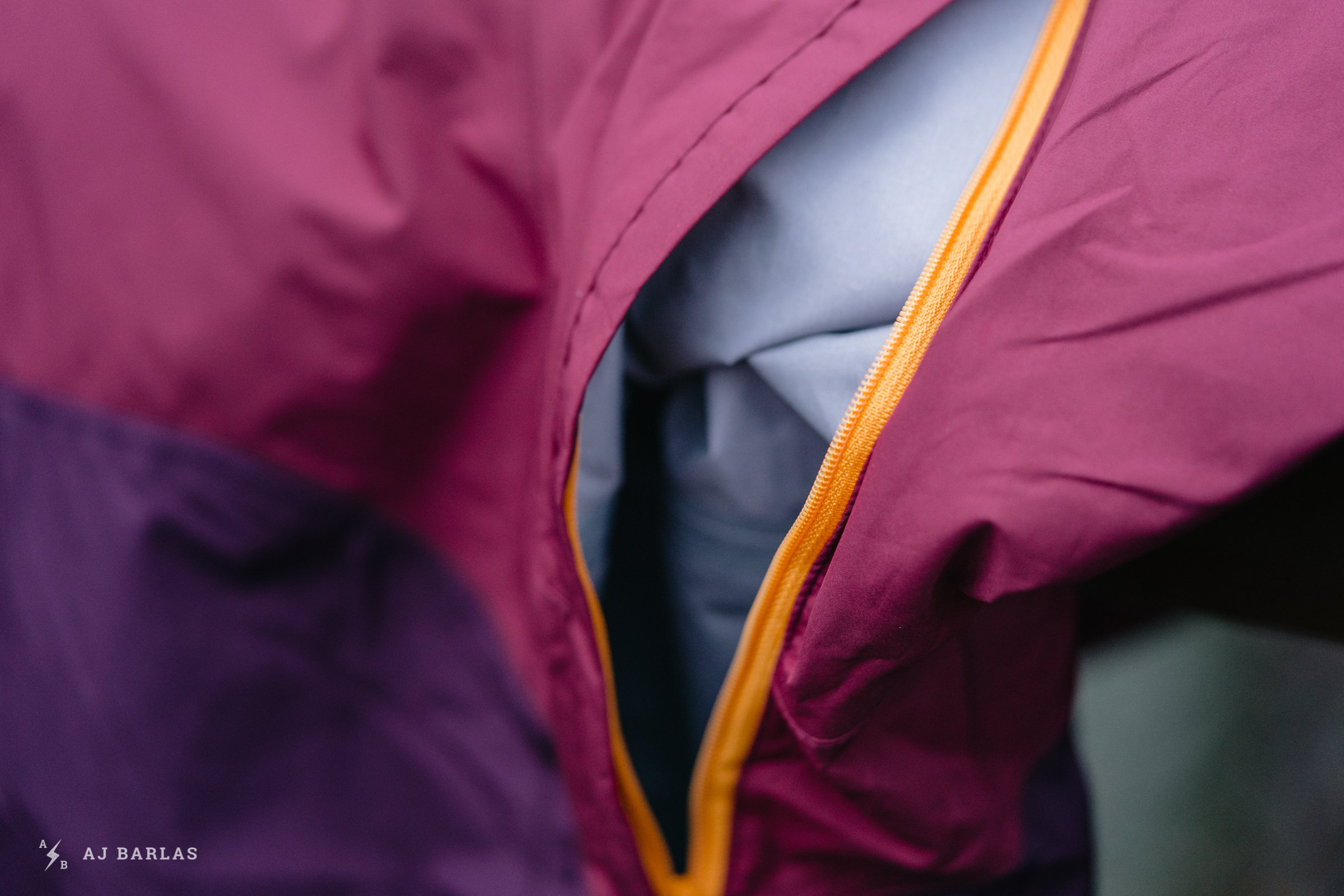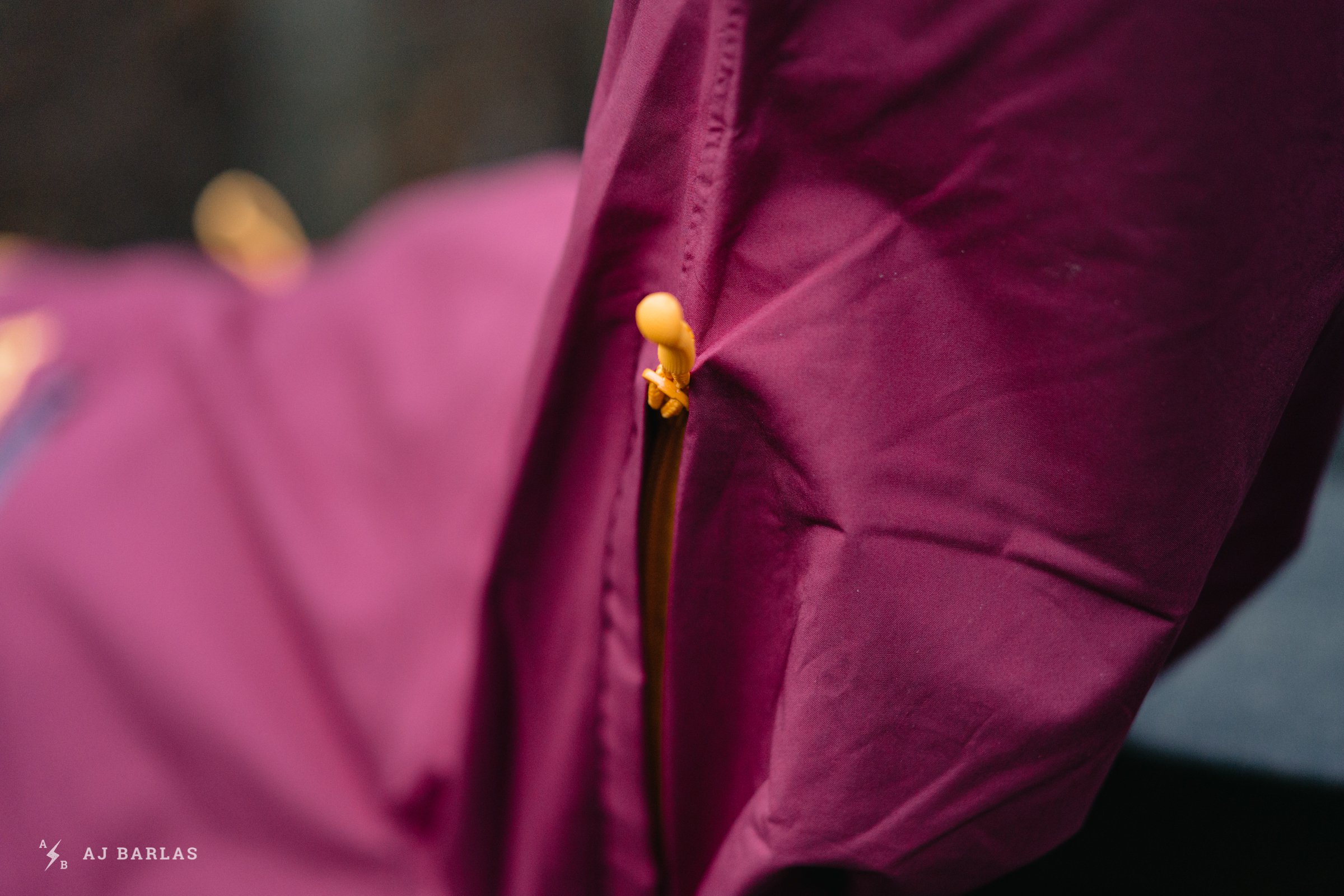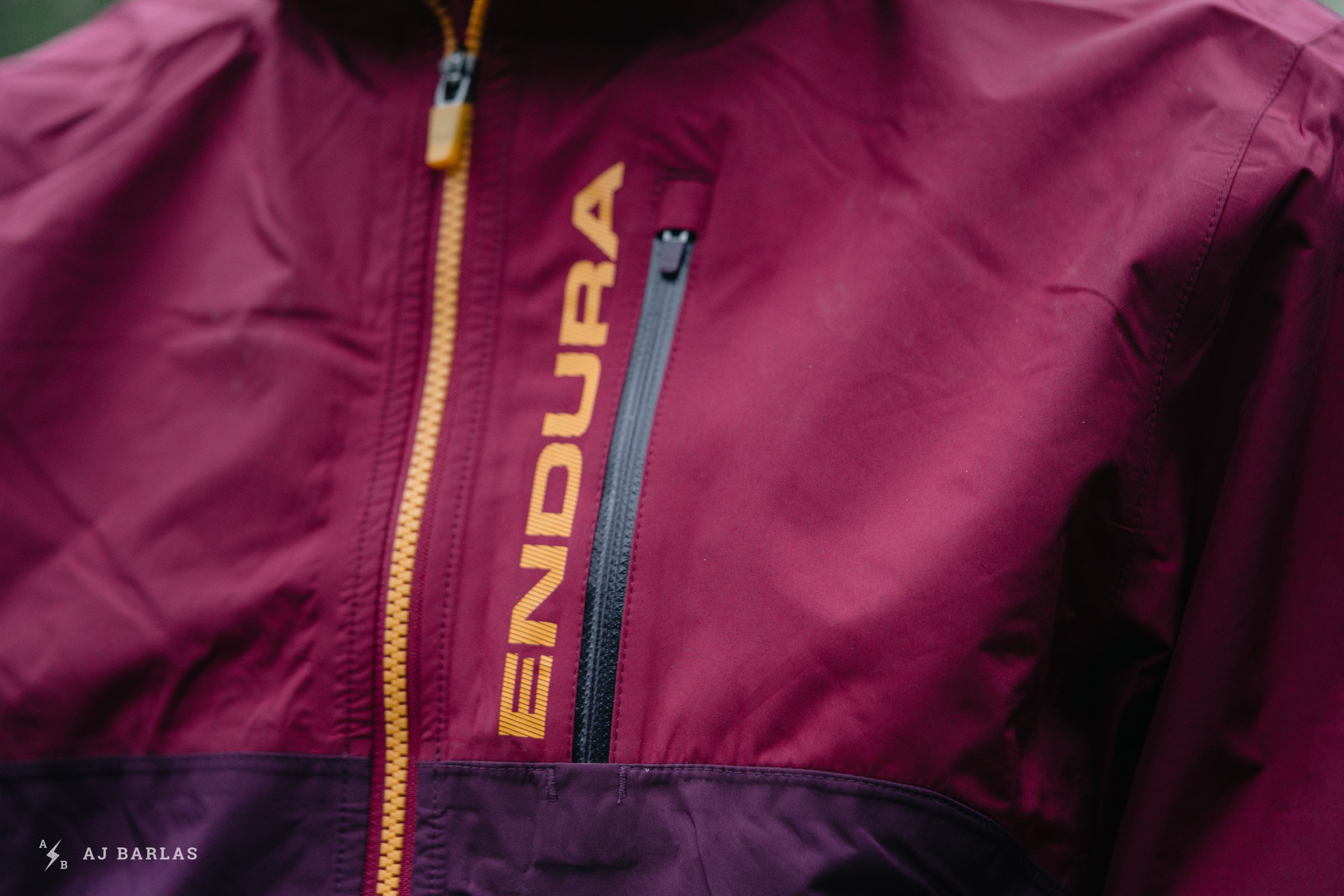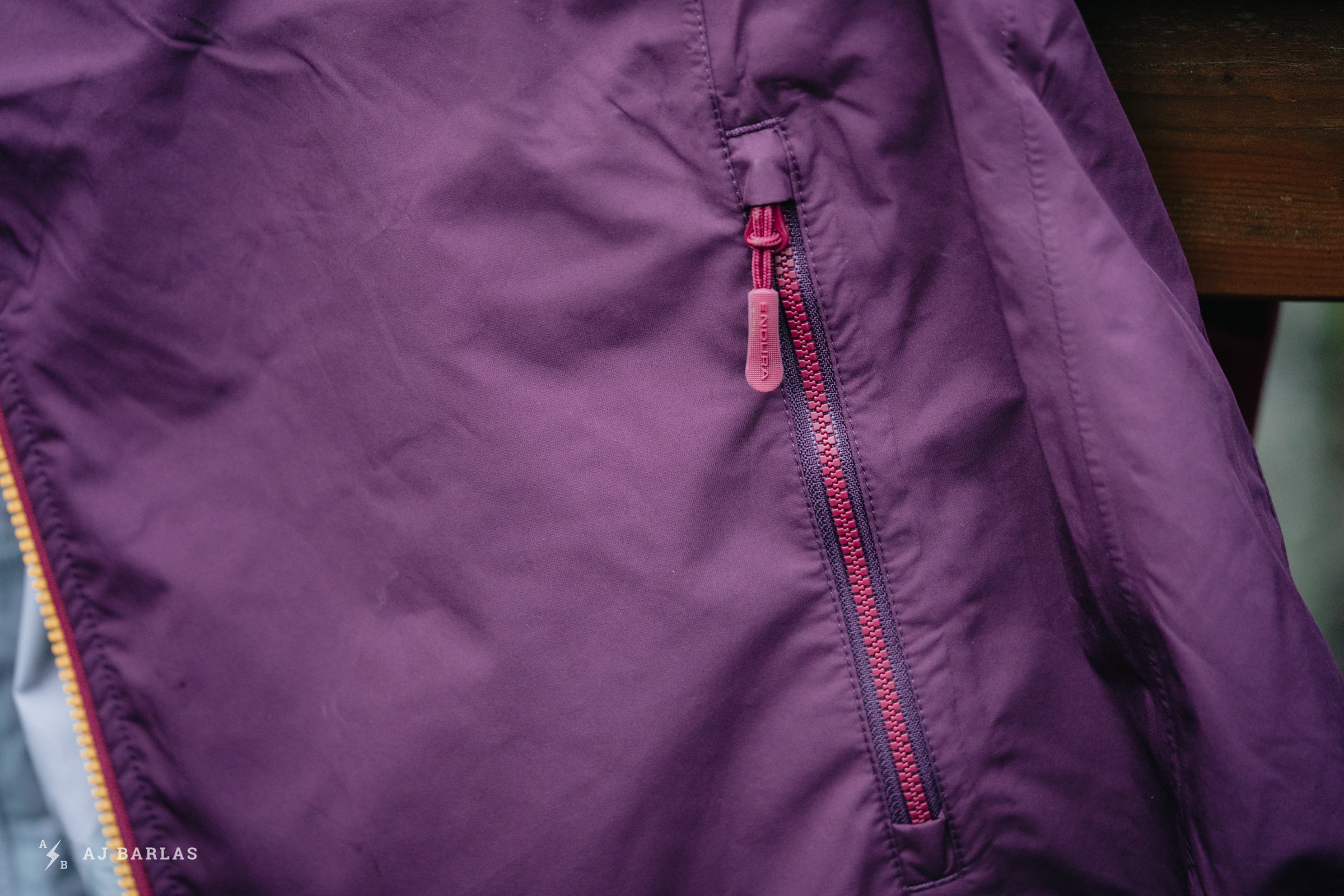 Riding in the Endura Singletrack Jacket
Coastal B.C. has been quite mild this winter. When it's rained, it's poured, but there's been plenty of dry days too. That said, I still prefer to wear a jacket with all the moisture around, even if it isn't falling from the sky. This is where the Singletrack jacket has proven its versatility. In conditions where I would typically wear a lightweight windbreaker, opting for this jacket has been the better decision.
Despite their lighter weight, the two windbreakers I switch between lack breathability and perform more like plastic bags. One is worse than the other but both eventually cause so much sweat that they stick to me, and sap energy because of excess heat. The Endura Singletrack is heavier—there's no rolling this into a ball and stashing it in your back pocket—but it breathes far better. Large pit zips further the airflow available. During milder days where something extra is still preferred, the Singletrack has been an excellent option.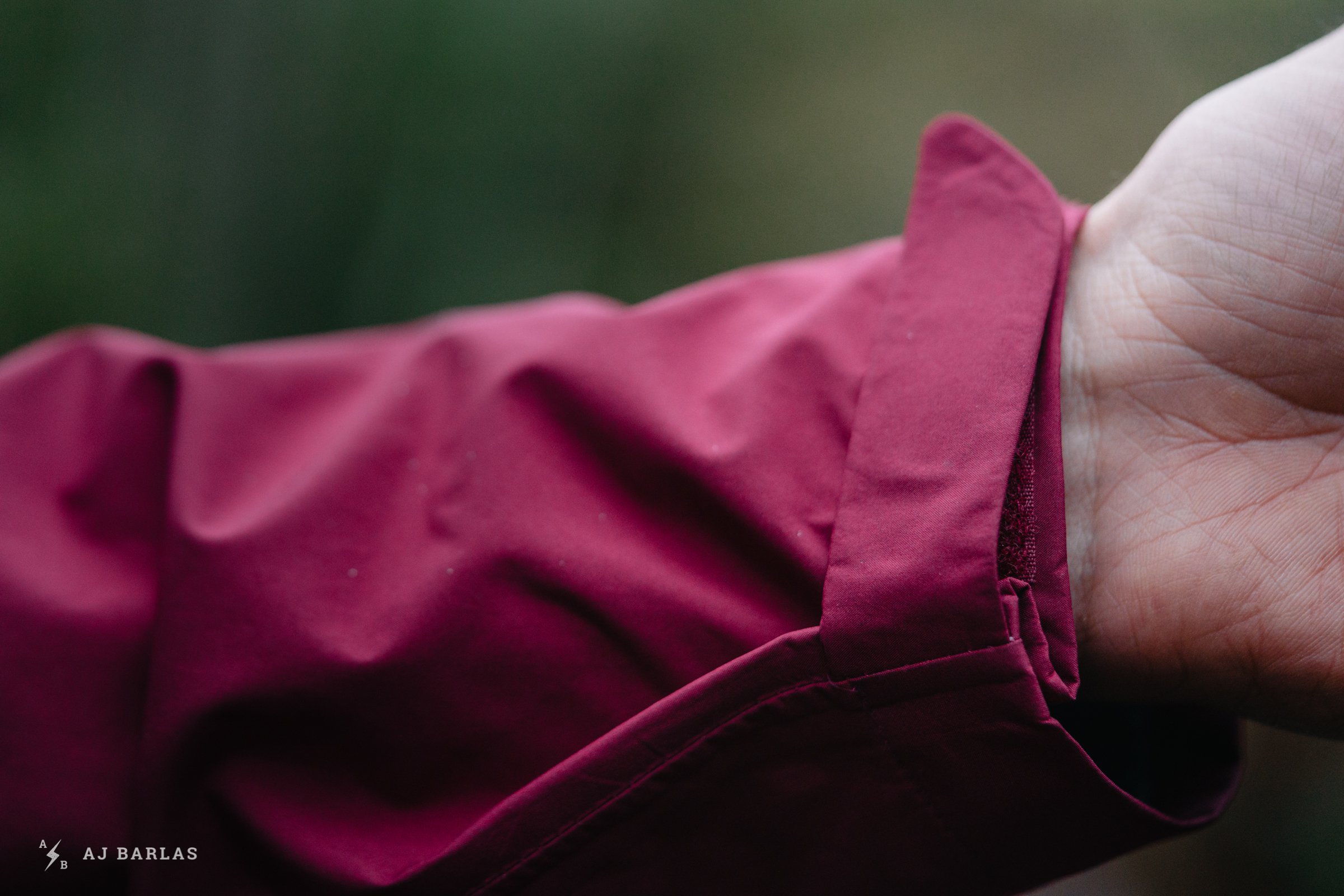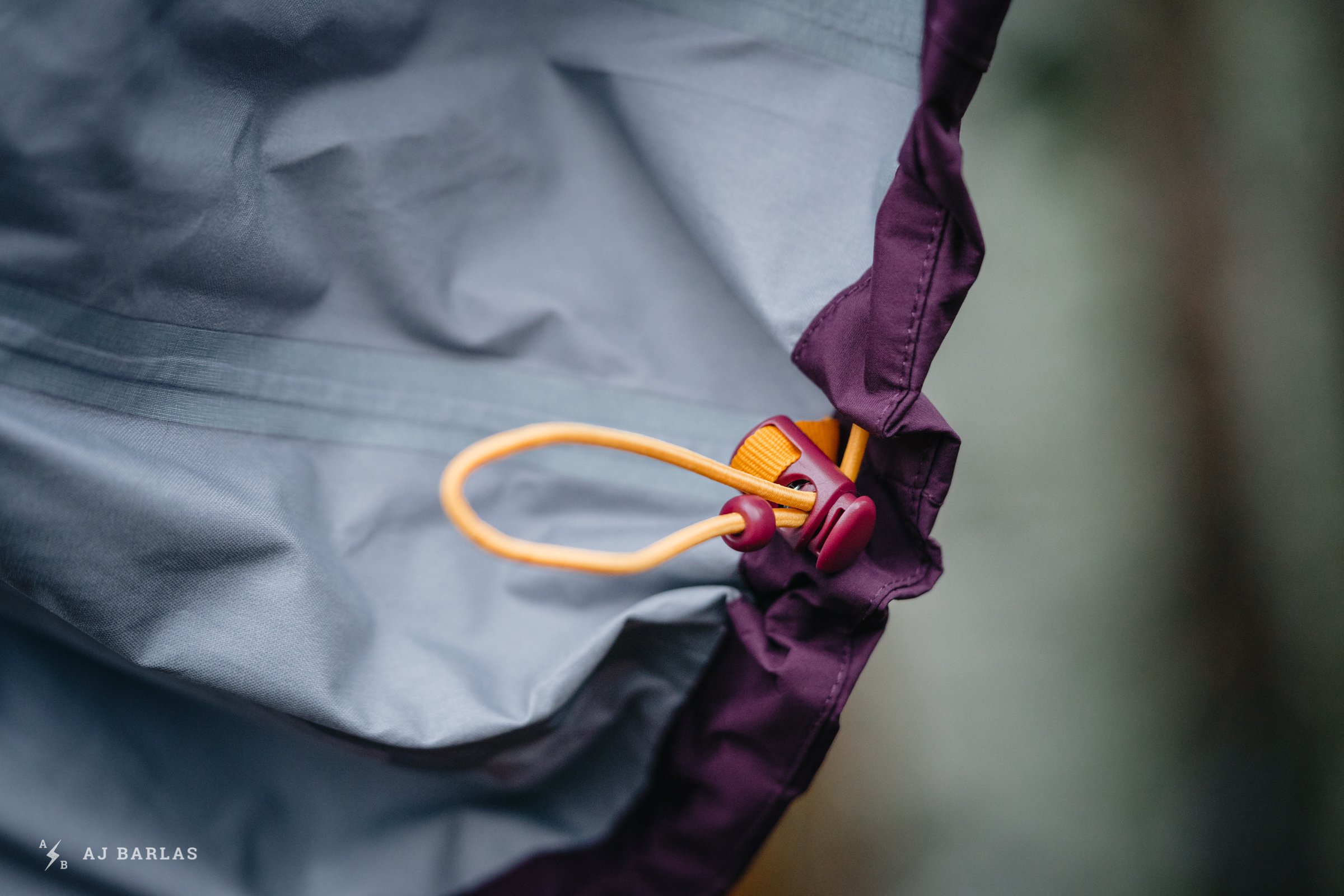 The jacket has proven to perform well in the rain as well. During the first rain ride, the lack of water beading was a concern. Unlike other coats, water tends to soak into the top layer of the Singletrack. It left me wondering how long it would be before the jacket soaked through and how wet I would end up. Surprisingly after a couple of hours in light rain, removing the jacket revealed dry layers underneath. It's remained this way throughout my time with the jacket. This has seen me occasionally pick it for wet hikes as well.

When wet the jacket hasn't been found to get excessively heavy and uncomfortable either. It does absorb water into the first layer, which certainly results in it weighing more than dry, but it's not noticeably heavier when riding and remains comfortable.  
Riding in the jacket, the only mark against it is the hood. As mentioned, it's on the tight side when fitting over a helmet and when riding, either in the cold or when it's raining, it restricts head movement. But when off the hood doesn't flap around in the wind and remains quiet. It can also be rolled down and snapped into the collar, removing any potential problems when not wearing it.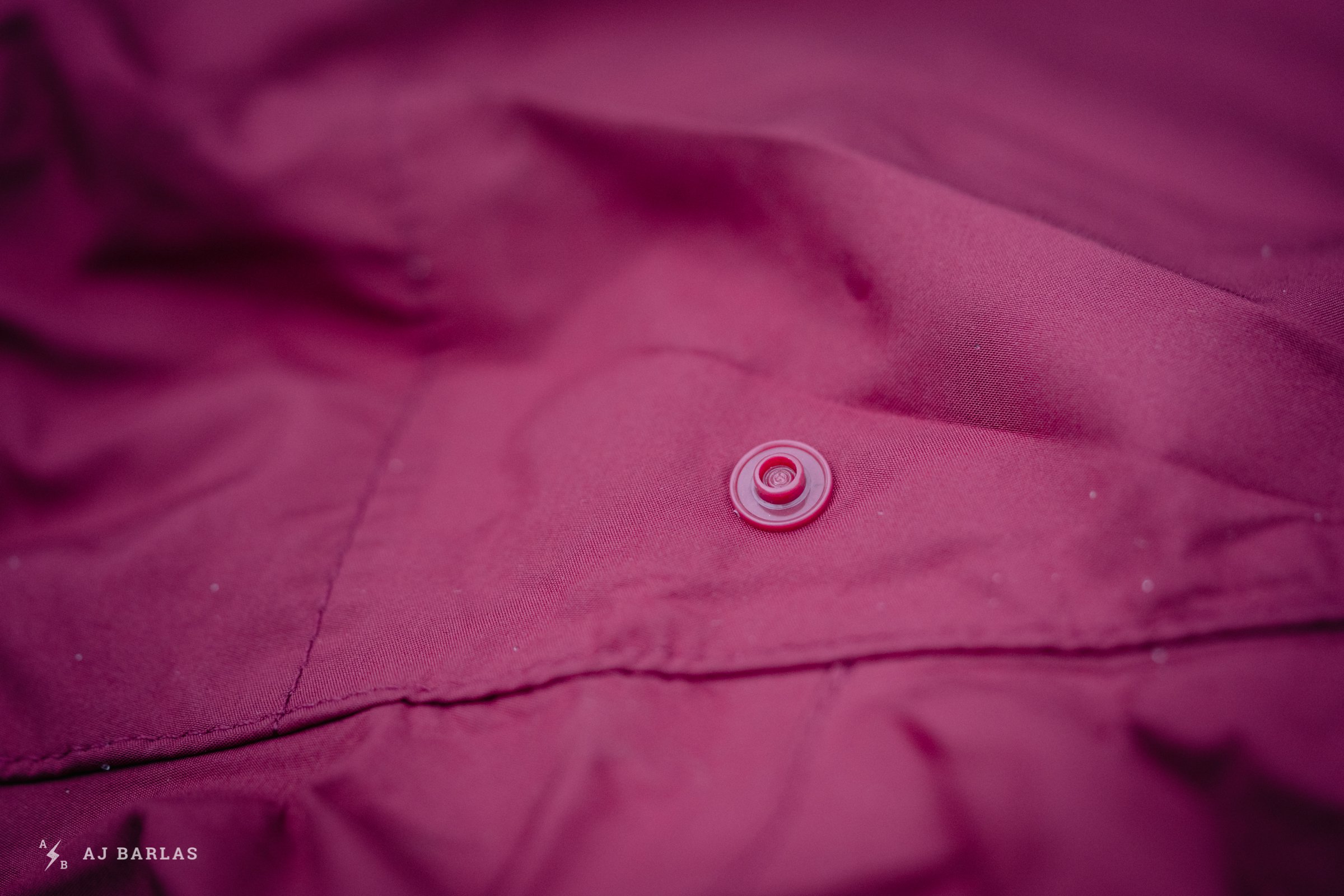 Verdict
After numerous wash cycles and heaps of time in the elements getting coated in dirt, this jacket still looks new. No loose threads, the zips still work smoothly, and most of all, it still does what it was designed to do. At 169.99 USD/206.99 CAD*, this isn't an inexpensive piece, but it works as well as some more expensive shells. A full day of solid rain isn't it's forté but in my experience the only thing that will costs significantly more and doesn't breathe as well. It will however keep you dry for a couple of hours, which is more realistic for most riders on rainy days.
*I've seen it for less than 150 so shop around.
It does its job with little fuss, with plenty of adjustability and comfort. Add the fact that it outshines windbreaker specific jackets in terms of comfort when the heart rate gets up and it's money well spent.
More information on the Endura Singletrack Jacket II on their website. 
---