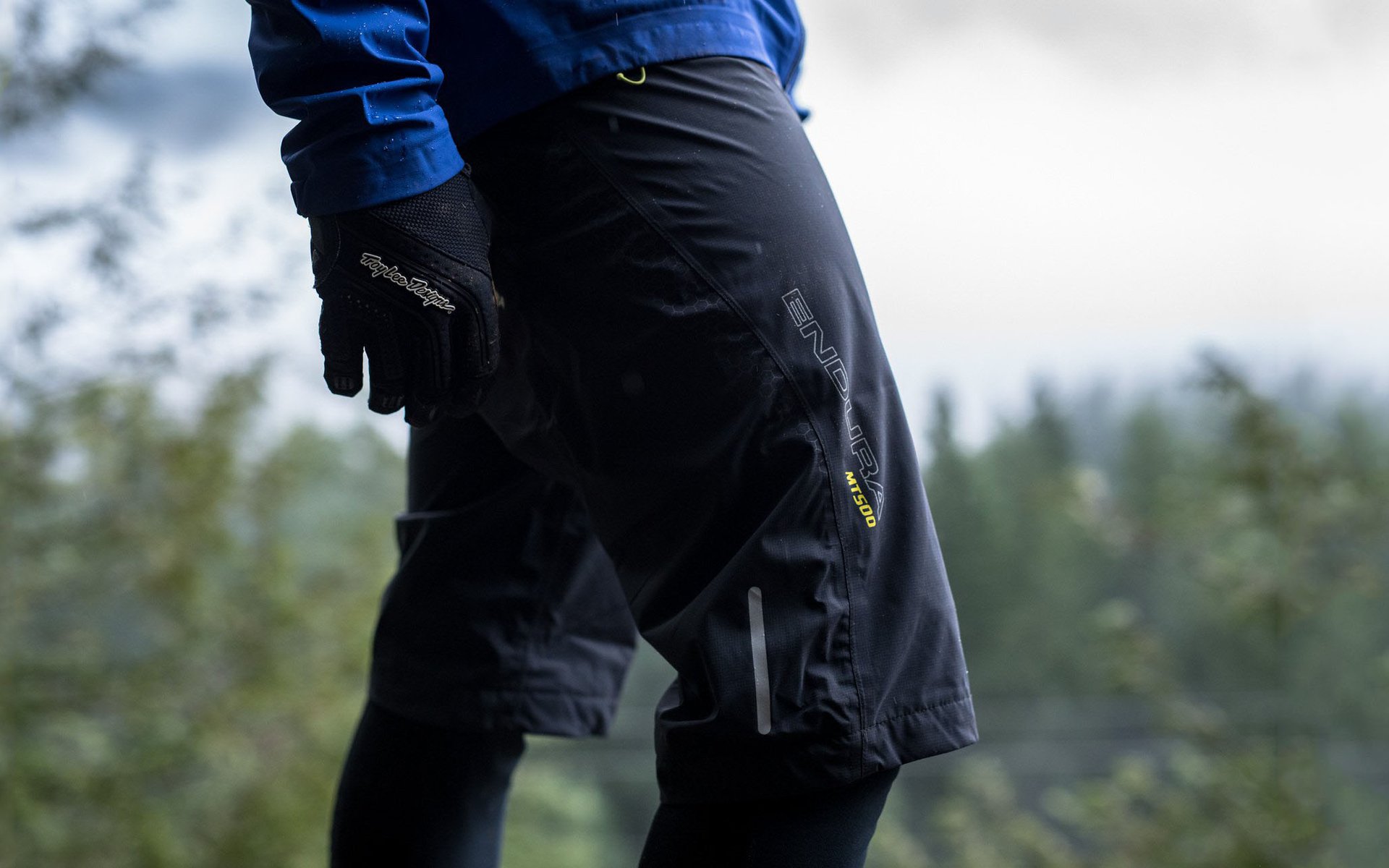 REVIEW
Endura MT500 Waterproof Shorts
Weather Or Not

One of the few places that mountain bikers from the North Shore can't go and complain about the 'endless' rain is Scotland. Clothing is a bloody tough game and Endura has been at it continuously since 1993. In that time they've evolved from a bonnie secret to a global brand and while they make a full line of cycling gear they're best known for clothing to combat vicious weather.  
Like a lot of riders I'm trying to balance my 7mesh tastes and my desire to spend Glad money on rainwear that I'm going to be trashing on trails. Especially shorts that I'm going to grind into a saddle that might as well be 40 grit for six months a year. 
I didn't question whether Endura's MT500 waterproof shorts would be good in an epic downpour. I had other questions. Shorts don't need the same level of breathability as a jacket but I've been burned before with waterproof shorts—at a couple price points—that feel like they're cut from from a tarp. 
The question isn't 'are they a great choice in a deluge' because the answer is almost always yes when the alternative is a massive wet-diaper-chamois or ice-pack-underpants. It's about whether or not they are wearable in a drizzle or when the tap's turned off but there's moisture on the trail. 
The MT500 shorts are very pedalable for a waterproof-breathable product and they are surprisingly stretchy. They're not as flexible as non-weatherproofed shorts but they also aren't like wearing waxed cardboard. They are always my last choice in my drawer except when it's really wet out and then they're off the bench and into the action with no questions asked and only two key complaints to make. 
Feature Complaints
My favorite Endura shorts, that I've never worn, are the MT500 'Spray Baggy' 3/4. They're a sort of Scottish summer short with a waterproof ass and crotch and lightweight frontage. Not great for horrendous rain but perfect for wet trails on dry days. Knowing that Endura makes this short drives me crazy. Nuts. 
The key features they bring to the trail compared to the MT500 Waterproof are belt loops—sweet, sweet belt loops—and the unfashionably long 3/4 length that actually covers my knees when I'm pedaling. If Endura made a waterproof version of this short at a similar price with those features I'd own two pairs. 
As a company they obviously get it and I say that from experience as I owned a pair of Endura Humvee shorts that I rode beyond opaque I liked them so much. I can't understand why these shorts are, well, short and the drawstring waist makes me want to flagellate myself in use. 
In All Fairness
When it comes time to pedal all day the waterproof Endura MT500 is not the short I want. But really, what waterproof breathable short is? So far this winter it's been the short I need. Almost every ride. I hate wearing gungy stuff so these shorts have been on a wash, dry, repeat cycle that rivals my shower routine and they look and stretch as new.
Would I recommend them? Absolutely. Is there a more waterproof, more breathable and more pedalable short for 125 USD? Not that I've come across. Ditch the drawstring for some belt loops, add a couple inches to the legs and heck while I'm at it drop the price to a psychologically perfect $99.99 and I'll give them a perfect score and recommend them unequivocally. 
For more information on the 125 USD Enduro MT500 Waterproof please click here.