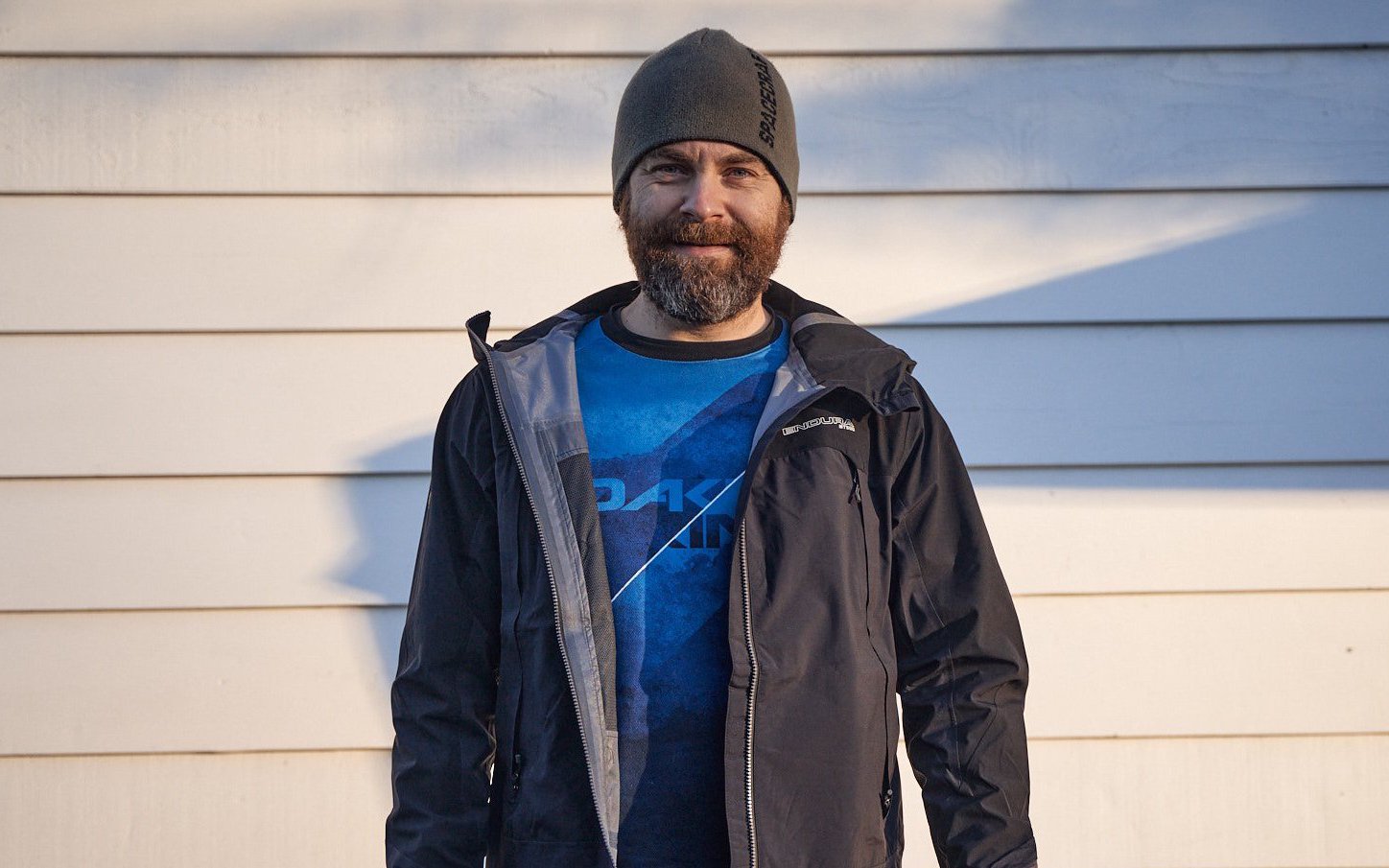 REVIEW
Endura MT500 Waterproof Jacket II and Spray Trouser
How to Ride Bikes in Winter and not be Miserable.
For any mountain biker worth their salt, The Athertons need no introduction. And, like us Pacific Northwesterners, the fastest family in mountain biking are no strangers to inclement weather. When your home turf is Dyfi Bike Park on the coast of Wales, you're guaranteed to encounter your fair share of bone chills and raindrops. Rachel, Dan and Gee all had a hand in developing Endura's MT500 line of rain gear, and what works for them in Wales should work pretty well for us in the PNW.
Endura makes a wide assortment of cycling apparel for all disciplines, and their MT500 line includes many products aimed at keeping gravity-focused mountain bikers warm and dry when Mother Nature has other plans. Everything from jackets and pants, to helmets and gloves are included in the MT500 line, and every product here is focused on rugged construction for enduro, bike park, and DH style riding.
The MT500 Waterproof Jacket II, along with the Spray Trouser, seem like an ideal combination of head-to-toe rain gear for our typically cold and wet coastal winters. I tend to run hot, so I chose to test the Spray Trouser over the Waterproof Trouser, hoping for a bit more breathability and cooler legs. Keep in mind that Endura offers several MT500 options with varying degrees of warmth and waterproofing, so if you're looking for something a little different, they likely have you covered. Check out the entire line right here.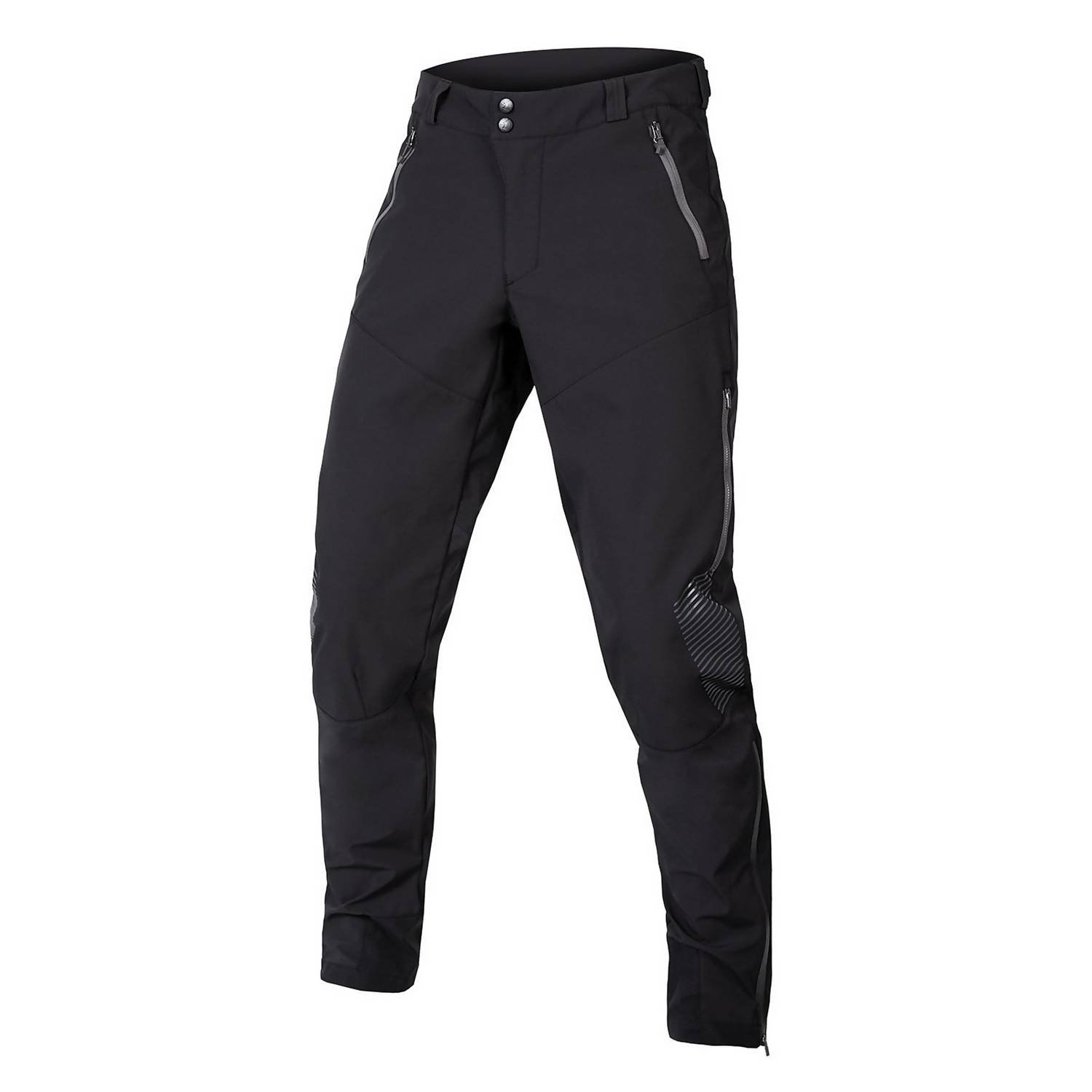 The Endura MT500 Waterproof Jacket II
The flagship jacket in the MT500 line, the Waterproof Jacket II is constructed from Endura's Exoshell 40DR fabric, boasting a waterproof rating of 20,000mm, and a breathability rating of 40,000g/m²/24hr. What exactly do these numbers mean? Well, they mean the Waterproof Jacket II should live up to its not-so-imaginative name, and do a pretty good job of keeping the rain out, while not keeping your sweat in. The WJII is available in 5 different colours, and is also available in a women's specific version.
Standout features on the WJII include enormous side pockets that also double as vents when things get too toasty. If you're looking for ventilation that doesn't come at the risk of losing your keys, wallet and phone, Endura has you covered with standard armpit zips. There is a single internal breast pocket, as well as a clever left-wrist pocket that is designed to hold a bike park pass. This pass pocket was perfect for stashing a chip-enabled credit card, which made purchasing après-ride beverages almost too effortless.
The WJII has a slim fit through the torso, more generous room in the sleeves, and a slightly dropped tail that is just low enough to keep your back and crack safe from the dreaded mud mohawk - but not so low that it screams: "Hey!! Check out my cycling jacket!" This well-designed fit means you get lots of mobility through the arms, and the jacket doesn't bunch up around your waist, or get caught on the nose of your saddle when pointing down elevator shafts. The interior of the Exoshell 40DR fabric starts out a bit stiff and crinkly, but quickly mellows out after a few rides.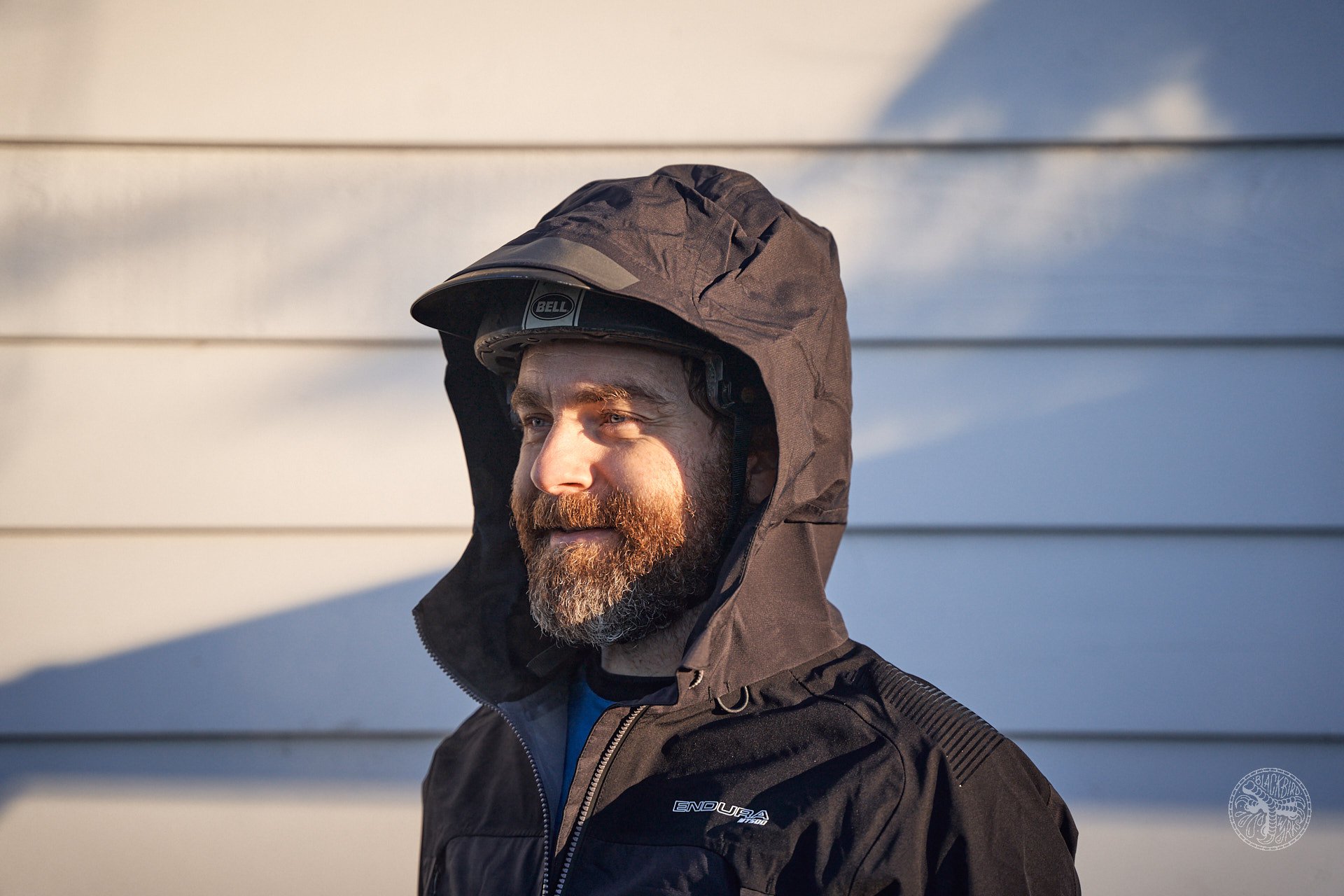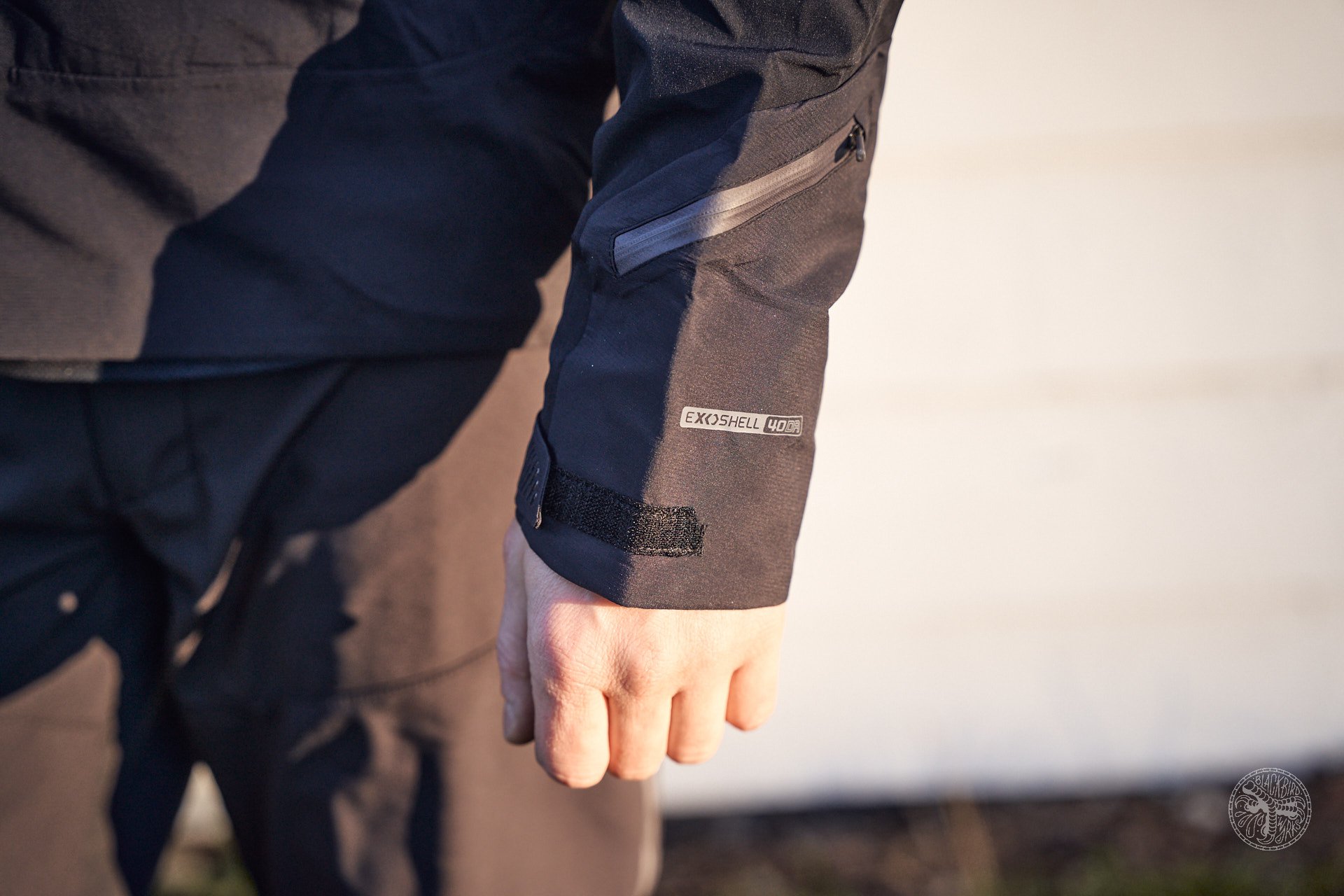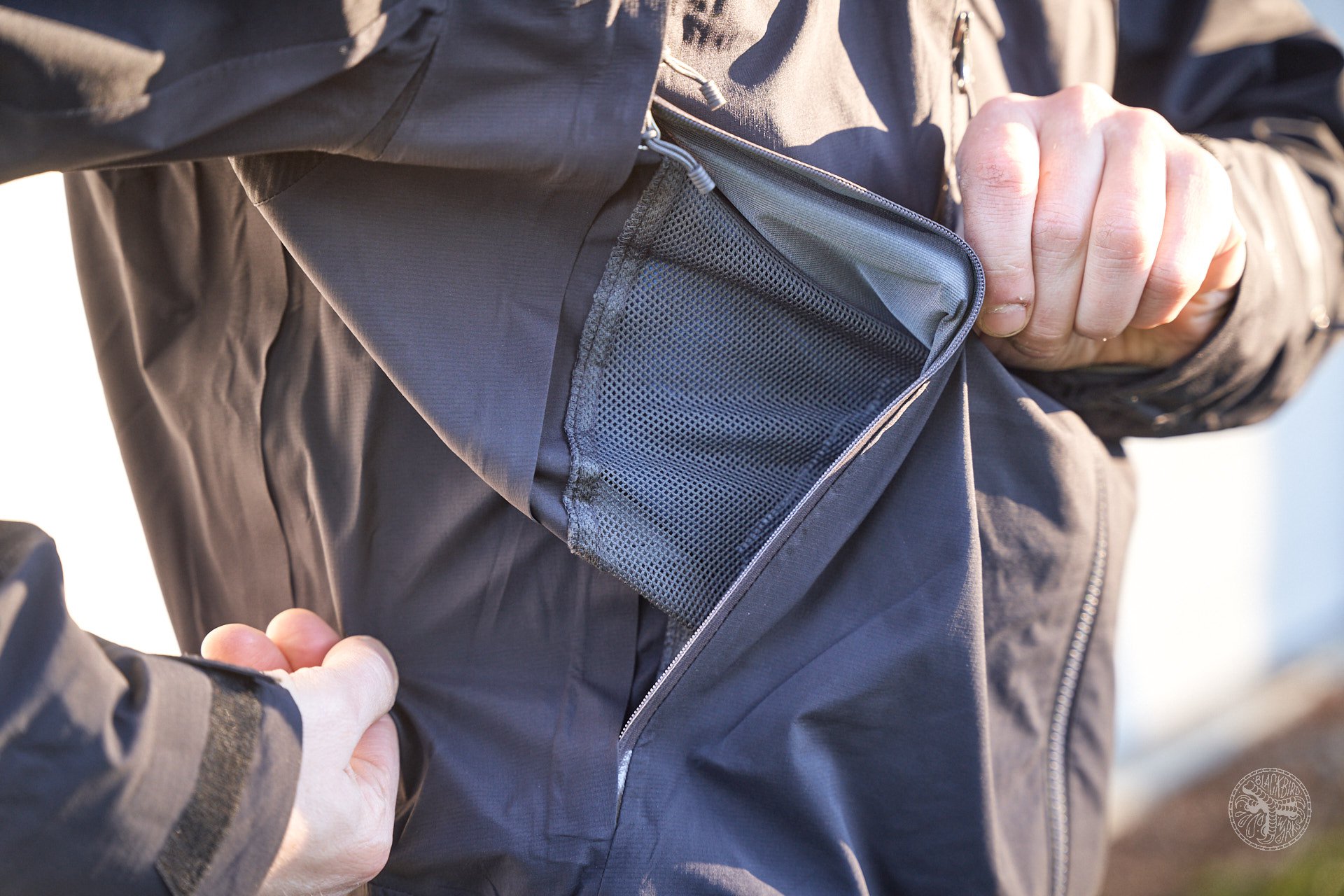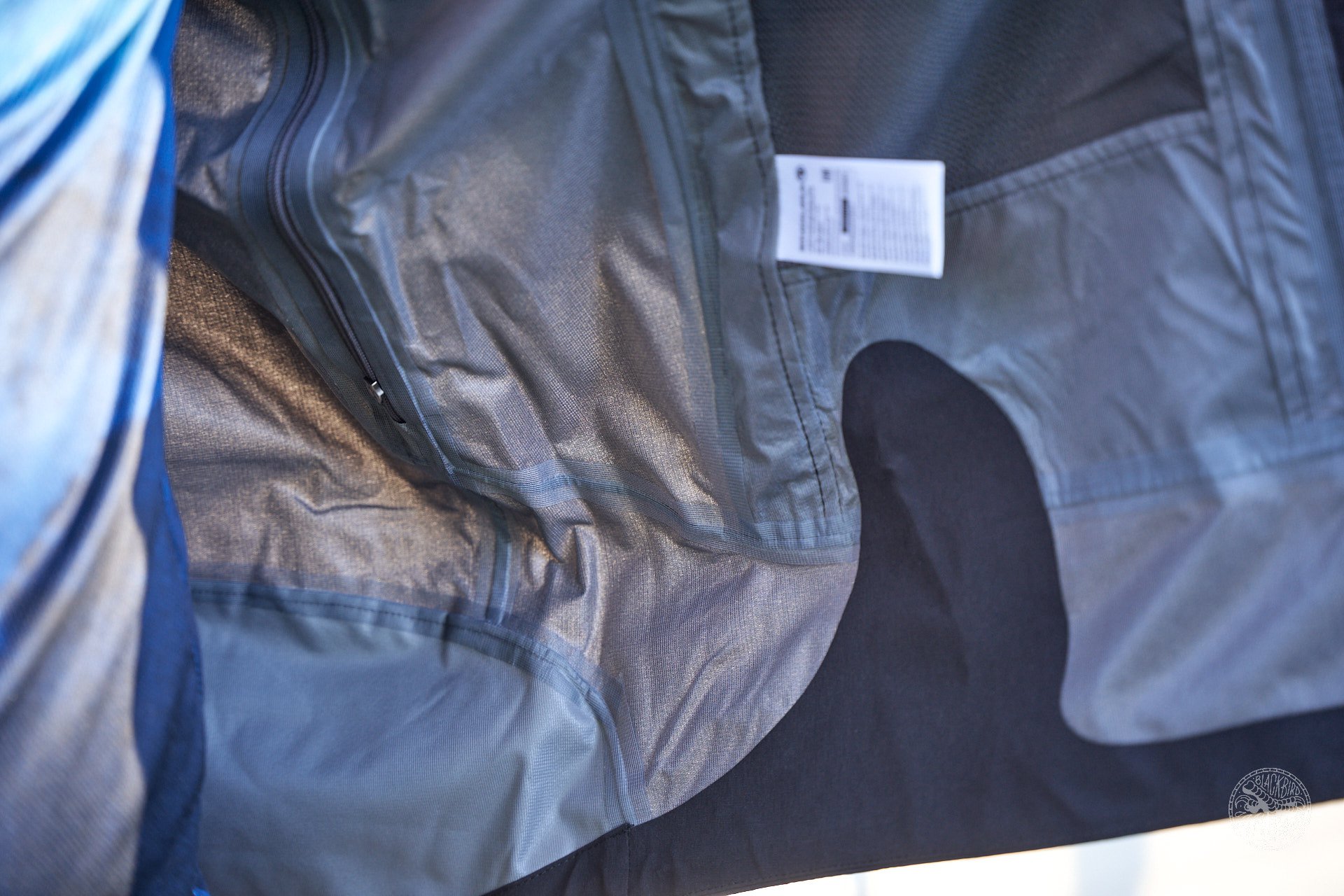 Maybe the most jaw-dropping feature on this jacket is the ample hood. This thing is big, like really big. So big in fact, that it fit comfortably over my head while wearing my XL-sized helmet. I've never experienced such a thing, and I'm still a bit gobsmacked about this hood. Even more amazing is that it doesn't flap around annoyingly when it's down, although I wonder if this would still be the case in high winds, or at bike park speeds. While I think it would be a rare situation where I would actually ride with the hood up, I can think of plenty of situations off or beside the bike where keeping a hood over my helmet would be very handy. As an experiment, I did a sustained climb with the hood up, and while it did get pretty warm in there, it was absolutely doable.
My first real test of the MT500 gear came on a cold, very rainy day in February. Temperature was 5°C, and I honestly might not have ventured out if it wasn't perfect testing conditions for rain gear - all in the name of science, right?* The Exoshell 40DR fabric does a great job of repelling rain and puddle splashes - water tends to bead up and run off rather than soak in. I started climbing with the vents closed, and was surprised how well the jacket still breathed. I don't wear a pack, so this undoubtedly helped with ventilation (Endura claims the vents are optimized to work while wearing a pack, which is good to know). After several minutes, I opened up the armpit vents and finished the climb in relative comfort, despite the awful conditions. I was wearing a single polyester base layer under the jacket, and for my running temperature, this was probably the right combo for the conditions. The WJII is definitely breathable, but its rugged construction sacrifices a bit in this department for the sake of durability. If merino base layers are your thing, I would imagine you might experience better breathability. After a few multi-hour rides in North Vancouver rain, the WJII consistently allowed me to finish warm, comfortable, and more or less dry - or slightly damp from my own perspiration. As stated earlier, the breathability is not the best available, but I think it's a fair price to pay for a jacket that won't disintegrate when you look at it funny. For climbing missions, I can't see myself using this jacket for temperatures above single digits Celsius - it would just be too warm. But for rainy bike park or shuttle days, it would be an excellent choice year-round in these parts.

*Before I get written up by the trail karma mob, I stuck entirely to trails that are known to be unfazed by wet weather. I promise.
Zippers on the WJII are all high quality, but I found the main zipper got quite sticky when covered in mud and grit. Perhaps this will loosen up a bit over time, but I hope the eventual outcome from repeated outings in the slop isn't a failed zipper. The pocket zips are well guarded from the elements, with a flap that can be a bit awkward to work around when unzipping - it's usually a two-handed affair, but not a big deal. Otherwise, the WJII is a joy to wear when descending in the rain. It's fitted in all the right places, and stretchy in all the other places so that it completely disappears from the riding experience - which is exactly what a good piece of kit should do. I haven't experienced any real crashes in it, but I'm certain the rugged shell should shrug off most scrapes and abrasions with ease.
At $509.99 CAD., the Waterproof Jacket II is certainly not the cheapest option out there, but if you're looking for a feature-packed jacket with a magical hood, that will take some abuse while keeping the elements out, it just might be what you're looking for.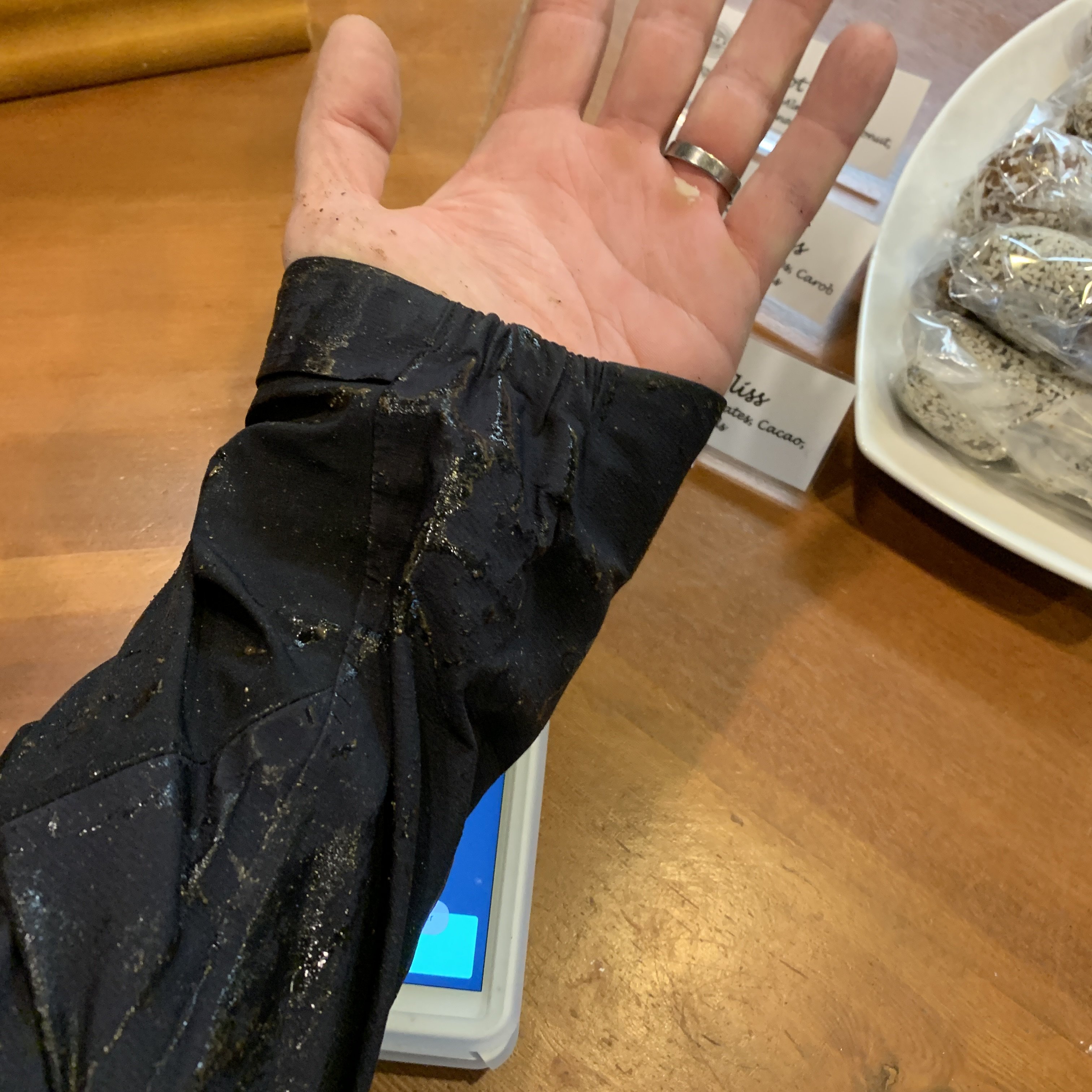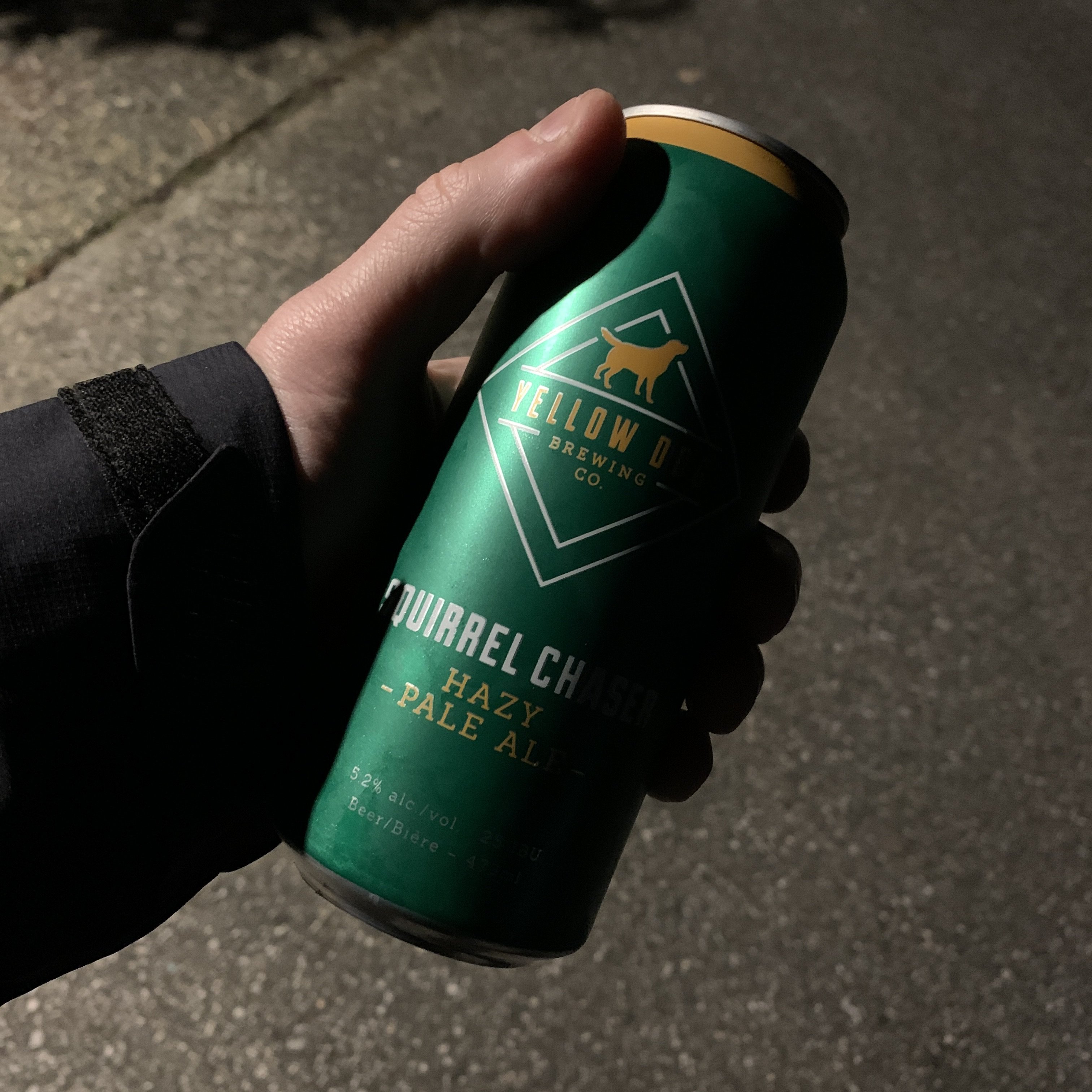 The Endura MT500 Spray Trouser
The Spray Trouser is Endura's pant for damp weather, but not necessarily monsoon conditions. For the wettest weather, Endura recommends their Waterproof Trouser II, which is constructed entirely from the same Exoshell 40DR material as the WJII. Like the jacket, the Spray Trouser is available in several colours, and includes a women's specific version. As a general rule of thumb with pants, my own experience has taught me that as waterproofing goes up, so does heat retention. This anecdotal data is in no way scientific, and is probably downright wrong in some cases. Nevertheless, I went with the Spray Trouser because I'd rather deal with pants soaked with rain, than pants soaked with sweat.
Fortunately, I didn't really have to worry about rain-soaked pants. The Spray Trouser features fully waterproof rear panels and taped seams to stop tire spray from soaking through, while the front panels are coated with DWR, an eco-friendly, water-repellent treatment that causes water to bead and run-off the outer surface before the fabric can absorb it. The Trouser is nicely fitted, with just enough room underneath for DH knee pads. Like the jacket, the Trouser allows mobility in all the right places. Gee Atherton is a tall and lanky lad - quite a bit more so than my own 5'11" height and 30" inseam - so I wasn't too surprised that these pants are quite long. The length was mostly a non-issue though, and aside from looking a bit frumpy, the shin area is quite slim, so the extra length bunching up wasn't noticeable while riding. With riding pants that are intended to keep you dry, a little bit too long is probably better than too short - although they do look a little out of place among the current crop of quasi-capri pants that are en vogue in North Vancouver these days. While there might be a desire by some to have the ankles hemmed, I'd imagine this would be a difficult process with the gusseted ankle zips in the way.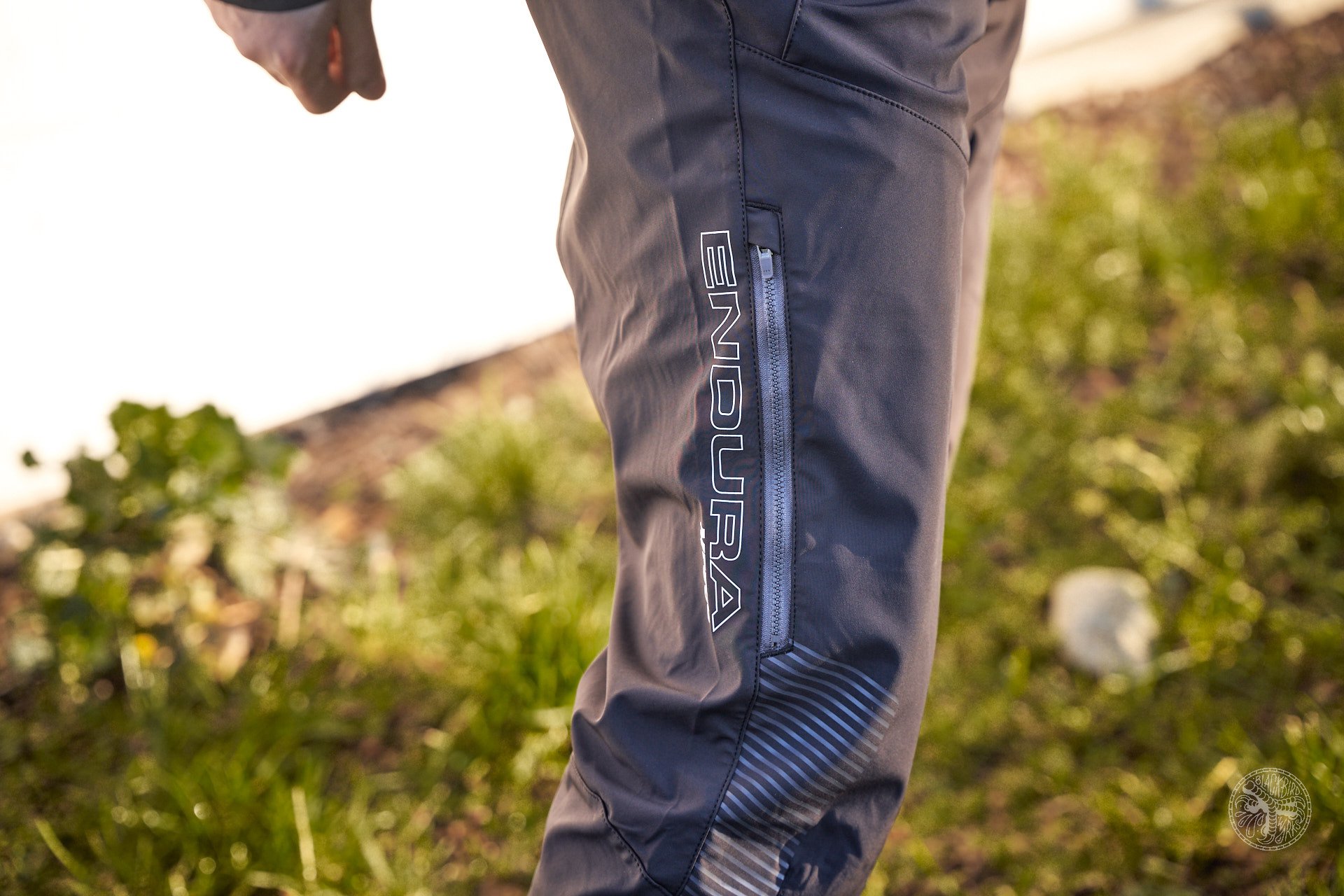 The Spray Trouser features velcro adjustments to fine tune waist fit, as well as two zippered pockets, two zippered vents, belt loops, and fabric gusseted, zippered ankles that I'm still scratching my head over. I'm not entirely sure what these ankle zippers are for - they don't allow enough room to get knee pads on or off, but they might be useful for some people to slip the pants on or off whilst wearing shoes. I couldn't get my shoe-wearing foot through the fully unzipped ankle, so I'm not convinced that's the intent here. Maybe they're a further form of venting? Either way, the ankle zips weren't a feature I used at all.
Similarly to the jacket, the Spray Trouser doesn't seem to have climbing foremost in mind. You can certainly get on with a big, lung-busting mission - but you're going to be pretty warm the whole time. Opening the side vents helps a lot, but these are not a warm weather option unless you're riding lifts or shuttles. Considering the waterproofing and rugged construction, they're not bad in terms of heat retention, and certainly not the warmest pants out there. As claimed on the tin, the waterproof panels on the back keep your ass dry after hours of tire spray, while the front panels provide just enough protection to ward off light drizzle and the occasional puddle attack. Substantial, repeated splashes from the front, however, will quickly overcome the DWR coating, allowing the fabric to absorb water and lead to soggy legs. Even when slightly damp inside, the Spray Trouser stayed impressively warm, which was a godsend when standing idle for extended periods, watching fellow riders sort out trailside mechanicals in the February rain - a frequent occurrence in my crew.
As with the rest of the MT500 line, the Spray Trouser carries a premium price tag of $289.99 CAD. But for that premium, you get a slew of technical features that help keep you mostly dry and comfortable in less-than-ideal conditions. While the ankle zip seems a bit dubious to me, the rest of the Trouser is well thought out, and seems built for the long haul.

As a package, the Waterproof Jacket II and Spray Trouser proved to be an ideal, if expensive, head-to-toe outer layer for winter riding in the PNW. If staying completely dry was of paramount importance to you, I'd recommend ponying up for the Waterproof Trouser II, where you'll get 100% waterproof, taped panel construction. I personally found the Spray Trouser to be more than enough protection for the vast majority of riding I do, but it's nice to know that there are several options to choose from in the MT500 line.

Endura MT500 Waterproof Jacket II $509.99 CAD
Endura MT500 Spray Trouser $289.99 CAD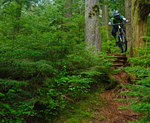 Ryan Walters
Age : 40
Height : 1803mm
Weight : 86kg
Ape Index : 1.03
Inseam : 787mm
Bar Width : 780mm
Preferred Reach : Pretty comfy at 487mm these days.