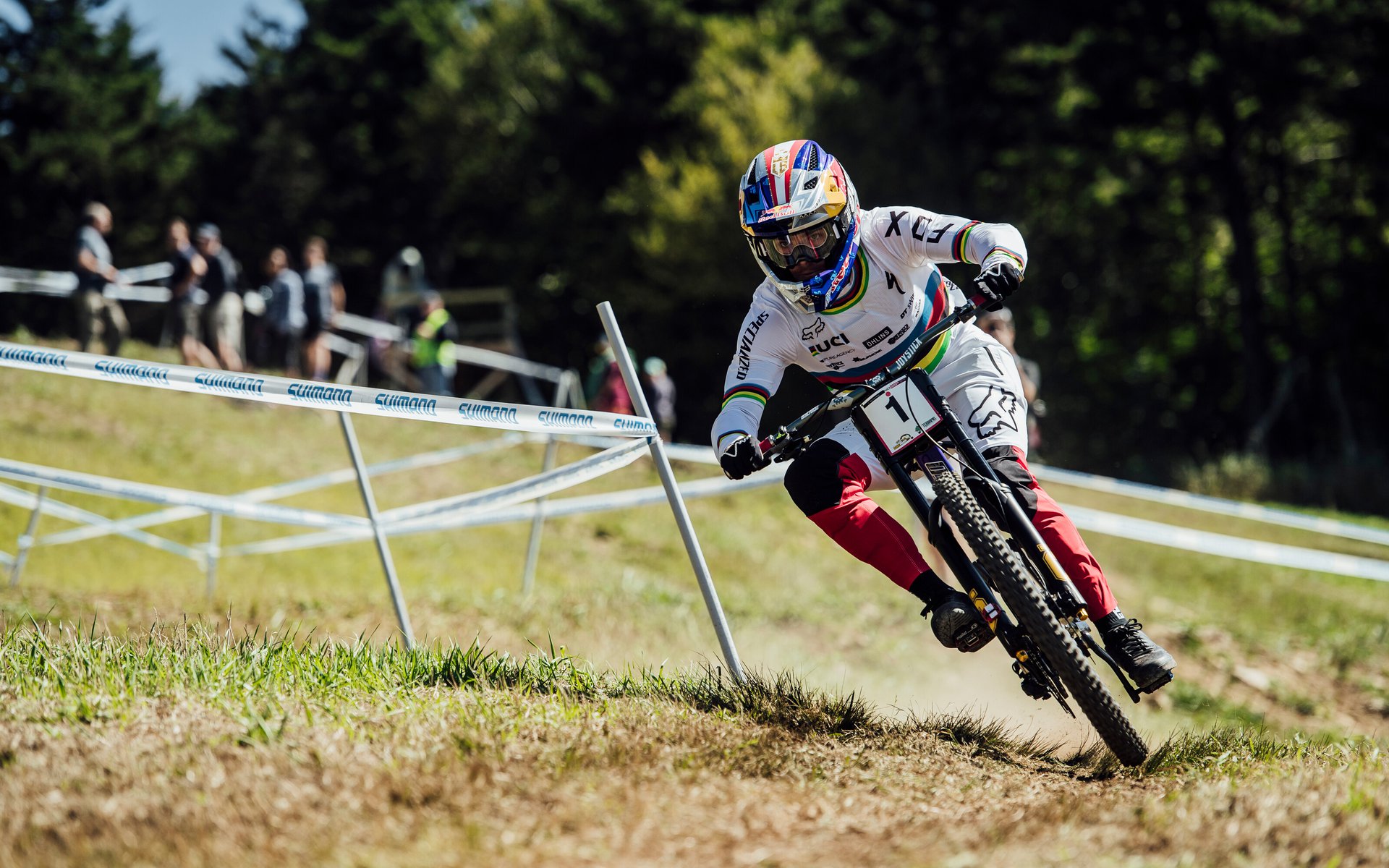 RACE NEWS/EDITORIAL
Ending the Season on a High Note – Snowshoe World Cup DH 2019
2019 has been arguably the best World Cup season for downhill, ever. Close battles, incredible racing, fast riding, and camaraderie among riders. That bond among the racers has been more apparent than previously thanks to the help of modern technology. Race fans are better equipped than ever to keep up with what's happening in real-time. Additionally, the depth of talent among media squids provides viewers unmatched insight to the emotion and battles between the racers. Within hours of the race action finishing at each venue, we're delivered phenomenal photo galleries, stories and videos dissecting it all.
The final World Cup Downhill race of 2019 was the perfect close to such an incredible season. Times were tight, the fight for the overall in both the men's and women's races was intense and everyone pushed their riding to the next level.
In the women's race, the battle for the overall was between Tracey Hannah and Marine Cabirou. Tracey made her intentions for the year clear from the first round in Maribor. She qualified first, nearly 2.5 seconds ahead of none-other than Rachel Atherton. But she couldn't hold onto it in the final and had to settle for third. In Fort William, she qualified first again, this time by more than four seconds but once more, she couldn't better Rachel's time in the final. Unfortunately for Tahnée, a crash in Fort Bill sent her for surgery and months of rehab. Marine Cabirou qualified second behind Tracey in Fort Bill and she finished fourth at the first round in Maribor.
After Rachel tore her Achilles tendon in Les Gets, the focus for the overall shifted to Tracey and Marine. Marine started her season with some untidy race runs but was quickly cleaning it up. By the time Les Gets rolled around, she was looking more composed, and fast. She was breathing down Tracey's neck and in qualifying and racing was only 0.6 of a second away from the win.
That win came quickly too and the following week in Val di Sole she didn't just bump Tracey from the top step, she blew her away. On one wild track, the young French rider put more than 11 seconds into eventual World Cup Overall Champion, Tracey Hannah. She had found her form and took the confidence to the remaining races, winning another two World Cups. Marine capped off her season with an almost 2-second win over Myriam Nicole in Snowshoe.
As Marine got on a roll, she also tightened up the overall. Coming into Snowshoe the points were tight enough that if Marine won, Tracey had to finish sixth or better. With Marine's form strengthening throughout the season, Tracey had to commit. There was a good chance Marine could finish on top, even with the return of Pompon and Seagrave. Tracey qualified first, giving her confidence but admitted she was struggling with the pressure of leading the overall. How a racer deals with that pressure is what will make or break them and for Tracey, it almost did the latter. She rode conservatively in her final run and as the splits showed her edging closer to 5th and then 6th position, things got intense. Tracey crossed the line in 5th, cutting it mighty close but riding smart prevented her from crashing out and missing it altogether. There's a fine line between doing just enough and slipping off the podium and Tracey managed it well.

As if the women's title race wasn't enough of a nail-biter... The racing between podium regulars Loïc Bruni, Amaury Pierron, Troy Brosnan and Danny Hart has pushed them to another level of speed and precision this season. Pierron's race in Snowshoe pushed the bar again and although he dropped more than 30 minutes before the rest of the podium finishers, he was still surrounded by incredibly fast riders. Yet his run looked like a sped up video, specifically in the technical rock gardens. Pierron enjoys hanging it out in his races and he did it again at Snowshoe. He went into the hot seat with a time double digits quicker than the competition at the time and it looked like the winning run.


When Bruni dropped, Pierron was still in the hotseat and that meant Loïc had to finish third or better to take the overall. The stress from the situation looked to have gotten the better of Bruni. We saw an uncharacteristically messy race run from the World Champ but it was enough for third. Hart's race looked like it would slot between Bruni and Pierron, slashing Bruni's dreams, but he opened it up in the bottom half. He barrelled through the finish beam to take his first win of the season and save Bruni from losing the overall.

With both the men's and women's overall up for grabs and the battles demanding the interest of race fans, it was easy to miss another great story that developed over the weekend. Racers at the MSA World Champs and the final race in Snowshoe had some serious airline baggage issues and the UK's Joe Breeden had a nightmare.
Breeden finished 4th overall in the 2017 junior World Cup series behind Matt Walker, Sylvain Cougoureux and Finn Iles – a stacked field. He was the silver medalist at the World Champs in Cairns the same year. Since moving up to the elite category the following season, Breeden hasn't completed a full World Cup season until this year. 2019 started slow for the young Brit. with a 59th and 56th at the first two rounds. From there, his results improved and Joe jumped into the top 40 in Leogang and Vallnord. In VDS and Lenzerheide he bagged a couple of top 30 results.
In Snowshoe Joe was left with no bike after the airline lost his luggage. Rather than sit around feeling sorry for himself, he hit the pits. Chatting with fellow riders and teams he began piecing together a bike for the final race of the season. Thanks to the kindness of Dean Lucas, Brendan Fairclough and Scott Factory Racing, Joe had a frame and some other parts, Fox hooked him up with suspension, Maxxis threw him some tires and SRAM provided stoppers.
Joe got less practice on the track as a result of the lost luggage but was able to pull together a sensational 14th place qualifier on the loaner. He's had other great qualifying runs this year – he was 1st in Val di Sole and 12th in Maribor – but Snowshoe was his best qualifier not affected by weather, and he did it on a borrowed bike! Everyone can appreciate the difficulty of riding well on a bike that's not yours. Not only was Joe on different parts, but the bike was said to be about 40mm shorter than his own bike, making it even more impressive.
When it came to race time, Breeden was unable to match his qualifying result and despite going more than five seconds faster in finals, it wasn't enough. He finished 34th which would have been an achievement on a personal bike and parts, but on borrowed gear, he deserves a round of applause. Breeden's result in Snowshoe secured him 34th in the overall, also a solid result for his first full elite World Cup season.
So that's it. No World Cup action until late March, 2020, when we open the season in Lousã, Portugal. Racers now have time to take a break and allow their bodies to heal from any problems before off-season preparation for 2020 begins. Join me in thanking Red Bull and all of the media squids who follow the races to bring us the incredible coverage. With that done, shall we start the team rumours for 2020 now?
2020 UCI World Cup DH Calendar
March 21–22: (DH) Lousã, Portugal
May 2–3: (DH) Maribor, Slovenia
May 9–10: (DH) Lošinj, Croatia
June 6–7: (DH) Fort William, Scotland
June 20–21: (DH/XCO/XCC) Vallnord, Andorra
June 26–28: UCI MTB XCO World Championships – Albstadt, Germany
August 22–23: (DH/XCO/XCC) Mont-Sainte-Anne, Canada
September 5–6: UCI MTB DH World Championships - Leogang, Austria
September 12–13: (DH/XCO/XCC) Val di Sole, Italy
September 19–20: (DH/XCO/XCC) Les Gets, France