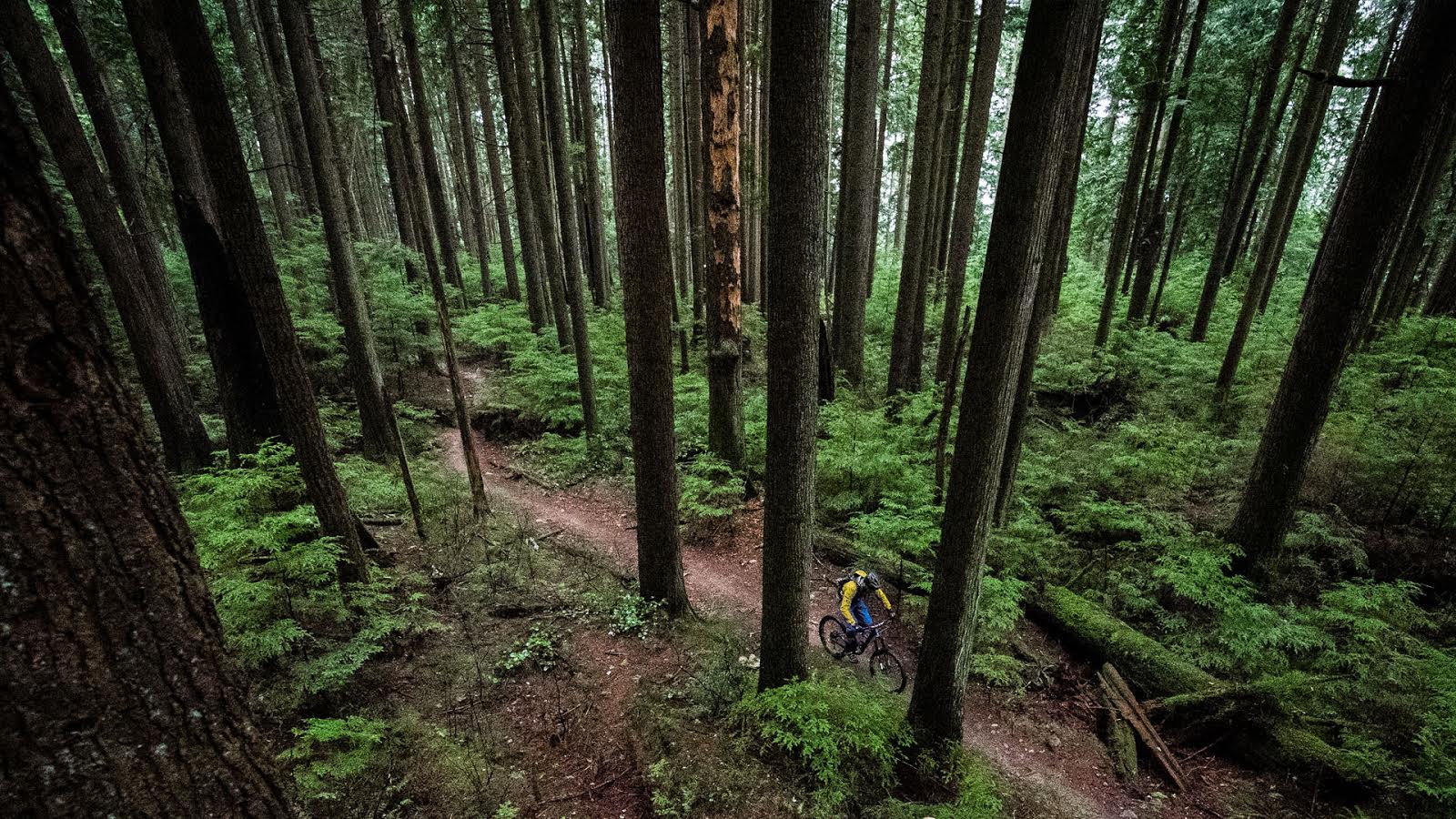 Educating the Debate – Part III
Keith Scott of Banshee Bikes is back with another serving of reality for the wheel size debate – this time focusing on tires. The discussion in the comments in Part I and Part II has been great, so catch up with where we've come and dig in for another part…
---
In this post, we will continue with the wheel size theme, but focus on tire-related factors such as contact patch, tire pressure and tread. Check out Part I and Part II for some other considerations regarding the physics behind different sizes of spinning circles. In Part I, small wheels beat big wheels, but in Part II big wheels fought back… so which, if either, is going to come out on top for you?
We will discuss contact patch and related factors across the 3 common wheel sizes. Once again I will be taking the wheels and tires from Part I for consistency: the 2.3″ casing Maxxis High Roller II.
Contact Patch
What is the contact patch, and how does it affect grip and rolling resistance?
The contact patch (shown in fig.1 in blue) is essentially the footprint of the tire that is making contact with the ground at any instant in time. For any given tire, it will change with tire pressure, as Pressure=Force/Area. So the lower the pressure, the more your tire will deform to the contours you are riding over.
A larger tire contact patch area represents more rubber on the ground, which increases friction and therefore grip (good). However, the larger the contact patch area the greater the rolling resistance (bad). So, as with most things, there is always a compromise, and you just have to pick the right balance between grip and rolling resistance to suit your needs.
Shape and Area
For this section on contact patch shape, let's look at a basic representation of each wheel size (no tread, and no tire stiffness) each with 2.3″ width , based on 50kg of weight (assuming 50:50 weight distribution, and bikes + rider = 100kg), and 2Bar (about 29PSI or 200,000 N/m²) of a perfect gas on a flat surface for all wheel sizes. Since the pressure is the same in each tire, the contact patch area will be the same for this scenario as Pressure=Force/Area. This is not very realistic as pressures will change a bit with wheel size (I will go into that later), so this is just to give an idea of patch shape.
In Fig .2 you can see the 3 wheel size contact patches overlapped for the same tire pressure and loads: the bigger the wheel size, the longer and narrower the contact patch. But the variation in shape is probably much smaller than you'd expect – or have been made to believe. So let's look at this slightly differently…
One way of measuring optimal tire pressure is actually as 'tire drop', which is a percentage of original tire height (a little like suspension sag) as seen in Fig.3.
If for each wheel size we have a 6% tire drop when riding along a flat surface on a slick tire, then this will tell us a lot about required tire pressure, as well as contact patch shape and area for each wheel size.
As you can see in Fig.4, the contact patch area and lengths change as tire pressure changes, but the width remains the same due to same tire carcass width and cross sectional shape. So for the same tire drop of 6% the 29″ wheel has a 2.7% bigger contact patch than 650b, which in turn is 1.85% larger than 26″. The difference in contact patch area and shape is far less than most marketing would have you believe, but it is present.
This also shows that the larger the diameter wheel, the less tire pressure is required to achieve the same tire drop. Therefore you can get away with running lower tire pressure on bigger wheels if you wish. That said, the volume of the tire is the more significant factor, so the width of the tire will have a more significant impact on required tire pressure than wheel size.
These factors are the reason that mountain bike tires are wider than road bike tires. For road cycling, traction is less important than minimizing rolling resistance (and weight) and so they run narrow low volume tires at high pressure. Mountain bikes run lower pressure, larger volume tires to increase traction as well as shock absorption. It's a case of picking the best tool for the job, by optimizing what you want, and compromising on factors that are not as important to you.
Tire Tread and Compound
All this marketing chat about contact patch actually ignores the most important factor. Tread patterns are massively relevant, because in reality, none of us ride around on fully slick tires on the trails. So when talking about contact patch, we really should be considering actual contact patch of the top of the treads on the surface, and also considering the extra grip provided by the edge of the treads biting into the ground.
Tread pattern and rubber compounds make a bigger difference than theoretical contact patch area; the tread pattern changes the actual contact area far more than wheel size will!
So when thinking about grip, rather than think too much about wheel size and exact tire pressures, you'd be better off spending that time and effort picking the best tire tread pattern and compound for the riding conditions and experimenting with different tire pressures.
A softer rubber compound (lower durometer) will not only deform more to 'grip' the ground, but will also help damp the ride by compressing more easily under impacts. If you use a new soft compound tire you will be able to brake later, accelerate faster, and corner harder; the tread will bite into the ground with nice sharp edges, and the soft compound will have a higher coefficient of friction, and absorb the shock to stay in contact with the ground better.
For Consideration
From all the information above, you can see that a bigger wheel will offer a slightly larger contact patch area due to the fact that you can run a slightly lower tire pressure. Therefore, a larger wheel will offer a bit more grip than a smaller wheel with same tire drop, but the increase in theoretical traction of larger wheels is probably less you were expecting.
With the larger tire contact patch comes more rolling friction, and efficiency is reduced. So smaller wheels are more efficient than larger wheels in this area for same tire drop. On a perfectly flat surface with a slick tire, smaller wheels with equal tire drop will lose less energy when rolling along than bigger wheels.
But let's be real… mountain biking isn't about just rolling along flat surfaces and we certainly don't use slick tires! It's about carrying speed through rough sections, cornering hard on the edges of tires, finding traction when climbing steeps and many, many more fun things. For most of these things, tire tread pattern and tire rubber compound are FAR more important than wheel size when it comes to grip. So my advice to you is not to get too lost in these wheel size numbers, instead pick a good tire choice and just enjoy riding your bike!
---
This conversation could be sealed off, but we have a feeling you might provoke Keith into writing a fourth piece with your comments  – fuel his fire, as it were. If you need to brush up on the discussion check back on Part I and Part II.