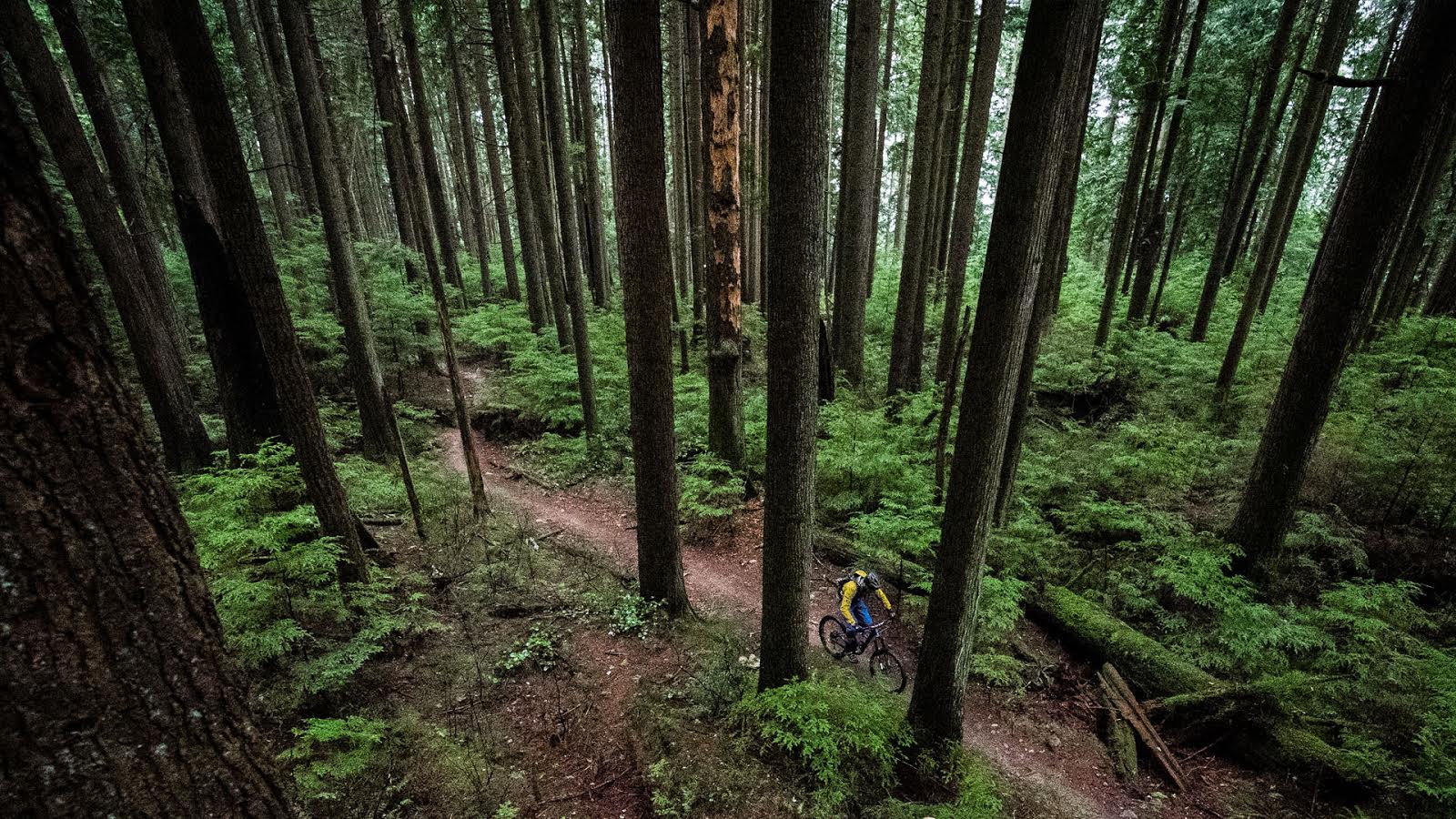 Easton Havoc Cockpit Reviewed
I previously spent some time aboard Easton's Haven 35 carbon bar and stem combo, which I was a big fan of – apart from the 750mm bar width which was a little narrow for my liking. I used to be wary of slapping carbon parts on my downhill bike, but after a season and a half of carbon on my trail bike I decided to spice up the big bike. Enter the Easton Havoc carbon bar and direct mount stem.
Easton sent us some test product so my downhill bike could transition from 31.8 to 35 – the Havoc 35 carbon bar, Havoc 35 direct mount stem and Easton lock-on grips (Which I reviewed when I first came on board with NSMB).
Easton Havoc 20mm Rise Carbon Bar
The Havoc bar has the same specs as its AM counterpart, the Haven. 9° sweep combined with a 5° bend make for a somewhat standard, comfortable bar. However, the Havoc is only available in a 20mm rise – 15mm when combined with the Havoc stem, as the stem itself has a 5mm drop. The bar comes stock at 800mm wide. Too wide for me, but that's the sweet spot for many riders. I cut mine down to 770mm, my preferred length for full-suspension bikes. The only downside I can see for this bar would be that there is only one colourway, black with white graphics, as well as only one rise option. Riders looking for a higher or lower rise 35mm bar could look at RaceFace or Chromag for more selection.
Easton Havoc Direct Mount Stem
The Havoc stem has a pretty neat design. It looks like a 4-piece but it's actually a 2-piece. To clamp the bar, you first need to remove the bolts, then carefully slide the bar into the stem. Take this step slowly, as you are sliding carbon along aluminum. I decided to marinate my handlebar with carbon grease to prevent slipping; I don't want to over-tighten carbon. The stem itself is unremarkable looking apart from the wide grip clamps.
The stem comes with two sets of holes, one for 50mm length and one for 45. It would be nice to see direct mount stems get shorter, especially with 35mm length stems available for pinch clamp stems, as well as top tubes on bikes getting longer in general. However, with the Havoc stem having a -5mm rise, making it shorter would be impossible because the bar would contact the fork crowns. I ran the Havoc stem in the longer 50mm position, as my 2013 Commencal DH bike has a somewhat short reach, a few millimeters shorter than my 2015 GT Sensor trail bike.
The Easton Havoc stem has two arrows pointing to towards each other at the front and there are angle markings on the Havoc bar.  This combo makes it easy to line up the bar just the way you like it. Nice touch, Easton.
Easton Lock-On Grips
Since I first reviewed Easton grips I've had more time aboard other brands and my thoughts have evolved. A lot of thought went into creating these grips, and they are some of the best. After riding without gloves, they felt too hard. Wearing gloves would be a solution, but I prefer bare hands when I'm on a shoot for quick camera access. In terms of softness, Sensus grips are at the top of the list for me right now.
It's hard to look past the thought that went into creating these grips, though. The end clamps are covered on the inboard side and partially covered on the outboard end, creating comfortable lips for your hands to butt up against. And those end clamps don't clamp directly onto the bar. Instead, plastic tabs are cut into the inside of the grip, which then press onto the bar. Easton says that these tabs are more friendly towards carbon bars than metal lock rings. And it's not just the plastic tabs. Easton's logo is raised in 3D in a fin shape all around the bar, making them left and right specific, as well as extra grippy. What's that, you like throttle grip? Well, that's too bad, your hands will stay put with these bad boys on your cockpit.
To recap, the Easton Havoc stem is good, their Havoc carbon bar is great, and their grips are one-of-a-kind and loaded with features. Though the stem and bar come in only one size and colour (white on black), Easton's grips come in more colours than the community center on multiculturalism day; 12 to be exact. Blue, yellow, orange, black, white and purple to name a few. Not only that, but Easton makes all 12 colours in 2 different sizes – the 30mm size I rode, and a 33mm version for those with bigger mitts.
The Havoc Carbon bar runs for $169.95 CAD, the stem for $69.95 and the grips for $22.95. It's hard to top quality products like these for those prices.
---
Looking for a new DH cockpit? It's tough to choose these days with many different choices out there…