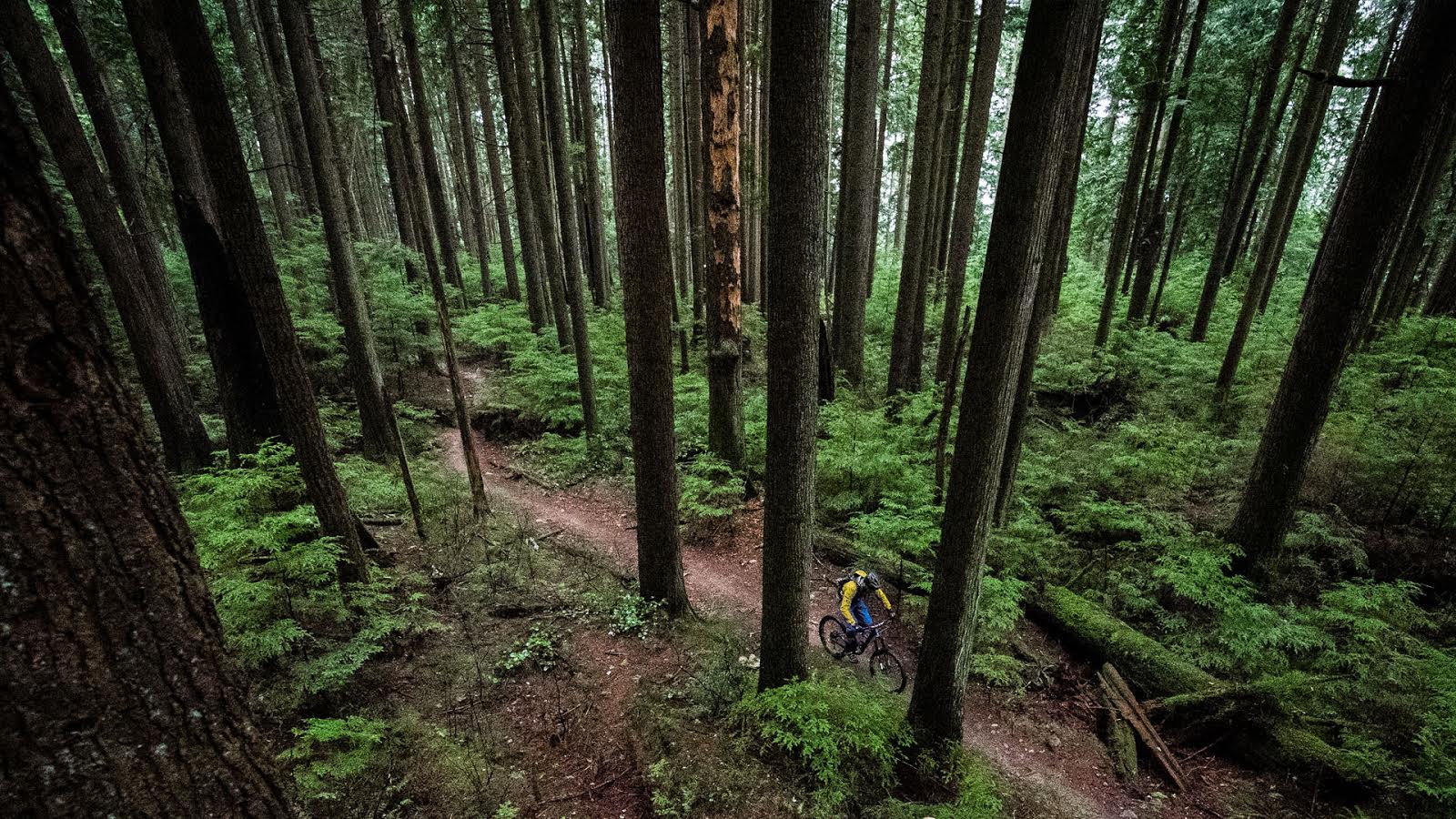 Easton EC70 Trail 29″ Carbon Wheels: Reviewed
At some point you have to find the limit of strength versus weight, and the Easton EC70 Trail 29″ carbon wheels have pushed me to that limit.
The Easton EC70 Trail is a carbon-rimmed wheelset weighing in at 1355 grams in 26" and 1460 in 29". The rims measure 20mm inside the bead hook, 26mm outside, with a 19mm rim depth. For such lightweight rims, they do have an appearance of solidity, though this is offset by the 24 double-butted, straight pull spokes at each end. All black with subtle graphics, the EC70s don't scream "look at me, I'm carbon!", which is something more high end parts could stand to do.
Mountain biking sure is different than it was a decade ago. With optimized processes, materials technology, and a thirst for going uphill as much as down, we are continually experiencing a race to the bottom in the weight department. With wheels, which have only so many constituent parts, the weight game is played in three places: rims, spokes, and hubs. Of all of these, rims are the most effective place to make a change, with hubs having a lot more material to "optimize", and spokes being the last place that really need attention. In the realm of cost effective modifications, rims are a place you can spend a couple hundred bucks and get a lot in return.
But Easton is not in the game of rims; they are in the game of complete wheelsets, with everything ranging from weight weenie XC to full DH. "EC" means carbon – Easton's aluminum products are prefaced "EA". On the scale of Easton's carbon mountain bike wheelsets, the EC70 Trail is the most affordable and second-lightest. Therefore, it's not surprising they have used the word "Trail" in the product name. That is, of course, the arbitrary category of mountain bike one bigger than "XC race".
Bikes in the Trail category are a more realistic than XC race bikes for the everyday rider; a touch more travel and more forgiving angles, compounded by larger wheel sizes taking over in the short travel market, and you've got a bike that's suitable for all day pedaling and occasional racing, but will also do you well when the going gets steep. The capability of a 110mm 29er is quite impressive these days, and I do believe this is a great category for development.
I'm a big proponent of putting stiff lightweight wheels on bikes that are spec'd with heavy ones. Bikes in the "All Mountain" category (160mm 26" or ~140mm 29") often feel dead underfoot on stock wheels, and a nice light set can turn that right around. I'm coming to believe that the common complaint of 29ers feeling sluggish can at least in part be attributed to rotating mass, especially on the long travel bikes that are spec'd with adequately strong rims and big tires.
My first experience on the EC70 Trail wheels was on the Trek Remedy 29, a 140mm platform with a Fox 34 up front. I wrapped the wheels in 29×2.3" Bontrager tires that weighed in at just over 1000 grams a piece. They replaced a 28 spoke, 1850 gram wheelset with similar tires – a savings of almost 400 grams. The parking lot test approved this change: I might even use the word flickable.
Out on the trail, though, it became quickly apparent that my tendency to smash wheels in the sideways direction combined with the capability of the 140mm platform was beyond the intent of the EC70 wheels. Vertical stiffness and power transfer were good – but when pushed sideways, the wheels became what I can only describe as "twangy". There was a lack of lateral stiffness – a trait that is arguably to be expected in a 24 spoke, 29" design.
Clearly not all carbon rims are created equal – and the EC70s were not up to the task of being on a heavy 29er being ridden hard. At 1460 grams I could have assumed that, but curiosity and a desire for light wheels led me to keep riding them. Being that my only other option was a wheelset weighing 400 grams more, I persevered, and while the audible complaint from the spokes continued, the wheels stayed tensioned and true over almost two months of smashing.
It was then that I did the right thing, and put the EC70s on the Specialized Camber, a 110mm 29er most definitely in the light Trail category. While my riding style doesn't change on this bike, I do pick lines a bit more carefully due to the less forgiving platform and steeper angles. And with this change, the complaints subsided. I was still able to produce the occasional twang, but with less on-trail gap sending and a careful approach that comes along with riding a smaller bike, the wheels were perfectly at home.
I've so far focused on the on-trail performance of essentially the rim and spoke combination. The third constituent of the wheel is the part that attaches it to your frame and drivetrain, the hub. This is a point that people have brought up in conversation surrounding these wheels, as Easton didn't have the best reputation for bearing life prior to 2013. In March of this year, Easton announced a retrofittable bearing upgrade for all their high end wheels – and I can report that after months of abuse the bearings and freehub are still running smooth.
One more note about the rims. While I do like to run my wheels tubeless, the Bontrager tires that I initially installed on the EC70s slid on with almost zero effort and were definitely not going to seal up without at least two strips of tape. For the sake of the review, I wanted to try another 29" tire that I had been running tubeless earlier in the year. As it turns out, even 2.3" Specialized tires fit loose on the EC70s, and I decided not to bother with adding an undetermined amount of tape to the rims to test their tubeless-worthiness.
Running tubeless requires a tight fit at the bead seat, and I am going to say that the EC70 is not the ideal rim for this application. If you wish to run tubeless on Easton wheels, both the lighter EC90 and the heavier Haven wheels have a true UST bead that will not leave you guessing.
It is worth mention that while I haven't broken any spokes over the past few months of riding, Easton employs one standard spoke length for all four spoke positions – a commendable aspect of simplification.
While the word Trail is used in the product name, I'm not certain these wheels fit my definition of that part of mountain biking. While I do like the idea of a lightweight wheelset, I'm not sure cutting spokes out of the equation is the best way to achieve that. The EC70 Trail wheels look great, weigh almost nothing, and appear to have addressed the durability issues of previous models – but they are best suited to a short travel bike or under a lighter rider, where less value is placed on lateral stiffness.
The Easton EC70 Trail 29″ wheels go for a hair over $1800 USD for the pair.
---
Do you believe in a definition of Trail beyond the routes we obviously ride our mountain bikes on? How light is too light? Where do you draw the lines?