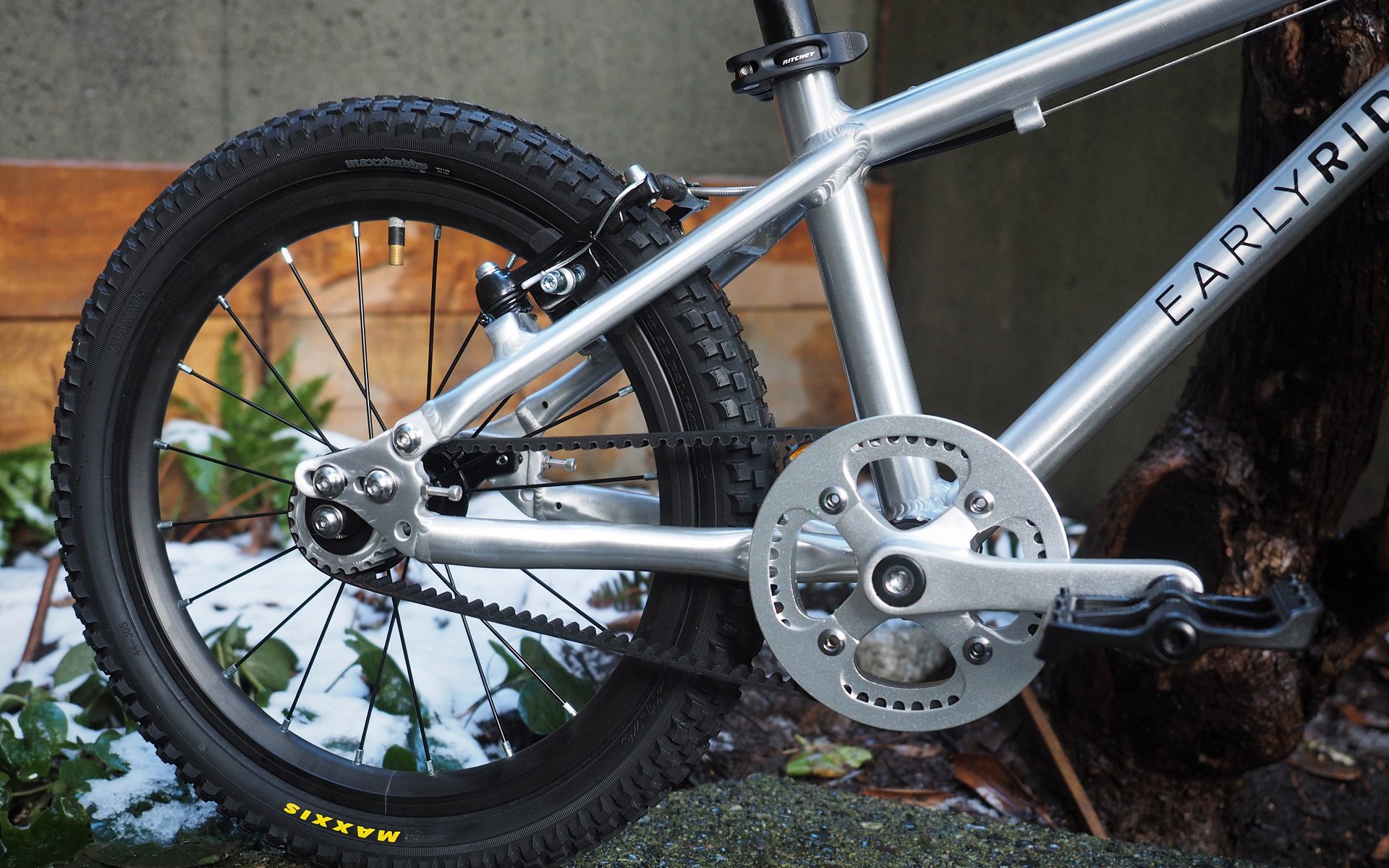 FIRST IMPRESSIONS
Early Rider Belter 16 Trail
Kid Friendly Finishing
My progeny's Early Rider run bike has been crashed at the local asphalt pump track, dragged up the concrete stairs to our front door*, leaned against all manner of metal racks and railings, and strapped to the back of my commuter bike. From right up close it looks beaten but from a foot away the finish looks fresh.
I wouldn't be surprised to hear that some riders are spending hours shelter-taping their kid's rigs, but if that isn't you - and it most certainly isn't me - one of the Early Rider Belter's first and foremost features is that clear-over-raw brushed aluminum finish.
*"No, I will do it myself!"
The problem with a clear-over-raw finish? There's simply nowhere to hide shoddy craft. And so, here is an aluminum frame with 16" wheels, a finish that will look fresh through multiple riders, and welds that look better than half the metal bikes on any performance shop floor.

There's a reason this type of finish is usually the domain of boutique aluminum frame builders. Think Knolly, Banshee, and the new Specialized Stumpy Evo. This is a kid's bike for cycling-obsessed parents and we'll notice.
Beyond the obvious quality of the 6061-aluminum frame and fork, the Belter 16" Trail has a host of interesting details. From the forged 105mm cranks and their sealed-cartridge external bottom bracket to the pleasant hum of the freehub driver of the four-bearing cassette hub laced to double wall aluminum rims, this package looks like a good value even at the SRP of 480 USD | 645 CAD.
The sub 12-lb weight is hard to argue with as well.
The Build
The Early Rider Belter 16 Trail combines a wide 480mm bar and massive 680mm+ wheelbase with a 69.5° head tube angle and comes almost fully assembled out of the box. Install the bar and ride.

My assistant mechanic wasn't having any of that though, so the Belter Trail was pulled apart and greased up like any other bike I test. The only steps left are to dial in the brake lever reach and track down some Schrader valves and find out if the massive 1.75" Maxxis knobbies air up tubeless.
This is not the first Gates belt drive system I've worked on. The quality of the cog and sprocket machining are always impressive and as long as the frame is well aligned, as is this Early Rider, they work well in my experience. The drivetrain was well tensioned out of the box and given the torque they're designed for I'd suspect a very long life out of a 3-6yr old rider.
The brakes required a quick adjustment but otherwise it was just a matter of greasing and torquing bolts, the bottom bracket, and filling the headset cups with grease to ensure a life spanning multiple kids.
For anyone with an old 1-1/8" Chris King headset sitting unused in their toolbox, you'll be happy to know that the Belter uses a standard 1-1/8" head tube. It comes stock with a 60mm 31.8 stem as well for easy length swapping.
The hex head bolt-on hubs are one of my favourite details. Most kids' bikes use nuts requiring a wrench to change a flat or use cheap quick releases that are a PIA to open or close and are prone to failure.

On the other hand the seat post QR is a nice touch for a bike that is going to be used on the road, at the pump track, and entry level mountain biking.
First Impressions
The Early Rider isn't cheap in price but I suspect it will hold resale value given the quality of the frame and components. I was asked regularly about re-homing plans for our Early Rider runbike and this is an equally impressive looking machine.
If I was doing the spec for the bike I'd go with a cartridge bearing resin pedal with replaceable pins - like a tiny WahWah2 - for increased grip without a price increase and maybe a larger volume tire - although that will prove to be application specific and this bike will see pavement, gravel, and trail - rain & shine.
The Belter 16 Trail rolls in with very high expectations, both mine and my mini-Stig. The rebuild went quick & easy and there really isn't anything needed out of the box.
I'll have a review ready to go this spring and in the meantime check out Early Rider for more information on the 480 USD | 645 CAD Belter 16 Trail and their other models.