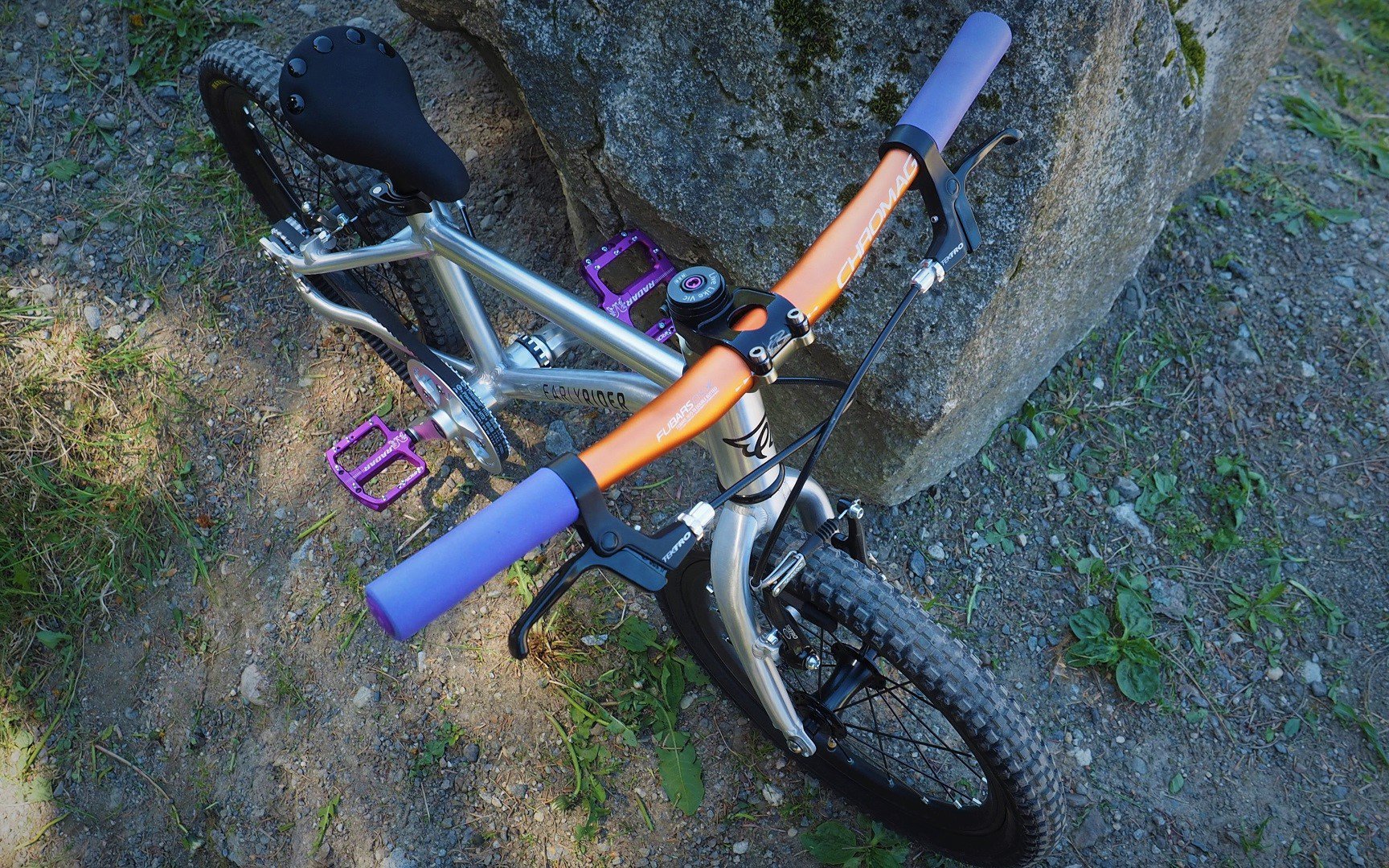 REVIEW
Early Rider Belter 16 Trail - Reviewed
Growing Up Bikes
Look over the frame. Spin the cartridge bearing wheels. Check out the Gates belt drive, external bottom bracket, and sealed cartridge bearing headset. No question, the Belter is a multi-kid bike. Check out the resale value, and even for a one-and-done bicycle family I think there's strong value potential. Like anything mountain bike, value comes from smiles per mile and cost amortized over time.
For my little one, the Early Rider was love at first sight and an easy transition from her other pedal bike on the road. She's cautious by nature and it wasn't an easy transition from ripping the pump track and gravel trails on her run bike to hitting the same on her pedal bike but with lots of laughs, perseverance on her part, and some key changes, this is going to be a great summer of family cycling - including off road.
We'd previously had an Early Rider run bike, which was faultless over our ownership. It also still looked great, as long as I didn't look too close, after multiple meetings with pavement.
Between the run bike and our experience with the initial build up, highlighted in my first look piece, I was confident this would be an easy review to write. It's been an awesome bike but, as with any bike review, it did take a little bit of work to get there.
Out Of The Box
Kids aren't any different than adults when it comes to bike fit. By that I mean, they're all over the map and at some point science meets personal preference. The challenge of getting on and off means running the saddle a bit lower than optimal even on the road and I was very glad for the good quality quick release right out of the box whenever we headed to the pump track.
The one place that I think a lot of parents will be making changes to the Belter 16" is handlebar height. I'd guess the stock setup, between the stem and bar, could be 30mm taller and no one would be looking to drop it.
Bar height is an easy change, and given the Early Rider line is going to appeal to cycling parents, many of us will either have a spare bar lying around or know someone with a garage full of them. I ended up cutting down the Chromag bar that was on my dad's commuter bike but I also know plenty of folks that have hung on to 'narrow' bars from back in the day that would have happily traded them for beer.
A less easy change is gearing and that's the only place that the Gates belt system isn't amazing. On Claire's Spawn it was nothing to swap out the front (64 BCD) chainring for something else, and old 4-bolt mountain bike granny rings are easy to track down. Claire's adapting well to the Early Rider, and like any single speed you're rarely in the perfect gear, but I would gear it down a bit if it was an easy swap simply due to all the hills we ride.
Lastly, Claire didn't like the stock grips because they looked like what a little kid has on their run bike. By which she means the big flanges on the outside. Fair enough, I'm always suggesting folks try different grips - generally for reasons of fit rather than cosmetics but what can I do?
After an exhaustive search of grips that were available in purple, I purchased a set of ESI-style grips from Supacaz. They're best known for their ultra-comfy grip tape but I cut them down, installed them, and they get two thumbs up in wet and dry conditions with gloves on.
Hey, grips are such a personal preference item you're just as well taking advice from four-year-old as from your buddy.
Out In The Wild
I've worked on a few bikes with Gates belt systems in the past. Some have been faultless and others have been highly problematic due to frame alignment issues. Beyond that experience it's never been a technology I've considered for my own bikes before now. Admittedly there's a bit of a difference between the force I'm putting out and the watts my four-year-old is generating but I'm very belt-curious.
First off it's damn quiet and other than hosing it off after some particularly muddy rides it's been completely maintenance-free. It's also clean. When we drive places I transport this bike in the trunk and the belt is brilliant for not getting greasy chain marks everywhere - including on my kid.
I know lots of mountain bikers living in small spaces and I suddenly can't help but thinking the true beauty of owning an internally geared bike like the Taniwha is only realized when it's combined with a belt system.
We have a deal on our regular paved ride that I'll lean over and provide some extra push power anytime the hills get steep. Every ride Claire's charging up the hills harder and I'm pushing less.
When she's reefing on the bars trying to make the bike go uphill, or spun out on the flats, the front wheel does squirm quite a bit. I can't help but wonder if a slightly slacker head tube angle might be helpful. Some of that is of course just nervous dad not wanting to pick up the pieces of a 'high speed' off-the-bike on any sport surface.
The Clairebarian doesn't seem to notice though, she's too focused on riding.
The beauty of small wheels and tiny rider is that the V-Brakes seem to provide ample power even when we're riding in the rain. I considered trying to track down some of the higher-friction pads I used to use in the days before discs but we've had no issues to date.
The system is light and very easy to tune and the cables and housing are high enough quality that friction hasn't come up as an issue the way it does with the brakes and gears on most kid's bikes. I do give them a test squeeze before every ride though.
The Tektro levers are standard equipment on most good kid's bikes with cable-actuated systems for a reason. I'd love to see a TRP version come out with a ball bearing pivot so all that squeezing force is going straight to the brakes, but really they are very good for tiny hands.
Upgrades
As I noted when talking about fit, the first thing Claire noticed when she straddled the Early Rider was how low the bar was sitting. I called around and had a couple of friends willing to surrender 40mm riser bars out of their parts bins, but I had a light used 25mm Chromag riser bar from my dad's commuter - which was already cut down a few mm - and I elected to use that.
I cut the bar down to match the stock width, and then combined it with a +20° riser stem from Renthal that was languishing in a parts box. It's the first gen Duo stem, and unlike the later Apex models where I had great results, I could never get it to go more than a couple rides without it creaking*. It's perfect for my 40 lb kid though, and she thinks it looks sweet.
Absent access to spare parts, I would have just bought a basic 40mm riser bar and been done with it. It's certainly a change I would look at before rolling away from the shop as it's a common upgrade that other Early Rider owners have also noted.
*Stem creaks being one of the scariest sounds a bike can make.
The one major upgrade I've sprung for is a set of Chromag Radar pedals. "Purple, like we saw at the bike show" as the request went. I can't help but hate on Chromag a little bit for not making a Synth-esque plastic version of these pedals but I figure I'm amortizing the purchase over enough years that I'll get over it.
That said, thank you - thank you - thank you - to Chromag for making awesome bike pedals for kids. They've made a huge difference to Claire's confidence on gravel and dirt, not to mention finding the right position for pedaling on pavement.
It's shocking to me how many component companies have 500 different flat pedal options between sizes, colours, materials, etc and yet there's a real lack of great kid's pedals.
That's not to say that the stock pedals aren't okay. They are - but just okay. As soon as it rains or my kid is trying to ride the pump track or off road, the Radars start paying for themselves.
Any other bike company and I'd probably give them a pass, but Early Rider has such great attention to detail in the spec and manufacturing of their bikes that I'd love to see an across the board upgrade to a composite glass fibre (high quality plastic) body with proper pins and a sealed cartridge bearing in a 70mm x 80mm or 70mm x 90mm platform size.
I'm guessing it could be done without increasing the price of the bikes at all.
Cost-Benefit
Financials. Yep, that's a pile of money for a kid's bike. Not relative to a new fork, or carbon rims, or a top-end rear hub for your bike. But still, 480 USD | 645 CAD is what it is when it comes to laying out the cash.
With multiple kids in a family, there's some justification in not having to worry about replacing the drivetrain and the finish holding up great to relax the hand-me-down factor. There's also the fact that these bikes seem to really hold their resale value.
At first I was a bit worried about the gearing, as it isn't cheap to change ratios, but like any single speed it's a matter of being in a 'good enough' gear as much as possible and I think Early Rider has balanced gearing for on and off-road riding, and pump-tracking, etc, as best as possible.
Sealed cartridge bearings all around, a freehub out back, the Gates drivetrain, and the high quality frame manufacturing add up to a bike that's going to have a very low after-sale cost of ownership. Up front I feel a higher rise bar will be an almost universal upgrade but otherwise it's ready to ride out of the box.
All in all, I can't recommend enough the Early Rider Belter 16 to anyone who can come up with the scratch, and Early Rider bikes in general after our experiences with the Belter and Claire's run bike. I'm really excited to see what the future brings from this brand because, as I see it, kid's bikes just keep getting more and more awesome.
---
More information at Early Rider. Very curious to hear any upgrade or fit ideas and personal experiences with the Belter lineup in your comments below.