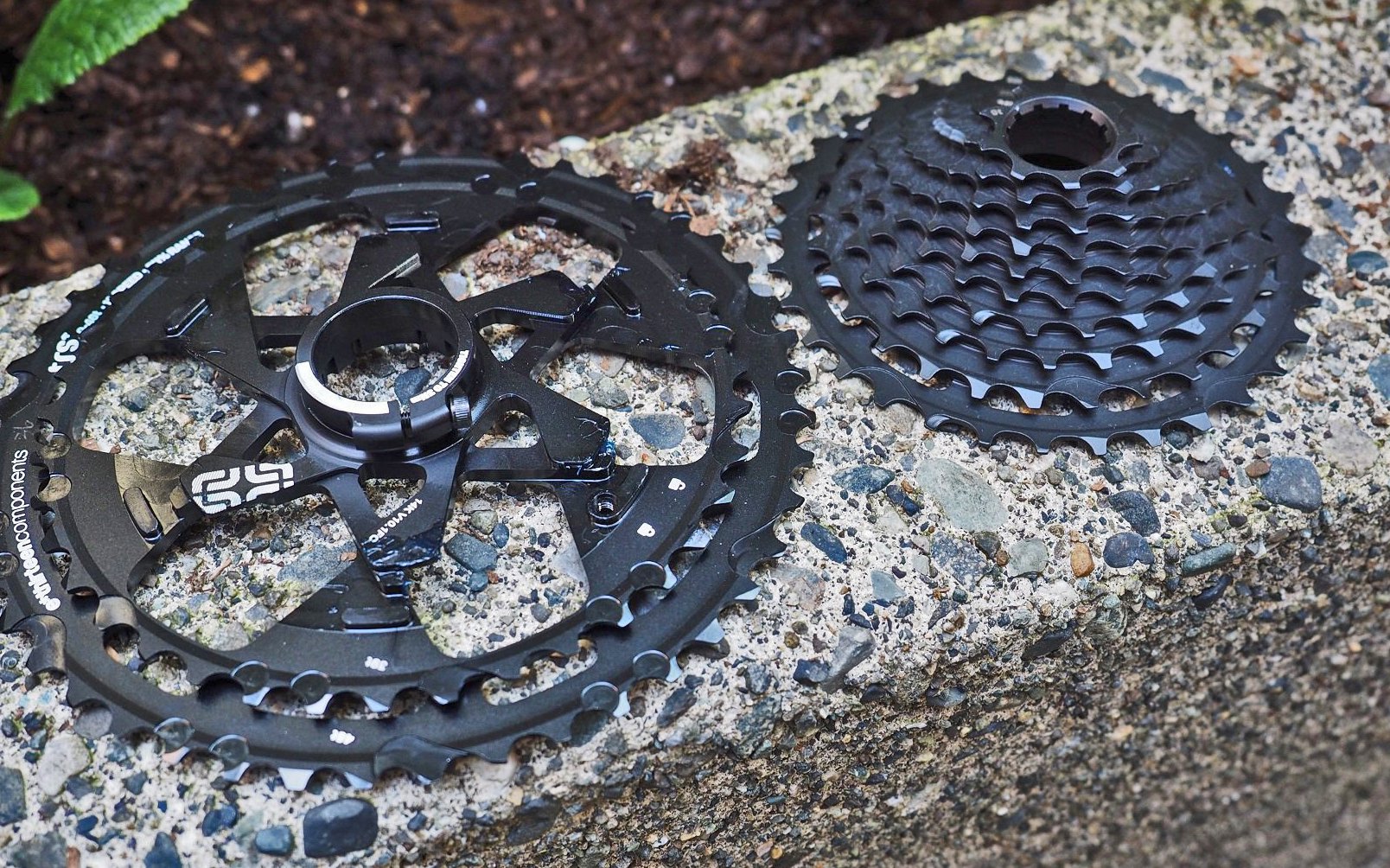 Teardown | First Impressions
e13 turns Your SRAM 11 up to 12
Bearings & Daring
I spend half my trail time on a single speed and I truly believe that I'd love to have a 400% 4-speed drivetrain on my dual suspension bike. I'm pretty sure that neither of those facts makes me e*thirteen's ideal candidate to test a 300 USD kit that 'upgrades' my 11-Spd drivetrain to 12-Spd with the same 511% spread as the excellent 11-Spd e13 TRS+ cassette I'm already running. 
This kit is intriguing to me for two key reasons. Firstly, the replacement shift spool has cartridge bearings which upgrades my GX shifter's performance to the much better feel shared by X1/X01/XX1. The second reason is simply that e13 has the pluckiness to step up and offer internal modifications to SRAM shifter parts. 
Three reasons actually. e13 includes a jig with every kit that is the only proprietary tool needed to install the ratchet and spool upgrade that every rider doesn't already own. I like the bold assumption that any rider buying this kit can install it themselves at home.  
The kit includes a TRS+ cassette, which represents 250 USD of the cost, a new 12-Spd chain, spacers and bolts to make an 11-Spd SRAM derailleur 12-Spd compatible, and the two-bearing spool which, as I note, is an upgrade for GX.
There are two different ratchets - for GX, X1, and X01 and one for XX1 - and they are very easy to swap on the spool. In all my blind installation took about 30-minutes with the help of my three-year-old assistant and having to take the shifter apart twice in order to install a shift spool washer that said assistant fed to her platypus. 

At all nervous? I'll highlight how easy the installation is below but e13 will also have an instructional video up shortly that potential customers can watch to gauge how their technical ability measures up to the task. Of course your friendly neighbourhood bike mechanic should have no problem tackling the job.   
Fresh chain, fresh cassette, fresh shifter cable, and housing with a shot of TriFlow* - shifting was going to be improved no matter what e13 had done here compared to my 11-Spd GX drivetrain in its current state. That said, this is now the best shifting GX drivetrain I've ridden and as much as I question the 9t cog or even SRAM's 10t cog, I do appreciate that the 511% gear range doesn't require a derailleur cage that's a foot long. 
*just a reminder that this and as a cologne (if you're trying to attract yourself a hot bike mechanic) are the only good uses for TriFlow. 
It's the early days of a thorough thrashing, but I'm predicting anyone with a good SRAM 11-Spd drivetrain will want to consider the cost comparables of this kit versus an Eagle drivetrain. 
The cassette is 340-grams with the 10x steel cogs and 2x aluminum cogs are replaceable in halves and can now be installed and removed without proprietary tools. Shifting performance is improved or maintained depending on the level of SRAM drivetrain being used. Derailleur cage length doesn't grow. It reuses parts that are worth next to nothing on the used market. 
Installation
The first thing I installed was the spacer kit for the rear derailleur cage. It's a straightforward affair with two larger spacers and two longer bolts included with the kit. The only catch is to remember that SRAM's narrow-wide derailleur pulleys are directional. So be certain to re-install them properly. 
Next up was swapping the spool. e13 will have a video up outlining the whole simple process but I think it is very intuitive for anyone who is familiar with the inside of an SRAM trigger shifter, which is anyone who's ever changed a cable. 
On the shifters with adjustable trigger position the first step is to remove said shift lever, but for the GX it starts with removing the shift cover and the three screws holding on the body fairing. The jig replaces these screws and the screws are then used to hold the jig in place so that spool bolts can be removed without the shifter exploding. 
Pro-tip! Make certain the shifter is in high and don't touch those triggers until the shifter is all back together. 
Swap the spools and reverse the process. Install the 12-Spd chain and fresh cassette and it's time to ride. It actually feels like it should be a more complicated process but that's a compliment to how simple SRAM has made their shifters. 
There's a seemingly infinite abyss of IP law surrounding shifters and derailleurs but if this kit is any indication of the focus at e13 HQ I can't help but wondering if shifters and derailleurs of their own can be far behind. I think more competition on the drivetrain front is a good thing so all I'll say on the subject is please don't Box us e13.
I sincerely hope that the Chicago outfit's reaction to this kit is to remember way back when they were the spunky engineering upstart. 

There you have it. Probably not an upgrade anyone 'needs' over a top end 11-Spd SRAM drivetrain and an e13 TRS+ 11-Spd cassette but for an extra 50 USD, including a chain, yours can go from 11 to 12 too. 
A certain improvement in shifting for anyone running GX-11 who needs a new, quality, cassette anyways. 
More info coming soon to e13's website.