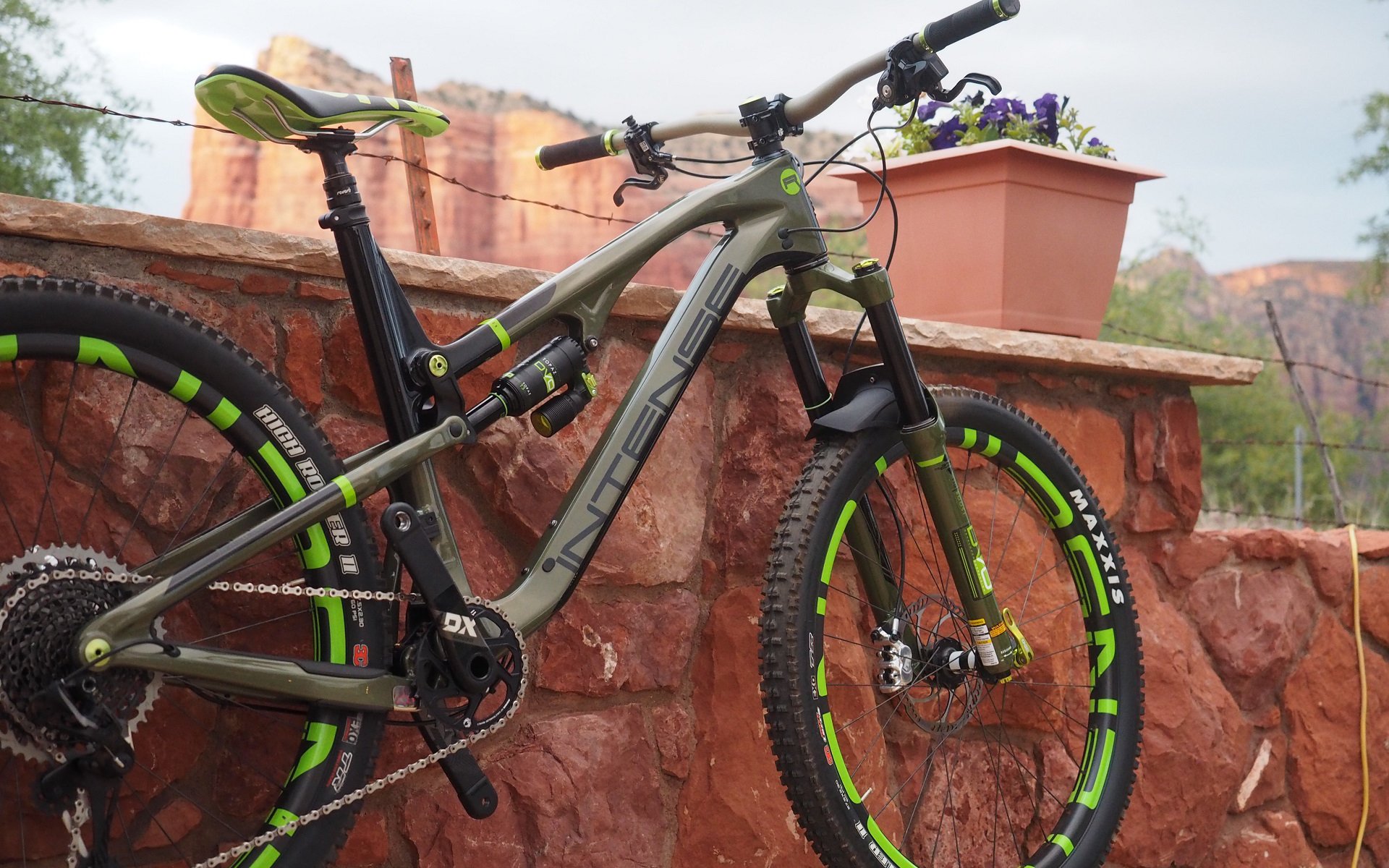 Editorial | Review
DVO Edition Intense Recluse/Intense Brand Carbon Wheels
Intense Wheel Spec
I'm reclusively slipping down in my chair like Spicey seeking cover in the bushes except I just happen to be seated behind the only two people at Magura's 2017 ride camp who are shorter* than I am. 
A few steps away, standing directly in front of me, is Intense's Chad Peterson. Chad is a great guy. It's just that he seems to be staring right at me every time he mentions the "30mm internal rim spec" on the Recluse DVO Edition bike he's introducing. There's been a lot of mentions...
Chad goes on to explain that the 30mm internal rim width of the DVO Edition Recluse is about more than a single bike. It's also about more than their new Intense branded carbon wheels. For Intense this 30mm internal rim number is being adopted into their Tao of trail bikes whether 27" or 29" and through the entire price range. Welcome news and perhaps a touch of humble vindication for me. After all my attempts at satire and humour already have me looking over my shoulder constantly and using a fake name**.  
My number one issue with the 2017 Intense Primer Pro I tested was the minuscule internal rim width (22.5mm) which I felt negatively impacted an otherwise good bike. With a touch more travel, smaller wheels and an otherwise very similar frame design and kinematics it was nice to jump on the 30mm shod Recluse for a comparison.   
The 30mm Internal Rim Standard‽
The bike industry has a long history of expanding and retracting standards. Examples? At one time there were four steerer tube sizes and now almost every fork uses a 1.5" / 1-1/8" tapered steerer. The wild west of headset spec has been simplified to the point where internal 44mm/56mm cups or integrated 42mm/52mm bearings come on almost every bike***. I notice that bottom bracket spec seems to be thinning out to mainly BSA 73mm and PF92 and almost every current performance bike is being built around Boost spacing. Heck, even a number of brake adapters have gone extinct. 

I'm on board with the Intense argument. Bike companies looking to spec modern mountain bike rubber give their customers the best nominal performance with an internal rim width of around 30mm. I've used Race Face's ARC 30 rim with everything from 2.3" tires to new +/- 2.6" tires with great results.
Just looking at alloy options for the moment the rims I see the most chatter about are the ARC 30, DT Swiss EX 511 and Stans Flow MKIII which all sit around 30mm internal. It's the best combination of strength, weight, tire support, and durability.  
I think it's fair to expect that companies selling aggressive mountain bikes will spec at least 27-28mm internal rims going forward.
Intense Recon Carbon Wheels
The two carbon rims I've spent the most hours on are the 28mm internal Reynolds Enduro and a few different ENVE models. Those options represent the two poles of carbon rim ride quality and my brief experience on the Intense Recon carbon rims puts them firmly in the Reynolds camp.
That's not to say that the Recon wheels - and by extension, the Reynolds wheels - are flexy by any means. They just have a notably more forgiving ride than the ENVE options. Ride quality aside, I also appreciate the external spoke nipples. 
Riding the Recluse DVO
I've ridden a number of bikes with Intense's trail version of their 'JS Tuned' lower-case-vpp suspension platform. Multiple generations of the Carbine, the Primer and now the Recluse. And on those bikes, I've ridden a number of air shocks including the Fox DPS, Fox CTD, Fox Float RC2 and RockShox Monarch Plus. The first thing I noticed whether standing and pedaling (in open mode) or descending is how well the DVO Topaz rear shock works with this platform.
I haven't ridden the Topaz previously so I can only speak for performance at around 30% sag on the Intense Recluse. Caveats out of the way, I'd suggest any Intense owner riding this platform consider the Topaz. 
Suspension aside, I would love to go back and ride the Primer with a set of the Magura MT Trail brakes and the Intense Recon wheels - or a set of 30mm internal alloy rims. Recognizing that the Recluse has an extra 10mm travel front and rear and smaller hoops it admirably demonstrates how well the suspension design can perform in chunky terrain with well supported tires and the power to adopt a brake-later philosophy. 
Understating It...
With affordable, decently light and durable OE options on the market like the 30mm internal Race Face Aeffect wheel's I've been testing, it's hard to think of any justification for much narrower rims - with XC Racing being the only obvious exception. 
You could argue for the sweet spot starting around 27mm with DT Swiss' EX 471 and stretching up to a set of 35mm internal width rims like the Arch 35. But for that ultimate combination of survivability, weight, strength and tire profile, I'm with Chad Peterson. 
I'd love to see companies adopting 30mm internal as their across the board standard on non-Plus mountain bikes. 
*Average height at ride camp was around 6'8". 
**I just tell people that I'm Ryan Leech but I swapped yoga for beer and doughnuts. Everyone likes that guy!
***Notable exception being the many small builders using straight 44mm head tubes.