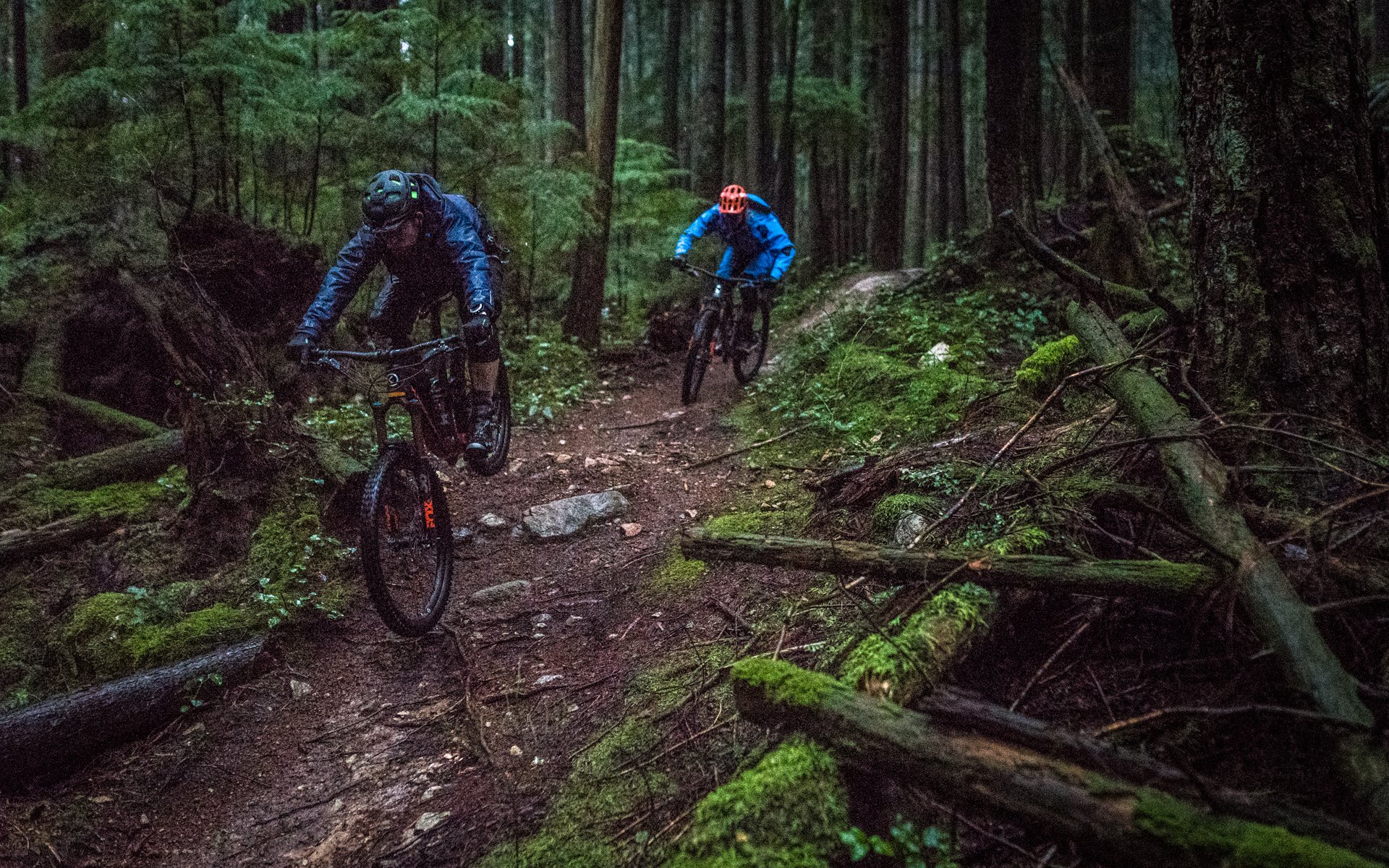 Aluminum v. Carbon
Duelling Knolly Wardens - Carbon vs. Aluminum - Final Verdicts
This is not a Shoot Out
Brand A vs. brand C with similar travel, wheel size and price;.this is pretty common stuff. Testing bikes that are virtually identical aside from the frame material is less so. And I assumed it would be easier; because carbon is better! Noticeably better! It has to be FFS because the industry has been extolling its superiority since carbon frames first appeared. And the industry never, ever lies, misleads or conceals...
In fact the answer was more complicated for the three of us, and the bikes were close enough that our opinions sometimes conflicted. We were careful not to talk about our impressions before submitting our 'results' so that our opinions wouldn't be diluted. In that sense our process was pure, in other ways it was a little muddy.
Here are our Impressions...
Cam McRae's Findings
Since the raw material has a higher strength to weight ratio, better sound and vibration damping characteristics and because it can be molded into any shape an engineer or M.C. Escher can imagine, the finished product will be significantly and noticeably better by most measures. It should be stiffer, both in terms of transferring energy from your meat engine to forward motion and in terms of precision handling. A comfort tax often accompanies an increase in rigidity but because of the structure of a laid up carbon frame and the material itself, that tax should be waived. This is what conventional wisdom tells us, along with every marketing blurb ever.
And carbon frames look amazing. My first mountain bike was a smoothly fillet brazed Ritchey, and even the pearliest tig welds have always felt a little unfinished in comparison. Carbon frames take the organic form to loftier heights and for me the most beautiful frames (not necessarily the sweetest or most desirable) are made of carbon. There are frames where straight lines seem to have been banished with the exception of the underside of the bottom bracket shell. Others preserve angularity but frame junctions, which aren't really junctions at all, disappear as syrupy curves merge.
Recently aluminum seems to be bridging beauty gap* as hydro-forming techniques improve and expand allowing both more complex forms and wall thickness variation (both inside and out) and CNC machining continues to be refined. Many manufacturers attempt to build aluminum frames that mimic the form and impression of their carbon siblings, both with the aforementioned techniques and with improved painting and finishing. The Trek Farley we have been testing is aluminum throughout but from a distance it's hard to tell.

* These manufacturing advances should also close the performance gap but carbon seems to be advancing at least as quickly in this regard.
While I'm a sucker for looks, I'd saddle up a lipsticked warthog if I felt it could help me ride better and faster and squeeze more juice from each ride. But since carbon should win out I should get both damnit. With a hefty wallet penalty of course.
The Process
Since I'm not a racer and no longer have aspirations in that regard, the unscientific approach seemed to be the way forward. I'm unconvinced about back to back timed runs anyway since there are too many variables that can't be controlled for. Were you warmed up better for the second run or more tired for the second run? Did the second run allow you to read the trail a little better? Those factors and my lack of consistency, likely the result of a corresponding absence of skill and discipline, made clocking the difference impractical.
So anecdotal impressions were the way forward. I spent solo days on both bikes, sometimes on consecutive days and other times with gaps and we did back to back runs as well, ensuring tire pressure and other settings were as identical as the parts spec. All of my rides on the Wardens were on the North Shore, exploring the techgnar.
Stiffy-ness

Some of my impressions defy the aforementioned conventional wisdom and overall, the differences I perceived were much less noticeable than expected. In terms of handling, it seemed to me the aluminum frame was more precise. I had more confidence it was going exactly where I pointed it, whether for better or worse. The rigidity perception swapped when I put some power down; the carbon frame gave the impression every kilojoule expended (micro joule?) was reaching the rear wheel. The aluminum seemed to have slightly more flex at the bottom bracket during out the saddle efforts, again for better or worse.
Noise
I paid particularly close attention to this one because it seemed unlikely the bikes would be close. Both frames rode quietly and I'll be damned if I could tell the difference. Likely stones bouncing off the downtube would have exposed a distinction but I can't recall that happening on either bike (or I didn't hear it) so it remains a guess.
Vibration
This was another area where I failed to perceive any gap. Neither Warden rattled my bones more than the other and both dissipated hi frequency forces effectively. It's possible that higher speed trails (the old shale section on A Line?) and more riding in the dry would have exposed a difference.
Overall impression/Performance

I found the Wardens delivered a remarkably forgiving and neutral ride. The progressivity of the travel allowed for a nicely bottomless suspension feel with good support throughout. I found myself diving into some challenging lines on my first ride (on carbon) and even rode a tricky move I hadn't had the nerve to attempt earlier. The ample travel and slack head angle savoured rowdy lines. I found the bike to be relatively nimble in terms of getting off the ground but less so in terms of reacting quickly and swapping lines. I wouldn't call it a slow handling bike but there are others in this category which I would say react more quickly (the Transition Patrol and Yeti SB6 being two examples). The bikes were however quite willing to get on the rear wheel, a trait I always appreciate (despite my inability to consistently hold a manual).
Cornering bite was very good and my confidence in the Warden's ability to hold an arc in bumpy circumstances grew with every ride, likely the result of an extremely stout rear end and the quality of the rear travel, but the Fox 36 and the Minions (2.5 front and 2.4 rear) deserve some of the credit.
Some others didn't appreciate the way the bikes climbed but I found them effective on both fire roads and in technical situations, with excellent traction and pedal bob that was predictable and measured with damping engaged. On tech sections I would actually say the bike is a stand out climber. The riding position (not excessively long by current standards) suited me as well, being someone who is longer of leg than torso.
Glaringly I didn't discern between the two bikes in my descriptions above. That's the result of my inability to notice a difference between them in any of these areas (aside from bb flex mentioned previously). In fact, I feel a little duped
THE Answer
Have we been sold a bill of goods by the bike industry? Companies have been telling us CARBON IS BETTER! since it first appeared in our sphere and that is likely true in many cases by some measures. The Warden however is somewhat unique in a few aspects. Noel Buckley told us that his answer to the environmental challenges* of manufacturing and disposing of carbon frames was to make something that he feels will be incredibly durable and long lasting. If it stays out of a landfill for a long time there is a pretty clear environmental benefit, and an even more tangible benefit for riders. This approach means the carbon bike weighs only slightly less than the aluminum with identical parts (on my scale that is - Cooper's results differed). This should mean the laid up frame is stronger by almost every measure and it could also explain areas where I expected to notice a difference but didn't (sound and vibration damping perhaps?).
*In theoretical terms aluminum is 100% recyclable without any loss of natural properties. Carbon cannot be re-used with currently available technology
Another difference is, unlike many bikes the Warden competes with, it was designed as an aluminum bike first. Noel downplays the significance of this (accurately) but the fact remains that there are structures you can create with carbon that are either very difficult or impossible to reproduce with drawn aluminum tubes. So I can't say the conclusions I have come to about the distinction between carbon and aluminum Knolly Wardens can be extrapolated to other bikes.
Back to the issue at hand. Given how close the performance and ride characteristics of the two frames seemed, and considering I perceived the aluminum bike to be better than the carbon version in one area, I'd be hard pressed to recommend opting for the more expensive carbon frame, unless your priorities are energy transfer and sex appeal. I'm unable to draw conclusions regarding longevity, durability and performance life, which could each be better with the organic frame, but that is speculation based on conventional wisdom regarding carbon and the overbuilt nature of this carbon frame in particular. The takeaway is this; I wouldn't hesitate to purchase the aluminum version of the Warden or to recommend it, but if an extra G-Spot in your wallet is more important to you than the intangible benefits of a carbon frame and sprinting performance, Al is your guy.
---
Pete Roggeman's thoughts
Depending on how you look at it, this experiment was immune from failure, or doomed from the start. Immune because we deliberately kept it subjective, and aren't making claims about our observations being anything other than that. Or doomed because if you choose to be skeptical, you could accuse us of copping out by not using timed runs and dutifully recording observations after every run or ride. No matter where on the spectrum we fall in this carbon vs. aluminum process, most of our conclusions are not going to apply to the same process with another brand's bikes of both materials.
My first few rides were on the alloy Warden, and it took a while to get used to a few things. While it is an able pedaler, I didn't find it to be particularly efficient when compared to the best climbers in the category - at least on smoother climbs. In the technical stuff, I appreciated the ample rear wheel traction, and not overly long wheelbase. It was where you could more easily gauge the Warden's climbing efficiency - when you aren't standing and yanking on the bars, but instead sitting and spinning - that I found myself a bit disappointed. Here I blame the slack seat tube angle; while the effective STA is listed at 74 or 75, the true STA is a saggy 68, and that put me in a non-optimal position when the saddle was all the way up.
The other thing I found myself having to adjust to was the nimble handling. I found the Warden handled better when I rode it like a trail bike rather than a beast. If I took an active role in keeping it in line, with both hands 'on the reins', I found the results were better than just pointing and smashing. This is not bad. In fact, for most trails, it might be preferable, and on the Shore - arguably the terrain the Warden was most closely designed for - it's right at home. Where I didn't like it as much was on steep lines at moderate speeds - in those cases the Warden felt a bit short and twitchy. Once I got used to the faster handling, I was able to take advantage of the excellent traction which made up for some of its fast twitch manners, but going to this bike from the Santa Cruz Nomad Mk4 was very telling - they're very different bikes in that situation.
Carbon vs Alumin(i)um
After a few rides to get used to the alloy Warden, we did a day of back to back testing. Two laps on the alloy bike were followed by jumping onto the carbon one. The first reaction, which was immediate, was that the carbon bike felt damped to me, but the difference was visceral in a way I hadn't imagined - I was not only feeling a difference in my feet, hands, and arms - I was feeling it with my ears. The carbon bike was cutting vibration in a way I'd never felt so clearly, and I was hearing the difference as much as feeling it with my other senses. It was a bit like driving at highway speeds and having the road surface underneath you change, and noticing the buzz of the tires on a rougher surface only when it stopped. Going back to alloy confirmed it, but that wasn't unpleasant - just different. In terms of riding characteristics that more closely impact performance, the alloy bike felt stiffer to me, but I chalked that up to the slightly more direct transmission of trail chatter, rather than actually concluding the alloy bike was stiffer. Both bikes felt great in the corners - stiff enough to hold any line, but short enough in the back to allow a wiggle and a snap. Going from side to side or linking turns, the carbon Warden did feel smoother, more refined. Again, though, the alloy bike didn't feel harsh or not refined, but I did sense a pleasant combination of stiffness as well as comfort on the carbon Warden.
Pedaling the carbon bike did feel more efficient at the pedals, but I can't confirm it was actually faster. The alloy bike's back end certainly felt more rigid in the vertical plane, but once again, that was not unpleasant - just noticeable. To be truly honest, if I took off my review hat and got lost in the moment of the ride, the carbon vs alloy difference was often moot: there is no doubt the Warden, in any form, is a blast to rip on. Give me either one and you could call me happy on any trail where a capable trail bike is the right choice. Once into the really steep or gnarly, I personally prefer just a bit more wheelbase for stability, but I did get used to the Warden's feel and after 5-6 rides it felt great everywhere.
Conclusions
Knolly's alloy bikes are not low-cost options of their plastic versions - each tube is custom drawn and butted to their specification, and Knolly worked on perfecting alloy bikes for years before finally moving to carbon. Nor is the alloy Warden harsh to ride - in truth it has quite a refined feel. In fact, having ridden carbon bikes about 85% of the time over the last several years, I'd have to say the alloy Warden felt less different than I expected it would, and I came away impressed. What we have here is not a matter of good vs better, but one sensation vs another. Across the two platforms, the difference in frame material will cost you $1,500, and that is a lot of money for spare parts, beer, and gas. If the money matters - and for almost all of us, it does - my recommendation would be to choose alloy and not look back. You won't be getting an unsophisticated metal bike - quite the opposite - it is carefully designed and built to be a high-end alloy frame. The carbon, then, could be reserved for those who think that 0.9 lbs is a worthwhile difference (not to me) or who can discern an efficiency difference between the two - or a ride quality difference that they prefer. In this case, at least, my conclusion is that carbon is not better - it is different, and will still be preferred by some riders, but the choice is not overwhelmingly clear-cut when the price difference is north of $1,000 CAD (in this case, far north).
Yes, there are plenty of reasons to choose a carbon bike over an alloy one and yes, marketing would have us believe that riding a carbon bike makes us faster, lighter, or sexier. Coming out of this little experiment, I was happy to have not preferred the carbon Warden by a large amount, but I did notice some differences between the two. In the end, for my money, alloy is the choice, but the carbon Warden is a wonderful bike if you have the money, or if one of the advantages of the carbon tax resonates with you. At the end of the day, for me riding is about fun and while performance is part of fun (speed, capability, weight), the good news is that both of these bikes were equally fun. So, the fun:value ratio winner goes to the alloy bike for me.
---
Cooper Quinn's Assessment
To explore the Fundamental Question, step one with the Wardens (Wardenii? Wardii?) was to break out the calipers and gauges to get setup as equal as possible; tire pressures, cockpit, and then plugg in the recommended damper settings from Knolly. For a few rides any adjustments made to one bike were made to the other. This wasn't a test of the Warden as a platform, suspension, geometry, etc; but what was the effect of the different frame materials, and did any of it matter?
It is worth mentioning neither Warden pedals spectacularly. Knolly isn't hiding this, and points out you should use the damper platform to improve pedaling performance on the ascent. Why make downhill sacrifices when dampers are so good now? With modern dampers I think that can be a fine sacrifice, and the Wardens are happy enough if you flip the switch, sit your butt down, and spin away. This reflects a fair quantity of the riding here on the Shore, near where Knolly is based.
The Fundamental Question:

If you could ride two identical bikes whose only difference was frame material, what differences would you notice, and would ride quality help you decide whether the 'carbon tax' is worth it?
But are they really different?
Yes. Shuttle laps on day 1, I flipped a coin, and ended up on the carbon frame second. Differences were immediately apparent - all other things being ostensibly equal the carbon bike feels significantly stiffer - but not as you might think. Neither bike is lacking in torsional or lateral rigidity, but the carbon frame transmits significantly more trailbed vibration through to the rider. The bike feels more precise and pointy, and a bit more 'lively' as a result of this. It also feels harsh at times. As ridecount increased, this main difference cemented itself; the aluminum Warden smoothed out the harsh edges of trail noise, and I kept wanting to strap an NVH meter to the carbon. On the Shore, losing a bit of trail noise and harshness can be a welcome quality. The slightly dulled ride of the aluminum frame would have me reaching for it on shorter rides (sub 2 hours, so most riding around here in the winter), or the occasional shuttle. Given the overall pedalling performance of the suspension platform, headed out on a longer weekend ride, or if I knew my riding partners for the day were going to be fitter than my current fatness, I'm leaving every gram I can at home and taking the ~0.9lb lighter carbon frame - its noticeable grinding away up Old Buck.
"I can read the specs, Cooper. Do I pay the Carbon Tax or not, dammit."
Well, who are you? And more importantly, how do you ride? Every decision you make bike purchasing is a sacrifice somewhere (for a grossly simplified version, see the "Cheap-Light-Strong" ternary plot).
Are you hammering out multiple days a week, signed up for burly XC races to get fit for the FIVER WORLD SERIES*? You might be a Carbon Warden. While I won't pretend to know if this one is any faster descending, you'll have some extra fuel in the tank at the top and the feedback and precision may come in handy when you're pinned. It'll also be easier to lift into your Tacoma.
*Our local Enduro series
Are you a 'one bike quiver' person, with some huge summer Epics planned? Those back to back 9 hour days in Revelstoke you have planned won't miss 0.91lbs.
What's the 'carbon tax', in hard numbers, and US dollars? 0.91lbs. $1,063. $2.56/gram. A five day Whistler Bike Park pass, with $643 left over for gas, food, beer, a bed, and $200 for your local trail association.
On the flipside, if the majority of your riding is short-ish, or you're thinking really hard about whether or not the $1000 is worth it, it's probably not. I enjoyed the comfort and ride quality of the aluminum frame, and the weight won't make much difference over shorter distances. Should you find yourself on Into the Mystic facing hours of suffering, it'll get you there. You can also lose 415 grams off the system weight you're dragging up the hill by spending some of the $1063 on kale smoothies instead of fish and chips.
*Noel Buckley's response: That graph is designed to be used within the Knolly range to give customers some idea of the differences between alloy and carbon versions. When customers ask: "what's the difference between the Warden alloy vs. the Warden carbon frame?" we need to be able to give them some context of why they might want to spend an extra $1,000US on a carbon frame - or not. So while it is an unlabeled graph, it IS designed to be purely subjective and we're OK with this since it reflects how we at Knolly feel about the differences between our product and has nothing to do about us vs. our competitors.

---
I can think of reasons to buy each one. They really aren't that different. It's up to YOU to decide which factors and sacrifices drive your decision. If I'm picking one to buy, I'll take the aluminum. I've already got a carbon rocketship for big days, and the Warden would fit nicely into my quiver as a rowdy bruiser when the need arises. I live on the North Shore, where taking the edge off trail chatter is welcome comfort. But, a couple caveats. This choice applies to the Wardens, but the inherent complexities of aluminum and carbon manufacture means it doesn't necessarily transfer to other frames. Also, both these bikes had high end spec; I'd ensure I had the high end dampers, clampers, and wheels before I threw down the Carbon Tax, if you happen score a large tax refund this year. As I said, the bikes aren't massively different. The carbon version probably does have more "Performance" as the graph suggests but because of my current stable and riding habits, I wouldn't pick it unless money didn't matter.
---
We aren't really able to declare a winner considering the scope of our observations, but this does suggest that putting the priority on performance parts before deciding on frame material, is probably the way forward.