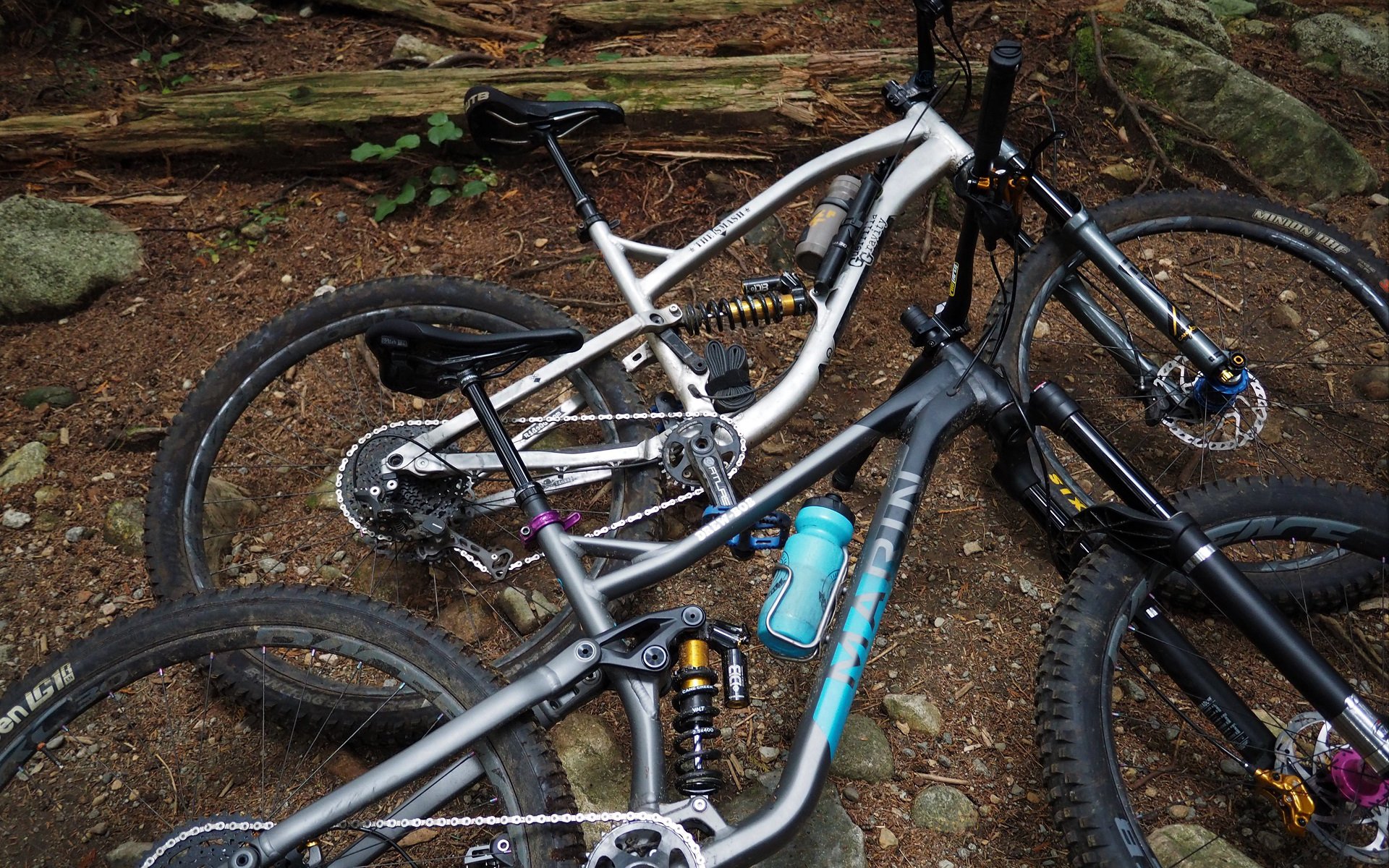 EDITORIAL
Dual Squish vs Hardtail: Service Spending
Pay Now & Pay Later
I've been trying to write this article for a while now but I keep getting stuck on trying to back up what I want to say with actual numbers. My basic premise is an easy claim to stake. Even if they cost exactly the same amount of money upfront for identical spec, the cost of ownership of a full-suspension bike will be higher than a hardtail over any decent length of time. Ignoring, for the moment, how excellent hardtails with modern geometry are, even compared to full-suspension bikes, I think for a lot of folks the cost alone should keep them on their rigid rear ends.
Whether following or ignoring the routine service intervals for forks and shocks, whether you replace your pivot bearings when they start to get notchy or one at a time, whether you ride a simple single pivot or a 6-bar lower-case-vpp, whether you have a bombproof coil shock or an air shock that needs a shaft, body, and can every season, the exact dollar amount difference for service doesn't matter for a moment.
There's nothing standard about overhauling the bearings on a multi-pivot suspension bike. Sometimes it goes deliciously smoothly and you don't break a sweat. Other times you'll find yourself using a steel punch and a big hammer to decouple the main pivot bolt from its unnatural relationship with the inner races of the bearings. Labour cost is going to vary wildly with most local shops charging a couple of hours of work to remove, and re-install bearings.
Some bikes need to have all the bearings replaced as often as they need a rear shock service. You'll be lucky to get three months of hard use out of the main pivot bearings of some bikes. I think half the time Trunnion mount bearings are roached before your new rig leaves the box. Others have the combination of bearing size, rotation, and shielding to go multiple seasons - Kona's 2014-2017 Process lineup always comes to mind. So the yearly labour cost, or time if you can do the work yourself, varies massively from one rig to another.
Some companies sell complete bearing kits for their frames whereas in other cases you'll be forced to purchase bearings individually. On a bike with many less-common bearing sizes, like a Yeti, buying the kit cuts the cost of bearings roughly in half.
For those that want to overhaul their own rigs, there's the cost of tools. I was recently doing a bearing overhaul on my brother's aluminum Guerilla Gravity Smash. As full-suspension frames go, it is one of the most DIY-friendly thanks to some nifty cutouts in the bearing seats that let you hammer out bearings with a punch. The bearings are well shielded so, while it was undoubtedly time to replace them, I'm impressed how long they lasted compared to most rigs. I own a fair number of tools, including a nice bearing press, but I've never invested in a blind bearing puller. It was an easy job for a big performance upgrade.
Here are a couple of examples of riders who pedal frequently, year-round, and - unlike most - stay on top of their routine; 100hr suspension service and pivot bearing swaps when the rear end doesn't move smoothly. They don't do their own work, go to the same shop, and ride belly button bikes,* or at least what qualifies as BBBs locally.
Examples are in CAD and do not include tax. The labour cost will vary shop-to-shop and depending on the actual condition of your rig:
Yeti SB150 with a Fox DHX2 Float Factory shock.
-Yeti Bearing Kit: $85
-Overhaul (removal of old bearings/installation of new bearings): $170
-100hr Service on Fox rear shock at SuspensionWerx: $200
-Total: $455

Rocky Mountain Altitude Carbon with a RockShox Super Deluxe (2020)
-Rocky Mountain Bearing Kit: $40
-Overhaul ( (removal of old bearings/installation of new bearings): $150
-100hr Service on RockShox rear shock at Fluid Function: $145
-Total: $335
These are just examples and I'm certain there are endless stories of frames going multiple shock services without bearings being overhauled, or needing bearings before the suspension was due for service. Not to mention shock services that are significantly more expensive due to additional worn parts being required.
Either way, whether we're talking about the most 'budget-friendly full-suspension kids' bike (ha) or a $15,000 super-sled, the cost of servicing a shock, and replacing bearings, doesn't vary much going from beyond basic boingers to mega-expensive small-batch suspension packages.
*Belly Button Bikes: Everyone has one; we don't need to see yours.
I have this conversation regularly with folks looking at new and used bikes and I'll straight up admit my bias towards hardtails. Buying a bike for your kid? Hardtails are lighter for them to climb, push, and descend, and they're much cheaper and easier for you to look after. The same goes for your teenager, who in theory could earn enough cash on the side to keep a hardtail running. Rider on a budget? Don't just look at the upfront cost of a bike; think about how much extra it's going to cost to service year after year. New rider? Learn about bicycle service on a bike that won't get you in trouble by racing ahead of your abilities. The rider with the blown rear shock with no rebound damping, more side-to-side play than suspension travel, and seized linkage bearings? Yep, I think a modern, slack, and simple hardtail would be best for you too.
Never mind riders hating on hardtails when they've never ridden one with modern geometry, it is driving me nuts hearing and reading about blown-ass jalopy owners recommending any full suspension bike when they clearly have no idea of the cost of ownership or how their bicycle suspension is supposed to work. I'm tired of seeing all sorts of folks - kids, teens, new riders, riders on a really tight budget, long-time riders with cash - riding around on blown shocks and seized bearings.
I wish everyone who buys, sells, and rides mountain bikes could be a bit more cognizant of the costs of keeping their rig running right beyond the initial purchase price. I'm positive I'd see a lot more folks on hardtails.