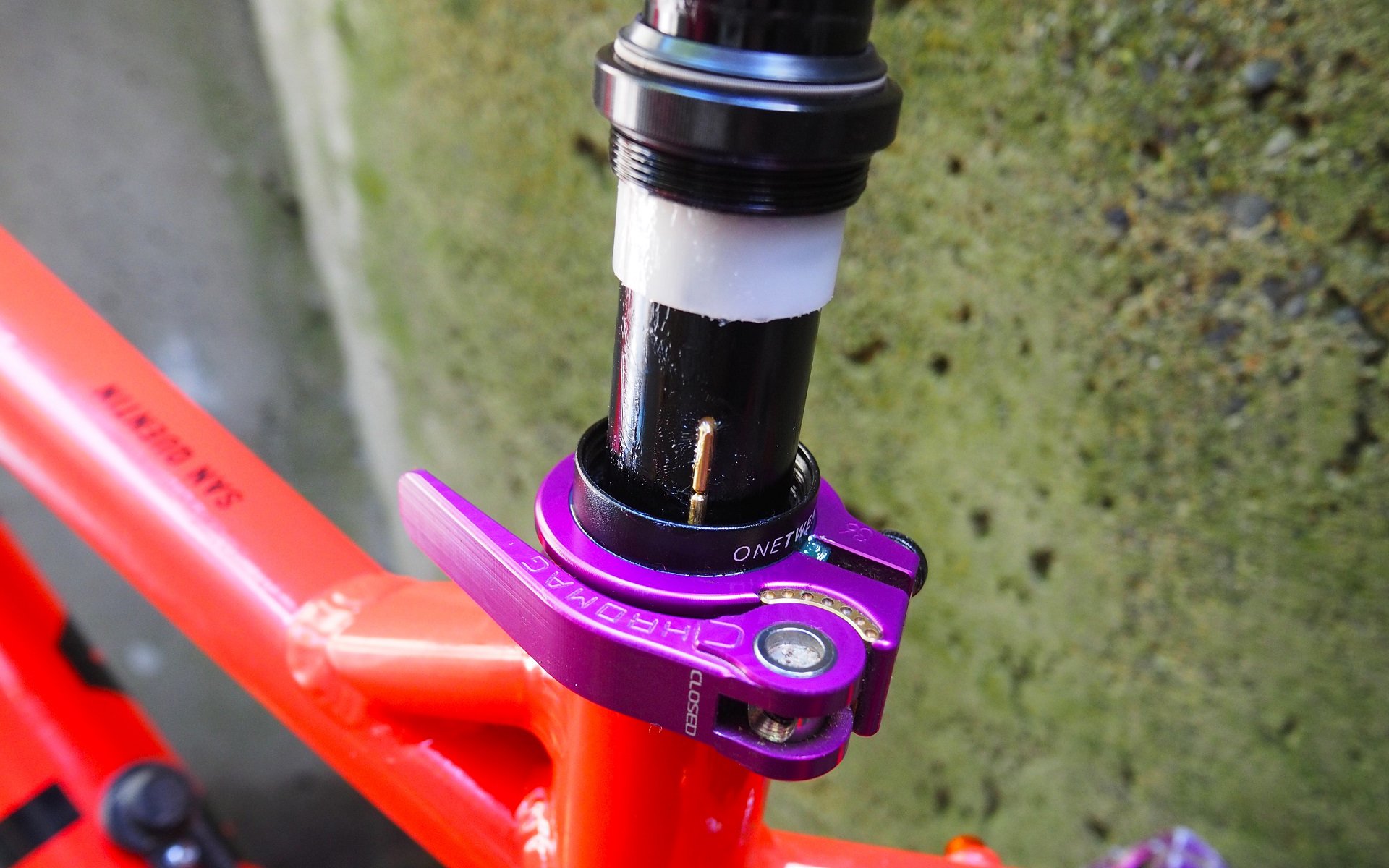 EDITORIAL
Dropper Posts for Short(er) People
No Travel, No Travail
I need to go back a little more than a decade ago, when bikes being ridden downhill in anger all had 26" wheels and it seemed like every other rider on the North Shore owned a proper DH bike with a dual crown fork and a road cassette. I got a call at the shop I was working at from a rider asking what she could do to fix her Specialized Demo 8 because her boyfriend had just given it a 'tune-up' and now the rear suspension was bottoming out very hard every time she landed a drop. Now, I've seen many a husband-hack go awry, and more than a few of those have been rear shock related, but when she confirmed that it was a coil shock and there was no oil leaking out, I'll admit I was at a loss without seeing the bike.
In walks a rider who's 5' if she's not 4'11" tall, along with her size small Demo with not a millimetre of daylight between the head of the seat post and collar of her frame. Her SDG saddle is run quite rearwards and with the nose pointed up. The rear tire, thanks to the efforts of her partner, bottoms out on the back of the seat long before the bottom out bumper touches the body of her rear shock. I point it out as gently as possible but buddy is still living in the dankest corner of the darkest dog house by the time I slide the saddle rails all the way and raise the post just enough that I can bottom the shock and have a daylight allowance for the shock's rubber bottom out bumper.
If your kid and partner both ride hardtails, like mine do, this isn't really a concern. But with so many shorter riders chasing more travel or bigger wheels, mocking up tire to saddle clearance is a vital consideration when fitting bikes. For example, on my wife's hardtail she can easily run a 160mm dropper post with saddle-tire clearance to spare, and she really appreciates the bike body separation. On most mid-travel full suspension bikes, running the same amount of drop is simply not possible with a 27" rear wheel. And I know a few women her height riding 29ers.

I've witnessed broken saddles and torn-off knobs resulting from these forbidden dalliances.
The controlled feeling of bottoming out a rear shock is very different from the chaos of your tire's knobs meeting the back of your saddle with momentum. For one, the saddle acts as a friction brake so you're also dealing with your tire skidding uncontrollably at least in that moment. There's also the fact that tires and saddles are expensive. I've witnessed broken saddles and torn-off knobs as a result of these forbidden dalliances. Either way, the best practice in setting up a full suspension bike for a shorter rider is to let all the air out of the shock (or remove the coil spring) and cycle the rear suspension to confirm clearances. Sometimes it's as simple as moving a saddle forward or raising the post a little.
Other times it could involve raising a post quite a bit which is where dropper posts with adjustable travel (and corresponding change in ride heights) are a beautiful addition. Your saddle is at the perfect height for climbing but your tire is just bottoming on it? Raise the post a centimeter and reduce the travel by 10mm and you're golden - without spending another dime.
I'm not ignoring body-tire bottom outs either. At 5'9" I can happily ride a shorter travel 29er most anywhere, but I noticed significantly less tire contact on steep terrain when I swapped the 29" rear wheel of the Banshee Titan for a 27". And that bike has long chainstays. I'm not saying here that short riders or kids shouldn't ride full suspension bikes, or even that it's always a trade off between dropper post travel and suspension travel, but they are factors to consider.
Flat-Footed
I borrowed my friend Jac's little Yeti SB 165 for the non-kid bike photos for this piece and I'd like to talk about that for a second. There are too many full suspension bikes that are technically 'small' or even 'extra small' out there that absolutely suck for short riders. If a bike's seat tube is interrupted such that the combination of minimum seat post insertion depth and the average XS/S rider's inseam means they have to run an 80 mm dropper post on their trail bike, then it sucks for short riders. This means that there are fewer good options on the market if you're looking for a small bike but it's useful to narrow down the field. I've known a lot of riders who begin their search with Ibis. That makes a lot of sense since their designer, Roxy Lo, is 5'1" tall. Actually, the Ripley AF is a high-value package and with a 76° seat tube angle and a 335mm BB height it's prime for a mullet conversion if you'd like a bit less tire contact in the steep jank.
At any rate, Jac has owned a lot of bikes over the years and the SB 165 is the first machine I've seen her on that really looks like it fits her. Conversely, it's the first bike in many years that she's kept for multiple seasons. Jac's 5'4" and this is a size small frame with 165mm of rear wheel travel and a 160mm dropper post. With the post fully bottomed out, she can sit on her saddle with her feet on the ground. With the rear suspension fully bottomed out the tire doesn't hit the saddle. If this sounds ho-hum to you then you've probably never been 5'4" trying to buy a mid-to-long travel full suspension bike.
The three numbers that matter for a perfect flat-footed fit are your bottom bracket height, seat tube length, and frame travel. A lower bottom bracket means a lower ground-to-saddle height. The best seat tube length for maximizing post travel can accommodate the actuator and body of your dropper post such that your post can be inserted so that the seal head sits on your seat collar. Your tire needs a bit of clearance with your saddle at full bottom out. One thing I'll note in considering these factors is that I've come across several frames with really poorly considered stealth routing exit ports that sit much higher than the max insertion depth of the actuator itself. Don't be afraid to talk to your local shop or carbon expert about fixing this flaw with a lower exit port.
Every Centimeter Counts
I'd love to not love dropper posts. They add cables, complexity, and cost to bikes. But even on my rigid one-speed, where I stand for 85% of most rides, I sure do love having one. And when I started thinking about how much I like having a dropper post - more than suspension or gears actually - the fact my kid's bike was missing one seemed a bit of an oversight. After all, she has a (good) suspension fork and a multi-speed drivetrain. I had considered buying a OneUp head unit and combining it with a post I already had at home, for an extra centimeter of drop, but the shortest dropper I own is a 125mm and that was over an inch too long.
Tire clearance isn't an issue because my kid's on a hardtail. We'll see if I stick to my guns but I've told her that the first full suspension bike she owns will be one she buys herself. But I needed to think about insertion depth and extension height. Also, I'm looking at a dropper post as a multi-bike investment so having adjustable travel was a key consideration. I don't want to say that OneUp is the only game in town, but they are still winning the dropper post arms race for maximum drop for a given height, at the minimum insertion depth, and they can be adjusted down by up to 20mm. So, actually, they are the only product I considered.
One quick note is that my kid weighs less than 60 pounds so she couldn't compress the OneUp post with the recommended air pressure range, whereas she has no problem compressing my Wintek-equipped post by sitting on it. My first reaction was to order a 100mm Wintek dropper to run with OneUp's saddle clamps but instead I lowered the air pressure in the dropper until she could happily lower it. We're around 1/2 the recommended PSI. With the seal head well-lubricated the post still returns to full travel without issue.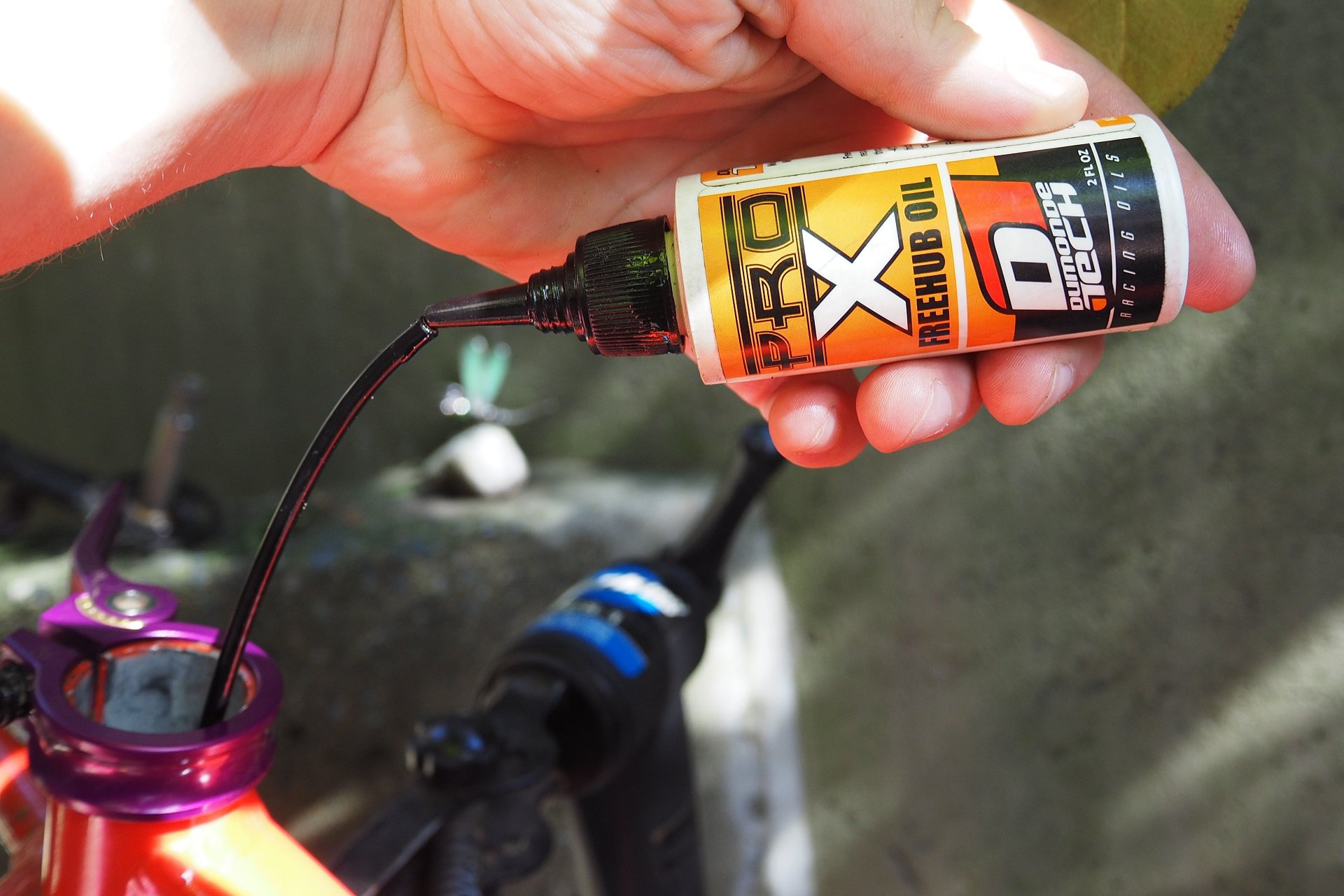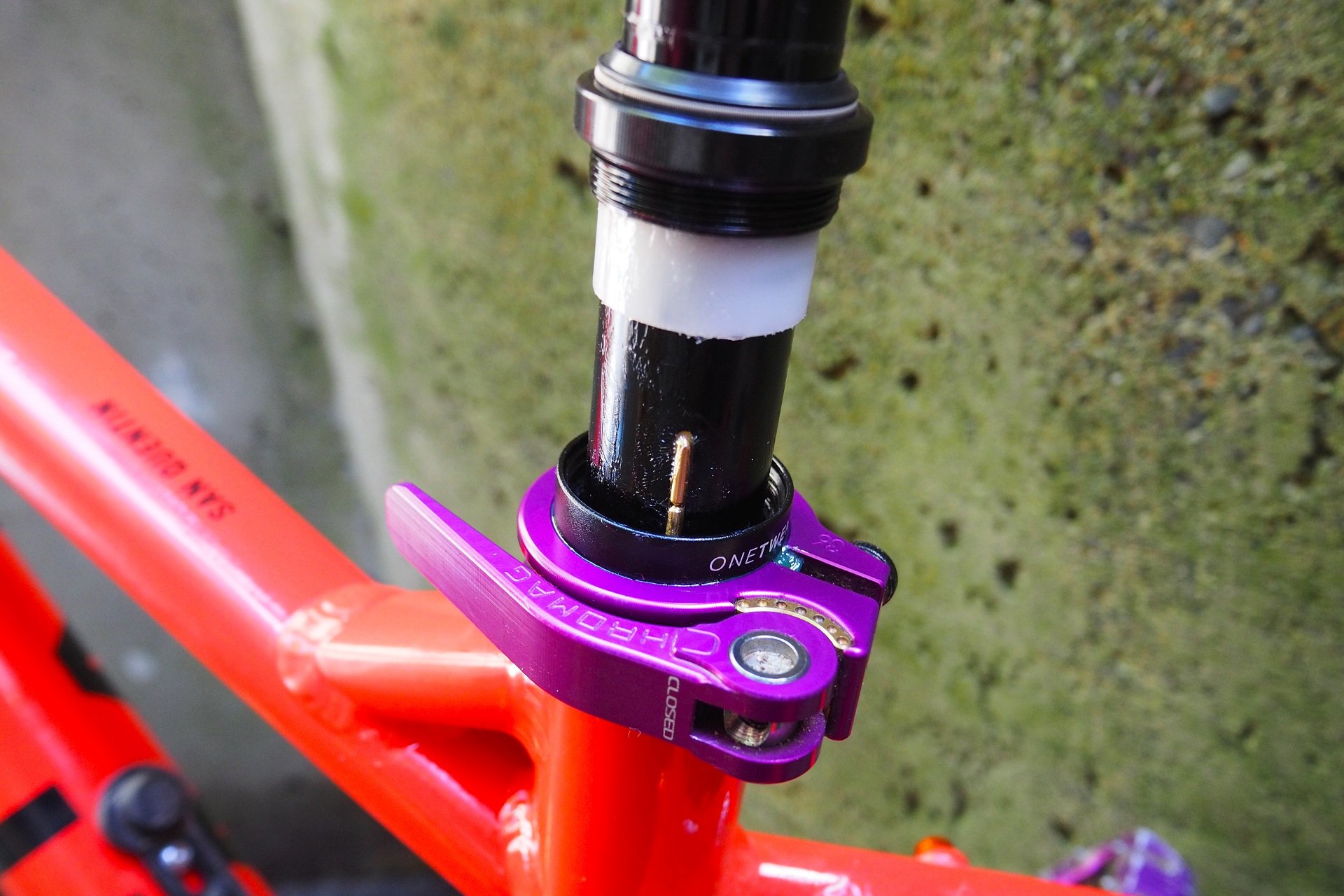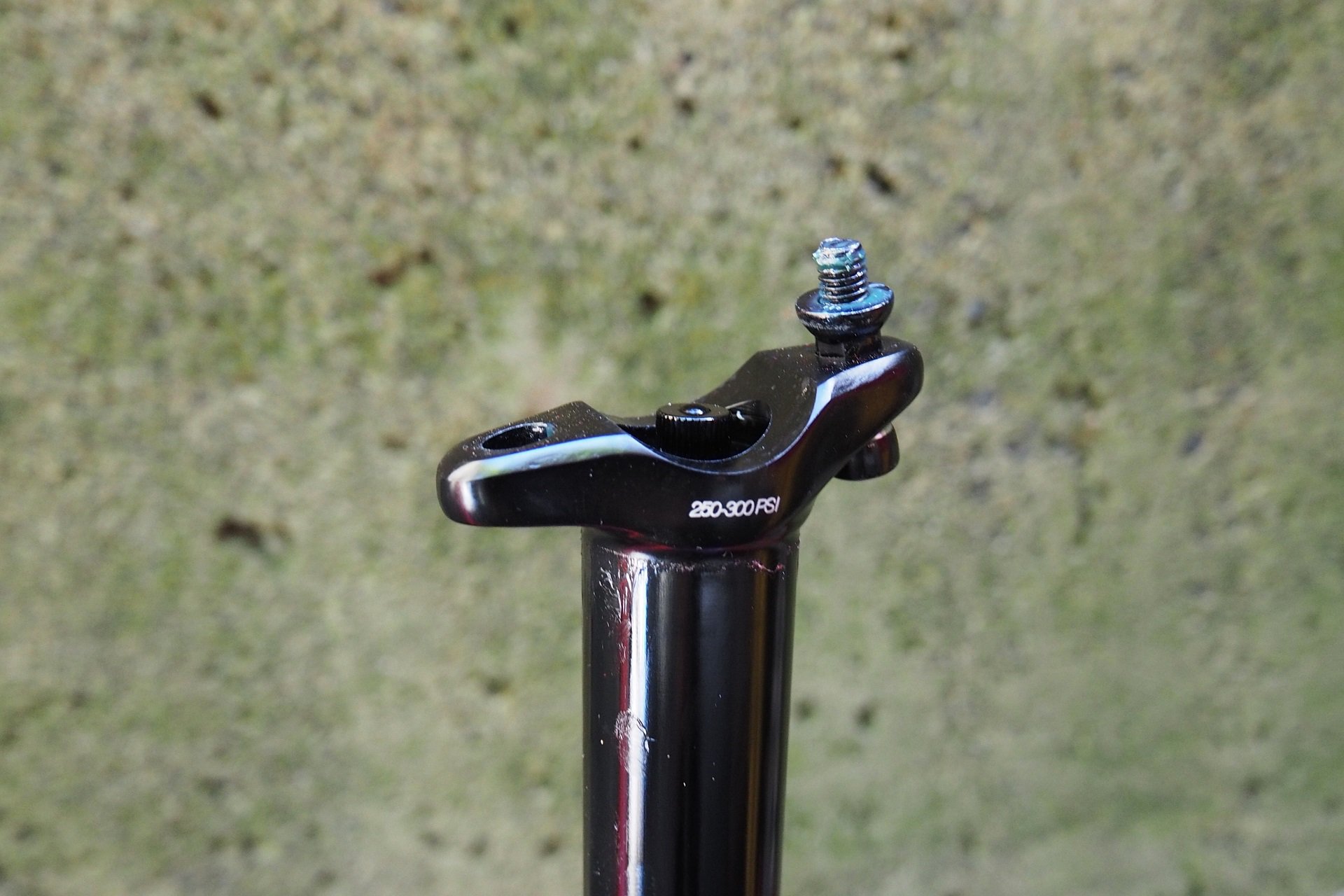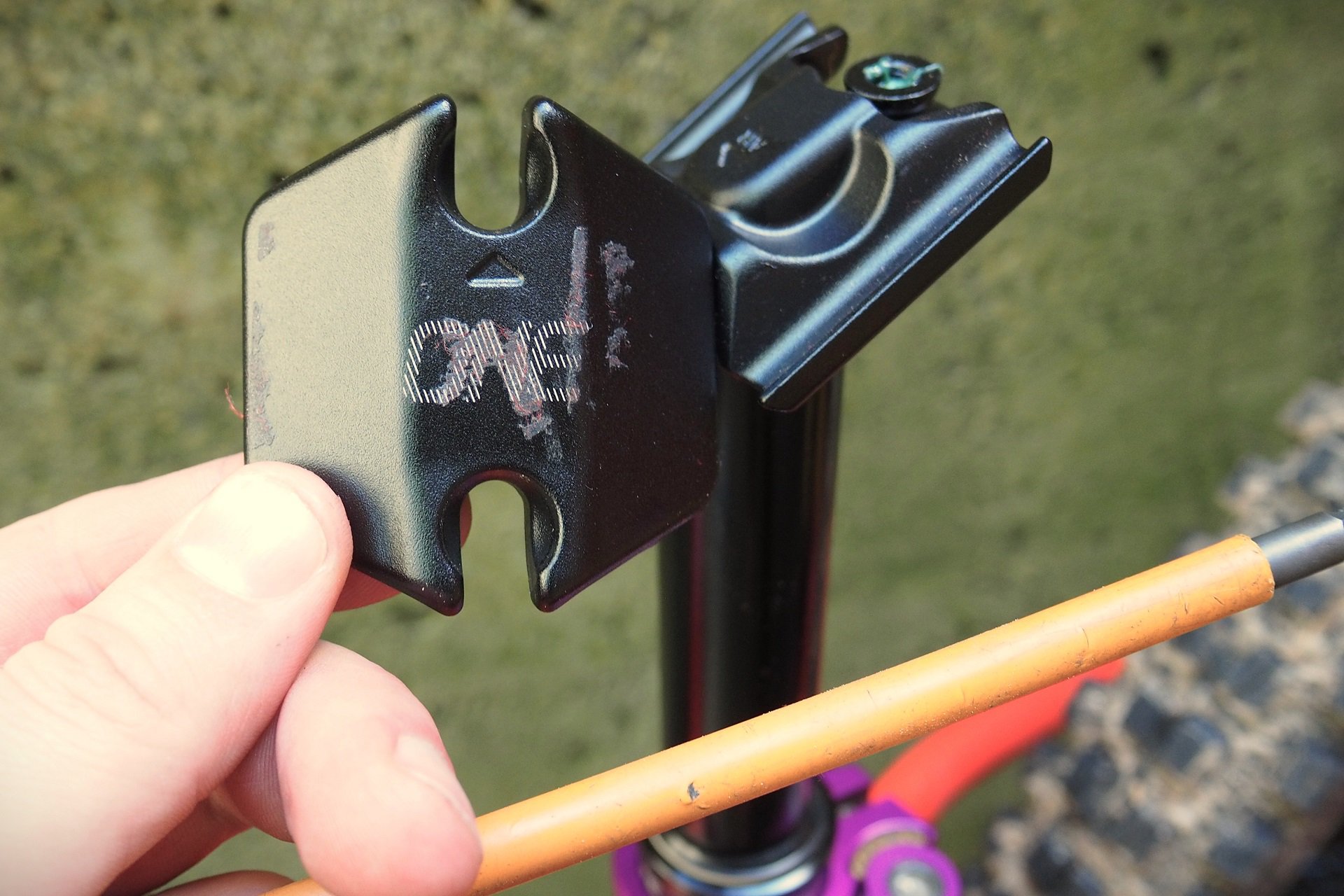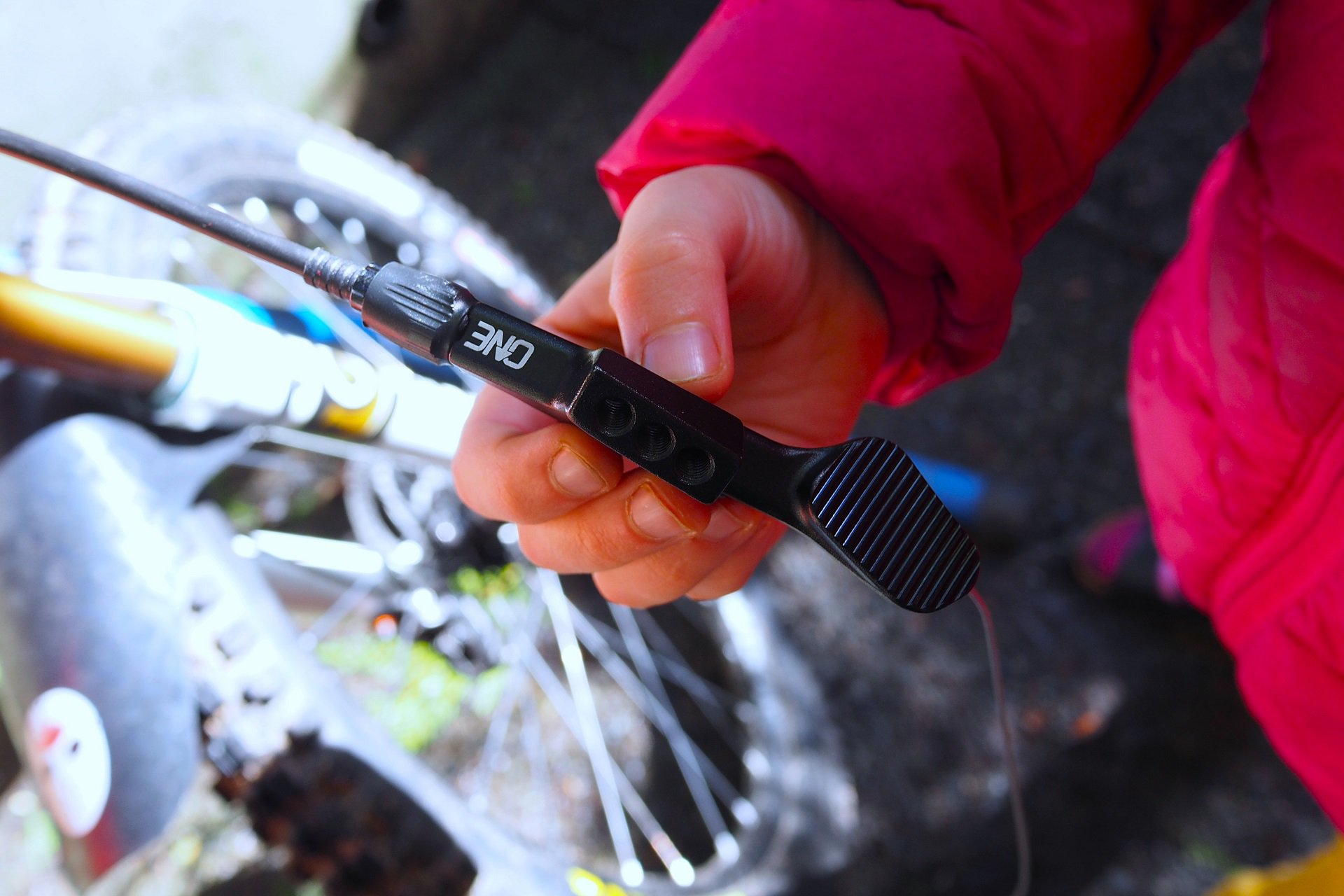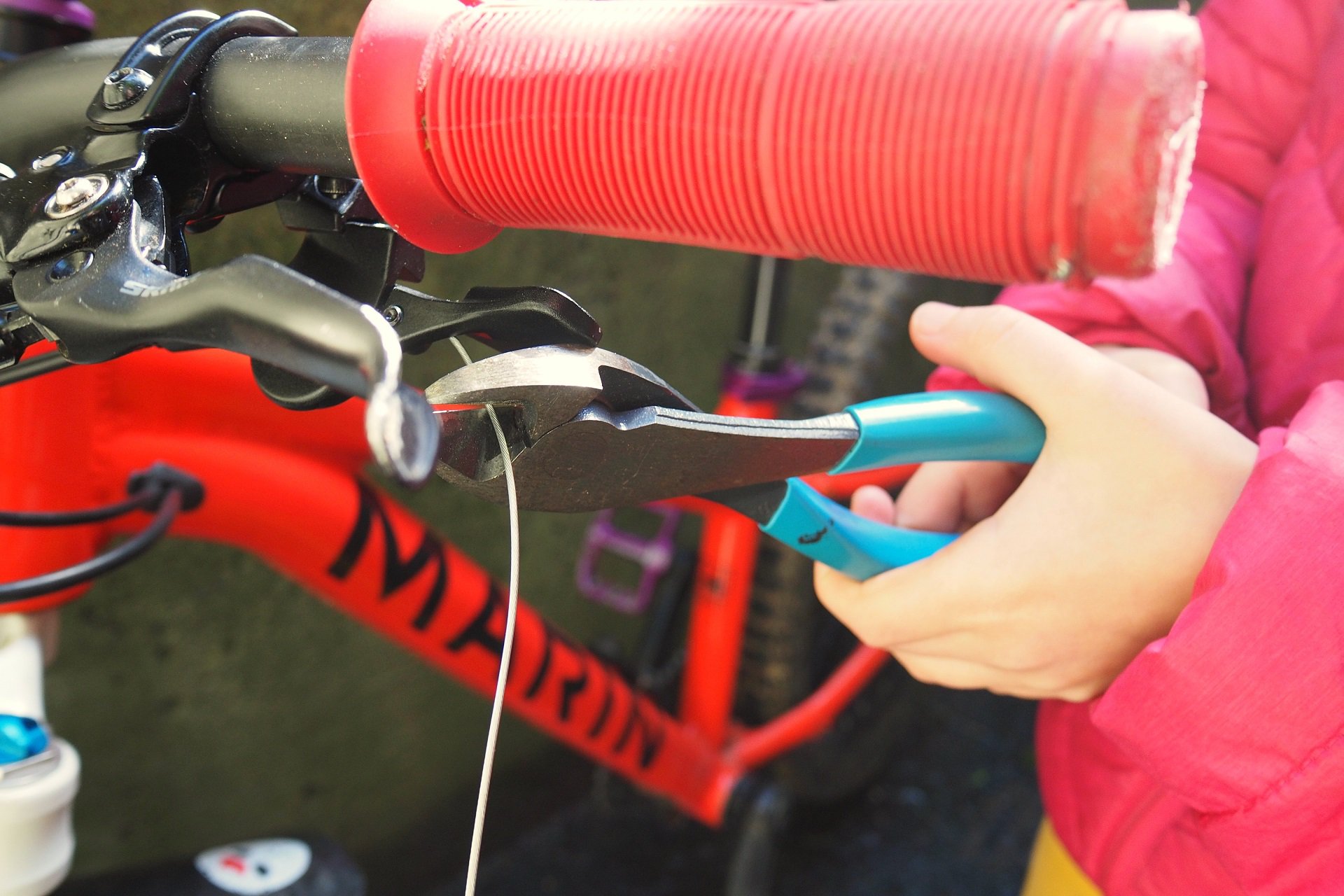 At 100mm drop, this post is still ever-so-slightly too tall. I'd consider looking for a lower-profile saddle, as her beloved Chromag Overture is fairly tall but she figured out really quickly how to keep it from coming up all the way. I'd say 90mm would be perfect, and OneUp does make a 70-90mm adjustable post but 90mm is not going to be the right drop on her next bike or even by the summer, so this was the way to go. For the next 2cm of growth, instead of raising the saddle height we'll pull out the travel pins, so eventually she'll be running a 120mm dropper. I bring this up because saddle stack-height is another way for anyone to add some room for extra drop on their seat post setup, but please, not at the cost of comfort. An extra centimeter of drop is not worth riding an ass-hatchet or skipping your chamois (if you like to use one).
There are plenty of great choices for dropper posts these days. Wireless options, budget options, insane amounts of drop, tiny amounts of drop, and, of course, adjustable drop. The folks at 9point8 make the only post I know of with a proper set-back (or set-forward) option but that may change, and if it doesn't I know a few riders who swear by their Fall Line. But all of that comes with the caveat that below a certain height, this whole process really comes down to millimeters. The fact that Jac, The Clairebarian, and most of the short folks I know who've purchased an aftermarket post are running a OneUp tells me they currently own the short-rider game. Not just in a spread sheet, but also on the trail.
That's totally fine. The OneUp V2 is a great product and I think a good value even before taking into consideration the dimensions that set it apart. But I would love to see other brands putting some effort into the short rider game. If you or someone in your life is on the shorter side and needs a dropper post with max travel, then OneUp is probably where your search begins and ends.
Just remember to measure tire clearance before your first ride!