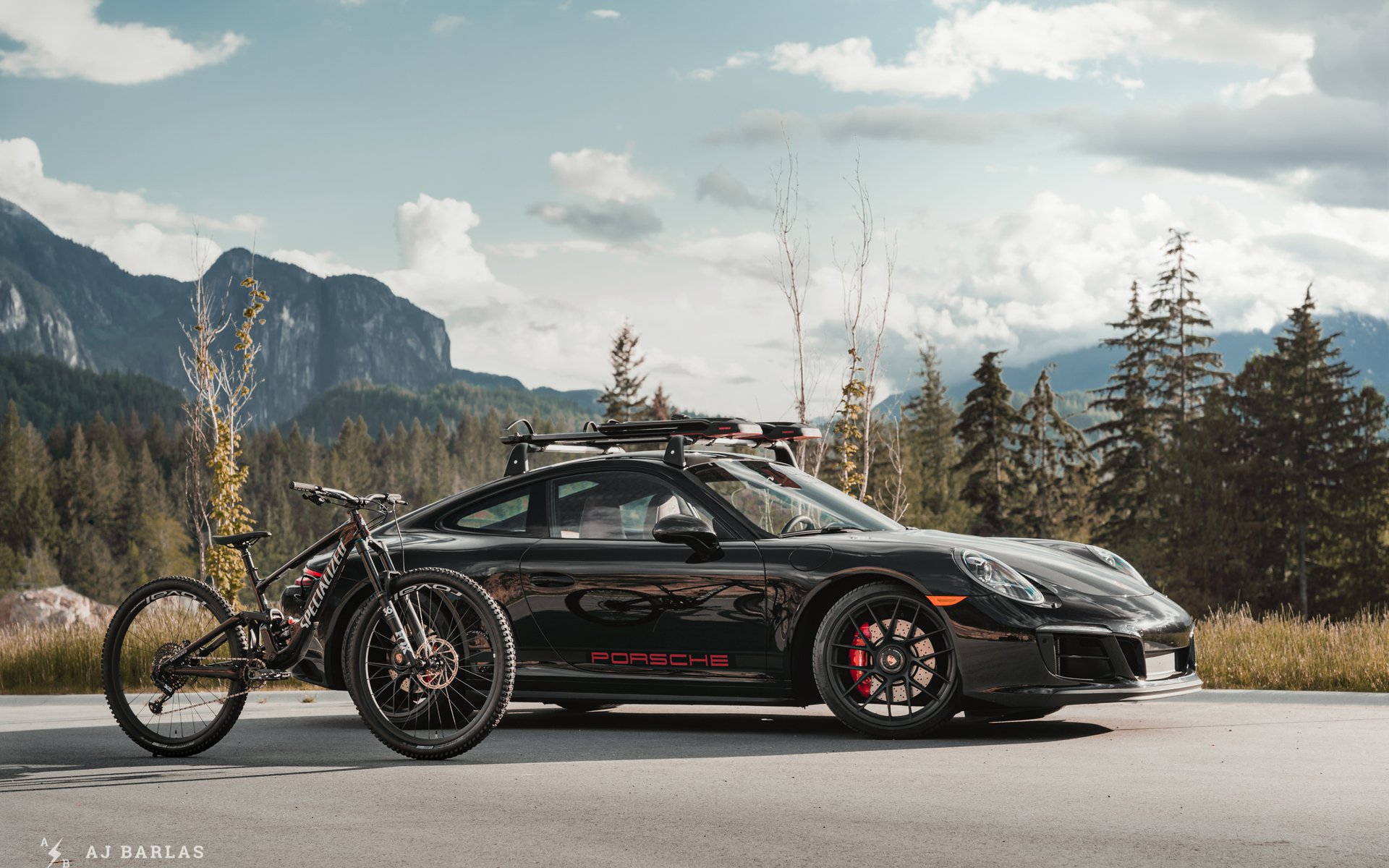 DREAM RIDES
Dream Rides: 2018 Porsche 911 GTS & 2020 Specialized Enduro Expert
Presented By Dunbar Cycles

What posters did you have on your walls as a kid? An Italian supercars of the 80s? A Colin McRae edition WRX? Today's teenagers have even more drool-inducing vehicles to choose from - including modern day Enduro and DH race bikes. While the four-wheeled versions are virtually impossible to acquire, the opportunity to own and ride the same equipment as today's top MTB pros is far more possible. Dream Rides is a column dedicated to the poster-worthy rides out there.
---
How exactly am I going to justify writing about this? Because I own neither the bike nor the car, it can't be Pistons and Pivots, and really WTH does a car that cost more than 170k CAD have to do with mountain biking? I don't have a clue, but you can bet I wasn't about to turn down the chance to drive the Sea to Sky highway in a 2018 911 with a pair of turbos.
If you had asked me 6 months ago about the odds of me driving a Porsche Carrera for a couple of days, I would have put them below Kanye's election odds. But my friend Jeremy Schaab, who was at that time the GM of Porsche Vancouver, had a 2018 911 Carrera GTS trade-in that included a rare feature that made it suitable for people like you and I; roof racks capable of carrying a couple of bikes (at over 300 km/h and accelerating them to 100 km/h in 4.1 seconds) and he figured it might be a good candidate for Pistons & Pivots. Or something. I immediately said yes to his ridiculously generous offer before he came to his senses. I figured I'd sort out the rest later. Beyond the rack, the part that really had me excited was the 7-speed manual transmission this example was equipped with, like any good sports car should be.
While I was keen, I was little nervous about the stick as well. Would the pedal require massive effort? Would the intuition of a sorcerer be required to balance the clutch and gas well enough to get the sweet little jelly bean moving? Before I started driving Toyota Tacoma double cabs, which aren't available in long box with a stick, I only drove 5 speeds, but I'd never driven a Porsche. Alas my fear was entirely misplaced and the clutch was firm but well-balanced and the friction point was consistent and easy to identify. I did stall it once being a little overzealous, but because the car, like most vehicles in Europe, turns the motor off when stopped for more than a second or two, it restarted itself instantaneously after I gave it too much clutch, preventing further embarrassment.
Early 911s were not known as easy cars to drive, particularly not to drive fast. The rear engine layout biased the weight of those early cars almost 60:40 to the rear. In the words of Vic Elford, a man who had success in Rally, at Lemans, and racing F1; " It's a car that needs to be gently coaxed, and persuaded, and seduced: but never bullied. Treat it with finesse – everything smooth and gentle, because if you try to bully a 911, it will bite you."
I needn't have worried about getting bitten because this is an incredibly confidence-inspiring machine. The drive-by-wire steering feels direct and precise and gives enough road feel to keep you connected and aware of the trail... errr... road surface. But that steering is doing a little more than normal.
There are Porsche Turbo models (which always have turbo chargers), Porsche S models (which sometimes have turbo chargers), and Porsche GTS models (which currently have two turbo chargers), and Porsche GT3 models (which are currently naturally aspirated along with GT3RS versions). If this doesn't confuse you, there is probably a Porsche in your future. Suffice to say that, while there are faster and more capable versions of the 911, the Carrera GTS is ridiculously fast and nimble. Grip is spectacular and cornering at speeds below 200 km/h is almost comically undramatic. This may be good news or bad, depending on your perspective.
An element of this calm nature in the twisty bits is Porsche's Dynamic Chassis Control. In the 911 iteration this involves four wheel steering and sensors that prevent the car from awkwardly angling into high G corners. Basically, instead of the body roll you've felt when given'er in every car you've ever driven, sensors keep the car level. This delivers more grip, more composure and next level cornering performance. Even at the GTS level this is optional equipment, and thankfully the previous owner ticked that box. I felt it around the first high speed corner, leaving Vancouver and getting onto the Iron Workers Memorial Bridge. It was noticeable at first but not obtrusive or unpleasant at all.

Porsche Dynamic Chassis Control; In simple terms, the tyres and vehicle hold the road better and you can steer through corners faster and in a more relaxed manner. Which is why PDCC sets standards for driving performance, ride comfort – and driving pleasure.
Basically this is a race car you can drive to work, but with every luxury you can imagine. Doc Ferdinand would probably roll over in his teutonic grave if he were able to get a load of the bells and whistles included in a modern 911. But times have changed, and there was very little to dislike inside and out of the car I was lucky enough to borrow.
Anyone who appreciates fine machining and beautiful finishes, like you might experience with Chris King Components, would be right at home in a Porsche living room. The original owner chose extras like option 90027; Steering Column Casing with Stitching in XSC Contrasting Thread and option XHH; Gear Lever in Carbon Fiber. It's obvious this guy was a mountain biker.
2020 Specialized Enduro Expert
When I told Rob from Dunbar Cycles we wanted to shoot a bike with a Porsche, a black 911 with red accents, he had just the bike. A shiny new 2020 Specialized Enduro with a unique paint job. It first appears to be black or maybe unpainted carbon, but closer examination reveals red highlights activated at the correct angle.
I haven't ridden the new Enduro, and that isn't entirely accidental. Everyone I know who rides one seems to want one immediately and I have more than enough bike lust right now. This is one of those bikes that people in the industry talk about and even the most jaded expert riders want to get their mitts on. As a result demand was outstripping supply even before the whole global pandemic got rolling.
My two best riding buddies are now on this bike and I've noticed both of them getting faster. Which is annoying. This is clearly one of the most capable long travel 'enduro' bikes available at the moment. The Elite model isn't quite as swanky as the S-Works but it gives away little in performance while saving you a whack of cash.
Pairing this bike with this automobile got me thinking about the two passions and how they compare. One thing I realized is that both of these vehicles are made to allow you to squeeze maximum performance out of your physique. I have never raced or driven cars on a closed course, but I have done some bike riding and racing without speed limits or performance barriers. And pretty much every time I go for a ride I'm able to push my bike as far as I'm willing to go. Driving the Carrera GTS between Vancouver and Squamish, a spectacularly curvaceous stretch of road, at times felt like riding DH bike on a sidewalk even when I exceeded the posted limit some. This was a car that needed track time which got me thinking about the cost comparison of these two high performance pursuits.
Fortunately I have two friends who ride and race mountain bikes and who also race and drive their cars on the track. My friend Mark is a member at a private track in B.C.'s Okanagan region known as area 27. But he drives elsewhere as well, as he explained; "But tracks get boring, and learning a new track is super fun, so you will end up doing track days different places even if you ponied up for a private track membership. You're gonna ride outside the bike park even if you have a seasons pass, basically."
The info Mark provided is too detailed and interesting not to share, so here's how he laid out the costs of driving a car like the 911 GTS at a track. And remember, this does not include the price of the car.
Let's lay it out like this, and assume we're talking about tracking a street car: no matter what used car you start with (Cayman, Mustang, Corvette, 911, M car, etc) if you want something that "feels fast" you're looking at 300+ HP and is reasonably modern. You're gonna be in it for $50-$75k for anything that ticks those boxes, IMO. An old Miata is its own class, basically, and while they're fun as hell they're not fast. People feverishly debate that it can be done for half that, but they are wrong. You will need quality suspension, brakes, etc, whether or not they came in the car and by the time you're done dealing with whatever you skimped on in the initial purchase it all averages out to around $75k. Running costs for this sort of car, no matter the badge on the hood, will be roughly the same. My experience is it's rare for anyone to do more than 20 track days a year. Even that is a lot. Like, really a lot. But let' say you're ambitious it's a useful number because at 20+ days you will see a full "duty cycle" on ALL the consumables so you get a bit of a worst case for your wallet situation.
$6000 - $300 x 20 - admission (or club fees)
$4000 - $200 x 20 - two tanks of fuel a day, easy
$12000 - $3000 x 4 - tires (more is doable but pushing it, so I'm saying 4 days to be safe)
$800 - $200 x 4 - oil
$300 - brake fluid swap at start of season
$500 - $250 x twice a season - brake pads
$2500 - brake rotor
I'm ignoring services costs that are just part of owning but not tracking a sports car.
Total: $26000. $1300/day. In reality you're probably not gonna do a fully duty cycle of everything because you probably won't do 20 days in a year, which is why I ballpark it at $1000/day.
Do you add depreciation?
$5000k/year - minimal viable depreciation assuming the car wasn't brand new, this could easily be 4X that..
+$5000/year - I want the stickiest street tires, Trofeo Rs, mofos!
$1000/year - safety gear is a wear item too!
$1000 ooooh new lap timer with predictive capabilities!
So it could easily be $40k/year or $2k/day.
My guess is the average track enthusiast does 12-18 days, learns how to get 5 or 6 days out of tires, and can stretch pad and rotor life out, etc, and therefore it's $1000/day for a slower car and $1500/day for a fast car pushing hard sometimes but not al the time, $2000/day if you're hot shit trying to set lap records in a GT3RS every session.
$15k-$25k / year feels like it would be pretty typical to go play on the track.
My friend Tim Coleman, whose name you may recognize, was just on his way to be a guest at Area 27 when I spoke to him, He does things differently and on a tighter budget. He races autocross, which is basically racing through a complicated pattern of cones on a large area of tarmac, and does a few track days a year. His car is a Honda S2000 and it's lighter and less complicated than a 911 and less expensive to run and repair. As Tim puts it, cars like his or the Mazda Miata are, "not great for dick measuring at the pub, not great for red light drag races, but a ton of fun and fast on a track in the right hands." He figures he spends around $3000 a year by driving his car to and from events and using street legal tires for Autocross, and urging them past their optimal lifespan.