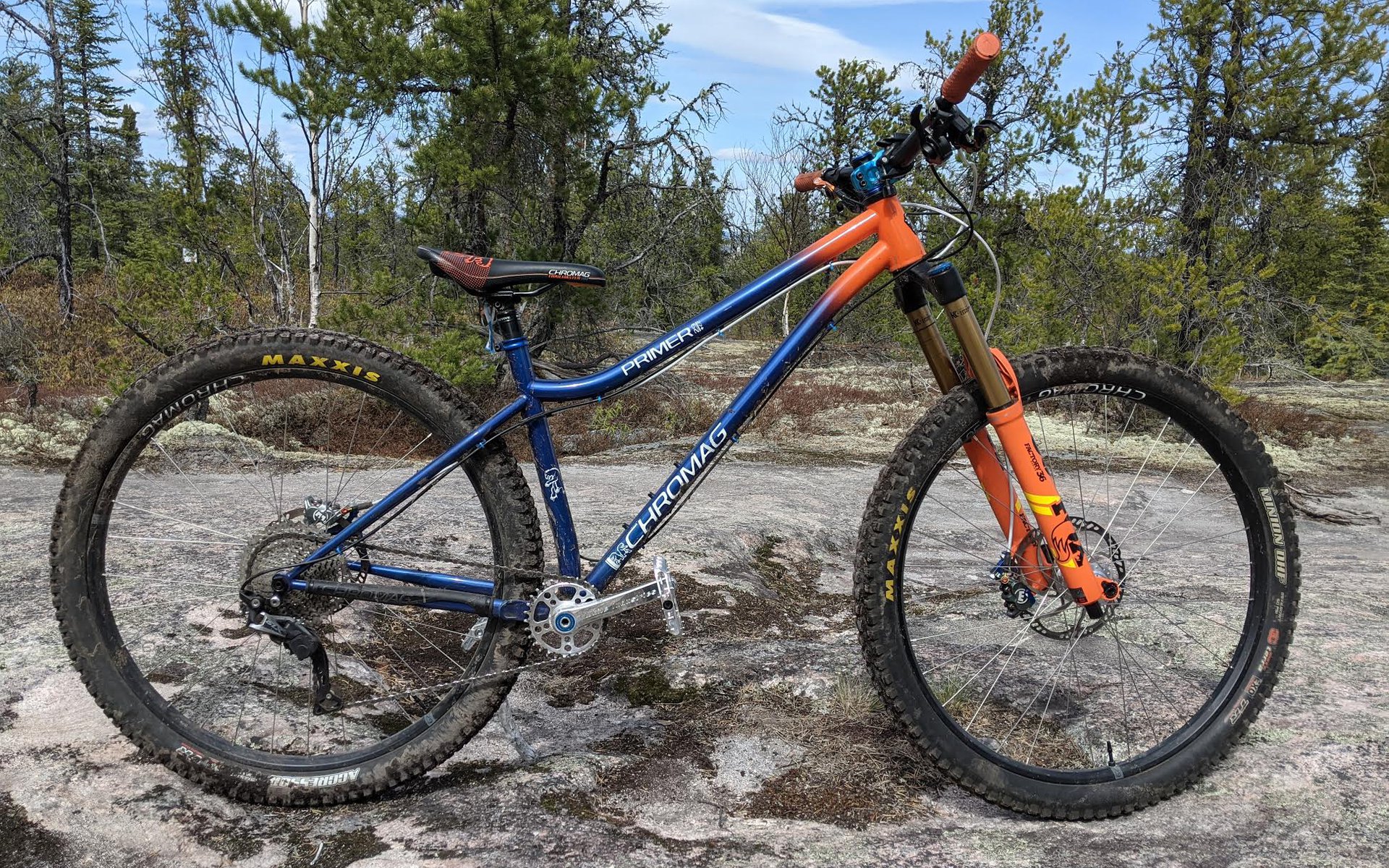 DREAM BUILDS
Dream Builds - Reader Submission Winner
Presented By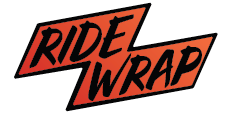 Dream Builds digs into the passion projects among our fellow riders. These bikes aren't necessarily the fanciest or newest, but their owners will have chosen each part for a reason, according to a grander vision. Submit your own build (send to us at submissions@nsmb.com) to be considered for inclusion in the series and also, a chance to win product from RideWrap!
---
Dream Builds Winner
After much consideration by the team at NSMB, the first winner of our Dream Builds Reader Submission has been chosen. Drum roll please!
We are always a sucker for a Chromag and Sylvain Gravel's custom 2020 Chromag Primer couldn't be overlooked. Here's how this beautiful build came to life:
Dream Build Winner: Sylvain Gravel's Custom 2020 Chromag Primer
From Sylvain: When I needed a new frame in 2020, there was little availability. Chromag were expecting a batch of Rootdowns down the road and they had some unpainted Primers in stock. Unfortunately, the monthly painting session had just occured so I had over a month without a bike. Given summer is very short here in northern Quebec, I decided to rebuild my old Chromag MK1 Rootdown to be able to make the best of it and take that opportunity to build my dream bike. Money wasn't an issue, I would reuse most of the parts from the frame being replaced, I have wanted a custom painted mountain bike for around 15 years and I've always been passionate about the history of our sport. Hell, I traveled across Canada to meet some of the staff at Chromag and our canadian framebuilders at the BC Bike Show in 2019. And that's how the Primer build came to be. I built this bike as a tribute to the founders and artisans of our sport, the hard working folks who go out on the trails and experiment with crazy ideas to find what works best. Many of todays innovations can be attributed to small businesses who innovate out of personal experience. Brands like Chromag, Hadley, White Industries or North Shore Billet just to name a few. I wanted to put as many of these niche parts on my bike as possible.
The frame
Starting with the frame, it's a 2020 Chromag Primer in M/L size. It is obviously a custom paint which I designed myself. All Whistler built frames come with a custom paint color but you can pretty much get anything done, albeit for an extra cost. The welder and painter of the frame are none other than the notorious Chris Dekerf, arguably amongst the best framebuilders in the country. I won't pretend to be qualified to judge his work, but I'll take Paul Brodie's opinion on that matter, an opinion he shared with me when we met in 2019. The design is inspired by old-school BMXs and MTBs of the 90s and I wanted the fork to feel integrated to the bike, not like something you just strapped on there so I opted for a two tone paint where the matching orange blends to a midnight blue.
The Fork
Speaking of the fork, I chose a Fox 36 to handle the rough stuff. I have had good experiences with Fox products in the past and I'm familiar with servicing and tuning them so it was an easy decision. However, I would really like Fox to be bolder and more innovative. So for the air spring, I added a Diaz Suspension Designs Runt extra chamber. This allows me to dial the first part of travel for supple small bump compliance, get a solid mid stroke support and have a good bottom out resistance for those bigger hits, something I wasn't satisfied with using a single chamber air spring and tokens, even with the Grip2 damper. The guys at DSD have a really good product there, and I'm amazed at how many third party spring tuning kits are on the market while the big brands appears to be sleeping! I'm running the fork at 170mm right now and I'm experimenting with a Works Components -1 degree headset. Together, they put the head angle at 62.5 degrees so my Primer actually mimicks the Chromag Doctahawk geometry. To top it off, I replaced the cable guide for a North Shore Billet one to get a hint of blue on the fork.
Wheels (plus tires & inserts)
In keeping with boutique parts, the wheels are handbuilt by myself. 10 years ago, I bought these Hadley SDH hubs and, believe it or not, they are still running like new regardless of the absolute absence of maintenance on my part. Needless to say that these hubs are not Boost and I need to use a rotor spacer. They have seen numerous frames and have been converted to every standard out there and are still running great. The hubs were originally designed for 150mm rear and 20x110mm front spacing so I found no reason to toss the hubs and I laced them to 29inch Chromag Phase 30 rims using Wheelsmith double butted 1.8-2.0 spokes. Using non-Boost hubs and lighter rims allows me to get more compliance out of my wheels and that means more traction in the rough. Super stiff wheels… not for me thanks! As for tires, I'm currently riding a Maxxis Assegai front (pictures show a DHF) with an Aggressor in the back. The rear wheel also has a Rimpact insert to protect the rim and support the tire.
Drivetrain
The drivetrain is interesting to say the least. The niche part is definitely the White Industries M30 cranks in 165mm length and polished finish with blue cap. Not only do they look stunning but the matching 30T chainring has a superb retro look that fits the theme. I considered getting some Cane Creek Eewings for the extra bling, but I found them « too common ». Not that we see them often but I have seen some here and there. The White Industries cranks though, I had never seen up close and I appreciate the small shop, small production aspect as much as the fact that these guys have helped develop mountain biking in Marin County when it all started. The silver Chromag Scarab pedals match the shininess of the cranks which are attached to a 10 speed setup with a twist using a KMC chain. I use a 10 speed SunRace 11-42 cassette but an 11 speed SLX derailleur that is driven by a Shimano Saint shifter. On paper it doesn't work or it skips but on the trail it works perfectly fine and it's much easier to find 10 speed parts in a pandemic. Ha Ha!
Brakes
As much as we like speed, we're going to have to slow down on occasion and for that, I enjoy my Magura MT7s with HC3 levers. I'm a sucker for adjustable brakes so I can dial them in perfectly and that is why I swapped the factory levers. But that is not the only customization I did to the brakes. I wanted them color matched to the bike and, while Magura sells colored plastic rings, I opted instead for some anodized bore caps and hardware. As far as I know there is only one seller of these and they don't ship to Canada. So I asked my friend Andy in the UK to play postal relay for me, which he gladly did. It certainly makes for some extremely expensive brakes, trust me! To reach the 180/203 Magura Storm HC rotors, I chose Yoan Barelli approved, canadian made, colorful North Shore Billet brake adapters in blue.
Cockpit
The cockpit is based off a 780mm Chromag Cutlass handlebar that I need to shorten to 760mm when I get a chance. It's held by a Chromag Ranger stem and supports some Lizard Skins Charge EVO grips. I also swapped the dropper lever for a limited edition Wolf Tooth ReMote that activates a BikeYoke Revive 185mm dropper post where you will find a Chromag Trailmaster DT saddle.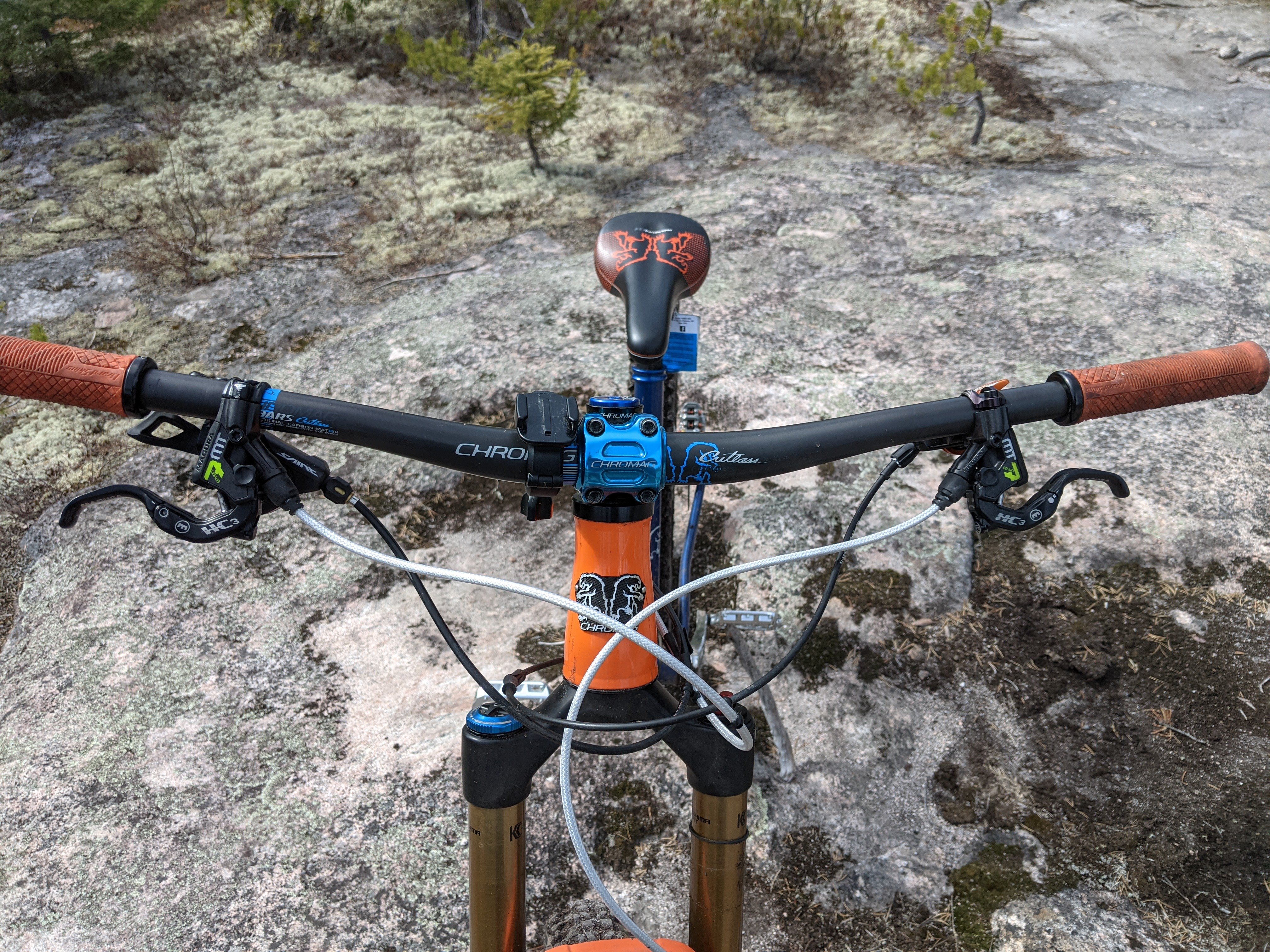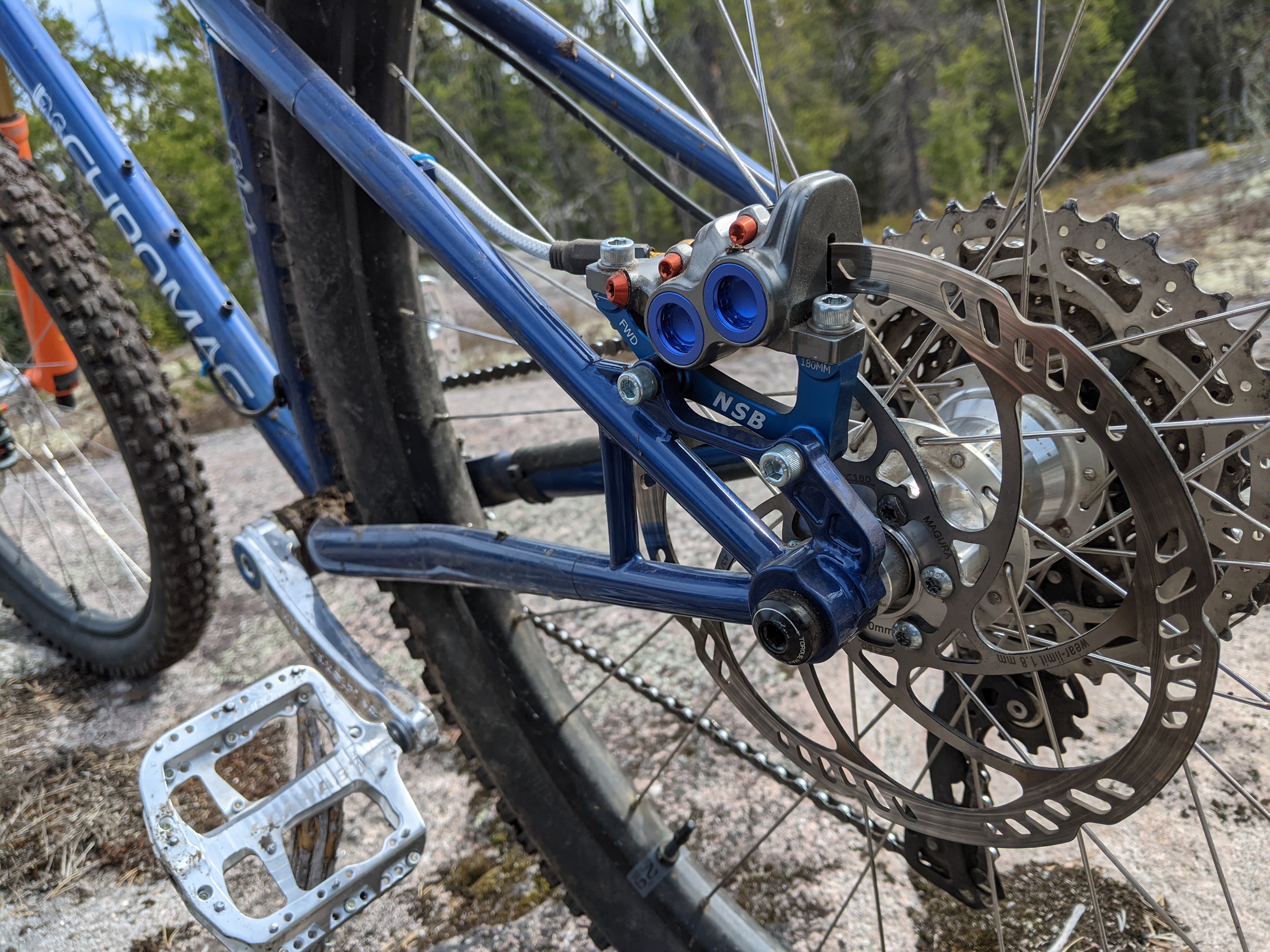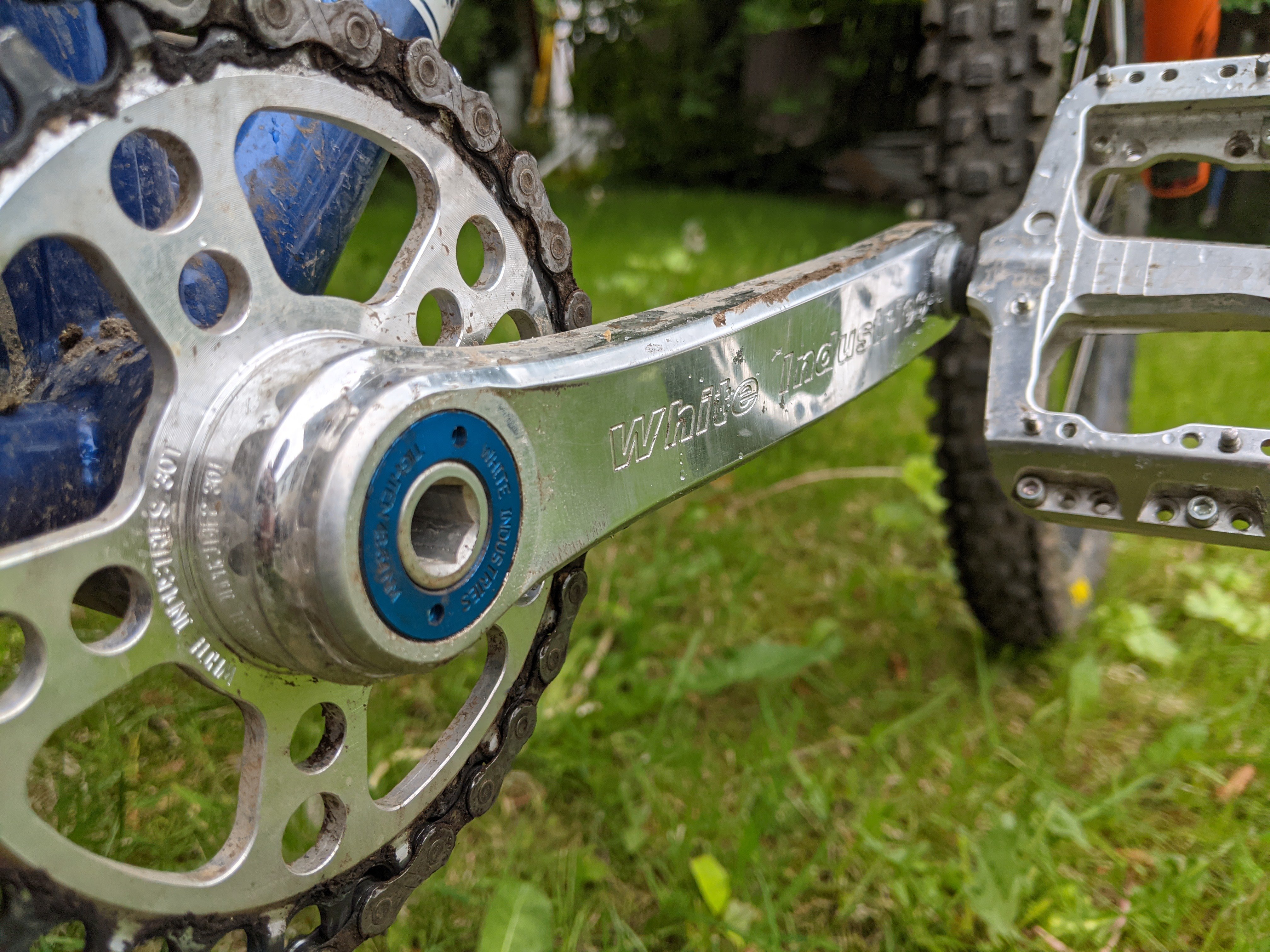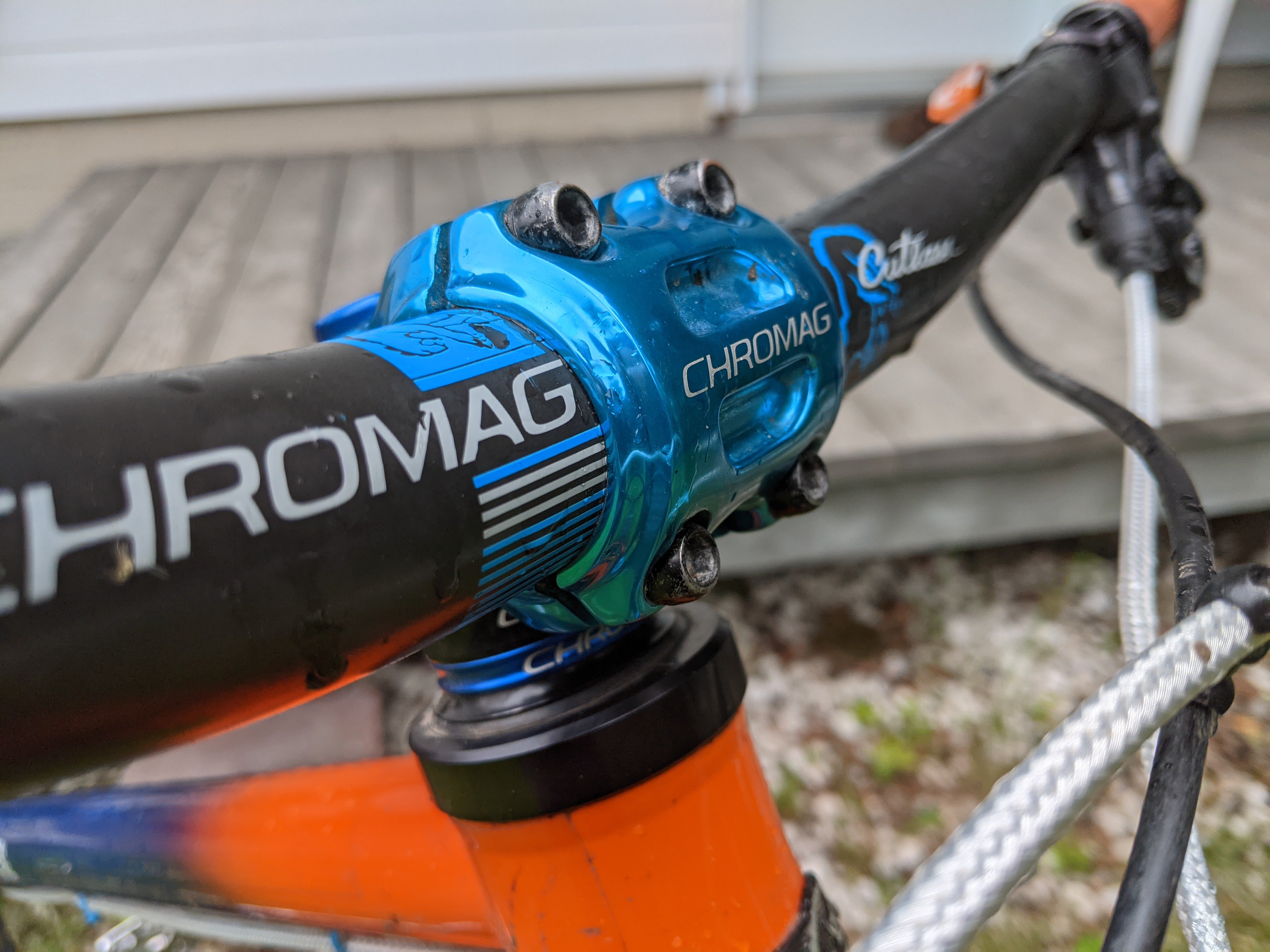 Honourable Mentions
We got a lot of great submissions and even though they can't all be winners, we thought we'd share a few of them with you.
Brice Wong's Kids' Bikes (Coquitlam)
I have had the blessed opportunity to share this awesome sport with both my kids. My daughter turning 8 in a week and my son currently 5 (turning 6 ) in July.
I noticed Andrew's article on the better kids drive train and trying to figure out what parts are good for kids Etc. If you pls forward this to Andrew I would be more than happy to share with him what I have learned over the last 7 years especially when kids start getting into the 20 inch / 24 inch realm of bikes.
My son just last year was on this decked out spawn hardtail I built for him and after what I saw in his progression I bought him a FS 20 inch Norco fluid 1.
Of course the "dream ride" part of this is if you notice on the 20 inch fluid literally 80% of the stock OEM stuff had been swapped out for higher performance parts. New narrow wide, 10 spd xtr rear cassette, xtr 10 spd shifter, Hayes dominion A2 SFL brakes, new tires, soon to be new dropper, factory tuned JUnit fork etc... list goes on and on. All this to test my theory that better gear does bring confidence and a better riding experience for little kids. My son being the youngest always got the hand me downs, from his older sister in everything. I decided to just bite the bullet and got him his own sweet FS ride to see if really a "better bike" really does contribute to making a better rider.
Similar with my daughter. She moved from the 20-inch spawn hardtail to her 24-inch Norco Fluid (with many of the same crazy upgrades) and almost immediately her riding ability and confidence was supercharged.
I can say that both my kids love riding their bikes and of course they have no idea how lucky they are as I never had such sweet dreamy rides when I was their age. My son especially his confidence has soared over the last 5 rides or so, now that he feels and knows what his bike is "capable " of.
I know living here in the lower mainland there are always the little kid phenoms that huck huge and ride crazy stuff, but that's not what this is about. My kids are not those kids. What I do see as a parent though is the joy and smiles / stoke that are priceless when you see the progression and that is simply from having the gear for the task at hand.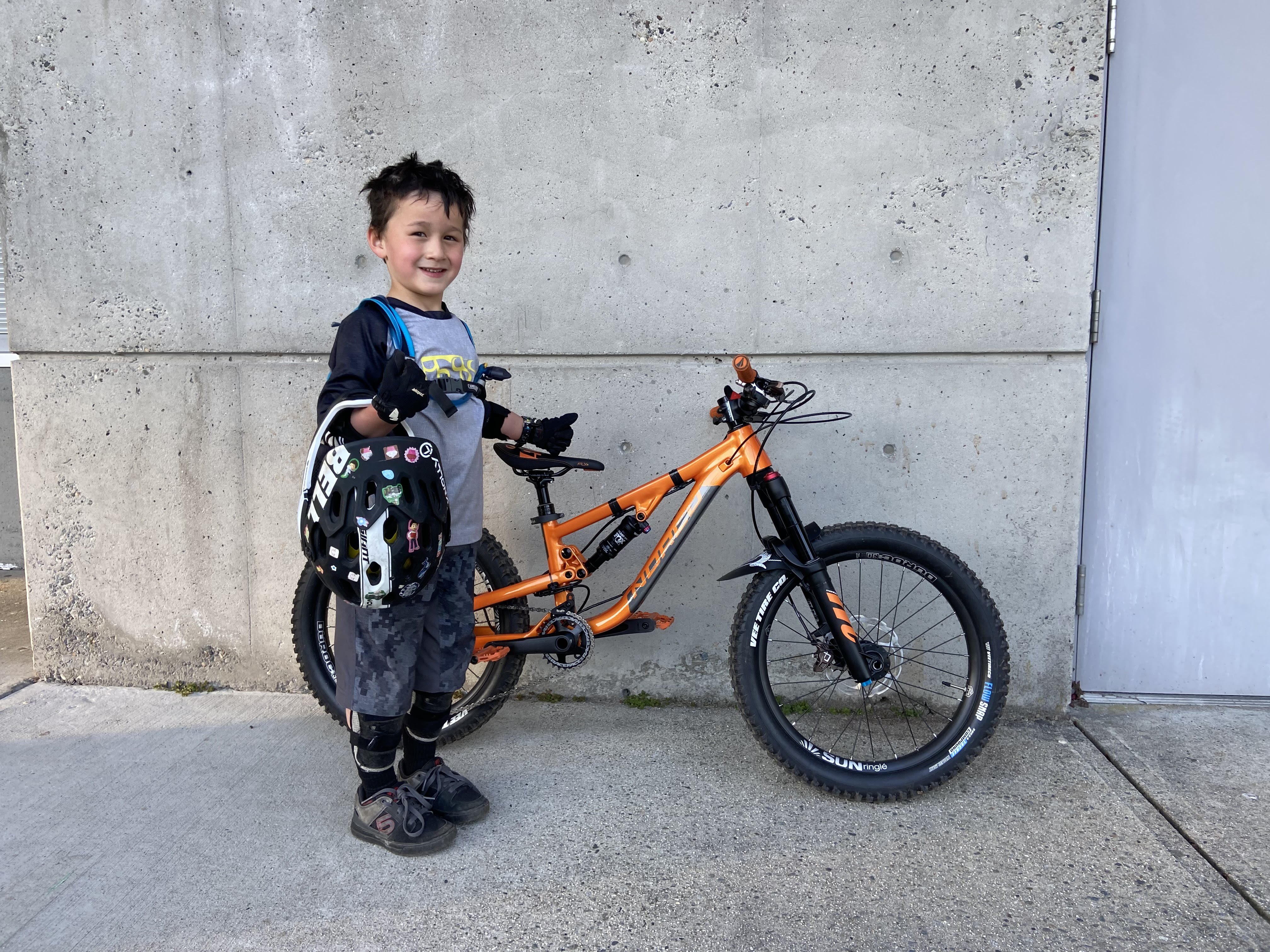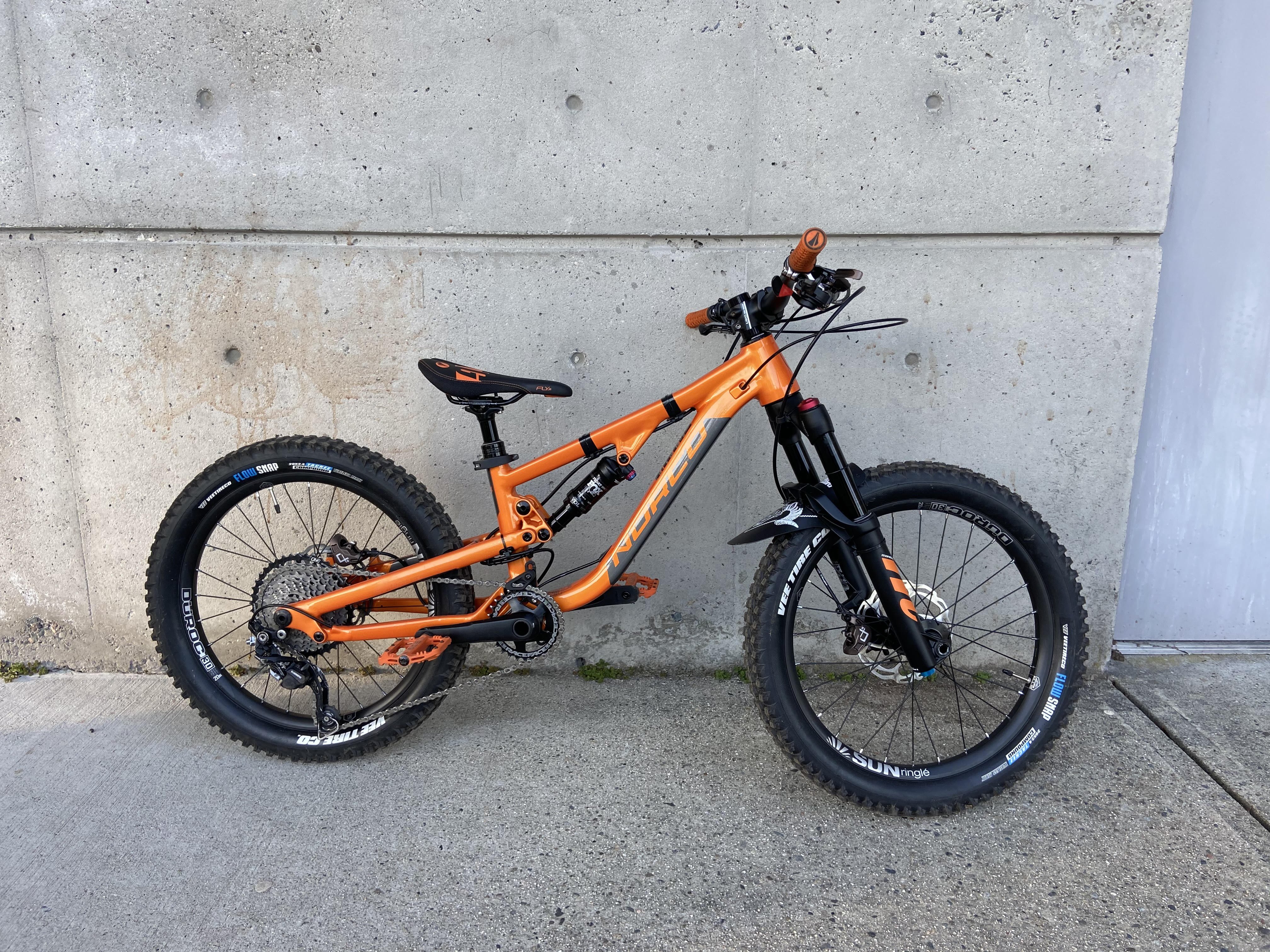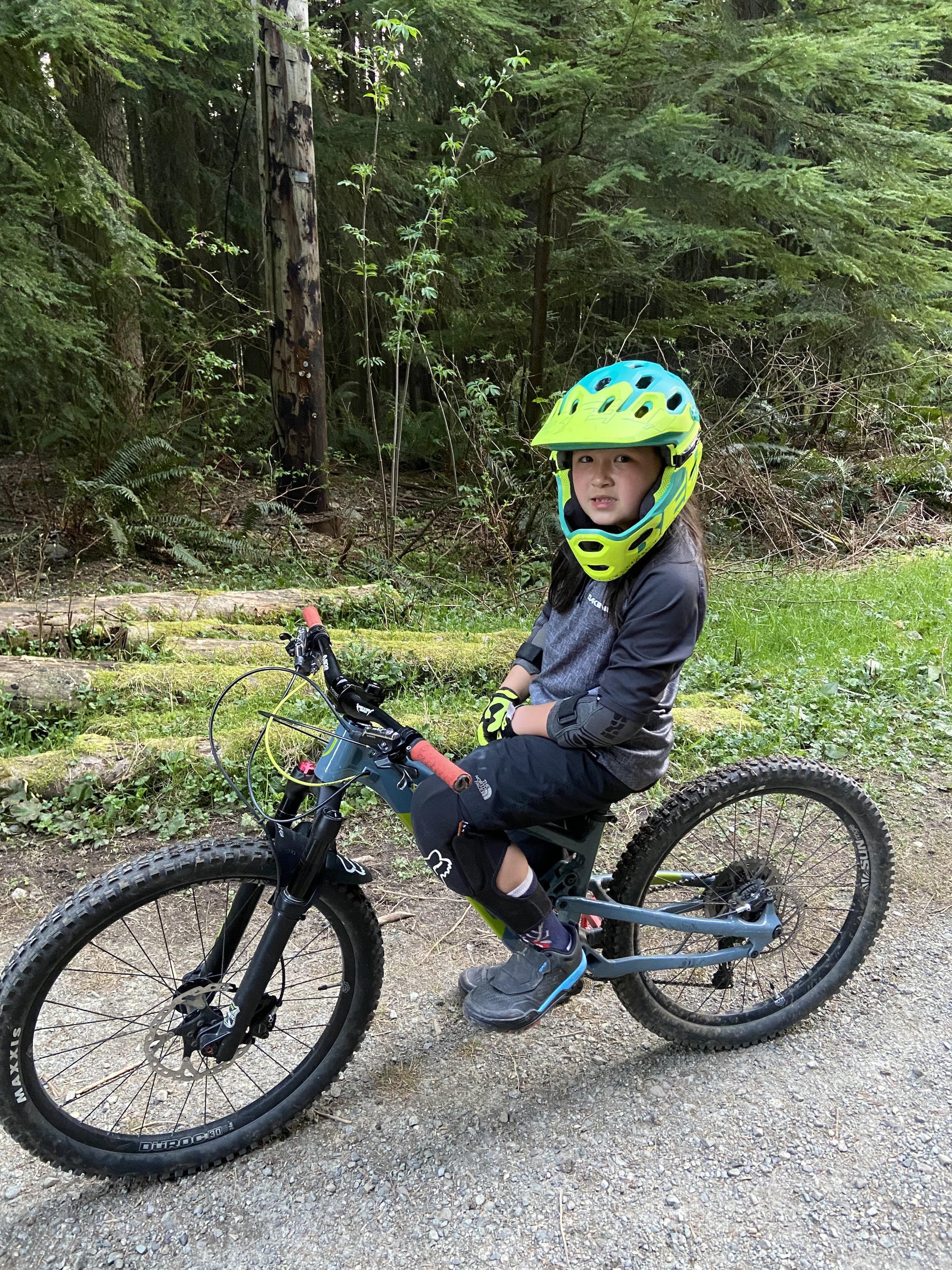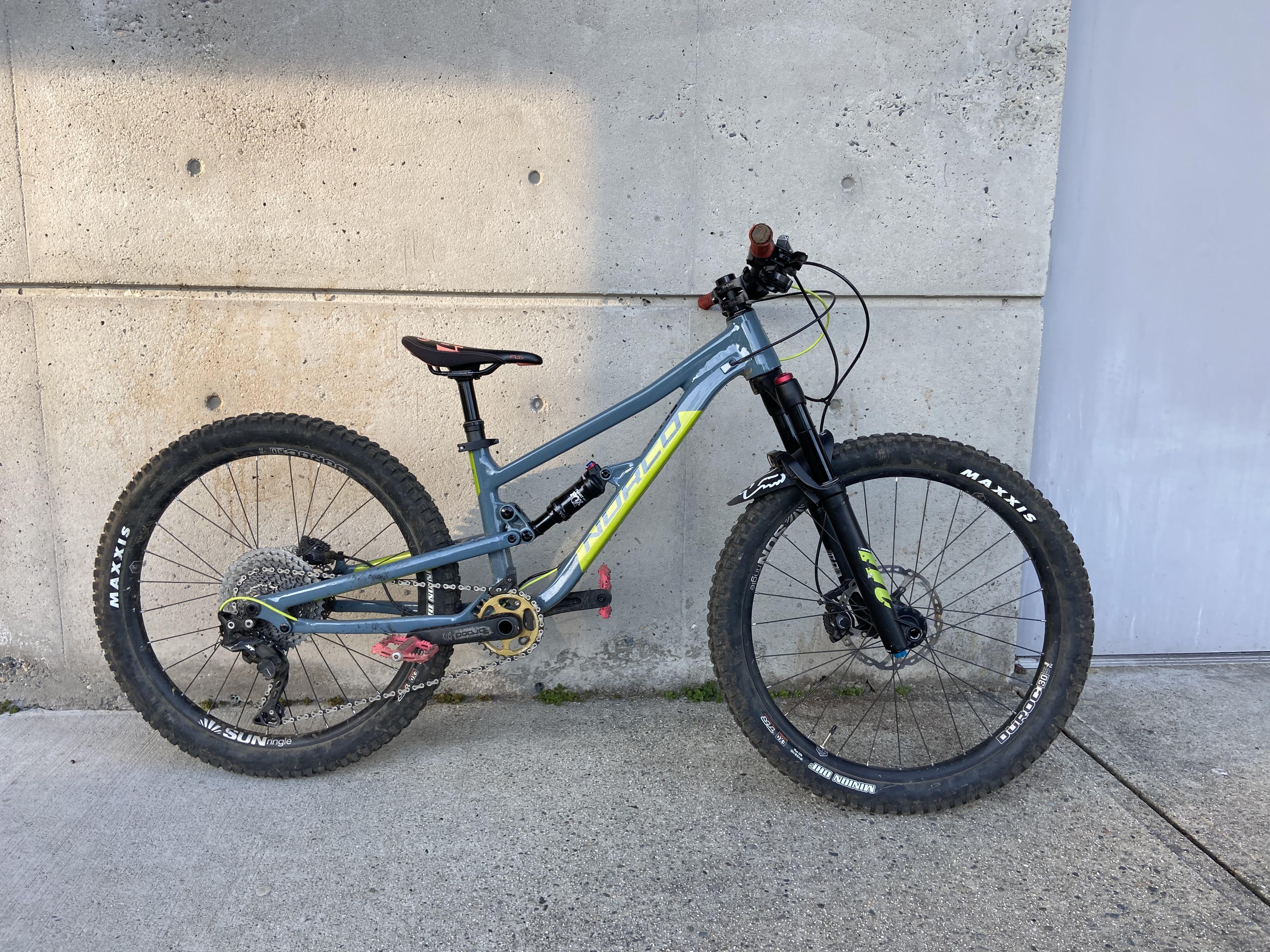 Mark Forbes' 2018 Santa Cruz Chameleon SS mullet
Mark's stealthy looking build features:
34 x 17 gearing
Ohlins RXF 36x160 coil fork
I9 Torch hubs w/ DT 511 27.5 rear rim, LB carbon 29er front rim,
2.6 Vittoria Agarro tires.
Race Face Next SL cranks, Wheels Mfg BB & HT T1 pedals
PNW Rainier Coil dropper with a Brooks C13 saddle
Shimano XT brakes (4-piston front, 2-piston rear).
I9 A35 stem, Hellbender headset, Race Face Atlas Kash Money bars, Fat Paw grips, TOGS and bar ends.